Journals
Volume 2, Issue 4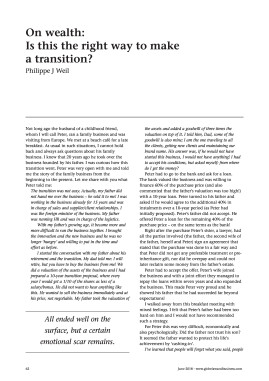 On wealth - Is this the right way to make a transition?
The International Family Offices Journal
Vol. 2 - Iss. 4 pp. 62–63
Jun 2018

Philippe Weil, who manages a private family office in Tel Aviv, with a private banker background in Zurich and Tel Aviv, shares a story of how one patriarch struggled to "give" his business to his son. The father claimed that he alone produced all the value so required his son to buy the business, at a high value, with no credit for the years of work by the son. As Philippe notes, the emotional scar lives on.