Journals
Volume 3, Issue 4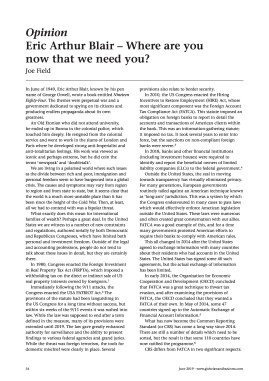 Opinion: Eric Arthur Blair - Where are you now that we need you?
The International Family Offices Journal
Vol. 3 - Iss. 4 pp. 34–36
Jun 2019

Joe Field weighs in with another clever but sombre piece, ?Eric Arthur Blair - where are you now that we need you?? I didn't know that George Orwell (of the 1984 book fame) was really Eric Blair. As usual with Joe's essays and opinions there is much that I didn't know. Joe lists the various disclosure regulations, including FATCA and CRS and the many others. His conclusion is worth quoting in full: George Orwell clearly got the year wrong, but for the rest, his prophecy is pretty much on point. We are living in a world of transparency where privacy is frowned upon and wealth is often a target. Families that are concerned about these issues should think carefully about how they wish to proceed and what can be done to limit exposure of proprietary and confidential information. While governments and para-governmental organizations (like the OECD) throughout the world (except perhaps in the United States) are anxious to obtain information on everyone, there may well be ways, in some circumstances, to protect and preserve a family's innermost secrets. A final sobering thought - while most information is increasingly available to governments, it is probably also available to any 12-year-old with a computer and some time on his hands.