Journals
Volume 4, Issue 3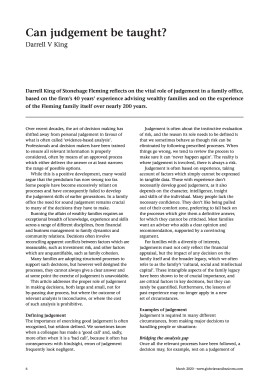 Can judgement be taught?
The International Family Offices Journal
Vol. 4 - Iss. 3 pp. 6–9
Mar 2020

We lead with a challenging article by Darrell King (New York director, Stonehage Fleming, London). He opens with the observation that ?judgement' has become a result of some trends that ignore old-fashioned general wisdom: Over recent decades, the art of decision making has shifted away from personal judgement in favour of what is often called ?evidence-based analysis'. Professionals and decision makers have been trained to ensure all relevant information is properly considered, often by means of an approved process which either delivers the answer or at least narrows the range of possible options. Darrell argues that while this may have been helpful in its way, it might be that the pendulum has swung too far. ?Some people have become excessively reliant on processes and have consequently failed to develop the judgement skills of earlier generations. In a family office the need for sound judgement remains crucial to many of the decisions they have to make.? His article is filled with many helpful examples.