Journals
Volume 6, Issue 1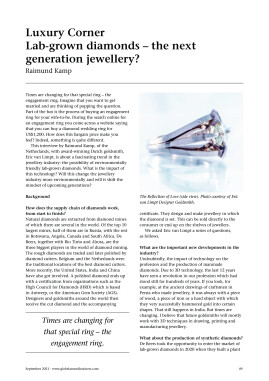 Luxury Corner - Lab-grown diamonds: the next generation jewellery?
The International Family Offices Journal
Vol. 6 - Iss. 1 pp. 49–51
Sep 2021

This interview by Raimund Kamp, of the Netherlands, with award-winning Dutch goldsmith, Eric van Limpt, is about a fascinating trend in the jewellery industry: the possibility of environmentally friendly lab-grown diamonds. What is the impact of this technology? Will this change the jewellery industry more environmentally and will it shift the mindset of upcoming generations?