Journals
Volume 1, Issue 2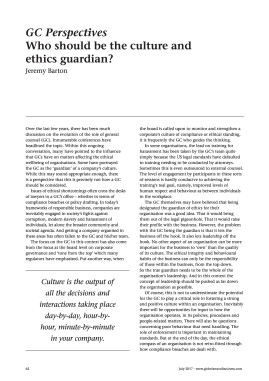 GC Perspectives: Who should be the culture and ethics guardian?
Modern Lawyer
Vol. 1 - Iss. 2 pp. 62–63
Jul 2017

Over the last few years, there has been much discussion on the evolution of the role of general counsel (GC). Innumerable conferences have headlined the topic. Within this ongoing conversation, many have pointed to the influence that GCs have on matters affecting the ethical wellbeing of organisations. Some have portrayed the GC as the ?guardian' of a company's culture. While this may sound appropriate enough, there is a perspective that this is precisely not how a GC should be considered.