Journals
Volume 2, Issue 2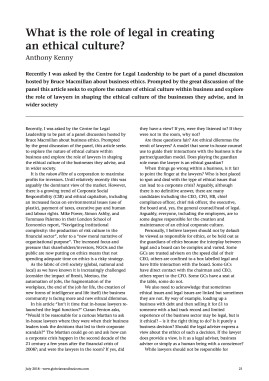 What is the role of legal in creating an ethical culture?
Modern Lawyer
Vol. 2 - Iss. 2 pp. 21–24
Jul 2018

Law firm culture and ethics is the theme of Anthony Kenny's insightful article. A senior corporate lawyer with a background also in private practice, he explores the extent to which lawyers as advisers and business leaders should ensure that the ethical training which they have received must be carried into everything they do. He asserts that the idea of ethical capitalism and an increased investor focus on human rights are examples of the growing importance of ethics.