Journals
Volume 2, Issue 3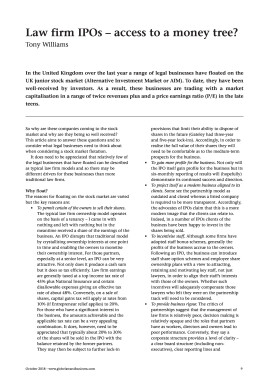 Law firm IPOs - access to a money tree?
Modern Lawyer
Vol. 2 - Iss. 3 pp. 9–13
Oct 2018

In the United Kingdom over the last year a range of legal businesses have floated on the UK junior stock market (Alternative Investment Market or AIM). To date, they have been well-received by investors. As a result, these businesses are trading with a market capitalisation in a range of twice revenues plus and a price earnings ratio (P/E) in the late teens.