Journals
Volume 2, Issue 4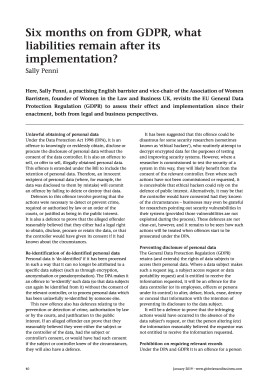 Six months on from GDPR, what liabilities remain after its implementation?
Modern Lawyer
Vol. 2 - Iss. 4 pp. 40–43
Jan 2019

Here, Sally Penni, a practising English barrister and vice-chair of the Association of Women Barristers, founder of Women in the Law and Business UK, revisits the EU General Data Protection Regulation (GDPR) to assess their effect and implementation since their enactment, both from legal and business perspectives.