Journals
Volume 3, Issue 1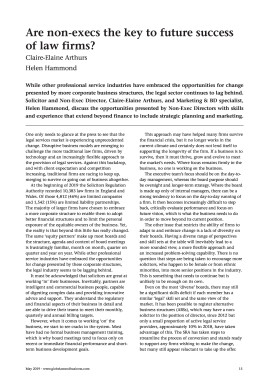 Are non-execs the key to future success of law firms?
Modern Lawyer
Vol. 3 - Iss. 1 pp. 15–18
May 2019

While other professional service industries have embraced the opportunities for change presented by more corporate business structures, the legal sector continues to lag behind. Solicitor and Non-Exec Director, Claire-Elaine Arthurs, and Marketing & BD specialist, Helen Hammond, discuss the opportunities presented by Non-Exec Directors with skills and experience that extend beyond finance to include strategic planning and marketing.