Journals
Volume 3, Issue 2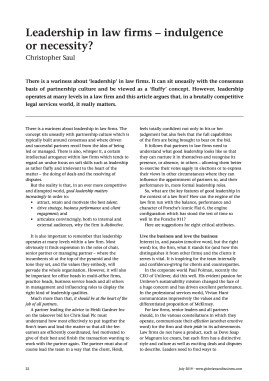 Leadership in law firms - indulgence or necessity?
Modern Lawyer
Vol. 3 - Iss. 2 pp. 22–25
Jul 2019

There is a wariness about ?leadership' in law firms. It can sit uneasily with the consensus basis of partnership culture and be viewed as a ?fluffy' concept. However, leadership operates at many levels in a law firm and this article argues that, in a brutally competitive legal services world, it really matters.