Journals
Volume 3, Issue 4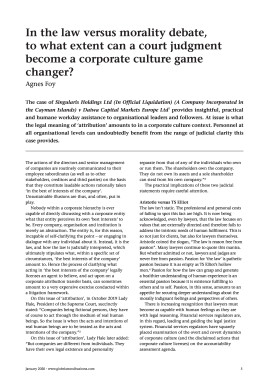 In the law versus morality debate, to what extent can a court judgment become a corporate culture game changer?
Modern Lawyer
Vol. 3 - Iss. 4 pp. 5–13
Jan 2020

The case of Singularis Holdings Ltd (In Official Liquidation) (A Company Incorporated in the Cayman Islands) v Daiwa Capital Markets Europe Ltd1 provides insightful, practical and humane workday assistance to organisational leaders and followers. At issue is what the legal meaning of ?attribution' amounts to in a corporate culture context. Personnel at all organisational levels can undoubtedly benefit from the range of judicial clarity this case provides.