Journals
Volume 1, Issue 2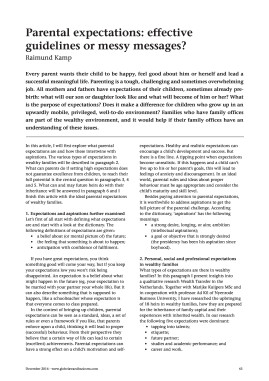 Parental expectations: effective guidelines or messy messages?
The International Family Offices Journal
Vol. 1 - Iss. 2 pp. 43–48
Dec 2016

Every parent wants their child to be happy, feel good about him or herself and lead a successful meaningful life. Parenting is a tough, challenging and sometimes overwhelming job. All mothers and fathers have expectations of their children, sometimes already pre- birth: what will our son or daughter look like and what will become of him or her? What is the purpose of expectations? Does it make a difference for children who grow up in an upwardly mobile, privileged, well-to-do environment? Families who have family offices are part of the wealthy environment, and it would help if their family offices have an understanding of these issues.