Journals
Volume 4, Issue 2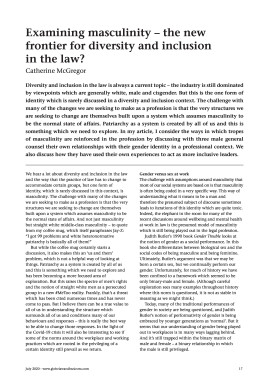 Examining masculinity - the new frontier for diversity and inclusion in the law?
Modern Lawyer
Vol. 4 - Iss. 2 pp. 17–23
Jul 2020

Diversity and inclusion in the law is always a current topic - the industry is still dominated by viewpoints which are generally white, male and cisgender. But this is the one form of identity which is rarely discussed in a diversity and inclusion context. The challenge with many of the changes we are seeking to make as a profession is that the very structures we are seeking to change are themselves built upon a system which assumes masculinity to be the normal state of affairs. Patriarchy as a system is created by all of us and this is something which we need to explore. In my article, I consider the ways in which tropes of masculinity are reinforced in the profession by discussing with three male general counsel their own relationships with their gender identity in a professional context. We also discuss how they have used their own experiences to act as more inclusive leaders.