Journals
Volume 4, Issue 4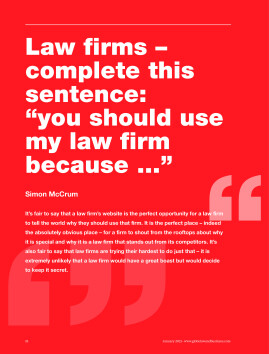 Law firms - complete this sentence: "you should use my law firm because ?"
Modern Lawyer
Vol. 4 - Iss. 4 pp. 18–20
Jan 2021

It's fair to say that a law firm's website is the perfect opportunity for a law firm to tell the world why they should use that firm. It is the perfect place - indeed the absolutely obvious place - for a firm to shout from the rooftops about why it is special and why it is a law firm that stands out from its competitors. It's also fair to say that law firms are trying their hardest to do just that - it is extremely unlikely that a law firm would have a great boast but would decide to keep it secret.