Journals
Volume 4, Issue 4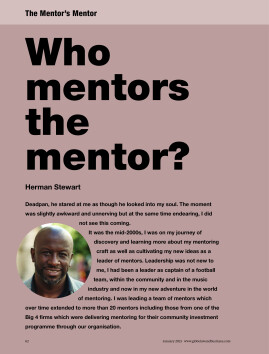 The Mentor's Mentor - Who mentors the mentor?
Modern Lawyer
Vol. 4 - Iss. 4 pp. 62–64
Jan 2021

Deadpan, he stared at me as though he looked into my soul. The moment was slightly awkward and unnerving but at the same time endearing, I did not see this coming. It was the mid-2000s, I was on my journey of discovery and learning more about my mentoring craft as well as cultivating my new ideas as a leader of mentors. Leadership was not new to me, I had been a leader as captain of a football team, within the community and in the music industry and now in my new adventure in the world of mentoring. I was leading a team of mentors which over time extended to more than 20 mentors including those from one of the Big 4 firms which were delivering mentoring for their community investment programme through our organisation.