Journals
Volume 5, Issue 1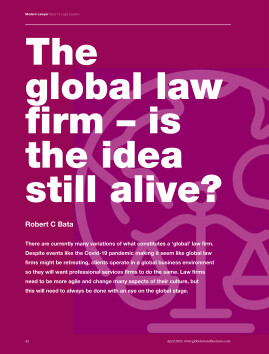 The global law firm - is the idea still alive?
Modern Lawyer
Vol. 5 - Iss. 1 pp. 42–46
Apr 2021

There are currently many variations of what constitutes a ?global' law firm. Despite events like the Covid-19 pandemic making it seem like global law firms might be retreating, clients operate in a global business environment so they will want professional services firms to do the same. Law firms need to be more agile and change many aspects of their culture, but this will need to always be done with an eye on the global stage.