Journals
Volume 1, Issue 3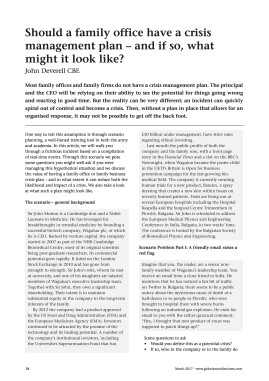 Should a family office have a crisis management plan - and if so, what might it look like?
The International Family Offices Journal
Vol. 1 - Iss. 3 pp. 38–44
Mar 2017

Most family offices and family firms do not have a crisis management plan. The principal and the CEO will be relying on their ability to see the potential for things going wrong and reacting in good time. But the reality can be very different; an incident can quickly spiral out of control and become a crisis. Then, without a plan in place that allows for an organised response, it may not be possible to get off the back foot.