Journals
Volume 7, Issue 2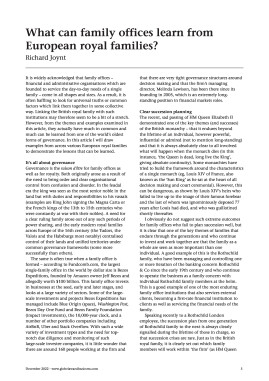 What can family offices learn from European royal families?
The International Family Offices Journal
Vol. 7 - Iss. 2 pp. 5–10
Dec 2022

Richard Joynt provides his thoughts on what family offices can learn from the British royal family and other royal families across Europe (and from history!). It seems that royal families have more in common than one might expect, and that they can also teach us valuable lessons. What is clear from Richard's observations is that a strong governance framework and clarity of purpose is the basis for success.