Journals
Volume 2, Issue 1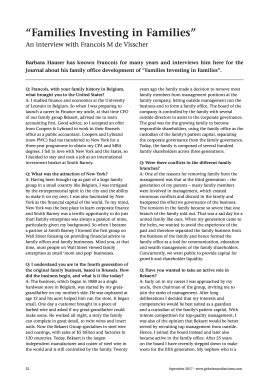 "Families Investing in Families"
The International Family Offices Journal
Vol. 2 - Iss. 1 pp. 22–24
Sep 2017

Family offices continue to show a strong interest in private equity investments, but the experience is not always a happy one. Francois has devoted a few decades to his development of a process that fits the family office investor as well as the family business investee. It was a pleasure to interview Francois at some length, to appreciate his family's business history, headquartered in Belgium but now with factories in some 120 countries. He offers valuable advice for family office investments in private equity.