Book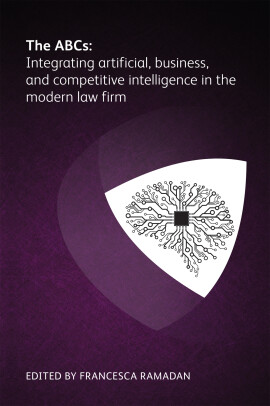 The ABCs
Integrating artificial, business and competitive intelligence in the modern law firm
Zena Applebaum, Yolanda Cartusciello, Jeff Cohan, Mark Gediman, David Kamien, Jennifer Roberts, Keith Wewe, Dave Whiteside, Bernadette DeCelle
Published: 2021
Pages: 94

eBook: 9781787425927
A practical roadmap for how to integrate the developing disciplines of AI, BI, and CI and their potential synergies.
The world of data, analytics, and technology is relatively unexplored in the legal arena, due to the traditionally conservative and risk-averse nature of the legal environment.

However, we are approaching a reality in which data is the most precious resource of practically every single organization. Law firms should be no different. The buzz around intelligence functions and initiatives places constant emphasis on their immediate necessity; the narrative runs that firms need to invest both time and resources into their own competitive and business intelligence efforts, and complementing technologies and tools, to avoid being left behind. The fact that these disciplines are in their infancy - with their very definitions in flux and varying between different practices - does not make it any easier. The goalposts are constantly moving, and it is common for multiple BI and CI initiatives and practices to be distributed across the breadth of the firm, from the marketing and finance departments to the library. The challenge, then, when attempting to build robust intelligence functions within a law firm is not only to mature these efforts but also to facilitate collaboration and ensure they are centralized.

The ABCs: Integrating artificial, business and competitive intelligence in the modern law firm acts as a practical roadmap for how to achieve exactly that, taking a deep dive into the developing disciplines of AI, BI, and CI and their potential synergies, featuring expert contributions from industry leaders covering a wide range of the most pressing issues - from how to make business development processes more systemic utilizing AI technologies, to real-world examples of competitive intelligence initiatives and their lifecycle.
Table of Contents
| | | |
| --- | --- | --- |
| Cover | Cover | |
| Title page | i | |
| Copyright page | ii | |
| Contents | iii | |
| Executive summary | vii | |
| About the authors | xi | |
| Chapter 1: Knowing your ABCs – defining the intelligence functions | 1 | |
| It begins with A… | 1 | |
| It moves onto B… | 3 | |
| It ends with C | 4 | |
| Chapter 2: Law firm modernization – leveraging intelligence to transform relationships | 7 | |
| Firm intelligence | 9 | |
| Evidence of innovation: introducing the data scientist | 11 | |
| How far are firms, really? | 13 | |
| What's next? | 15 | |
| Chapter 3: Data doesn't make decisions – the case for HUMINT in a world of AI, BI, and CI | 17 | |
| HUMINT in action | 20 | |
| Harnessing who you know | 22 | |
| It's a relationship business | 23 | |
| Chapter 4: Creating an AI-powered alliance between marketing and knowledge services | 25 | |
| Leadership and culture | 26 | |
| Lay the foundation for strategic alignment | 27 | |
| Harmonize intelligence processes and product strategies | 29 | |
| How to synchronize processes | 31 | |
| AI-powered BD intelligence applications | 32 | |
| Data challenges | 34 | |
| Conclusion | 35 | |
| Chapter 5: The use of artifi cial intelligence by leading firms in client-facing work – a survey | 37 | |
| Survey subjects | 37 | |
| Summary findings | 38 | |
| The similarities among firms | 39 | |
| The differences between firms | 44 | |
| Chapter 6: Birth of the competitive intelligence department – selling, planning, and managing | 51 | |
| Locating the function | 53 | |
| Managing expectations | 54 | |
| Sources of data | 57 | |
| Collaboration | 57 | |
| Conclusion | 58 | |
| Chapter 7: Informing your AI – the best taxonomy for CI and BD | 59 | |
| Relationships | 60 | |
| Experience | 60 | |
| Triggers | 61 | |
| Analysis | 62 | |
| Conclusion | 63 | |
| Chapter 8: The next level – auditing your firm's CI and BI | 65 | |
| Assessing BCI maturity using the Capability Quadrant | 66 | |
| Chapter 9: Matter experience – the centerpiece of your business development strategy | 75 | |
| How does competitive intelligence fit in? | 76 | |
| Where does artificial intelligence play a role? | 79 | |
| Where do we go from here? | 80 | |
ZENA APPLEBAUM

Zena Applebaum is director, customer insights & success at Thomson Reuters in Canada. In her role, Zena is responsible for client feedback and intelligence, market insights, and sales enablement. Prior to joining Thomson Reuters, Zena was the director of competitive intelligence at Bennett Jones LLP, having pioneered the discipline of law firm CI, and authoring Business Intelligence for Law Firms, published in November 2012. Zena shares her passion for the industry as a speaker, writer and contributor to blogs, including "3 Geeks and a Law Blog", with topics ranging from competitive intelligence, legal industry change management, qualitative data analysis and personal branding. A data junkie who revels in the possibilities of data to connect people, places and things, Zena can often be found connecting the dots between seemingly unrelated data. In 2015 Zena was inducted as a Fellow of the Council of CI Fellows, and she has been a sessional instructor the University of Toronto iSchool, Rutgers University and a guest lecturer at law schools across North America. She currently serves on the SLA Board of Directors.

YOLANDA CARTUSCIELLO

Yolanda Cartusciello has served in senior administrative leadership roles in major law firms for more than 20 years, including Debevoise & Plimpton and Cleary Gottlieb. She has led marketing teams, designed business development and media strategies, and implemented client development programs. She has been the chief architect of profile enhancement strategies, perception studies, branding exercises, comprehensive client interview programs, and practice and lateral partner rollouts. She has adapted the customer journey mapping technique for use by law firms, and has trained and advised firms on its use. She is a frequent lecturer and author on client journey mapping and the customer experience. Yolanda has also created business development and communications training and coaching programs for lawyers at all levels.

JEFF COHAN

Jeff Cohan is an independent consultant assisting with law library administration, cost efficiencies, value generation, staff utilization, information retrieval, knowledge management, competitive intelligence, business intelligence research, conflict of interest protocols, and business analytics. As a consultant, he helps firms implement procedures, practices, and technology, alongside negotiating vendor contracts. For 13 years, he was the library director and director of knowledge management at Fitzpatrick, Cella, Harper, and Scinto, an IP boutique practice based in New York; prior to that he was the library director at a regional general practice law firm. Jeff speaks regularly on topics of interest related to knowledge management, competitive intelligence, and business analytics. He sits on the board of directors for Strategic Competitive Intelligence Professionals. He is also a past president of the Law Library Association of Greater New York.

MARK GEDIMAN

Mark Gediman is a Reference Librarian for Alston & Bird, LLP, supporting the research needs of more than 800 attorneys and paralegals. Past President of the Southern California Association of Law Libraries as well as co-founder and co-chair of the PLL-IP Competitive Intelligence Caucus. Mark writes and presents regularly on Competitive Intelligence, research and library management issues for the American Association of Law Libraries (AALL), Legal Marketing Association (LMA), the Special Libraries Association (SLA), SCALL, NoCALL, ACI and HALL. He is the author of Chapter 8 of Business Intelligence for Law Firms (Ark-2012), Chapter 6 of Strategic Intelligence for Law Firms (Ark-2018), Chapter 5 in Innovations in Legal KM (Ark-2017) and articles in AALL Spectrum, Practicing Law Management Week, Paralegal Today and Facts & Findings-The Magazine of the National Assoc. of Legal Assistants (NALA). Mark is a graduate of the University of California-Riverside.

DAVID KAMIEN

David Kamien is the CEO of Mind-Alliance Systems (www.mindalliance.com). Mind-Alliance provides law firms with solutions in areas including business development research, knowledge management, and innovation. He is also the product owner of the MindPeer BD research management software system. David has supported leading clients such as Squire Patton Boggs, Ogletree Deakins, Sidley Austin, Shearman & Sterling, and Saul Ewing. He is the editor of the seminal McGraw-Hill Homeland Security Handbook (2005, 2012 editions) and the inventor of a patented method for improving organizational information sharing and collaboration. David holds a law degree from the Academic College of Law and a BA from Hebrew University.

JENNIFER ROBERTS

Jennifer Roberts manages the strategic research function at Intapp, responsible for the analytics and research component that supports product development and thought leadership for new initiatives. Leveraging her skills to advocate, evangelize and build data-fueled products and insight, she examines theprofessional services industry to drive analytical intelligence that informs strategic decisions and solves organizational needs. Prior to joining Intapp, Jennifer received her MA from the University of Minnesota in advanced statistical methodology and performance measures.

KEITH WEWE

Keith Wewe is the VP of strategy and solutions at Content Pilot, a marketing, technology and business development consultancy for law firms, and former international president of the Legal Marketing Association. One of the many aspects of his work is to connect the dots for clients between the receipt of proposal/RFP and the ultimate win. To achieve that, he works with large firms to regional boutiques creating laser-focused proposal content, business intelligence, template designs, go/no-go plans, response strategies, win/loss debriefs and analytics research that help them create better proposals that align with client needs with the goal of achieving that win. You can follow him on Twitter at @kwewe and Linked In at www.linkedin.com/in/keithwewe.

DAVE WHITESIDE

Dave Whiteside is director of client growth & success at CLIENTSFirst. Dave's focus is helping the company grow and expand its CRM, data quality, eMarketing and client intelligence service offerings, and building alliances that help deliver additional value to clients. With more than 30 years of sales and marketing experience, Dave offers clients extensive knowledge of marketing technology and business development in legal, accounting and professional services business environments. Known primarily for his deep knowledge of business development processes and technologies such as CRM and competitive intelligence, Dave is well-respected for the high level of service he provides his clients who call on him regularly for advice. Prior to joining CLIENTSFirst, Dave held numerous sales and sales management roles at Thomson Reuters, in the legal and accounting marketing technology software and services areas. Previously, Dave was vice president of a project management software and services organization, managing the sales and professional services teams while developing project management expertise. Dave is a well-known speaker in the legal marketing industry and actively participates in the Legal Marketing Association (LMA). A graduate of Lake Superior State University with a degree in Marketing, Dave also holds a MBA from St. Mary's College in California.

BERNADETTE DECELLE

Bernadette DeCelle is the senior director of client development and marketing at McCarter & English, leading the firm's business development, marketing and client service functions. She has 25 years' experience of senior leadership positions at law firms, including head of marketing at Weil and Herrick Feinstein and head of business development at Kaye Scholer and Pillsbury. Bernadette's strengths include building cross-functional teams and fostering collaboration between the various firm departments. She has launched numerous competitive intelligence initiatives and knowledge management databases to improve the market position of these firms, as well as developing best practices for internal workflows between the finance, knowledge management, and IT functions to leverage the firm's data across multiple systems. Having started her legal marketing career in communications and design, Bernadette has continued to use that expertise, being responsible for rebranding Weil, Herrick and McCarter.