Book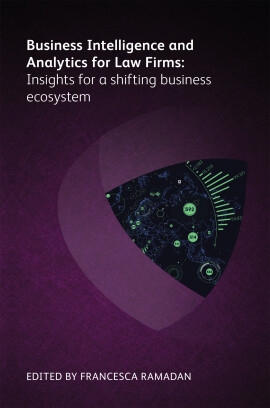 We live in an information age. In both our personal and professional lives, we are consistently bombarded with data in various forms; through our interactions with technologies in our homes and workplaces, we are also constantly generating data.

Information has arguably become the most valuable resource of all businesses. With the right data - and the appropriate tools for gathering and processing it - the key to success for any organization seems to be within easy reach. When correctly utilized, data analytics can contribute to the construction of meaningful information patterns, identifying opportunities to boost profitability, and improve product quality and service delivery.

However, the essential problem lies in the sheer quantity of available data. With such a tsunami of information, it can be difficult to know where to start. This book aims to be a starting point for implementation.
Table of Contents
| | | |
| --- | --- | --- |
| Cover | Cover | |
| Title page | i | |
| Copyright page | ii | |
| Contents | iii | |
| Executive summary | vii | |
| About the authors | xi | |
| Chapter 1: Learning from clients to improve decision-making in the legal industry | 1 | |
| Experience from outside the legal industry | 2 | |
| Translation to the legal industry | 5 | |
| Conclusion | 7 | |
| Chapter 2: Achieving client-centricity through data and technology | 9 | |
| It all begins with data… | 10 | |
| Leveraging technology | 13 | |
| Conclusion | 15 | |
| Chapter 3: Client journey mapping and the customer experience | 17 | |
| Most law firms leave money on the table | 17 | |
| Become a "Fortune 500" law firm | 19 | |
| Financial intelligence is your best business decision-making tool | 19 | |
| Chapter 4: Emotional data in the practice of law | 27 | |
| Lawyers are lousy at recognizing emotional data | 27 | |
| Emotional data paves the way for superior client service and higher profitability | 29 | |
| Lawyers suffer the highest distress levels | 30 | |
| Chapter 5: Lessons learned in data analytics | 37 | |
| Management | 38 | |
| Requirements | 38 | |
| Design and deployment | 39 | |
| Support and utilization | 40 | |
| Chapter 6: Four ways to use data and analytics for business development | 41 | |
| Finding opportunities: becoming the trusted advisor | 41 | |
| Client targeting and lead generation | 42 | |
| The rise of the RFP | 43 | |
| Data for firm strategy, benchmarking and resource allocation | 44 | |
| Chapter 7: A legal data analytics journey | 47 | |
| A brief description of the modern law firm data reporting needs | 47 | |
| To build or to buy | 48 | |
| It took a village | 48 | |
| The technical solution | 49 | |
| The business value | 50 | |
| The future | 51 | |
| Chapter 8: Mind over matter: how to promote the necessity of business analytics in a resistant culture | 53 | |
| What is intuition, and is it a business intelligence tool itself? | 53 | |
| The dangers of relying solely on "gut instincts" | 54 | |
| The dangers of a sole reliance on BI data | 57 | |
| Mind and matter – using judgment and data to drive decision making? | 58 | |
| Chapter 9: Design Thinking and the why of BI | 61 | |
| Change or die | 61 | |
| But change how? | 63 | |
| Design thinking discipline | 63 | |
| Empathy? | 64 | |
| Bringing empathy to BI | 65 | |
| OMG | 67 | |
| Beginning with the prosaic | 68 | |
| Back to the why of BI | 70 | |
GILL EAPEN

Founder and CEO of Decision Options

AILEEN LEVENTON

Aileen Leventon is a business counselor to the legal industry and a practicing lawyer with over 30 years of experience. She consults with law departments, law firms and individual lawyers on strategies to manage and sustain sound financial performance and continuously improve the efficiency of legal work. In addition to advising, coaching, and training, Aileen has facilitated numerous after-action reviews of closed matters to promote buy-in of legal project management techniques. She has also been embedded in ongoing matters to provide analysis and coaching to bring distressed matters back on course.

JENNIFER ROBERTS

Jennifer Roberts is responsible for the analytics and research component that supports thought leadership and new initiatives at Intapp. She examines the legal industry to drive analytical intelligence that informs strategic decisions and solves organizational needs. Prior to joining Intapp, Jennifer was responsible for the innovation and development of thought leadership content at Thomson Reuters. Working with law firms to develop insightful and actionable content as well as working internally to educate the field. Jennifer received her master's degree from the Humphrey School of Public Policy, focusing on statistical methodology and performance measures within various industries.

ARIELA TANNENBAUM

Ariela Tannenbaum is the CEO of Advanced Financial Analytics, a consultancy firm focusing on enhancing law firms' profitability. She has over 25 years of top tier leadership experience working with global Fortune 500 companies, instilling the financial intelligence and discipline used by the most successful organizations in the world to drive performance at law firms. Prior to establishing Advanced Financial Analytics, Ms. Tannenbaum served as executive vice president of finance at one for the largest companies in the world and global head of finance of its $2 trillion investment management subsidiary for over 14 years.

MELAINA FIREMAN

Senior manager of business intelligence and database services at Goodwin Procter LLP

KESNEY FONTES

Data analytics manager at WilmerHale

PAIGE KEITH

Paige Keith is a business executive with extensive experience leading financial and accounting operations of law firms, including planning, reporting, billing, tax compliance, and accounts payable. Before becoming a chief financial officer at Hawkins Parnell Thackston & Young LLP, she spent 15 years in various management roles responsible for developing and implementing strategic initiatives. She has also overseen client relations and the delivery of legal services, emphasizing the design and integration of consumer-centric business models and technology. Paige studied at Southern Methodist University in Dallas, Texas, where she earned an MBA from the Cox School of Business and a BS in mechanical engineering with biomedical specialization.

RONDA MUIR

Ronda Muir, Esq., principal and founder of Law People Management, is one of the country's leading authorities on lawyer personalities and solutions to both traditional and emerging people management challenges that are unique to the legal industry. Muir draws from years of practicing law in New York and Europe, both as outside counsel and in-house counsel, coupled with advanced study in behavioral science. Nationally recognized for her identification of emerging industry trends, she is a frequent speaker, an award-winning author and publishes www.LawPeopleBlog.com, a recognized resource for the legal community. Muir's best-selling book Beyond Smart: Lawyering with Emotional Intelligence, published by the American Bar Association, is the first comprehensive guide to understanding, using and raising emotional intelligence in the context of the practice of law.

MICHELLE MURRAY

Chief marketing officer at Cahill Gordon & Reindel LLP