Book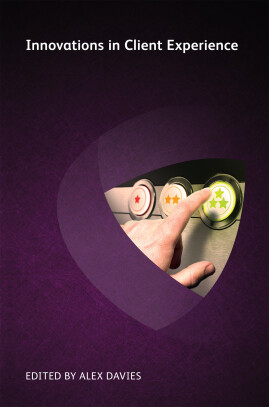 Innovations in Client Experience
Ken Grady, Julian Summerhayes, Yolanda Cartusciello, Kim Carr, Nathaniel Slavin, Sally Dyson, Edwin Bodensiek, Ryan Burruss, Stephen Poor, Judith McKay, Helen Hamilton-Shaw
Published: 2021
Pages: 100

eBook: 9781787426498
In-depth advice on how the legal profession can up its game in client experience, offering innovative strategies and pragmatic advice to those law firms needing to improve their CX.
Client experience (CX) is by no means a new concept. Ever since the service industry came into being, providing excellent customer service has been a key concern, with particular focus on how the client experiences the service they are receiving.

Yet, client experience is rarely delivered well. Inconsistencies, errors, and an endlessly unanswered phone lead to frustration on the part of the client, and a feeling that they are worth little more than a signature on the monthly timesheet. So, how do law firms, and individual lawyers, ensure they exceed expectations, and deliver the best customer experience possible? And what benefits - tangible and intangible - does this bring?

Innovations in Client Experience brings together a collection of global contributors, giving their thoughts and advice on how the legal profession can up its game in client experience, offering innovative strategies and pragmatic advice to those law firms concerned they need to improve their CX.
Table of Contents
| | | |
| --- | --- | --- |
| Cover | Cover | |
| Title page | i | |
| Copyright page | ii | |
| Contents | iii | |
| Executive summary | vii | |
| About the authors | xi | |
| Chapter 1: Delivering a great client experience | 1 | |
| Embracing the client experience | 2 | |
| Enduring the present-day lawyer–client experience | 2 | |
| That was then, this is now | 4 | |
| Where to start | 4 | |
| Firms without high quality aesthetic and substantive client experience are heading into irrelevance | 6 | |
| Chapter 2: To serve – the key principle of client service | 7 | |
| Chapter 3: Client journey mapping and the customer experience | 15 | |
| What is it? | 16 | |
| Before you develop the map | 16 | |
| How do you map a journey? | 17 | |
| How to improve your odds for success | 19 | |
| The long-term benefi ts of engaging in a law firm client journey mapping exercise | 19 | |
| Develop a deep customer understanding | 20 | |
| Break down siloed behaviors that frustrate client experience improvement efforts | 21 | |
| Inject client thinking into the client journey design process | 21 | |
| Give your teams training on behaviors that focus on the client | 21 | |
| Identify new client needs and services | 22 | |
| Provide management committees a powerful governance tool | 22 | |
| Developing a client-centric mindset using client journey mapping workshops | 22 | |
| Four approaches to law fi rm client journey mapping – when and how to use them | 24 | |
| Setting the stage for successful journey mapping in your law firm | 26 | |
| How to assess the effectiveness of your journey map | 27 | |
| Post-journey mapping activities | 28 | |
| Share the results with every person in the organization who impacts the client journey | 28 | |
| Share the map with clients | 29 | |
| Use the mapping technique as an ongoing training tool | 29 | |
| Articulate a vision for your firm's focus on clients and tie it directly to the firm's brand as well as the marketplace realities | 29 | |
| Empower your leaders (practice, client team, industry, and administrative) to act like business owners | 30 | |
| Chapter 4: The importance of client experience and what "stellar service" looks like | 31 | |
| Defining "stellar" | 32 | |
| Bringing everyone on board | 33 | |
| Chapter 5: Client feedback – asking the hard questions to gain the best results | 37 | |
| Why a Q&A won't deliver | 37 | |
| Examples of hard questions you should be asking | 38 | |
| Creating the right culture at your firm | 40 | |
| Making hard questions the start of a feedback focus | 41 | |
| The life-changing act of adding value | 42 | |
| Chapter 6: The importance of listening to enhance client experience | 43 | |
| The trend in favor of client listening | 43 | |
| Is client listening new? | 44 | |
| Traditional listening in the legal sector | 44 | |
| Current uptake | 45 | |
| Weaknesses in client listening practiced by law firms | 46 | |
| Other industries pointing the way forward | 47 | |
| Interplay of client listening, client journeys, and client experience | 49 | |
| Making client listening integral to the client experience | 50 | |
| Conclusion | 51 | |
| Chapter 7: How CX leads to next-generation branding and creates business chemistry | 53 | |
| Pioneering a new approach | 55 | |
| Thinking like users, not purchasers | 56 | |
| Redefining brand to go beyond the buyer's journey | 57 | |
| Universal principles, distinct models | 57 | |
| Positive customer experiences will never exceed positive employee experiences | 59 | |
| Importance of a shared mindset among departments | 59 | |
| Why should marketers take their branding to the next level? | 59 | |
| Compared to other industries, law firms are traditionally not first at anything | 60 | |
| An early start out of the gate for the professional services sector | 60 | |
| We live in an experience economy – time to move beyond first generationbranding and develop a CX plan | 61 | |
| CX represents a new way of thinking about brand, and is occurring across all sectors of industry | 62 | |
| Looking even further ahead, increasing convergence between CX and marketing may require new terminology | 63 | |
| Chapter 8: Technology and the client relationship: moving to a new paradigm | 65 | |
| Competing forces in law firm evolution | 66 | |
| Phase one: Information retrieval and processing | 67 | |
| Phase two: Connectivity | 68 | |
| Phase three: Tools to empower the practice | 69 | |
| Phase four: Emerging uses of technology and the client relationship | 70 | |
| Using technology to make good lawyers great | 72 | |
| Chapter 9: Enhancing the client experience with technology | 75 | |
| Continuing the firm's journey of improved client service | 75 | |
| Designing the right system | 76 | |
| Iterative approach – success | 78 | |
| Early results are promising | 80 | |
| Key lessons for the larger legal community | 81 | |
| Conclusion | 82 | |
| Chapter 10: The LawNet mark of excellence – lessons for law fi rms | 83 | |
| You don't know what your clients don't tell you | 83 | |
| Benchmarking | 85 | |
| Rates of satisfaction | 86 | |
| Paint the vision | 89 | |
| Create the right culture | 89 | |
| Reward participation | 89 | |
| Share the results | 89 | |
| Develop important conversations | 89 | |
| Accentuate the positive; whilst improving the not-so-good | 90 | |
KEN GRADY

Kenneth A. Grady is adjunct professor at Michigan State University College of Law and a member of the LegalRnD Faculty. Ken writes and speaks internationally about innovation and the future of law and business. He is a fellow-elect of the College of Law Practice Management, was named to the Fastcase 50, and honored by the Financial Times for innovative leadership. He is Medium Top 50 writer in innovation and editor and writer for The Algorithmic Society (Medium). Ken has been a consulting firm CEO, general counsel and executive for Fortune 1000 corporations, and was a major law firm partner.

JULIAN SUMMERHAYES

Julian Summerhayes is a solicitor, coach, and speaker. Julian currently practices as an in-house lawyer for a small software company. Originally qualifying as a solicitor, he worked in private practice for 14 years before taking a break and spending seven years consulting, coaching, and speaking to the legal profession on a wide range of issues, including client service, digital marketing, and learning and development. During this period, he also acted as chief executive to a small firm where he was able to put into practice some of his more esoteric ideas.

YOLANDA CARTUSCIELLO

For more than 20 years, Yolanda Cartusciello has served in senior administrative leadership roles in major law firms, including Debevoise & Plimpton and Cleary Gottlieb. She has led marketing teams, designed business development and media strategies, and implemented client development programs. She has been the chief architect of profile enhancement strategies, perception studies, branding exercises, comprehensive client interview programs, and practice and lateral partner rollouts. She has adapted the customer journey mapping technique for use by law firms, and has trained and advised firms on its use. She is a frequent lecturer and author on client journey mapping and the customer experience. Yolanda has also created business development and communications training and coaching programs for lawyers at all levels.

KIM CARR

Kim Carr has been managing partner of FBC Manby Bowdler LLP since 2005. Previously, she headed the firm's private client department, before leading the merger of FBC Solicitors with Manby Steward Bowdler LLP in 2008. She was named LawNet managing partner of the year in 2012 and has been chair of the LawNet board since 2015. FBC Manby Bowdler is a 30-partner firm with over 200 staff working from six offices across the UK. Alongside rankings in the Legal 500 and Chambers, the firm is annually recognised in the Sunday Times Best Companies to Work For listings.

NATHANIEL SLAVIN

Nat Slavin is a founder and partner in the Wicker Park Group. He regularly advises law firms on client service strategies and has conducted client feedback interviews with more than 500 clients on behalf of law firms. He also leads law firm client teams, trains lawyers on all aspects of building client loyalty, and advises individual lawyers on leadership and client development. He has authored more than 100 articles and frequently speaks on client service, client loyalty, and trends in the legal industry. He served as publisher of InsideCounsel and held various editorial and management positions at the company from 1992-2006. Nat is an elected fellow in the College of Law Practice Management and a Legal Marketing Association (LMA) Hall of Fame Inductee. He served as president of International Board of Directors LMA in 2007 and as a board member from 2003-2007 and is the 2017 president of the West Region. He has served on the board of directors for Across the Table, Open Books, Poder Learning Center, and Shift Worldwide.

SALLY DYSON

Sally Dyson is the director of Firm Sense Limited, a legal and professional services sector specialist consultancy where she provides a combination of client listening, executive coaching, and business skills training to help her clients to enhance their personal and team xiii Innovations in Client Experience effectiveness and to create and implement client-focused success strategies. Sally's experience working both as a private practice solicitor and as an in-house lawyer inspired her to found Firm Sense to bridge the communication gap between professional services providers and their clients. In addition to her legal qualifications, Sally received her business coach training by undertaking the Meyler Campbell "Mastered" program accredited by the Association for Coaching. Sally is able to administer a range of psychometric and aptitude tests, holds a Lean Six Sigma Green Belt, and is a Member of the Market Research Society. Sally is the author of two books for lawyers published by ARK Group: Client Listening: Why it Pays and How to Do it and Budgeting and Negotiating Fees with Clients: A Lawyer's Guide.

EDWIN BODENSIEK

As chief client experience officer at Miles Stockbridge, Edwin Bodensiek leads the charge on developing and maintaining a comprehensive, premier client service experience for the firm. Ed is responsible for developing and implementing a single, distinctive vision across all methods of client interactions. His key focus is to align the voice of the client to strategy and services, as well as to enhance employee experience through culture change. Ed joined the executive leadership team in May 2016, and brings a deep background creating distinctive experiences for patients, referral sources, and employees as part of his role as vice president of communications and brand with Select Medical, a $5bn public company. Prior to that, Ed worked for the US Fulbright Scholar Program and at Johns Hopkins University. Ed has also worked at the US Department of the Treasury, a presidential appointment. In June of 2018, Ed will open Cravety, a new firm to create the cultures and brands people crave. Ed can be reached at ed@cravety.com.

RYAN BURRUSS

For almost 20 years, Ryan Burruss, director of marketing at Miles & Stockbridge, has employed his background in writing, editing, and graphic design in service to helping companies and organizations get their story out into the world. A seasoned legal marketing professional with more than a decade of experience in the industry, Ryan focuses his efforts on reaching the business leaders both of today, and those of tomorrow. Throughout his career, he has brought to the table the experience needed to provide high-level, cutting-edge insight to colleagues navigating the challenges - and, more importantly, the opportunities - facing them as service providers, particularly in the context of the legal world's fast-moving and ultra-competitive business climate. As the director of marketing for Miles & Stockbridge, a full-service AmLaw 200 firm consisting of more than 250 lawyers, Ryan helps manage the firm's external branding initiatives and provides strategic direction regarding its presentation and messaging across the full complement of traditional and digital outlets available to its marketing team.

STEPHEN POOR

J. Stephen Poor is chair emeritus of Seyfarth Shaw LLP. He served as chair of the firm from 2001-16, leading the transformation of Seyfarth into an international law firm at the forefront of innovation. In recognition of his work to redefine legal service delivery, Stephen was named the 2011 Legal Innovator of the Year by the Financial Times, as well as one of Law360's Most Innovative Managing Partners in 2012. Seyfarth was named "2017 Firm of the Year" by ILTA for its work in robotics.

JUDITH MCKAY

As chief client and innovation officer, Judith McKay leads the McCarthy Tetrault's client relations and marketing strategy, and oversees business development, research, pricing, knowledge integration, and innovation capabilities. She also provides strategic commercial and intellectual property counsel to clients. Prior to joining the firm, Judith (a chemical engineer and an IP lawyer by training) was vice president and general counsel for DuPont Pioneer, responsible for legal affairs internationally. Client-centric and market-focused, Judith knows how to help general counsel in Canadian, US, and global business environments succeed, precisely because she's been in their shoes. Performing client side at the executive level in a Fortune 500 company has made Judith keenly attuned to the voice of the client and what is of value to them and - equally important - what isn't. She draws from her considerable in-house experience to ensure the firm delivers innovative legal solutions

HELEN HAMILTON-SHAW

Helen Hamilton-Shaw is member engagement and strategy director with LawNet, the collaborative, mutually-owned national network where independent law firms access big firm resources and benefit from collective purchasing, shared knowledge, best practice, and expertise. Member firms range from GBP2m to GBP25m turnover and must achieve and maintain LawNet's own ISO 9001 standard and the associated Mark of Excellence in client service.