Book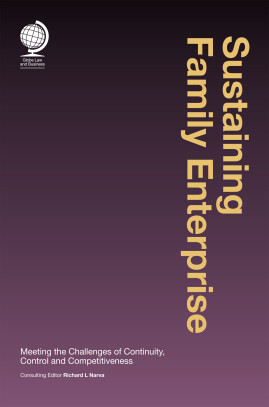 Sustaining Family Enterprise
Meeting the Challenges of Continuity, Control and Competitiveness
Published: 2016
Pages: 239

eBook: 9781787420588
This second volume is intended to provide sustenance to those stakeholders committed to the core objectives presented in the title to the first book. It addresses ongoing issues facing both family shareholder control groups and the enterprises they control that surface in ongoing, mature, successful endeavours.
Most people have a straightforward vision of the perfect family business. First, they hope for continued strengthening of the company's financial and market position so it can support the lifestyle and needs of family members, from generation to generation. Secondly, they wish for family harmony.

But life gets in the way. Sometimes family members' short-term or individual needs can overwhelm the needs of the business. In other cases, family members strongly disagree on the strategic direction, or even on the day-to-day management of the business. These family conflicts, when acted out on the stage of the family controlled enterprise, can seem insurmountable.

This new book is a follow up companion guide to Family Enterprises: How to Build Growth, Family Control and Family Harmony. The first volume features chapters written and edited by experts from many disciplines and located across the globe to provide the architecture for enduring, continuing family controlled enterprises.

This second volume is intended to provide sustenance to those stakeholders committed to the core objectives presented in the title to the first book. It addresses ongoing issues facing both family shareholder control groups and the enterprises they control that surface in ongoing, mature, successful endeavours.

The audience for this book is the owners, directors, managers of, and advisers to, family-controlled enterprises and the families that control them. It assumes that such enterprises have been launched – or at least renewed – as expressly family controlled businesses, or other enterprises.

Table of Contents
| | | |
| --- | --- | --- |
| Front Cover | 1 | |
| Title | 2 | |
| Copyright Page | 3 | |
| Table of contents | 4 | |
| Preface Richard L Narva Narva & Company LLC | 6 | |
| Part I. Understanding the power and constraints of family issues in family enterprises | 8 | |
| Managing intergenerational expectations, responsibilities and relationships in a family enterprise Emily F Abrams Narva & Company LLC Louis Turchetta Strategic Psychological Services | 8 | |
| Family values: the soul of family business Thomas Hubler Hubler for Business Families Inc | 16 | |
| Culture and ethnicity in family enterprises Everett Moitoza Moitoza Consulting | 26 | |
| Crossing cultural boundaries: the duties of Chinese successors to their family controlled enterprises Anna Xia Market Ignition Group & Advisory LLC | 46 | |
| Ushering out a family business founder who doesn't want to leave Christian W Dame Interim Executive Solutions LLC | 58 | |
| Part II. Building the ability to lead family controlled enterprises | 64 | |
| Optimising the advent of non-family executive management in family firms George P Bukuras Milestone Business Advisors LLC | 64 | |
| Transformation and tradition: transitioning to a non-family leader at the family firm Roger Patkin Next Generation Group | 78 | |
| Family governance: questions and answers Daisy Medici GenSpring Family Offices | 94 | |
| Awareness and action: transforming a family business via family enterprise and vertical leadership Greg McCann McCann & Associates | 106 | |
| Leading from the self Robert Goodman RGoodman Associates LLC | 122 | |
| Creating a strong leadership team Ann Lindsey Lindsey Leadership Consulting | 138 | |
| Part III. Solving problems of sustainability | 148 | |
| Mediating family business disputes: a primer for clients, family business advisers and other professionals David A Hoffman Boston Law Collaborative LLC | 148 | |
| Family business turnarounds: non-financial fixes are the key Gerald Sherman Pathway Advisors LLC | 164 | |
| Family enterprise guide to major mental illness Eugene J Fierman Commonwealth Medical Psychiatry Associates Janet B Fierman Sheehan Phinney Bass & Green PA | 182 | |
| Assessing going-concern risk in family enterprises Patricia A Frishkoff Leadership In Family Enterprise LLC | 200 | |
| Special issues in strategic planning in family controlled enterprises Julian E Lange Babson College | 212 | |
| Mindfulness and the management of family business stress Thomas Hubler Hubler for Business Families Inc | 222 | |
| Part IV | 230 | |
| Afterword Richard L Narva Narva & Company LLC | 230 | |
| About the authors | 234 | |
Emily F Abrams
Adviser, Narva & Company LLC
[email protected]

Emily Abrams is an adviser and a member of Narva & Company LLC's multidisciplinary leadership team. She has been helping family controlled enterprises for nearly 20 years to prepare members of the next generation for leadership roles in family governance, successful careers in the family enterprise, or for philanthropic activities that align with the family's core values. Emily also specialises in creating effective corporate governance processes and protocols and in assessing and recruiting candidates uniquely fit for councils of advisers and boards of directors of family controlled enterprises.
Emily is an active member of many professional and charitable organisations, including The Boston Club, which supports executive and professional women to achieve significant and visible leadership roles. She holds a degree in English and Art History from Simmons College in Boston. Emily spent her early career in teaching and designing programmes for art museum education.

George P Bukuras
Founder, Milestone Business Advisors LLC
[email protected]

George Bukuras's professional training began at what is now PwC, before he entered the private practice of law where he was a co-founding partner of Lapping & Bukuras LLP, a boutique business law firm in Boston. In his professional capacity, he has assisted clients with business matters and transactions in numerous industries ranging from food services to heavy manufacturing.
During his career as an operating executive, Mr Bukuras has held positions in virtually all of the functional aspects of management, including chief financial officer, chief operating officer and chief executive officer of family-owned enterprises, and general counsel and chief compliance officer at a major private-equityowned multinational manufacturing entity.
After leaving his own family business, Mr Bukuras founded Milestone Business Advisors LLC, a general management firm that helps middle-market businesses and their owners navigate the developmental stages of growth. Mr Bukuras is an attorney and certified public accountant, earning his bachelor's degree in business administration from Suffolk University in Boston, Massachusetts, and his JD from Suffolk University Law School.

Christian W Dame
Principal, Interim Executive Solutions LLC
[email protected]

Christian Dame is a change management leader with more than 40 years of government, business and non-profit experience in planning, management and organisational consulting. He has been an independent consultant since 1986, founding three companies (the latest being Interim Executive Solutions LLC) and consulting for organisations in the fields of interim executive leadership, turnaround management and organisational transition.
For many years Mr Dame was involved in implementing large-scale change. Later he joined a successful consulting firm for family businesses facing leadership transitions and, paired with a highly experienced family therapist, his team assisted a variety of northeastern US closely held businesses, addressing complex and challenging organisational and ownership transition issues. Subsequently, Mr Dame used the experience he had gained in order to assist non-profits in some of the same leadership and organisational challenges.
Mr Dame graduated from Duke University, and earned a master's degree in city planning from Harvard Graduate School of Design.

Eugene J Fierman
Medical psychiatrist, Commonwealth Medical Psychiatry Associates
[email protected]

Gene Fierman is a medical psychiatrist with 45 years of clinical experience helping individuals with major mental illness and their families. Throughout his career he has focused on the medical treatment of major psychiatric disorders in adult patients and on counselling for the mentally ill and their families. Until his retirement at the end of 2015, he worked with physicians, psychologists, social workers and therapists to provide quality care tailored to patients' illness, culture and life situation. He continues to work as a psychiatric consultant in the Social Security Administration disability programme and supervises psychiatric resident physicians in the Harvard Longwood Psychiatric Residency programme in Boston, Massachusetts. Dr Fierman earned his undergraduate degree at Columbia University and his medical degree at New York University. He received his psychiatric training at St Elizabeth's Hospital in Washington DC and the Massachusetts Mental Health Center in Boston. He is a past president of the Massachusetts Psychiatric Society.

Janet B Fierman
Shareholder, Sheehan Phinney Bass & Green PA
[email protected]

Janet Fierman is an equity owner of Sheehan Phinney, a law firm based in New England in the United States. She specialises in privately owned and family controlled enterprises. She founded, developed and managed her own law firm for 25 years before merging part of it into Sheehan Phinney in 2008 and liquidating the balance.
Throughout her legal career, Ms Fierman has acted as outside general counsel to privately owned and family controlled businesses in many industry areas, including real estate, construction, life sciences, biotechnology, manufacturing, marketing and consulting. She has helped many of her clients to create and implement governance systems and transition plans tailored to their industry, business, family culture and demographics.
Ms Fierman has a JD law degree from Boston University as well as a master's degree in international affairs from Columbia University. She is a trained mediator.

Patricia A Frishkoff
Consultant, Leadership In Family Enterprise LLC
[email protected]

Patricia Frishkoff founded and directed the Austin Family Business Program (AFBP) at Oregon State University, and served as professor of accounting, until her retirement in 2002. She was the inaugural holder of the AE Coleman Chair in Family Business. The AFBP celebrated its 30th anniversary in the third quarter of 2015. Dr Frishkoff is a fellow of the Family Firm Institute and served on its board of directors as one of its early treasurers. She held both CPA and CMA certificates in accounting during her active teaching in that academic field. She has published many scholarly and practical articles in both accounting and family business, and continues to teach, consult, write and mentor in the latter field.

Robert Goodman
Founder, RGoodman Associates LLC
[email protected]

Robert Goodman is the founder of RGoodman Associates, an organisational effectiveness consulting firm that specialises in helping leaders and teams to reach high performance. He has more than 30 years of professional experience in leadership and team development, primarily in the pharmaceutical, biotech, education and healthcare sectors. He coaches executives at all levels, including board chairs, CEOs and other senior staff. He has also worked with founders and senior leaders of family-owned and familymanaged enterprises. Before founding his present company, Mr Goodman maintained a clinical psychology practice for 16 years and was owner/operator of a food retail business. In addition to overseeing and operating RGoodman Associates, Mr Goodman is a clinical instructor in the Department of Psychiatry at Harvard Medical School and is on the faculty of the EdLD doctoral programme at the Harvard Graduate School of Education. He is a clinical associate at McLean Hospital in Belmont, Massachusetts, senior associate at Minds at Work, a pro bono senior leadership coach at the Foundation for International Leadership Coaching and a master coach supervisor in the executive coaching certification programme at William James College in Boston. Mr Goodman has degrees from both Rutgers University and Harvard University.

David A Hoffman
Founding member, Boston Law Collaborative LLC
[email protected]

David Hoffman is a mediator, arbitrator, attorney and the founding member of Boston Law Collaborative. He teaches courses on mediation, collaborative law and legal ethics at Harvard Law School, where he is the John H Watson Jr Lecturer on Law. He is past chair of the American Bar Association (ABA) section on dispute resolution and is a distinguished fellow in the International Academy of Mediators. He has received a number of awards for his dispute resolution work, including the Lifetime Achievement Award from the American College of Civil Trial Mediators and the D'Alemberte–Raven Award from the ABA.
Mr Hoffman has published three books and numerous articles on law and dispute resolution. He is a graduate summa cum laude of Princeton University and obtained a master's degree in American studies from Cornell University. He gained his JD magna cum laude from Harvard Law School and while there was an editor of the Harvard Law Review.

Thomas Hubler
President, Hubler for Business Families Inc
[email protected]

Tom Hubler, president of Hubler for Business Families and a founding member of the Family Firm Institute, integrates the notion of spirit in his work with family businesses. As a national expert with 40 years of experience in working with families, he purposefully designs innovative transitions for his client families. Mr Hubler has been an adjunct instructor for the University of St Thomas, where he co-taught a class on family business management for 10 years. He currently serves the community through his work on the board and executive committee of Catholic Charities of St Paul and Minneapolis.

Julian E Lange
Governor Craig R Benson Professor of Entrepreneurship and Public Policy, and associate professor, Entrepreneurship Division, Babson College
[email protected]

Julian Lange is the Governor Craig R Benson Professor of Entrepreneurship and Public Policy and an associate professor in the Entrepreneurship Division at Babson College, Massachusetts, where he teaches MBA, executive and undergraduate courses in entrepreneurship. He previously served as the Dean's Visiting Professor of Entrepreneurship at Princeton University in the School of Engineering and Applied Science and as an assistant professor of finance at Harvard Business School.
Dr Lange has considerable experience as an entrepreneur, having been CEO of Software Arts, the company that created VisiCalc®, the first electronic spreadsheet. In addition, he has more than 25 years' experience advising clients ranging from Fortune Global 500 companies to start-ups and mid-sized businesses, and including private and public companies and family controlled enterprises. He has served on boards of privatesector firms and public agencies and has extensive experience developing and teaching in executive education programmes in the United States and internationally. He has also previously served as the Adviser on Entrepreneurship to Governor Craig Benson of New Hampshire and as chair of the governor's Task Force on Entrepreneurship.
Dr Lange's commentary on entrepreneurial topics has appeared through national and international media coverage, including in such publications as The Wall Street Journal, The New York Times, Money and USA Today. Dr Lange is a graduate magna cum laude of Princeton University; he also holds an MBA from Harvard Business School and a PhD in economics from Harvard University.

Ann Lindsey
Principal, Lindsey Leadership Consulting
[email protected]

Ann Lindsey is the principal of Lindsey Leadership Consulting, specialising in leadership development for organisations and individuals; she also serves as an adviser to Narva & Company LLC. She has focused her consulting work within private- and public-sector organisations in manufacturing, technology and public services, and has built up more than 25 years of consulting experience, having advised firms such as General Motors, Quantum Chemical Corporation, Malden Mills Industries and the NASA Space Center, as well as family-owned businesses.
Prior to establishing Lindsey Leadership Consulting, Ms Lindsey was a founder and principal of GLS Consulting and a professor of management at Simmons Graduate School of Management. In both the MBA and the executive development programmes there, she helped develop and expand the organisational behaviour courses that were part of the founding philosophy of the school. Ms Lindsey holds an MBA degree.

Greg McCann
Principal, McCann & Associates
[email protected]

Greg McCann is the founder, principal and leader of McCann & Associates, a national familyenterprise consulting firm that creates workshops, consults, publishes and innovates on issues of importance to family enterprises. As an author, educator, coach, consultant and speaker, he works with family enterprises in the areas of transition, leadership, communication and conflict resolution, with a special emphasis on helping the next generation. He has coached leaders and executives for nearly 20 years and is certified in leadership agility and the Myers–Briggs Type Indicator. He is a JD and (inactive) CPA.
As a professor and founder of Stetson University's Family Enterprise Center, Mr McCann led the effort to create its award-winning internationally acclaimed programme; he has also redesigned Stetson's Executive MBA course with greater emphasis on leadership as a practice. Mr McCann has authored two books (When Your Parents Sign the Paychecks and Who Do You Think You Are? Aligning Your Character and Reputation), along with dozens of articles.

Daisy E Medici
Director, GenSpring Family Offices
[email protected]

Daisy Medici is the managing director of governance and education at GenSpring Family Offices, focusing her time on developing and administering tools and processes designed to help families increase the likelihood of sustaining wealth over generations. She came to GenSpring with extensive experience in the field of family business, having served as a partner at The Roseview Group and as managing director of Genus Resources.
Ms Medici holds a master of science degree from Simmons College in Boston, Massachusetts, is a certified administrator of the Myers–Briggs Type Indicator® and has been an active member of the Family Firm Institute for many years.

Everett Moitoza
Principal, Moitoza Consulting
[email protected]

Everett Moitoza has provided business consulting and executive coaching to family enterprises, partnerships, professional service firms, CEOs and closely held small to medium-sized companies for more than 25 years. His work has focused on providing innovative management consultation in a significant variety of industries on topics such as organisational assessment and development, organisational transitions and succession planning, conflict management, strategic planning, and executive team building and training for today's owners and executives.
Dr Moitoza has a doctorate in psychology from Boston University, an MBA from Southern New Hampshire University, a master's in behavioural science from Bridgewater University, Massachusetts, and a bachelor's degree in music from Berklee College of Music in Boston. He has taught graduate-level courses at Harvard University, Boston University Northeastern University and Lesley University. He is currently a professional sponsor of the University of New Hampshire's Center for Family Business.
Dr Moitoza has delivered numerous speeches and presentations to national, regional and local business and professional organisations – his opinions, perspectives and formulations regarding family business family and organisational issues and solutions are sought frequently and published by business and news media internationally. At present he is conducting research on the experience and management of conflict in family businesses and partnerships.

Richard L Narva
Founder and senior adviser, Narva & Company LLC
[email protected]

Richard Narva leads a multidisciplinary team of advisers helping family controlled enterprises preserve their values and vision while addressing organisational, strategic, governance and human capital issues. He has been a member of the Massachusetts Bar since 1975 and practised corporate law (specialising in mergers and acquisitions) before succeeding his father as president of Morton Shoe Companies Inc, becoming the third generation in his family to head this US Stock Exchange-listed firm founded by his grandfather in 1921.
Mr Narva has been elected to the boards of directors of both public and private family controlled businesses and currently serves on the councils of advisers of several family controlled companies and as a trustee of a trust for the benefit of the family shareholder group that controls a global retail company. He is the author and editor of numerous publications on the general theme of improving the governance of family controlled enterprises. His book, Family Enterprises: How to Build Growth, Family Control and Family Harmony, was published in March 2015. Mr Narva earned his AB from Brown University and a JD from Boston University School of Law. He lives in Boston.

Roger Patkin
Founder and principal, Next Generation Group
[email protected]

Roger Patkin is the founder and principal of Next Generation Group, a consultancy dedicated to empowering enterprising families and their nextgeneration leaders to succeed in the 21st century. Prior to forming the consultancy, he was president and CEO of Autopart International, his thirdgeneration family business that was acquired by Advance Auto Parts in 2005. He led the company both before and after the sale, and he currently serves as a board director and adviser.
Mr Patkin teaches entrepreneurial leadership at Tufts University and lectures on international business and family business at other Boston-area universities. He also advises social-impact entrepreneurs, and is a trustee of the Carroll School in Lincoln, Massachusetts. He received his BA degree in psychology and philosophy from Tufts University and his JD from the Boston University School of Law.

Gerald Sherman
Managing member, Pathway Advisors LLC
[email protected]

Gerry Sherman has been involved with family businesses for his entire life. His father and uncle had started a distribution company several years before he was born and he fondly remembers playing at the office on Saturday mornings. After completing an MBA degree, he began his career as a commercial lending officer at a major US bank and six years later, in 1983, he started a business consulting practice. Since that time has worked with nearly 200 financially troubled family-owned companies. On many of those occasions he has been partnered by a family business psychologist to help ensure that the challenges faced by both the business and the family of the client were addressed.
Mr Sherman has spoken on his specialism to various groups, including the Family Firm Institute, the Turnaround Management Association and a number of university-based family business institutes. His articles on family business have appeared in Family Business magazine, the Journal of Corporate Renewal and Commercial Lending Review.

Louis Turchetta
CEO and founder, Strategic Psychological Services
[email protected]

Louis Turchetta is the founder and president of Strategic Psychological Services, a full-service multidisciplinary practice offering comprehensive behavioural health services. In addition, he is a member of Narva & Company LLC's multidisciplinary advisory team, where he helps family ownership groups and business partnerships to address relationship issues between and within generations, navigate business change and avoid emotional minefields that can undermine sound business decisions.
Dr Turchetta received a doctorate in psychology from Boston University. He is licensed as a psychologist in Massachusetts and Rhode Island, and is a long-standing member of the National Register of Health Insurance Providers in Psychology. He has been active in governance of the American Psychological Association (APA), as well as the Rhode Island Psychological Association for more than 25 years. He is currently a member of Division 13 (Consulting Psychology), Division 16 (School Psychology) and Division 42 (Independent Practice) of the APA.

Anna Xia
Principal, Market Ignition Group & Advisory LLC
[email protected]

Anna Xia is the founder and principal of Market Ignition Group & Advisory LLC, a firm that provides strategic intercultural consulting services to public and private enterprises in the United States and Europe. As a member of her familyowned business in Shanghai, China, she works on the introduction of innovative medical devices into the greater China market. Ms Xia has close to 20 years' experience in global strategic marketing and business development. When an executive working for several global financial institutions (including Wells Fargo, RBS and Citigroup), she led various marketing disciplines and worked closely with domestic and international staff.
Ms Xia was born in China. She attended Shanghai University there and Cesar Ritz College in Switzerland for her undergraduate degrees, and obtained a master's degree in business administration from Mississippi State University in the United States. She also received executive certifications from MIT in innovation and strategy and in management and leadership.