Book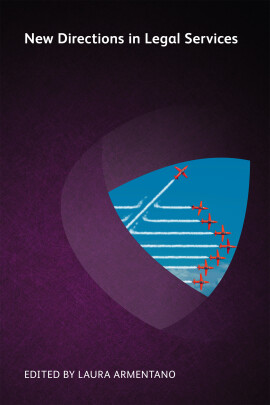 New Directions in Legal Services
John Alber, Martyn Caplan, Joanna Goodman, Christie Guimond, Markus Hartung, Debbie Epstein Henry, Fleur Kitchingman, Chrissie Lightfoot, Janvi Patel, Mike Polson, Michael Roster, Richard Tapp, Emma Ziercke
Published: 2021
Pages: 102

eBook: 9781787426078
New Directions in Legal Services </em>examines the fast pace of change in the legal services sector, driven in part by new technologies, and considers what the future holds.
Legal services providers today need to innovate in their business models, delivery methods, and moreover in their value propositions in order to compete against competition coming in all shapes and sizes (and from unexpected quarters).

New Directions in Legal Services examines the fast pace of change in the legal services sector, driven in part by new technologies, and considers what the future holds.

We also look at some examples of new business models and service delivery methods that are disrupting the market, and the new approaches to pricing and profitability that are necessary to support new ways of working and delivering legal services.

With research, insight and real world case studies from law firm leaders, NewLaw pioneers, in-house counsels, academics, consultants, and legal futurists New Directions in Legal Services covers:

The impact of technology on the traditional law firm business model
New business models altering the legal services landscape, driven by AI and emerging technologies
Moving beyond AI and CC, what is the next big thing for legal services?
How Design Thinking can be applied to legal service design
The evolving legal talent pool
Rethinking pricing and profitability to support new ways of delivering legal services
Umbrella models for law firms
Unbundling legal services and new options for in-house teams
Law firm-client collaboration through the managed legal network
Business model innovation - Implementing and sustaining change

The message to the legal sector could not be clearer: innovate or die. New Directions in Legal Services clearly outlines how individuals, law firms, and legal departments are accepting the challenge and are innovating alongside the New Law service providers that have taken root in the industry to provide a growing array of options for lawyers and clients
Table of Contents
| | | |
| --- | --- | --- |
| Cover | Cover | |
| Title page | i | |
| Copyright page | ii | |
| Contents | iii | |
| Executive summary | vii | |
| About the authors | xi | |
| Chapter 1: Why the developments to the competence divide (and not the digital divide) will make or break the law firm business model | 1 | |
| From information asymmetry to the closing competence divide: An elusive aspect of the law firm paradigm | 1 | |
| How legal technology will change the business of law | 3 | |
| Is legal technology really changing the law firm model? | 5 | |
| Information equilibrium, but in a dynamic market? | 9 | |
| Chapter 2: AI and five new business models for legal services | 11 | |
| My definition of legal AI | 11 | |
| Four main legal AI applications | 12 | |
| Two legal AI differentiators | 15 | |
| Five new business models | 15 | |
| Will AI eventually change the law firm business model? | 20 | |
| Chapter 3: What is the next big thing for legal services? | 23 | |
| Suspicions and reinventions | 24 | |
| From AlphaGo to AlphaLaw? | 25 | |
| Four aspects of legal services | 26 | |
| Time equals money | 28 | |
| Evolving legal artificial intelligence from carthorse to racehorse | 28 | |
| Inviolable lawyers | 29 | |
| Paper-pusher pushout | 30 | |
| Renovating private practice | 31 | |
| Chapter 4: The missing 'E' in legal innovation | 33 | |
| Innovation talk | 33 | |
| Apple innovation | 34 | |
| Design Thinking | 36 | |
| A new model? | 38 | |
| Chapter 5: The evolving legal talent pool | 41 | |
| Chapter 6: Rethinking pricing and profitability | 45 | |
| The historical problem | 45 | |
| Use of market data to determine pricing | 46 | |
| Matrix budget | 47 | |
| The three Es | 48 | |
| Multi-disciplinary practices | 49 | |
| Chapter 7: A new business model for a sustainable future | 51 | |
| The traditional legal model | 51 | |
| Potential threats to the financial stability and future of a legal practice | 52 | |
| Creating a different business model | 55 | |
| It's good to talk – and we will listen | 57 | |
| Chapter 8: Evolving business models in legal services | 59 | |
| Traditional law firms | 59 | |
| The in-house model | 60 | |
| Unbundling legal services | 63 | |
| Our evolution – The Halebury model | 64 | |
| Next stage of the evolution | 66 | |
| Conclusion | 67 | |
| Chapter 9: Law firm-client collaboration through the managed legal network | 69 | |
| Introduction | 69 | |
| Agenda for change | 70 | |
| Our aspirations | 71 | |
| Our processes | 71 | |
| Reflections on collaboration | 76 | |
| Chapter 10: Business model innovation – Implementing and sustaining change | 77 | |
| Drivers for change | 77 | |
| Traditional Big Law vs Evolving Big Law models | 78 | |
| The evolving business model in practice – Ashurst Advance | 80 | |
| Implementing and sustaining change | 81 | |
| Parallels with the past? | 84 | |
JOHN ALBER

John Alber serves as futurist for the International Legal Technology Association. He also writes, speaks, and consults, focusing on finding practical ways to reshape the delivery of legal services to suit a future demanding excellence far beyond substantive legal skills. Prior to his current role, John led Bryan Cave LLP to become one of the most innovative firms in the world, serving as its strategic innovation partner for more than 16 years. While at Bryan Cave, he also served for seven years on the firm's operating group (its management committee). At Bryan Cave, John created one of the first practice economics consulting groups, one of the first client facing technology groups, and one of the first in-firm legal process outsourcing (LPO) organisations. The groups he created developed innovative web-based, client-centric applications that delivered legal advice to clients, managed complex workfl ows, and even created pleadings automatically. They also developed client-facing knowledge management, project management, project estimation, and business intelligence systems, and highly technology leveraged alternative staffing solutions for engagements of all types.

MARTYN CAPLAN

Martyn Caplan is a founder and director of Lawyers Inc. He has previously been head of commercial litigation at Fruhman Davies Livingstones and commercial litigation partner at Pannone LLP. Qualified since 1987, Martyn's experience as a practice lawyer has covered the entire spectrum of commercial litigation. He became a CEDR Accredited Mediator in 2007. Martyn's extensive knowledge and expertise in dealing with commercial and legal partner disputes has enabled him to build a comprehensive understanding of the pitfalls and challenges of the legal profession. He is a passionate advocate of the view that to avoid vulnerability, lawyers must dedicate time and attention to the succession of their practice and their exit strategy. Recognising that to succeed a legal practice must be built as 'a business that practices law', inspired Martyn and his business partner David Tucker to create the new legal model of Lawyers Inc.

JOANNA GOODMAN

Joanna Goodman is a freelance journalist, writer, and author. She covers business and technology topics for national publications and blue-chip corporates. She is the IT columnist for the Law Society Gazette and writes regular features for the Guardian about cutting-edge technology, brands, and media. Her favourite topics include artificial intelligence, robots and chatbots, virtual assistants, connected devices, driverless cars, and virtual and augmented reality – and she's always interested in finding out about technology that's new and different. Her professional life reflects her interests in technology, books, art, and design. Joanna has written several short films and an independent feature film, Alfheim's Edge (2016). She has an MBA in strategic management from Kingston University. Joanna is based in London. She likes films, going to dance classes, and travelling to new destinations.

CHRISTIE GUIMOND

Christie Guimond is part of Ashurst Advance, an integrated global team within leading international law firm Ashurst, which focuses on innovation and efficiency in the delivery of legal services. Ashurst Advance combines the three fundamental areas of legal service innovation – resources, process, and technology – and works alongside Ashurst legal teams globally to respond to changing client needs in the way legal services are delivered, as well as directly supporting a number of in-house legal teams to meet their own 'more for less' challenges. Christie is qualified as a project manager with the Association for Project Management Professionals and her experience in the legal industry over the last decade has included roles in legal project management, strategic business change, and R&D. In her current role as R&D manager for Ashurst Advance, Christie is responsible for capturing, evaluating, and deploying a wide range of innovation and change initiatives.

MARKUS HARTUNG

Markus Hartung is a lawyer and mediator. He is director of the Bucerius Center on the Legal Profession (CLP) at Bucerius Law School, Hamburg. His expertise in the framework of the CLP lies in market development and trends, management, and strategic leadership, as well as corporate governance of law firms and business models of law firms with regard to digitisation of the legal market. He is chair of the Committee on Professional Regulation of the German Bar Association (DAV). As a lawyer he focuses on confl ict management, regulatory issues, and professional indemnity issues. In addition, he advises law firms in strategy and management questions and coaches partners in management functions.
He is a regular lecturer and conference-speaker on leadership, management topics, and professional ethics, and he has written numerous articles and book chapters on these topics. He is a co-editor and author of Wegerich/Hartung: Der Rechtsmarkt in Deutschland ('The Legal Market in Germany') which came to the market in early 2014 and has developed into a standard reference for the German legal market. He is also co-author of 'How Legal Technology Will Change the Business of Law', a joint study of The Boston Consulting Group and the Bucerius Law School.

DEBBIE EPSTEIN HENRY

Debbie Epstein Henry is the founder of DEH Consulting, Speaking, Writing, and is an internationally recognised expert, consultant, bestselling author, and public speaker on careers, workplaces, women, and the law. She is also co-founder and managing director of Bliss Lawyers, a secondment firm employing high-calibre lawyers to work on temporary engagements for in-house and law firm clients. For more information, please visit www.debbieepsteinhenry.com and www.blisslawyers.com.

FLEUR KITCHINGMAN

Fleur Kitchingman is the senior vice president of legal and corporate secretary for Carillion Canada. She is responsible for all the legal affairs of Carillion Canada and supports the business there in a diverse range of sectors and jurisdictions spanning all of Canada's provinces and territories. She is a solicitor admitted in England and Wales in 2000, and following an early career in private practice, she has held a number of senior legal positions within Carillion plc, including roles in the UK, in Carillion's Middle East operations, and more recently in Carillion Canada in her current role, since August 2014.
Fleur's interests include the management of legal practice in-house, and the implementation of legal technology and innovation to operations to improve the effectiveness and efficiency of legal services. Fleur is no stranger to the benefits of collaboration and some examples of this include leading a project which saved around £2 million by working with the Carillion legal network in the UK to develop a process for the smart procurement of external legal services on BSF projects, and collaboration with both the UK and Middle Eastern Carillion internal legal teams and CAS to devise a system for the support of transactional legal work in the Middle East from the UK.

CHRISSIE LIGHTFOOT

Chrissie Lightfoot is one of the world's top female futurists. She is a prominent international legal figure, an entrepreneur, a legal futurist, legaltech investor, writer, international keynote speaker, legal and business commentator (quoted periodically in The Times, the Financial Times, and CNN), solicitor (non-practising), honorary visiting fellow at the University of Westminster School of Law, and author of bestseller The Naked Lawyer and Tomorrow's Naked Lawyer. She is CEO and founder of EntrepreneurLawyer Ltd and, as the visionary and creator of Robot Lawyer LISA (the world's first impartial AI lawyer), is CEO and co-founder of AI Tech Support Ltd (trading as Robot Lawyer LISA). In 2013 she was honoured as 'Legal Professional of the Year 2013' and a 'Top 100 International Executive'.
In 2015 LinkedIn announced Chrissie is the No.1 best-connected and most engaged woman in the legal sector (4th across all sectors). In 2017 EntrepreneurLawyer was selected by Feedspot as one of the Top 50 Entrepreneur Blogs on the web, she became an advisor to the board of the Telegraph's Digital Enterprise Network, was listed as one of the Top 10 Lawyers turned Entrepreneurs in Entrepreneur magazine, and made the shortlist as a finalist in the Enterprise Awards. Chrissie is also an Entrepreneur Mentor at Law Without Walls; featured in Time Magazine, the Financial Times, and Forbes.

JANVI PATEL

Janvi Patel is a NewLaw pioneer and has been spearheading operational, structural, and cultural change within the legal services industry since starting Halebury in 2007. Her aim: to create an entirely original business model to service the needs of clients and lawyers at the senior end of the market. The firm now has partnerships with clients such as BT, Sky, and Virgin Media, a growing roster of clients in the TMT and FS sectors, a team of more than 30 senior in-house lawyers who provide fl exible resourcing solutions as well as strategic in-house management support to FTSE 250 and SME businesses.

MIKE POLSON

Mike Polson is part of Ashurst Advance, an integrated global team within leading international law firm Ashurst, which focuses on innovation and efficiency in the delivery of legal services. Ashurst Advance combines the three fundamental areas of legal service innovation – resources, process, and technology – and works alongside Ashurst legal teams globally to respond to changing client needs in the way legal services are delivered, as well as directly supporting a number of in-house legal teams to meet their own 'more for less' challenges.
Mike is a director of Ashurst Advance and co-head of innovation for Ashurst. After a successful career as a corporate lawyer, Mike joined Ashurst to help establish and then lead its legal sourcing and business support office in Glasgow, which has grown to over 250 people in less than four years.

MICHAEL ROSTER

Michael Roster is co-chair of the Association of Corporate Counsel's Value Challenge Steering Committee. He was formerly managing partner of Morrison & Foerster's Los Angeles office as well as co-chair of the firm's Financial Services Practice Group worldwide, resident in both Los Angeles and Washington, DC.
Mike subsequently was general counsel of Stanford University, Stanford Medical Center, and Stanford Management Company – and then executive vice president and general counsel of Golden West Financial Corporation. He has also served as an outside director and vice chair of Silicon Valley Bank, chair of the Stanford Alumni Association, chair of the Association of Corporate Counsel, and chair of two start-up companies (Insert Therapeutics and Encirq). He is a former director of the California Bankers Association and the Federal Home Loan Bank of San Francisco.
Mike is currently an adjunct faculty member at USC Gould School of Law where he teaches advanced contracts. He also is a director of MDRC, a non-profit corporation based in New York that evaluates the effectiveness of government and other non-profit programs, and several years ago he chaired a project funded by two foundations that developed a private sector approach to eliminate abuses in consumer credit cards in the US.

RICHARD TAPP

Richard Tapp is company secretary and director of legal services for Carillion plc. He leads on legal and regulatory matters for Carillion globally, and is responsible for Carillion Advice Services, which provides a range of managed legal services offerings and resources, Richard is a solicitor, and a fellow of the Institute of Chartered Secretaries and Administrators. He holds first and post-graduate degrees in Law, together with that of Master of Business Administration.
He has led a range of innovative legal sourcing arrangements for Carillion. He is co-author of Managing External Legal Resources (ICSA) and The In-House Lawyer's Toolkit (Law Society Publishing). He is also general editor and author of a number of contributions to The Future of the In-House Lawyer (Law Society Publishing, 2016). He won the Most Innovative European In-House lawyer in the 2013 FT Innovative Lawyers awards.
Before joining Carillion, he was for six years company secretary and group legal adviser for Blue Circle Industries PLC, a FTSE 100 global heavy building materials business. He has established, run, and integrated in-house legal teams in North and South America, Europe, Australasia, the Middle East, and Asia.

EMMA ZIERCKE

Emma Ziercke is a research assistant for the Bucerius Center on the Legal Profession and a non-practising solicitor. Between 2002 and 2009, Emma worked as a corporate solicitor (managing associate) for Linklaters in London, mainly in the fields of private international M&A and public takeovers by scheme of arrangement.
Emma Ziercke studied English Law, French Law, and French Language at the University of East Anglia in Norwich and at the University of Lyon, Jean Moulin III, in France. In 2014 she completed an Executive MBA with distinction and received an award for best overall performance from Nottingham University Business School.
During her MBA studies she focused on Law Firm Management and won an award for her dissertation on gender diversity in law firms. Following her MBA studies Emma Ziercke worked as an independent adviser in the field of gender diversity. Her work as a research assistant at the Bucerius Center on the Legal Profession focuses on law firm management, gender diversity, and organisational behaviour.