Book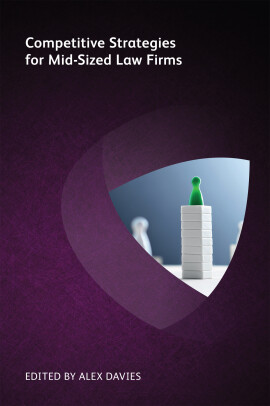 Mid-sized law firms in today's legal marketplace are often given three choices: merge, grow, or die.

That's accepted wisdom.

Mid-sized firms may try to compete for profitable corporate litigation, deals and other bread-and-butter work, but everyone knows they (1) don't have the IT and other systems heft to innovate with the big players (2) don't have the scale to market and compete for global business and (3) can't attract the talent they need to go head-to-head with Big Law on major work.

But what if that's wrong? What if mid-sized firms are in an ideal position to fix what's wrong with law practice today?

Competitive Strategies for Mid-Sized Law Firms - a collection of essays by and about mid-sized firms - offers a new perspective.
Table of Contents
| | | |
| --- | --- | --- |
| Cover | Cover | |
| Title page | i | |
| Copyright page | ii | |
| Contents | iii | |
| Executive summary | vii | |
| About the authors | xi | |
| Chapter 1: Does size matter? Defining the mid-sized law firm | 1 | |
| Chapter 2: Start the revolution in the middle | 7 | |
| How unhappy can you make us? | 7 | |
| Defining the opportunity | 8 | |
| The mid-sized opening | 9 | |
| Chapter 3: Turning the prevailing law firm business model upside down | 13 | |
| You get what you pay for | 14 | |
| Turning the model upside down | 17 | |
| Applying the model to mid-sized firms | 20 | |
| Why not Big Law? | 21 | |
| Chapter 4: Big Four, Big Law, Mid Law – how mid-sized firms can beat their competitors | 23 | |
| Why change? | 24 | |
| What is driving this change? | 24 | |
| What does this all mean for mid-sized law firms? | 27 | |
| Conclusion | 32 | |
| Chapter 5: The Janus challenge | 33 | |
| Big Law | 33 | |
| Mid-sized firms | 34 | |
| Small firms | 37 | |
| Boutiques | 38 | |
| Chapter 6: Mid-sized law firms – competitive and innovation strategies | 41 | |
| Background and market segmentation | 43 | |
| Competitive threats from other segments | 45 | |
| Changes to the business model and innovation | 47 | |
| Summary thoughts | 50 | |
| Chapter 7: Tools and tech – can technology help level the playing field? | 53 | |
| Introduction | 53 | |
| Part one – evaluating legal technology | 54 | |
| Part two – spurring usage and adoption | 57 | |
| Chapter 8: We're ready to be innovative – now what? | 61 | |
| Introduction | 61 | |
| Prerequisites for innovation | 61 | |
| Communication | 62 | |
| Timing | 66 | |
| Attitude | 68 | |
| Conclusion | 68 | |
| Chapter 9: "Access to the Bar for all", not the few | 69 | |
| What sparked the scheme? | 71 | |
| Setting up the scheme | 71 | |
| Funding the scheme | 72 | |
| The application process | 72 | |
| The scheme | 73 | |
| Work experience | 76 | |
| Wider exposure | 78 | |
| Why we need access to the Bar for all, not just a select few | 79 | |
| How other chambers or firms can help widen the scheme | 80 | |
| Chapter 10: Strategic thinking for mid-sized law firms | 83 | |
| Fundamental elements of strategic thinking for mid-sized law firms | 83 | |
| Strategy considerations specific to (most) mid-sized firms | 86 | |
| Portfolio analysis – a rational approach to allocating scarce resources | 89 | |
| Chapter 11: Differentiation and innovation – enabled by culture | 93 | |
| Question 1: Who are we? | 96 | |
| Question 2: What future do we want? | 96 | |
| Question 3: Why do we do what we do? | 100 | |
| Question 4: How will we deliver value? | 101 | |
| Question 5: What unites us? | 102 | |
| Question 6: Where will we focus our energy? | 102 | |
| Implementing mission elements | 104 | |
| Creating leaders | 104 | |
| Evidence of success | 107 | |
JOHN ALBER

John Alber serves as futurist for the Institute for Future of Law Practice. He was also the first futurist for the International Legal Technology Association. He writes, speaks and consults widely, focusing on finding practical ways to reshape the delivery of legal services to suit a future demanding excellence far beyond substantive legal skills. Prior to his current role, John was a transportation industry CEO. Thereafter, he led Bryan Cave LLP to become one of the most innovative firms in the world, serving as its strategic innovation partner for more than 16 years. While at Bryan Cave, he also served for seven years on the firm's operating group (its management committee). At Bryan Cave, John created one of the first Practice Economics consulting groups, one of the client facing technology groups and one of the first in-firm legal process outsourcing (LPO) organizations. The groups he created developed innovative web-based, client-centric applications that delivered legal advice to clients, managed complex workflows and even created pleadings automatically. They also developed client-facing knowledge management, project management, project estimation and business intelligence systems and highly technology-leveraged alternative staffing solutions for engagements of all types. John is an Emeritus fellow of the College of Law Practice Management. He has received a number of awards, both in the legal field and in information technology generally. Among other awards, he received ILTA's first ever Premiership Award, was named American Lawyer Media's first ever "Champion of Technology", was given a Lifetime Achievement Award by Law Technology News and recognized as one of the Top 25 CTOs in the world by Infoworld. In addition, while under his leadership, Bryan Cave received recognition as a CIO Magazine "Top 100 Company" and was twice recognized as ILTA's Most Innovative Firm.

FRED H BARTLIT

Fred H Bartlit is a West Point graduate, winner of the competition for skill in the operation of the eight US Army Infantry Weapons, a US Army troop commander, a Distinguished Graduate of the US Army Ranger Detachment, and a US Army Ranger. As commander, he received the US Army Commendation Medal for "exceptional personal qualities, superior service, steadfast devotion to duty, vigorous personal leadership," and his command achieved best score of any such unit in the US Army for intercepting incoming targets with surface-to-air missiles. He was first in his class in law school and has the top academic record in the 120-year history of the University of Illinois College of Law. He is the subject of many books and publications, including America's Top Trial Lawyers - Who They Are & Why They Win. He has tried over 100 major cases in 24 states, the Virgin Islands and Scotland.

NANCEY L WATSON

Nancey L Watson, BEd. is president of NL Watson Consulting Inc. She has helped professional services firms win over $3 billion in competitive bids. For nearly three decades she has worked with Big Four accounting firms, Top 10 engineering firms, and since 2012 has worked almost exclusively with global, national, mid-size, and boutique law firms in Canada and the United States on proposals and presentation strategies. She is an internationally recognized speaker who presents on topics such as pricing tactics, pricing masterclass, legal procurement's impact on law firm selection at in-house and law firm conferences including Thomson Reuters, Law Firm Marketing Partner Forum, Canadian Corporate Counsel Association National Conference and In-House Counsel World Summit, LawVision Group, Practice Partners Roundtable, and Legal Marketing Association, Eastern Canada Regional Conference. Nancey is the creator and facilitator of the workshop: Strategic Proposal Management (c) 2018. The training session results in proven strategies on how to increase win rates in today's highly competitive marketplace. She is also the presenter of the Accredited Continuing Professional Development/Continuing Legal Education Course (two hours), How Procurement Impacts Law Firm Selection. As a contributing author for Thomson Reuters Legal Executive Institute she has articles published on procurement and law firm strategies and several podcasts on the Legal Executive Institute website. Between 2008 and 2012, she acted as the membership committee chair and board member for the legal marketing association, Toronto chapter, and is presently membership committee chair for Toronto. Nancey can be reached via email at the NL Watson Consulting website.

MARK MEDICE

Mark Medice is responsible for strategic marketing and new program development at Intapp, helping law firms to achieve client success using metrics and actions, exploring innovation in client service. Prior to Intapp, Mark led the Peer Monitor program at Thomson Reuters, consulting with law firm leaders on topics like financial competitive intelligence and benchmarking, industry performance, rates, pricing trends and strategy, profitability, among other metrics. He is a licensed attorney and also worked throughout his career with Morgan Lewis, IBM, and Procter & Gamble.

JOHN STERLING

John Sterling is Chief Marketing Officer at Sterne Kessler Goldstein & Fox, a leading IP specialty firm based in Washington, DC. He is also the Founding Partner of Sterling Strategies, LLC. Prior to founding Sterling Strategies, John was a founding partner at Smock Sterling Strategic Management Consultants. He has over 30 years of experience in strategic management and market research. John has worked extensively with law and other professional service firms, as well as with industrial and consumer product companies and not-for-profit organisations. His work with TimeLine Theatre Company in Chicago won the Richard Goodman Strategic Planning Award for excellence in strategic planning from the Association for Strategic Planning. John is past president of the Strategic Management Association in Chicago and is a contributing editor to the business journal Strategy & Leadership.

CHRIS AUSTIN

Chris Austin is an established information management professional who focuses his work on transforming organizations with new processes and emerging technologies. With over 20 years of experience, Chris has overseen change in a variety of organizations including state and federal government, academia, publicly traded companies and law firms. His knowledge and experience include information systems, library services and knowledge management. He has built the framework for the largest records management program in the state of North Dakota, transformed the trial master file at a global pharmaceutical company and has spurred adoption for a firm-wide document management system. Recently, Chris has merged traditional library services with records functionality into a cohesive unit, breaking silos and transforming how data is consumed at Bowman and Brooke. Chris is the chair of the Information Governance Committee at Bowman and Brooke and has developed propriety information systems as well as acquired state of the art software, helping Bowman and Brooke continue its dominance as one of the premier product liability defense law firms.

DAVID URBANIK

David Urbanik began his business career as a strategic planning and mergers and acquisitions specialist for a large multi-national industrial corporation. In that role, he travelled the globe, providing advice and counsel to senior managers focused on developing and growing their businesses. He was deeply involved in a major corporate restructuring, managing the sale of 22 product lines and five major acquisitions. Working closely with some of the largest law firms in the world, Dave took the lead in negotiating the terms of a number of these transactions. When his corporate employer became the victim of a hostile take-over, Dave found a new challenge in the then emerging field of the professional management of law firms. He was one of the early pioneers in formalizing and developing the role of financial analysis, marketing, planning, and information systems in the legal industry. Now, with more than 25 years of experience, he has served as a mentor and guide to many lawyers and non-lawyers alike in their personal professional development. Dave has been cited as an innovator and has given presentations both locally and nationally on law firm management. He enjoys being surrounded by bright, creative people dedicated to furthering the best interests of their clients and takes pride in assisting in any way that he can.

STUART WILSON

Stuart Wilson is one of a few global marketing leaders with expertise as chief marketing officer of both Big Four and Big Law professional services firms. He is an innovative and transformational c-level marketing executive who leverages brand, business development, business intelligence, marketing communications, and digital marketing solutions to win, develop, and grow customers and clients. Throughout his career, he has advised many of the world's leading organizations regarding their marketing strategies and campaigns, including Coca-Cola, HSBC, InBev, P&G, American Express as well as Deloitte, PwC, EY and Latham & Watkins. He has deep experience working across six continents and numerous geographies, having lived and worked in London, Chicago, New York, and Toronto.

CHARLOTTE OGILVIE

Charlotte Ogilvie is the marketing and communications executive at Garden Court Chambers, a high-ranking UK barristers' chambers based in central London that is committed to human rights, social justice, and equality. She is a first-class History graduate from the School of Oriental and African Studies, University of London, and has worked across a variety of communications and editorial roles internationally from Bangkok to Amman.