Book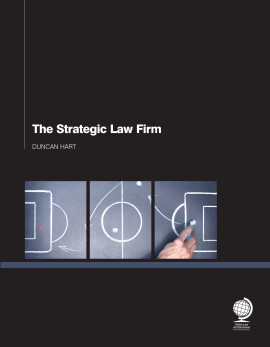 The Strategic Law Firm
Published: 2010
Pages: 143

eBook: 9781907787263
Capitalise on your firm's core strengths through the development of a coherent business strategy for success.
If you were to liken your firm to a restaurant, would it be a Rules? A Nobu? A Fat Duck? A Pizza Express? Or a McDonald's?

All of the above have a successful business strategy based on the needs of their target market. Could you say the same for your firm?

In an increasingly competitive and changing legal market, knowing where and how to compete through the implementation of a clear strategy is crucial to ensure a profitable future for your firm.

The Strategic Law Firm - will help you analyse your firm's core strengths and capitalise on them by developing a coherent business strategy for success.

Specifically this report will help you:

Identify your strengths and priorities;
Understand and implement the key elements of a successful strategy - value proposition, client segments, client relationships, provision of services, revenue, key resources, key activities, cost structure, partners;
Visualise, understand, review and tailor your business model;
Build the right focus for your firm (industry, client or transaction based);
Align your teams and leaders to target the right clients and industries;
Understand disruptive models; and more

The report further sets out the practical details of how a strategy planning day should be organised - before, on, and after the day, including:

A series of nine potential exercises ranging across values alignment through to market segmentation and scenario analysis;
Specific worked examples of ways to calculate team financial and contribution measures;
Capturing the outcomes into one page plans, which can be utilised at firm, team and individual level to drive your ongoing agendas; and
Useful examples, checklists and templates for immediate implementation.
This uniquely practical report will help you devise an effective strategic vision for your firm, and provides the tools to ensure that vision is achieved.
Table of Contents
| | | |
| --- | --- | --- |
| Cover | Cover | |
| Halftitle page | i | |
| Copyright page | ii | |
| Contents | iii | |
| Executive summary | vii | |
| About the author | xi | |
| Introduction | 1 | |
| Why is business model analysis important? | 1 | |
| The multi-team complexity | 1 | |
| Using a visual business model approach in context | 2 | |
| Strategy and business models | 3 | |
| The multi-team model | 3 | |
| Value, values and vision | 4 | |
| Business models and innovation | 5 | |
| The importance of process | 7 | |
| Some key assumptions | 7 | |
| Part one The Strategic Business Model | 11 | |
| Chapter 1: The strategist's dilemma | 13 | |
| Strategy and the firm's business model | 13 | |
| Leverage and strategy | 15 | |
| The key ingredients of a strategy | 17 | |
| Chapter 2: Analysing your current model visually | 21 | |
| The nine key elements of a business model | 21 | |
| Applying the model to the classic multi-team firm | 24 | |
| Shaping a more coherent strategy | 25 | |
| Chapter 3: Applying the model in the real world | 31 | |
| Example one – The boutique firm (immigration practice) | 31 | |
| Example two – The boutique firm (property practice) | 33 | |
| Example three – The boutique firm (industrial practice) | 33 | |
| Example four – The commercial firm (small practice) | 34 | |
| Example five – The commercial firm (larger practice) | 35 | |
| Example six – The commercial firm (industry focus) | 37 | |
| Chapter 4: Building an industry and client focus | 41 | |
| The benefits of an industry focus | 41 | |
| The code list for industry classification | 41 | |
| Managing the transition | 44 | |
| Using a transaction-based focus to build industry expertise | 45 | |
| Focusing at the transaction level | 46 | |
| Other issues in managing a firm's focus | 48 | |
| Managing the tensions | 49 | |
| Profit allocation | 49 | |
| A recapitulation of the key strategic benefits | 50 | |
| Chapter 5: Firm structure and strategy | 53 | |
| Some common examples of organisational structures in law firms | 55 | |
| Roles and responsibilities in law firms | 56 | |
| New and emerging structures | 58 | |
| Comparing the merits | 61 | |
| Emerging models | 61 | |
| Chapter 6: Disruptive innovation and new models | 63 | |
| Disruptive models | 63 | |
| Disruptive models and the legal profession | 64 | |
| Susskind's prognosis | 65 | |
| Chapter 7: Innovation and the law firm | 71 | |
| De-regulation of the legal sector | 71 | |
| Demographic change | 71 | |
| Globalisation | 71 | |
| Technology | 72 | |
| Public perception and expectations | 72 | |
| Diversity | 72 | |
| Clients | 72 | |
| Trends and their impact on the classic law firm model | 73 | |
| Why is innovation important? | 74 | |
| Trends and the rule of law | 75 | |
| Part two Due Process | 77 | |
| Chapter 1: Consensus, commitment and implementation | 79 | |
| Business models and consensus | 79 | |
| Implementation | 79 | |
| Before the day | 81 | |
| On the day | 81 | |
| After the day | 81 | |
| Chapter 2: Before the day | 83 | |
| Data collection | 83 | |
| Interviews | 84 | |
| Industry focus | 85 | |
| Analysing for suitable industries | 86 | |
| Competitor research | 87 | |
| Agreeing the agenda | 87 | |
| What if there is no obvious agenda? | 89 | |
| Chapter 3: On the day | 91 | |
| Setting the scene | 91 | |
| Promoting reflection and useful discussion | 91 | |
| Key issues | 92 | |
| Particular tools to use on the day – Utilising the business model canvas | 92 | |
| SWOT – Analysing capabilities, opportunities and threats | 97 | |
| Scenario planning – The external environment | 98 | |
| Which horse(s) to back – Team analysis | 101 | |
| Team strengths and prospects | 101 | |
| GE-McKinsey analysis | 103 | |
| Industry-focus exercise | 105 | |
| How does the firm progress an industry-based approach? | 107 | |
| A multi-team example | 108 | |
| The profit exercise | 110 | |
| The contribution exercise | 113 | |
| The what-you-need-to-get-started exercise | 113 | |
| What does the example reveal? | 116 | |
| Why is there such a difference? | 117 | |
| Improving accuracy of the analysis | 118 | |
| Potential pitfalls | 118 | |
| The pricing exercise | 121 | |
| The values exercise | 123 | |
| Chapter 4: After the day | 127 | |
| The outputs from the day | 127 | |
| Implementation plans | 127 | |
| Incorporating the outcomes into the budget | 128 | |
| A cautionary note – Too many initiatives? | 129 | |
| The planning imperative | 130 | |
| Incorporating outcomes into appraisal processes | 135 | |
| Where does this all fit in the firm diary? | 136 | |
| The personal development plan | 137 | |
| Financial | 139 | |
| Client | 140 | |
| Systems and processes | 140 | |
| Growth and learning | 141 | |
| Index | 143 | |
DUNCAN HART spent more than a decade as managing partner of a ten-partner legal practice and three years as regional managing director of one of Australia's largest law firms. He has particular expertise in the strategic management issues facing firms, the markets in which they operate and the development of their human and intellectual capital. Duncan practised as a barrister and solicitor for more than 20 years before becoming a full-time management consultant. In his practice as a consultant, he has advised all of the major professional groups as well as broader industry sectors.

He has consulted widely to companies in the health, manufacturing, finance, education, IT and government sectors. He also travels regularly to South East Asia and China as well as the Middle East. He is a director of several companies involved in supporting the export of services to those regions and the commercialisation of intellectual property.

In these roles, Duncan has developed insight into critical areas of management, including strategic planning, marketing, financial management, performance management and human resources strategy.
Duncan's educational background includes a law degree and an MBA. He is the editor of the second edition of Management of the Australian Law Practice (published by Lexis Nexis) and a regular speaker at conferences dealing with management issues and strategy. He has served as an elected city councillor, chair and non-executive director of several private companies, chair of the American Chamber of Commerce Export Group and a board member of the Mary Potter Hospice and Walk for the Cure.

He is also a member of the Intellectual Property Society of Australia and New Zealand, the Business Law Section of the Australian Law Council, the Australian Corporate Lawyers Association and the Law Societies of both Victoria and South Australia. On weekends however, he can be found sailing at the Royal Brighton Yacht Club on the yacht 'HAIKU'.
Duncan can be contacted at: dh@duncanhartconsulting.com