Book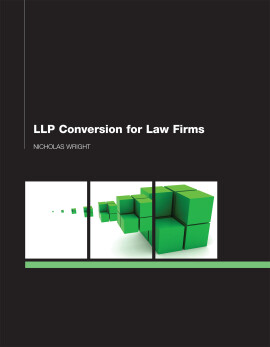 LLP Conversion for Law Firms
Published: 2010
Pages: 112

eBook: 9781906355876
A highly practical, step-by-step guide to LLP conversion, specifically taking into account the unique considerations that are raised by today's economy and evolving legal marketplace. It highlights the key questions that need to be asked during the preparation and transition stages, as well as how to deal with the complications that may arise after
With the introduction of Alternative Business Structures fast approaching and more and more partnerships converting to LLP status to meet the new requirements and remain competitive - now may be the time to start considering the benefits of conversion for your own firm. The conversion process can be a challenging one with wide-reaching implications. But a successful LLP conversion can provide the ideal opportunity to review your core business operations, allowing you to plan positive change and growth in an increasingly competitive and changing market.

Managing Partner's new report on LLP Conversion for Law Firms provides a highly practical, step-by-step guide specifically taking into account the unique considerations that are raised by today's economy and evolving legal marketplace. It highlights the key questions that need to be asked during the preparation and transition stages, as well as how to deal with the complications that may arise after conversion has taken place.

Key topics covered include:

+ Converting from a partnership to an LLP - key considerations and trends;
+ Advantages and disadvantages of converting from a partnership to an LLP;
+ Preparatory work and practical issues involved;
+ The default provisions and their drawbacks;
+ Tailoring the LLP agreement to reflect the needs of your firm;
+ Transferring the existing partnership business into the LLP - key issues and contractual obligations;
+ The general tax treatment of limited liability partnerships - possible complications that may arise after the conversion and how they might be handled;
+ Management and technical resources involved in the conversion - Is outsourcing an option?
+ The implications of the Legal Services Act 2007 and the introduction of Alternative Business Structures.

LLP Conversion for Law Firms includes valuable behind-the-scenes access to existing LLPs and the common pitfalls and successes they encountered through the conversion process. In addition, you will also find a precedent for an LLP agreement within the Appendix.
Table of Contents
| | | |
| --- | --- | --- |
| Cover | Cover | |
| Title | i | |
| Copyright | ii | |
| Contents | iii | |
| Executive summary | v | |
| About the author | ix | |
| Acknowledgements | xi | |
| Disclaimer | xiii | |
| Table of legislation | xv | |
| Chapter 1: Introduction | 1 | |
| The definition of an LLP conversion | 1 | |
| The trend towards LLP conversion | 1 | |
| Chapter 2: To convert or not to convert? | 3 | |
| Reasons for conversion | 3 | |
| Chapter 3: Preparing for conversion | 7 | |
| Potential issues | 8 | |
| Chapter 4: Forming the LLP | 11 | |
| Chapter 5: Converting under the default regime | 13 | |
| The default provisions and their potential dangers | 13 | |
| Chapter 6: Drafting the LLP agreement | 19 | |
| The name | 19 | |
| The registered office of the LLP | 20 | |
| The LLP's business | 20 | |
| Commencement, duration and place of business | 21 | |
| Accounting and funding | 21 | |
| Funding of an LLP | 21 | |
| Members | 22 | |
| Designated members | 22 | |
| Withdrawal of capital | 23 | |
| Profits and losses | 23 | |
| Voting and decision making | 23 | |
| Employee members | 25 | |
| Provisions for retirement | 26 | |
| Provision for expulsion | 27 | |
| Non-competition clauses | 29 | |
| Other matters to consider | 29 | |
| Insolvency and winding up | 29 | |
| Chapter 7: Transferring the business – In practice | 31 | |
| Transferring client matters | 31 | |
| Salaried partners – The criteria to be a member in the LLP | 33 | |
| Chapter 8: Accounting and taxation | 35 | |
| Appointing auditors | 35 | |
| Taxation | 35 | |
| The costs of a conversion | 37 | |
| Chapter 9: Managing the conversion project | 39 | |
| Create a list of the requirements for conversion | 39 | |
| Managing the conversion in-house or externally? | 41 | |
| Ensuring minimum disruption when transferring client matters | 42 | |
| The potential problems arising after a conversion | 44 | |
| Chapter 10: LLPs and ABSs | 49 | |
| Case study 1: Kingsley Napley – A conversion in practice | 53 | |
| Reasons for conversion | 53 | |
| A step-by-step process | 54 | |
| Case study 2: Retirement under the default provisions and accounting under the SARs | 57 | |
| Appendix: An illustrative example of an LLP members' agreement | 61 | |
| Index | 87 | |
NICHOLAS WRIGHT is chief executive of Wright Son & Pepper, which has been in Gray's Inn, London for approximately 200 years. The firm's main areas of expertise are in commercial, private client, partnership, LLPs and regulation law.

Nicholas advises firms on LLP conversions, has acted as receiver and assisted firms in professional difficulty. He has acted for a number of substantial firms in dealing with regulatory issues, as well as dealing with drafting, restructuring issues and disputes. Nicholas is also editor of the 'Practice Structures Section' of Cordery on Solicitors (Butterworths 1995).

Nicholas can be contacted at: [email protected]