Book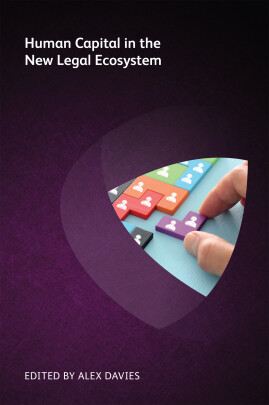 Human Capital in the New Legal Ecosystem
Michael Roster, Jon Whittle, Jennifer Johnson, Erin Meszaros, Susan Saltonstall Duncan, Bree Buchanan, Renee Branson, Lauren Stiller Rikleen, Clare Harman Clark, Chris Marston, Chris Boyd, Allison Blixt, Jullia Carretta, Timothy B Corcoran
Published: 2021
Pages: 124

eBook: 9781787425774
Examining the impact and effects of the COVID-19 pandemic on legal personnel, and the strategies law firm leaders need to consider and adopt to thrive in the new legal ecosystem that will follow.
The COVID-19 pandemic has changed working practices across the globe. It has been predicted that as much as 80 percent of the legal workforce will remain transient or permanently working from home after the COVID-19 crisis ends, with only around a fifth as full-time office workers. Although law firms typically weather downturns better than the overall economy, revenues, working practices, and working culture will all change.

The expected economic downturn may not directly translate into a decline for professional services, as market difficulties, regulatory responses, stimulus programs, changes in employment, and other stressors provide potential sources of demand - particularly in the legal sector. What is clear is that personnel issues will come to the fore, and law firm leaders will have to respond proactively, both to mitigate risk and to make the best of a challenging and changing situation.

Transitioning from an industry famed for office working to one that is more responsive, flexible and individualistic will provide as many opportunities as it will challenges.
Table of Contents
| | | |
| --- | --- | --- |
| Cover | Cover | |
| Title page | i | |
| Copyright page | ii | |
| Contents | iii | |
| Executive Summary | v | |
| About the authors | xi | |
| Chapter 1: Defining and rewarding a partner's highest and best use | 1 | |
| Confounding effects of academic bias | 1 | |
| Unmasking the villagers | 3 | |
| What gets measured gets… measured? | 6 | |
| Professionalizing the legal profession | 7 | |
| Incentivizing the new normal | 10 | |
| Chapter 2: The secret to profitability and professional satisfaction | 13 | |
| A tale of two metrics | 13 | |
| Law firm realization rates and client legal costs | 14 | |
| How to accelerate associate training | 16 | |
| How to incentivize partners to be more efficient, more profitable, and (yes) happier | 18 | |
| Back to the future | 19 | |
| Chapter 3: Why non-legal talent is essential in the new legal ecosystem | 21 | |
| The structural challenge | 22 | |
| The company description | 23 | |
| Market analysis and competitive position | 24 | |
| Management and organization | 24 | |
| What steps should a firm take? | 25 | |
| Some thoughts on non-legal talent | 26 | |
| Chapter 4: Growing high-performing business services teams in law firms | 29 | |
| Recruiting revenue enablers™ | 29 | |
| Onboarding best practice | 31 | |
| Mentoring | 34 | |
| Developing business acumen | 35 | |
| "Stay interviews" | 38 | |
| Chapter 5: Culture as an essential component of your firm's future health | 41 | |
| Introduction | 41 | |
| The core components of law firm culture | 41 | |
| How recent world events have changed traditional models and culture | 43 | |
| How to assess the culture you have | 44 | |
| Consciously (re)create and manage your culture to compete in the future | 48 | |
| Chapter 6: Promoting lawyer wellbeing – lessons learned from the ABA wellbeing pledge campaign | 53 | |
| Lawyer wellbeing movement launches pledge campaign | 53 | |
| Pledge signatories' wellbeing initiatives | 54 | |
| A word of caution and a call to action | 61 | |
| Chapter 7: Resilience and wellbeing for the legal profession during the time of COVID-19 and beyond | 65 | |
| Connection | 67 | |
| Calm | 67 | |
| Optimism | 68 | |
| Reason | 69 | |
| Integrity | 70 | |
| Health | 70 | |
| Resilience – from personal practice to organizational priority | 71 | |
| Chapter 8: Gen Z in COVID's cross-hairs – conversations to strengthen multi-generational teams | 73 | |
| Expanding the generational lens | 73 | |
| Seeing Baby Boomers as they see themselves | 74 | |
| Gen X in the shadows | 75 | |
| Millennials – growing up optimistic in a scary world | 76 | |
| Gen Z interrupted | 77 | |
| Building bridges | 77 | |
| Understanding feedback as a critical career development tool | 78 | |
| Gen X's challenge | 79 | |
| Changing the rules of engagement | 80 | |
| Chapter 9: Homeworking in the new legal ecosystem – the new norm? | 81 | |
| Technological capacity as the "new normal" | 82 | |
| Virtual team-building and collaboration | 83 | |
| Employee retention – preserving the work/life balance | 84 | |
| It's working, but not as we know it | 85 | |
| Conclusion | 87 | |
| Chapter 10: Why being more human and crafting connections with staff will deliver results | 89 | |
| LawNet's response | 89 | |
| Challenging thinking | 90 | |
| Enhancing engagement – some practical examples | 93 | |
| Chapter 11: The logistical and human challenges of the pandemic – a case study | 99 | |
| Moving all talent development virtual | 99 | |
| Keeping everyone connected and engaged | 103 | |
| Supporting diverse employees | 104 | |
| Wellbeing and connection | 105 | |
MICHAEL ROSTER

Michael Roster was formerly managing partner of Morrison & Foerster's Los Angeles office, co-chair of the firm's Financial Services Practice Group worldwide, and a member of the firm's policy committee. In 1993, Mike was appointed general counsel of Stanford University, Stanford Medical Center, and Stanford Management Company. He was subsequently executive vice president and general counsel of Golden West Financial Corporation. Mike has also served as chair of the Association of Corporate Counsel, as outside director and vice chair of Silicon Valley Bank, chair of the Stanford Alumni Association, steering committee co-chair of ACC's Value Challenge, and chair of two start-up companies. He currently teaches Contract Drafting and Analysis at the University of Southern California Gould School of Law and is a director of MDRC in New York, a non-profit organization that evaluates the effectiveness of government and other programs affecting lower- and moderate-income families and individuals.

JON WHITTLE

For the last ten years, Jon Whittle has been working on the future of law firms, focusing on strategies and tactics that help firms build sustainable, competitive advantage. Working in a senior leadership role at LexisNexis he has introduced cutting edge market research and thought leadership and is a recognized authority on how law firms can build and grow. He is also the architect and author of the widely read LexisNexis Bellwether Reports, which now play an important role in shaping the strategic development of law firms. Previously, Jon worked for two decades delivering commercial growth, at board level, in some of the UK's largest media companies and he applies the fruits of this experience, successfully, to the world of law firm development. Jon is particularly focused on helping law firms deliver commercial change with an emphasis on strategic development, successful project management, implementing new technologies, and evolving business operations. Jon is a specialist in building growth and value using market intelligence and customer insight. Jon is a regular speaker at legal conferences and seminars and is frequently asked to contribute thinking on the strategic future of legal markets.

JENNIFER JOHNSON

Jennifer Johnson prepares today's law firms for tomorrow's legal marketplace. She calls upon nearly 20 years of experience inside, and as a consultant to, law firms to deliver industry-leading strategy and executive search services. Law firms around the world rely on Jennifer to find sophisticated talent - impact players who will bolster their brands and bottom lines. Legal marketing teams rely on Jennifer for the tools and training they need to drive performance and ROI. As the driving force behind the revenue Enabler movement, Jennifer is passionate about eliminating the "non-lawyer" phrase and mentality. She speaks and writes on the topic regularly, and she guides Calibrate Legal's consulting services and product development.

ERIN MESZAROS

With more than 25 years of hands-on professional service experience, Erin Corbin Meszaros helps Eversheds Sutherland (US) attorneys turn business strategies into business successes. Through various firm initiatives she develops innovative solutions designed to enhance client satisfaction and increase brand awareness. Erin works one-on-one with attorneys on their professional and business development opportunities to help integrate and align their individual initiatives with the firm's overall business objectives. She also guides and supports practice groups and sectors to ensure the firm's strategic goals are met. Erin's career includes numerous successful business initiatives, such as implementing and executing a firm's five-year strategic plan, implementing and executing a forward-thinking client feedback program, initiating and completing a re-branding campaign, conducting an in-depth client relations coaching program, and creating a unique customer relationship management (CRM) database course, which effectively increased firm-wide usage.

SUSAN SALTONSTALL DUNCAN

Susan Saltonstall Duncan is the president of RainMaking Oasis LLC, a consulting firm that provides management, strategic planning, succession planning, client feedback, and development and business development consulting, training and coaching to firms, practice and industry groups, women's groups, and individual lawyers. She has long been an innovator in the profession having served as one of the first in-house law firm marketers in 1984 and one of the first chief strategy officers of a global law firm in 2011-12. Susan served as a regular columnist for Law Practice magazine, authoring the Rainmaking and Fresh Out columns for five years. She is author of the blog InFocus, which provides insights on law firm trends and strategies. Susan has presented programs for ALA, ABA, LMA, COLPM, LSSO, PLI, Ark Group, the Managing Partner Forum and local and state bar associations. She is a fellow of the College for Law Practice Management and an LMA Hall of Fame member.

BREE BUCHANAN

Bree Buchanan is founding co-chair of the National Task Force on Lawyer Wellbeing and is a co-author of its ground breaking 2017 report, The Path to Well-Being: Practical Recommendations for Positive Change. Bree is chair of the ABA Commission on Lawyers Assistance Programs which works to ensure assistance is readily available for those in the legal community experiencing issues related to substance use or mental health issues. As director of the Texas Lawyers Assistance Program from 2013 until retirement in 2018, she regularly worked with individual lawyers experiencing these issues, and with legal employers who were seeking resources and support for their staff. Her tenure with that program followed a two-decade legal career that included positions as a litigator, lobbyist and law professor. She is now senior advisor with Krill Strategies, Inc., providing consultation on issues related to lawyer wellbeing and impairment for major legal employers.

Bree is a frequent speaker for international and national law-related organizations, as well as global law firms on strategies for lawyer wellbeing and impairment. In 2018, she was awarded the "Excellence in Legal Community Leadership Award" by Hazelden Betty Ford Foundation. She has shared her own story of recovery as a featured guest on podcasts in the United States and Canada, and her writing has appeared in Law Practice Today, Judicature and Family Lawyer Magazine. In 2018, she graduated from the Seminary of the Southwest with a Masters in Spiritual Formation, where she honed a deep interest in the intrinsic link between meaningful work and personal wellbeing, as well as in assisting individuals with vocational discernment. Bree tends to her own wellbeing by engaging in a regular meditation practice, cycling, rowing, and being willing to ask for help when she needs it.

RENEE BRANSON

Renee Branson is the founder and principal at RB Consulting. Combining 20 years in education, counseling, and non-profit leadership, her passion and purpose is helping individuals, teams, and organizations cultivate resilience. After years of working with survivors of trauma she now teaches others the skills of resilience for workplace wellbeing. As a certified resilience coach (CReC), she provides clients with immediately usable tools to increase resilience, wellbeing, and optimism in the workplace. She works with lawyers, educators, business professionals, non-profit leaders, and others to help them understand and incorporate resilience in their own professional lives and in the teams they lead. Renee is a member of the American Bar Association's Attorney Wellbeing Committee. Renee speaks to international audiences on resilience and wellbeing, including as a guest lecturer at the UCLA School of Law. She holds an MA in counseling psychology from the University of Colorado and a BS from The Ohio State University.

LAUREN STILLER RIKLEEN

Lauren Stiller Rikleen, founder and president of the Rikleen Institute for Strategic Leadership, is a preeminent provider of training, speaking, and consulting services to professional services entities, businesses, and organizations seeking to create an engaged, respectful, diverse, and inclusive culture. As a former law firm equity partner, Lauren managed an environmental law practice and frequently served as a mediator. For two decades, she was selected by her peers to be listed in Best Lawyers in America. She has also been included in Chambers USA America's Leading Business Lawyers and in Massachusetts Super Lawyers. Lauren is the author of four books, including The Shield of Silence: How Power Perpetuates a Culture of Harassment and Bullying in the Workplace, and You Raised Us - Now Work With Us: Millennials, Career Success, and Building Strong Workplace Teams.

Lauren has served in numerous leadership roles within the American Bar Association, including as a member of the Board of Governors, chair of the Section of Civil Rights and Social Justice, and as a member of the ABA Journal Board of Editors. She currently is co-chair of the Women's Caucus and a member of the Standing Committee on Publishing Oversight. Among many other leadership roles in her community and profession, Lauren is a former president of the Boston Bar Association. She is the recipient of numerous awards, including the American Bar Association's Margaret Brent Women Lawyers of Achievement Award and being named by Public Media's Next Avenue as one of the 50 Most Influential People in Aging. More detailed information about Lauren and her background is available on the Rikleen Institute website at www.RikleenInstitute.com.

CLARE HARMAN CLARK

Clare Harman Clark is a senior professional support lawyer at Taylor Wessing LLP, building on a legal career that began with nearly a decade at Clifford Chance and a stint at Russell Cooke. Before retaining as a lawyer, Clare worked as a journalist and within a government press office, and still regularly publishes articles in national and trade press.

CHRIS MARSTON

Chris Marston is chief executive of LawNet, one of the leading providers of specialist support for law firms in the UK and Ireland. Formerly with Lloyds Banking Group, where he instigated and headed the specialist division for professional practices, he also spent many years in commercial banking, working with owner-managed businesses of all sizes. Widely respected as a champion of innovation in legal sector leadership and a well-known voice in the sector, he lobbies on behalf of network members, which range from GBP2m to GBP25m turnover. LawNet operates as a collaborative, mutually-owned national network where independent law firms access big firm resources and benefit from collective purchasing, shared knowledge, best practice and specialist expertise. There are currently some 70 member firms and a condition of membership is that firms achieve and maintain the LawNet ISO 9001 standard and associated Mark of Excellence.

CHRIS BOYD

Chris Boyd is the chief operating officer of Wilson Sonsini Goodrich & Rosati in Palo Alto, California. Chris leads the firm's teams that handle attorney recruiting, business development, diversity and inclusion, human resources, knowledge management, marketing, practice management, professional development, research and information services, and work allocation. These teams work with firm and practice leaders to implement processes, programs, and tools that support the firm's business goals and help the firm deliver more value to clients. Chris has an undergraduate degree from Princeton University and a law degree from Stanford Law School. Before joining Wilson Sonsini's management team, he worked as a management consultant, corporate and securities lawyer, and technology company knowledge management leader. He is a member of the board of directors of the International Legal Technology Association and the board of trustees of the College of Law Practice Management.

ALLISON BLIXT

Allison Blixt is director, professional development, diversity and inclusion at Wilson Sonsini Goodrich & Rosati, based in the New York office. Allison leads the firm's professional development and diversity and inclusion teams, strategies and initiatives. This encompasses lawyer and staff development, diversity and inclusion, wellbeing and engagement, legal training, and internal and client CLE programs. Allison has an undergraduate degree from Vassar College and a law degree from the University of North Carolina School of Law. Before joining Wilson Sonsini, she was a corporate lawyer in New York and London and then transitioned into law firm PD and D&I in London.

JULLIA CARRETTA

Jullia Carretta is professional development and diversity manager at Wilson Sonsini Goodrich & Rosati in Palo Alto, California. Jullia collaborates with key stakeholders to develop and implement the firm's diversity and inclusion strategy and initiatives. She serves as a liaison to clients and external organizations dedicated to increasing diversity in the legal profession. Jullia has a bachelor's degree in Political Science, with an emphasis in Middle Eastern Studies from the University of California, Santa Barbara. Before joining Wilson Sonsini, she worked in recruiting and development at two other law firms. Between recruiting roles, Jullia spent some time adventuring in Korea, teaching English to young children and exploring southeast Asia. She is an active member in the Association of Law Firm Diversity Professionals, Corporate Inclusion Diversity Consortium and the National Association for Law Placement.

TIMOTHY B. CORCORAN

Senior executive. Noted speaker and columnist and the author of Corcoran's Business of Law blog