Book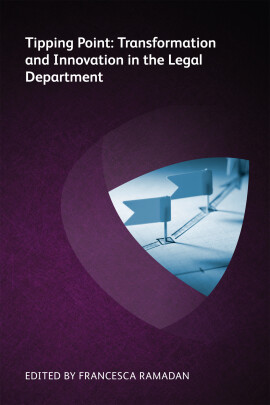 The contemporary legal landscape is no longer a rigid hierarchy composed of limited and complacent behemoths, but rather an ecosystem, filled with a wide variety of players that facilitate disruption and revolution and jostle for clients' attention with agility and innovation. This includes - but is certainly not limited to - entities such as technology companies, consultants, alternative legal service providers, and paraprofessionals.

Law firms are not the only ones in this environment that must adapt or fail; the legal department and in-house counsel, too, must transform in order to remain relevant and competitive. The world of the general counsel (GC) has already seen massive shifts - ever-increasing globalization has meant more legal issues and corporate activism, which in turn has generated new challenges and heightened demand. The GC cannot simply act in the role of outsourcer of work to external counsel, as in the past.

With the growth of legal departments (it is now not uncommon for legal departments to number in the hundreds or even thousands, often formed of expensive lateral hires) the GC must now wear a number of hats, including that of the "CEO" of their department. The introduction of data analysis into the legal space and the oft-repeated mantra of "less with more" has meant that the GC must now think in terms of spend and budget more than ever before, transforming the legal department from a cost-center to a value-add. They must cultivate a breadth and scope of vision, able to organize and lead their department as an innovator. The flourishing legal ops role also provides yet another challenge for the GC.

As the incorporation of legal ops within the law department becomes increasingly essential, the GC must work to ensure alignment and manage change. The present time has been hailed as the golden age of in-house lawyering, yet - and perhaps because of this - it is an uncertain and challenging time for the GC.

Tipping Point: Transformation and Innovation in the Legal Department is intended as a handbook for the GC looking to build a truly modern legal department and revolutionize their role. Encompassing aspects from leveraging influence with the c-suite to reimagining organizational hierarchies and seeking the right operational professional, this publication features contributions from those at the frontiers of the profession as it transforms and embraces new areas of expertise.
Table of Contents
| | | |
| --- | --- | --- |
| Cover | Cover | |
| Title page | i | |
| Copyright page | ii | |
| Contents | iii | |
| Executive summary | vii | |
| About the authors | xi | |
| Chapter 1: Creating a collaborative win using legal operations | 1 | |
| Managing real collaboration and change | 1 | |
| What legal departments can do | 4 | |
| The successful delivery of legal operations can happen with law firms of all sizes | 6 | |
| A solution for creating more predictability in big ticket litigation | 7 | |
| MassMutual implements successful legal operations: a case study | 8 | |
| Making it a win for your internal clients: a case study | 9 | |
| Better internal communications | 11 | |
| Better workflow options | 11 | |
| Relationships with outside law firms | 11 | |
| Why are there frequently problems with the implementation of legal ops, and what can be done to tackle them? | 12 | |
| How the CBAM Model creates successful change | 12 | |
| How the CBAM Model works | 13 | |
| Stages of concern | 14 | |
| Levels of use | 15 | |
| The conclusion about legal ops | 15 | |
| Chapter 2: Building the foundation – collaboration between internal and external counsel | 17 | |
| Selecting the right partner | 17 | |
| Develop institutional knowledge | 18 | |
| Aim to develop a true sense of team | 19 | |
| Rules of engagement: policies, guidelines and day-to-day communications | 21 | |
| The ongoing relationship – other considerations when engaging external counsel | 26 | |
| Cultural awareness when engaging outside counsel | 27 | |
| Conclusion | 28 | |
| Chapter 3: Leveraging the c-suite – tips for the modern GC | 31 | |
| It's all about relationships | 32 | |
| Remember: you're not just a lawyer | 34 | |
| Tips and tricks | 35 | |
| Chapter 4: Legal analytics – why do you need it and how do you build it? | 39 | |
| Why are legal analytics important? If you can't measure it, you can't manage it | 39 | |
| Which metrics matter? Deciding what to measure and why | 41 | |
| Where does your information come from, is it scalable and reliable, and how do you make it usable? | 43 | |
| Moving up the maturity ladder – growing from reporting to self-service analytics | 45 | |
| What does the future hold? Legal risk identification, quantification and mitigation: predictive legal analytics | 46 | |
| Chapter 5: Three key steps to drive change through innovative contracting | 49 | |
| Transformational opportunities | 51 | |
| Now is the time | 56 | |
| Chapter 6: Empowering the legal department through Agile methodology | 57 | |
| A brief history of Agile | 58 | |
| Agile for legal | 59 | |
| Project management and process improvement in one | 62 | |
| Getting started with your team | 64 | |
| Potential pitfalls | 69 | |
| Empowering technologies | 70 | |
| Conclusion | 72 | |
| Chapter 7: A case for working with your colleagues in the procurement department | 75 | |
| What does it take? Achieving success in procurement | 76 | |
| How can procurement deliver tangible results in managing your legal spend? | 77 | |
| Legal procurement: where do we go from here? | 81 | |
| Chapter 8: The valued legal department and legal ops – a strategy for success | 83 | |
| Phase I: the emergence of the law department operations executive and that individual's early focus | 84 | |
| Phase II: analyzing existing data regarding the organization's use of legal service | 87 | |
| Phase III: data and value-related qualities underlie a more strategic understanding of "value" | 88 | |
| Phase IV: the operations executive leads the effort to define the "value" of the company's legal service | 91 | |
| Operations executives possess considerable strategic strengths – utilize them | 93 | |
| Chapter 9: Law department organizational design in an era of rapid change | 95 | |
| Introduction: doing two seemingly contradictory things at the same time | 95 | |
| The starting point: molding the law department's structure to the corporation | 96 | |
| Client intimacy and getting a seat at the table | 96 | |
| Minding cost: designing an organizational structure with champagne tastes but a Budweiser budget | 97 | |
| Technology and innovation: part and parcel of law department organization design | 98 | |
| New frontiers: the role of the chief compliance officer and managing cyber risk | 99 | |
| Chapter 10: The evolving law department – what the future holds | 103 | |
| Understanding the role of the law department in a modern business | 104 | |
| The future – a more detailed look | 106 | |
| Conclusion | 112 | |
MERRY NEITLICH

Merry Neitlich is the founder and managing partner of EM Consulting, a leader in law firm marketing and business development solutions. With over 25 years of experience, Merry provides clients with tools to grow relationships and successfully identify, court and convert targets into clients. She consults with law firms wishing to overcome resistance and implement successful legal operations programs. Merry has extensive experience coaching attorneys in business development in order to grow their practices. She has interviewed hundreds of in-house counsels across the country for law firm clients in order to enhance relationships and client satisfaction. Merry offers training programs in business development, legal operations, client retention and satisfaction programs. In 2017, Merry was inducted into the LMA Hall of Fame and was inducted into the College of Law Practice Management in 2012.

GONZALO RUIZ

Gonzalo Ruiz is an award-winning in-house legal counsel with over two decades of global legal and business experience, carrying high-profile roles at The Coca-Cola Company and Sony Interactive Entertainment. Gonzalo has gained comprehensive business acumen and an outstanding cultural awareness partnering closely with senior business executives and cross-functional leadership teams across multiple jurisdictions.

IAN WHITE

Ian White has been the chief legal officer and/or company secretary for both listed and major private companies. This has led to developing an expertise in corporate governance and working with boards on effectiveness and performance. He has been involved in a number of board evaluations, both internally and externally. Ian now works as a consultant both on an interim and specific assignment basis. Over the last two years he has undertaken a number of board evaluations for FTSE 100/250 companies, as well as for private organizations. In addition, in 2016 he spent six months as an internal governance consultant for a FTSE 100 International Bank working on board effectiveness and governance matters generally for the Holdings Board. In the corporate world, Ian spent the majority of his time in the financial services sector (principally asset management) with roles such as group legal counsel/ company secretary of Perpetual, interim chief legal officer for Openwork Limited (formerly Allied Dunbar), and interim chief legal officer in the UK for Allianz Global Investors. Ian has also worked in other sectors and was group general counsel/company secretary of the Wilkinson Group. He is also a member of Sherwood psf Consulting.

AARON KATZEL

Aaron Katzel is an award-winning legal innovator, counselor and chief operating officer, who has been helping companies solve their most vexing legal and operational challenges for over 20 years. Since 2017, he has served as a trusted partner to businesses and law firms seeking to navigate the changing legal marketplace as the founder and CEO of The Better Legal Infrastructure Project LLC. In this capacity, Aaron helps clients understand and pursue opportunities to obtain better results and value in their delivery and consumption of legal services, and has designed and led initiatives that saved clients more than $1 billion while maintaining or improving legal outcomes. Aaron began his career as a transactional lawyer before encountering the opportunity to join the growing legal operations field, serving first as chief of staff to AIG's general counsel and then as the company's head of legal operations. Between 2012 and 2017, Aaron developed and led one of the industry's most recognized and innovative legal operations teams. In that role, Aaron and his team pioneered award-winning strategies that deployed data-driven, highly automated, scalable, market-based tools to price legal services. They also created the industry's first real-time, national, self-service legal analytics platform, automated over 100 separate legal processes, and managed the largest legal e-billing implementation ever completed.

PEGGY CHANG BARBER

Peggy Chang Barber is the Americas CEO and general counsel for the International Association of Contract and Commercial Management (IACCM), a global non-profit focused on enabling organizations and professionals achieve world-class standards in their trading relationships. A passionate advocate for the importance of contracting to business success, Peggy enjoys developing innovative solutions to complex challenges that drive contracting and commercial excellence. Before joining IACCM, Peggy was vice president and associate general counsel at Hewlett Packard, where she developed expertise in strategic contracting, commercial and competition law, corporate transactions, business operations, and organizational performance optimization. She successfully led global projects in contracting simplification and contracting intelligence and represented Hewlett Packard Enterprise as lead commercial counsel in many corporate transactions, including the separation of Hewlett-Packard Company and spin-merger with CSC that formed DXC. Peggy graduated from The University of Texas in Austin with a law degree, MBA, and Finance and Mathematics degrees. She is a member of the Texas and DC bars and holds an Interim Top-Secret security clearance.

DR. SILVIA HODGES SILVERSTEIN

Dr. Silvia Hodges Silverstein is the executive director of the Buying Legal Council, the international trade organization for legal procurement, and adjunct professor at Columbia Law School and Fordham Law School. Dr. Hodges Silverstein co-authored the Harvard Business School case studies GlaxoSmithKline: Sourcing Complex Professional Services on the company's legal procurement initiative, and Riverview Law: Applying Business Sense to the Legal Market on the new model law firm. She has authored many articles on law firm management and is also the author/editor of several books, including the Legal Procurement Handbook and Buying Legal: Procurement Insights and Practice. She is the publisher of Winning Proposals - The Essential Guide for Law Firms and Legal Services Providers. She earned her PhD at Nottingham Law School (UK), holds a master's degree in business from Universitat Bayreuth (Germany) and Warwick Business School (UK), and an undergraduate degree (economics) from Universitat Bayreuth.

DR. LENA CAMPAGNA

Dr. Lena Campagna is research and education director of the international trade organization Buying Legal Council and an assistant professor in the department of Sociology and Criminal Justice at Caldwell University in New Jersey. She has extensive experience in project coordination and community outreach, mixed methods research, and program evaluation. Lena has published in peer-reviewed academic journals in social science research as well as authored educational articles on the buying of legal services. Lena holds a PhD in Sociology from the University of Massachusetts Boston, a Master's degree in American Studies from the University of Massachusetts Boston, and a Bachelor's Degree in Marketing Communication from Emerson College.

JEFFREY N NEUMAN

Jeffrey N Neuman is currently the senior vice president, general counsel and corporate secretary for Tronox Limited, a NYSE-listed mining and chemical company with significant operations in the US, South Africa, Australia and the Netherlands. At Tronox, Jeff oversees Tronox's legal and regulatory affairs. Prior to joining Tronox, Jeff spent 16 years at Honeywell International in a variety of legal positions, including as its corporate secretary and deputy general counsel and the general counsel of Honeywell's $6 billion chemical division. Prior to moving in-house, Jeff was an M&A lawyer at Davis, Polk & Wardwell. Before law school, Jeff spent six years in the investment banking division of Merrill Lynch, with significant stints in New York, Tokyo and London. Jeff has a BA from Wesleyan University, an MA in Asian Studies from Harvard University, and a JD from Northwestern University.

PATRICK J LAMB

Patrick J Lamb is one of the founding members of Valorem Law Group and later a founder of ElevateNext Law, as well as a vice president of Elevate Services, a global law company. Pat spent 18 years at an AmLaw 100 firm, including several years as an equity partner, before leaving the firm to join a litigation boutique where he spent seven years, including six as a member of the firm's management committee. During these years, he was an avid proponent of budgeting and non-hourly fee arrangements. Ultimately coming to the conclusion that firms could not exist in both the hourly and non-hourly worlds, Pat and three colleagues - all big firm refugees - formed Valorem, which began in January 2008 as a non-hourly, value-fee firm. Seeking the ability to provide scaled solutions to client problems, Pat and his partner Nicole Auerbach formed ElevateNext Law to work in alignment with Elevate Services, providing clients a full range of service. Described by one in-house lawyer as "one of the few lawyers who gets it", Pat was named a legal rebel by the American Bar Association in 2009 and is a frequent speaker on value fees and the role of project management in the successful use of value fees. He began writing the popular blog "In Search Of Perfect Client Service" in 2005.

JOHN E GRANT

John E Grant is an Agile coach to legal managers and their teams. As founder of the Agile Attorney Network, he has helped in-house, law-firm, and public-sector legal teams to harness the tools of modern entrepreneurship to build more profitable, scalable, and sustainable practices. He spent nearly a decade in the technology industry before graduating with honors from Lewis & Clark Law School, where he served as editor-in-chief of the Law Review. In his legal career, John worked as in-house counsel, as a private firm lawyer, and as the head of legal project management and process improvement for an AmLaw 200 law firm. In 2018, he was selected to the FastCase 50 list of innovative legal professionals and the ABA Journal's Web100. He currently serves on the Board of Governors of the Oregon State Bar, as Board Treasurer for the non-profit Commons Law Center, and he coaches his two sons' youth soccer teams.