Book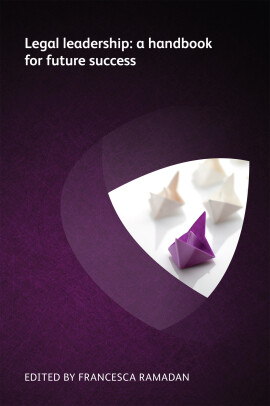 Legal Leadership
A Handbook for Future Success
Ian Paterson, Patrick J McKenna, Edward Walker, Gabriella O'Rourke, Harry P Trueheart, Russell Borland, Thomas Chalmers, Bob Murray, Alicia Fortinberry, Rosalie Chamberlain, Katherine Larkin-Wong
Published: 2021
Pages: 114

eBook: 9781787426047
A manual providing the essential tools to equip you to become a legal leader of the future. Our authors - ranging from behavioral psychologists to senior management figures and professional coaches -present a wide range of competencies and strategies to cultivate as part of a leader's personal and professional development.
Today's law firm is an entity in flux. Economic and technological disruption - along with a range of other factors - have contributed to this change, meaning that firms are not what they used to be.

It is therefore a necessity that the way they are managed also needs to change. This means, among many things, the need to corporatize the running of the firm; a move away from the focus on the billable hour towards more intangible activities such as business development and marketing and - perhaps the most important factor - the development of a new kind of leader within the legal landscape.

The new kind of leader now demanded by a transformed legal profession is not readily forthcoming, however. Legal culture stresses individualism and independence, which is reinforced by firm governance, practice management, and performance management systems that are ill-suited to foster supportive and collaborative leadership practices; lawyers are trained and conditioned to be combative, autonomous, and didactic.

To position oneself as a contender in a fast-moving and competitive market, the legal leader of the future must push back against these trends by acting strategically, engaging in people management, investing in their employees, and creating a working environment that places emphasis on communication, teamwork, and growth and development.

Legal leadership: a handbook for future success combines the latest and most relevant intelligence from those on the frontline of law firm leadership and management, to serve as the catalyst for change and the foundation on which a strong leadership practice can be built. Drawing on their expertise and experience, our authors - ranging from behavioral psychologists to senior management figures and pofessional coaches - present a wide range of competencies and strategies to cultivate as part of a leader's personal and professional development. Whether you are already a member of your firm's senior management, or in a junior position with big aspirations, Legal leadership: a handbook for future success provides the essential tools to equip you to become a leader of the future.
Table of Contents
| | | |
| --- | --- | --- |
| Cover | Cover | |
| Title page | i | |
| Copyright page | ii | |
| Contents | iii | |
| Executive summary | vii | |
| About the authors | xi | |
| Chapter 1: Leadership maturity and individual change – meeting your firm's needs | 1 | |
| Seven categories of leadership | 2 | |
| The immunity to change | 4 | |
| Law firm case study | 5 | |
| Conclusion | 8 | |
| Chapter 2: The fundamental challenges facing any new or future leader | 11 | |
| Do I shake things up or preserve the status quo? | 12 | |
| Do I strengthen my bonds with people or maintain a distance? | 13 | |
| Do I give the appearance that I know what I'm doing or ask for help? | 14 | |
| Do I push for the decision I want or facilitate a shared consensus? | 15 | |
| Do I focus on results above all else or accept a degree of uncertainty? | 16 | |
| Keep learning as you go | 17 | |
| Chapter 3: Does your personality influence your potential for partnership? | 19 | |
| Do I have the potential to become a successful law firm partner? | 19 | |
| Potential for what? | 21 | |
| The use of potential in graduate recruitment | 21 | |
| Identifying potential partners – a model and measure of leadership potential | 22 | |
| How do partners differ from other lawyers? | 25 | |
| Implications for law firms and lawyers | 26 | |
| Chapter 4: The changing role of leadership in law firms – from partner-led to corporate leadership | 29 | |
| The changing legal world | 29 | |
| Transition from the partner-led law firm to integrated professional management | 30 | |
| What is a lawyer leader expected to deliver? | 31 | |
| Initial levels of leadership – leader as coach | 32 | |
| National group level leadership – law firm business units | 33 | |
| National leadership and the law firm c-suite | 36 | |
| What does this mean for lawyers aspiring to leadership? | 38 | |
| What does this mean for non-lawyer professionals wanting to lead in law firms? | 39 | |
| What's next in law firm leadership? | 40 | |
| Chapter 5: Strategic planning for law firm leaders – a primer | 41 | |
| Creating a strategic plan | 42 | |
| Before you plan | 44 | |
| Building on strengths | 44 | |
| Risk analysis | 45 | |
| Supporting strategies | 46 | |
| Real-world issues | 46 | |
| Simple lessons | 52 | |
| Chapter 6: Leading a high-performing legal team | 55 | |
| What do we mean by a high-performing team? | 55 | |
| Characteristics of high-performing teams | 56 | |
| Building a high-performing team | 56 | |
| Leading a high-performing team | 60 | |
| Chapter 7: Humanizing law firm leadership | 65 | |
| Maybe not a digitized world | 66 | |
| The right stuff | 66 | |
| Human nature and leadership | 67 | |
| When not to be transformational | 70 | |
| Becoming a transformational leader (TFL) | 71 | |
| Chapter 8: "Soft skills" make tough lawyers | 77 | |
| Emotional intelligence (EI/EQ) | 77 | |
| Neuroscience of emotions | 79 | |
| Leadership mindset – we are all leaders in some form | 80 | |
| Influential communication | 85 | |
| Chapter 9: Reclaiming the next generation – understanding and leveraging millennials in your workplace | 89 | |
| What defines "millennial"? | 90 | |
| Are millennial lawyers the same and what can law firms do to keep them? | 91 | |
| Millennials are here to stay – how will you engage them? | 97 | |
IAN PATERSON

Ian Paterson is the founding partner at Cote Consultants. He is an executive coach and consultant, with 30 years of professional services experience as a partner with Andersen, Grant Thornton and EY. At EY Ian led the internal coaching team in the UK and supported the development of coaching across EMEIA. Ian formed Cote to help professionals and their firms perform better, which is achieved through providing a range of services including executive coaching and leadership development programmes. Over two-thirds of Cote's work is in the legal sector, and they have worked with a range of top 50 firms, including Magic Circle. Ian is accredited in the Immunity to Change (TM) process and has used this to help lawyers expand their leadership capacity.

PATRICK J. MCKENNA

Patrick J. McKenna is an internationally recognized author, lecturer, strategist, and seasoned advisor to the leaders of premier professional service firms. His published articles have appeared in over 50 leading professional journals and his most notable book, First Among Equals (2002), topped bestseller lists in the US, Canada and Australia and has been translated into nine languages. He was recently voted by the readers of Legal Business World as one of only seven international Thought Leaders (2017).

EDWARD WALKER

Edward Walker is founder and director of Anima & Atman, a consultancy that works with organizations and individuals to help them enact change. Edward has worked in resourcing and talent management for over 10 years, during which time he managed trainee solicitor recruitment for commercial law firm Pinsent Masons and was elected to represent the legal sector on the Advisory Council of the Association of Graduate Recruiters. Now a consultant, he continues to work with law firms and in-house legal teams as a coach and organizational development consultant. Alongside this, Edward undertakes research on work-related topics including leadership, legal secondments, and workplace resilience. Edward holds MScs in Psychology and Organizational Psychology and is an Ashridge-certified executive coach. He also studied Philosophy, Politics and Economics at Brasenose College, Oxford.

GABRIELLA O'ROURKE

Gabriella O'Rourke is currently serving as the national director of practice management for the Commercial Litigation Group for Borden Ladner Gervais LLP (BLG) - the largest Canadian owned and operated full-service law firm. In this role she is accountable for improving total group performance in a number of critical areas, including financial performance (P&L), pricing, business strategy, talent and workforce planning, process improvements and client service standards. Gabriella acts as the most senior operations lead for the practice group, which consists of approximately 150 lawyers and paraprofessionals across five regions. Before BLG, Gabriella served as the director of marketing and business development for the largest regional law firm in Ontario, Canada, and has held National leadership roles in global consulting firms KPMG and Grant Thornton LLP.

HARRY P. TRUEHEART

Harry Trueheart is the chairman emeritus of Nixon Peabody LLP. Before this, he served as chairman, managing partner and CEO of the firm; he is also immediate past chair and CEO of TerraLex, a global network of more than 150 leading business law firms with more than 19,000 lawyers in 100 countries. Under Mr. Trueheart's leadership, Nixon Peabody grew to be a national and international firm with offices in major US and international markets. He led Nixon Peabody to be recognized as a Fortune 100 Best Place to Work. His law practice has focused on dispute resolution, particularly arbitration of international business disputes. He is a Fellow of the College of Commercial Arbitrators, a Fellow of the Chartered Institute of Arbitrators, and an arbitrator for the American Arbitration Association, for which he has also served on ICDR panels. He serves as a mediator for a Federal Court administered mediation program.

RUSSELL BORLAND

Russell Borland is an executive coach and partner of Leading Figures alongside Thomas Chalmers. Prior to moving into coaching, Russell spent much of his career in an investment and benefit consulting firm, where he held a number of senior leadership positions including investment practice manager and firm-wide managing partner. He helped grow the business by encouraging the leaders to focus on building talented, high-performing teams. His coaching is primarily focused on finance and professional services, where he provides one-on-one coaching to leaders and works with teams, often with Thomas. Russell is a qualified coach through the ILM and is also accredited to use the Myers Briggs psychometric.

THOMAS CHALMERS

Thomas Chalmers is an executive coach specialising in the legal, finance and professional services sectors where he has supported several clients in developing their leadership capacity and growing their firm and/or practice. As well as one-on-one executive coaching, he has also supported many clients in securing chair and non-executive roles and is engaged as a team coach at board and senior executive/management level. He is a published children's author, has written for BBC radio ,and is a former Sunday Herald columnist. Thomas is a partner in Leading Figures alongside Russell Borland. Their clients include the Law Society of Scotland, the Chartered Banker Institute, the Institute and Faculty of Actuaries, and the Institute of Chartered Accountants of Scotland. They work with clients on three areas: growing leadership, improving collaboration across teams/boards, and stimulating growth.

DR BOB MURRAY

Bob Murray, MBA, PhD is an internationally recognized expert in strategy, leadership, influencing, human motivation, and behavioral change. Bob's insights are based on his wide experience in business as well as his deep knowledge of research in the areas of management, psychology, genetics and neurobiology. Clients include premier global law firms and mid-sized firms in Australia, the UK and Europe, alongside many Fortune Global 500 corporations.

With his colleague Dr Alicia Fortinberry, Bob won the American Science Achievement Award and was appointed to head the Obama Administration's comprehensive national work stress initiative. Bob's latest book with Dr Alicia Fortinberry, Leading the Future: The new human science of law firm strategy and leadership (Ark Group, London), shows the potential impact of the new science of being human on organizational success. With Alicia he is also the author of the international best-sellers Creating Optimism and Raising an Optimistic Child (McGraw-Hill, New York). Dr Bob has lectured at Sydney, Melbourne, Duke, Tufts, South Florida and California State universities.

DR ALICIA FORTINBERRY

Alicia Fortinberry, PhD (Organizational Psychology) has gained global recognition for her powerful, lasting impact on top-tier law and other organizations and leaders. Drawing on the latest science of human motivation and change, Alicia enables firms to shape strategy and build the right leadership, performance and diverse, cohesive culture. Alicia's clients include internationals such as Herbert Smith Freehills and Allens Linklaters and major national and mid-sized law firms, as well as many Fortune Global 500 corporations. With her partner Dr Bob Murray, Alicia received the highly prestigious American Science Achievement Award and was appointed to head the US government's comprehensive national work stress initiative.

Their latest book, Leading the Future: The new human science of law firm strategy and leadership (Ark Group, London), guides leaders to apply the latest science to areas such as navigating a firm or practice group through rapid change, managing high performance teams, and understanding the needs and motivators of clients. With Bob she also wrote two international best-sellers Creating Optimism and Raising an Optimistic Child (McGraw-Hill, New York).

ROSALIE CHAMBERLAIN

Rosalie Chamberlain is the director of Rosalie Chamberlain Consulting and Coaching. She is a skilled leadership and executive coach and consultant, having worked extensively with clients in the legal industry, as well as a broad range of corporate, government, and private industries. She served as the diversity and inclusion manager for a national AmLaw 100 firm prior to starting her own consulting and coaching business. Rosalie has more than 18 years of experience working with individuals and groups on leadership development and talent management. She is a member of the Committee for Diversity and Inclusion of the National Association of Legal Administrators (ALA), and is featured as one of several selected Top Lawyer Coaches, powered by Diversity Lab. She is also the author of Conscious Leadership in the Workplace: A Guidebook to Making a Difference One Person at a Time, which addresses authentic leadership, with a strong focus on the impact of biases.

KATHERINE LARKIN-WONG

Katherine Larkin-Wong is a Litigation and Trial Associate in the San Francisco office of Latham & Watkins LLP and a member of the firm's Antitrust and White Collar practice groups. Katie is a former president and now board emeritus of Ms. JD, chair of the Social Impact Incubator, and a Board Member and of the Associates Committee. She is a frequent writer and speaker on millennial lawyers and diversity in the law, and is herself a proud millennial. You can connect with her via Twitter @kmlarkinwong.