Book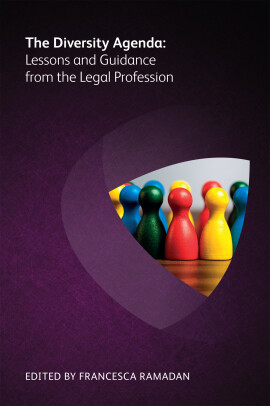 In both law firms and other businesses, the conversation around organisational diversity is in many ways more fervent, active, and engaged than ever before. Prominent figures in the profession make bold declarations about their belief in the positive contribution increased diversity brings, and firm websites are not considered complete without a visible commitment to improve their inclusivity.

It would seem that everyone is aware of the problem, and is vociferous about their attempts to tackle it. However, the numbers show that the needle is barely moving. The legal profession appears to be stuck at the point of discussion, and the measures that have thus far been implemented - which typically include token changes in company policy and written charters and agreements - can more resemble posturing than steps to achieve real change. The challenge, then, for any law firm which recognizes that diversity is a force for innovation and seeks to genuinely make a change, is finding those actions that do make an obvious and measurable difference.

What can be done, and where does one find the practical advice needed to instigate the change?

Packed with constructive guidance and compelling insight from industry experts and thought leaders, The Diversity Agenda: Lessons and Guidance from the Legal Profession seeks to provide the answer to these questions. Moving past the identification of an obvious problem, this book will instead offer effective solutions to those endeavoring to maximize their firm's potential through the benefits diversification can bring.

The Diversity Agenda: Lessons and Guidance from the Legal Profession aims to supply a unique perspective from authors who have experienced institutional challenges and obstacles, providing proactive steps to take in order to negotiate them. Expert advice is also supplemented by real-world examples of pragmatic, effective and award-winning diversity initiatives that are being pioneered by both international and regional law firms.
Table of Contents
| | | |
| --- | --- | --- |
| Cover | Cover | |
| Title page | i | |
| Copyright page | ii | |
| Contents | iii | |
| Executive summary | vii | |
| About the authors | xi | |
| Chapter 1: Where the rubber meets the road – tackling resistance to diversity | 1 | |
| Resistance | 1 | |
| Diversity and organizational goals | 2 | |
| What's fear got to do with it? | 3 | |
| Too few leading the way | 5 | |
| Inclusive leadership, bias, and individual responsibility | 5 | |
| Privilege as a catalyst for inclusion | 8 | |
| Conclusion | 10 | |
| Chapter 2: Structural equity – key strategies for a successful inclusion initiative | 11 | |
| Inclusion scorecard | 12 | |
| Unconscious bias training | 14 | |
| Formal mentoring programs | 14 | |
| Formal sponsorship programs | 15 | |
| Parental leave policies | 16 | |
| Conclusion | 17 | |
| Chapter 3: Ahead of the curve – trans inclusion at Hogan Lovells | 19 | |
| Background | 20 | |
| Getting started | 21 | |
| The policy | 21 | |
| Policy statement | 22 | |
| Trans inclusion training | 23 | |
| Impact | 24 | |
| Next steps | 25 | |
| Chapter 4: Disability, a desirable disadvantage | 29 | |
| What is a disability? | 29 | |
| My story | 29 | |
| Reasons for including disability on the diversity agenda | 32 | |
| Tips for employers to work in a more inclusive way | 32 | |
| What are the tangible benefits? | 36 | |
| Practical tips – quick wins | 36 | |
| Chapter 5: The power of purpose – retaining women by promoting passion | 39 | |
| The revelation | 39 | |
| Damming the departures: what isn't working | 40 | |
| A different question: why do women stay? | 41 | |
| The promotion of passion | 42 | |
| Finding meaning and purpose in the practice of law | 42 | |
| Conclusion | 46 | |
| Chapter 6: The basics and beyond – how to raise the bar for LGBTQ diversity in the legal profession | 49 | |
| Where we are | 50 | |
| Advancing to the basics | 52 | |
| Going beyond the basics | 54 | |
| Conclusion | 58 | |
| Chapter 7: The Apollo Project – a global focus on how to create meritocratic workplaces | 63 | |
| Introduction to the InterLaw Diversity Forum | 63 | |
| Background to the Apollo Project: "diversity 101 isn't working" | 64 | |
| The Apollo Project: driving cultural change for meritocratic workplaces | 65 | |
| Apollo Project winning initiative: a case study for cultural change | 66 | |
| Chapter 8: "Access to the Bar for All" – so much more than a financial assistance scheme | 71 | |
| What sparked the scheme? | 72 | |
| Setting up the scheme | 72 | |
| Funding the scheme | 73 | |
| The application process | 73 | |
| The scheme | 74 | |
| How other chambers or firms can help widen the scheme | 77 | |
| Chapter 9: Guidelines for corporate engagement – external LGBT+issues | 81 | |
| Introduction | 81 | |
| Common requests | 83 | |
| Best practice framework for evaluating requests | 86 | |
| Guidelines | 86 | |
| Process ownership | 87 | |
| CEO and senior leader engagement | 88 | |
| International considerations | 89 | |
WESLEY D. BIZZELL

Wesley D. Bizzell, president-elect of the National LGBT Bar Association and Senior Assistant General Counsel for Altria Client Services. Overseeing a comprehensive compliance system covering the regulation of government affairs, Wesley provides advice and guidance on political law compliance for more than 75 jurisdictions. Wesley is extremely active in promoting diversity and inclusion within the legal and corporate communities, and is an active member of several of his organization's equality groups and the chair of its Culture, Inclusion and Connection Committee. In 2017, he was named by the Financial Times as one of the 100 Outstanding Leading LGBT+ Corporate Executives, and is a board member for the National LGBT Bar Association, having also recently served as its president-elect.

ROSALIE CHAMBERLAIN

Rosalie Chamberlain is the director of Rosalie Chamberlain Consulting and Coaching. She is a skilled leadership and executive coach and consultant, having worked extensively with clients in the legal industry, as well as a broad range of corporate, government, and private industries. She served as the diversity and inclusion manager for a national AmLaw 100 firm prior to starting her own consulting and coaching business. Rosalie has more than 18 years of experience working with individuals and groups on leadership development and talent management. She is a member of the Committee for Diversity and Inclusion of the National Association of Legal Administrators (ALA), and is featured as one of several selected Top Lawyer Coaches, powered by Diversity Lab. She is also the author of Conscious Leadership in the Workplace: A Guidebook to Making a Difference One Person at a Time, which addresses authentic leadership, with a strong focus on the impact of biases.

RUTH GRANT

Ruth Grant is a litigation partner at Hogan Lovells International LLP and a member of the Hogan Lovells board. Former London managing partner and firm people development partner, she chairs Hogan Lovells' Global Diversity and Inclusion Committee. She is a member of the SRA Equality, Diversity and Inclusion Committee, the WILEF Global Advisory Board and the City of London Law Society Training Committee. She has a particular focus on recruitment of BME and socially disadvantaged graduates and the progression of women and LGBT lawyers in the profession. Ruth received the 2012 Association of Women Solicitors Award for Best Woman Solicitor Retaining and Developing Legal Talent and won "Woman Lawyer of the Year" at The Law Society Excellence Awards 2016. In 2016 she also won the Black Solicitors Network's Diversity Champion Award.

KAREN JOHNSON-MCKEWAN

Karen Johnson-McKewan, a partner at Orrick, Herrington & Sutcliffe in San Francisco, specializes in litigation that crosses the boundaries between traditional legal practices. For more than 30 years, she has first-chaired state and federal trials, and arbitrated more than a dozen disputes. She manages intellectual property and commercial matters for companies such as Oracle, NVIDIA, Netflix, VMWare, and Levi Strauss & Co. She has been named one of the 100 "Most Influential Women in Bay Area Business" by the SF Business Times, one of the "Top Women Litigators" by the Daily Journal, and won the National Association of Women Judges' Florence K. Murray Award for leadership. Most recently, Karen has been named to The Hollywood Reporter's 2018 Power Lawyers list for her work on behalf of Netflix.

SHARON E. JONES

Sharon E. Jones is an internationally recognized expert, consultant, author, and speaker on diversity and inclusion, unconscious bias, and the legal profession. She is the author of Mastering the Game: Career Strategies for Success (2018), designed to explain the unwritten rules for successfully navigating large corporate workplaces for women, minorities, and other diverse individuals. Sharon is also the president of Jones Diversity, Inc., a diversity and inclusion consulting firm which works to create an inclusive workplace culture. Sharon has practiced law and been a community leader for over 25 years, including positions as a federal prosecutor, with major law firms and with Fortune 500 Corporations. Sharon is a past president of the Black Women Lawyers Association of Chicago and is a graduate of Harvard Law School and Harvard College with a degree in Economics.

CHARLOTTE OGILVIE

Charlotte Ogilvie is the marketing and communications executive at Garden Court Chambers, a high-ranking UK barristers' chambers based in central London that is committed to human rights, social justice, and equality. She is a first-class History graduate from the School of Oriental and African Studies, University of London, and has worked across a variety of communications and editorial roles internationally from Bangkok to Amman.

TODD SEARS

Todd Sears is the founder and principal of Out Leadership, a global business advisory that connects leaders across the world's most influential industries to create business opportunities, cultivate talent, and drive LGBT+ equality forward. Todd began his career as an investment banker before moving to Merrill Lynch to become a financial advisor, where he created the first team of financial advisors on Wall Street to focus on the LGBT community. He then moved into diversity leadership, pioneering equality initiatives first at Merrill Lynch and then at Credit Suisse. Sears serves on the non-profit boards of the Williams Institute of UCLA, The Palette Fund, the Global Equality Fund of the United States Department of State and Lambda Legal, and is a graduate of Duke University.

YASMIN SHEIKH

Yasmin Sheikh is the founder of Diverse Matters, a consultancy specializing in disability issues (both visible and non-visible disabilities) in the workplace. She is also the vice-chair of Lawyers with Disabilities Division (LDD) at the Law Society and also Council member representing LDD. Yasmin helps organizations empower their workforce to be disability confident through her consultancy services, workshops, coaching, and disability-focused events. She is a multi-award-winning speaker at the Professional Speakers' Academy and speaks regularly about diversity with a particular focus on disability at many large organizations. She is a former lawyer of 12 years; having acquired her injury in 2008, she is now a wheelchair user. Yasmin packages her experience, expertise, and knowledge to deliver informative and transformative workshops and events to both employees and employers to become more confident when it comes to diversity and disability.

DANIEL K. WINTERFELDT

Daniel K. Winterfeldt is a partner at Reed Smith and a US securities lawyer with over 18 years of experience, with his practice focusing on representing investment banks and corporate issuers in a wide range of securities transactions. Daniel is also the founder and chair of the InterLaw Diversity Forum, through which he has spearheaded the ground-breaking Career Progression Report in the Legal Sector, the Apollo Project to promote business cultural change, and the Purple Reign initiative, which highlights LGBT and straight ally role models and multiple identities. He was named the "Legal Innovator of the Year" at the Financial Times' Innovative Lawyers Awards in 2012 for his work in capital markets and diversity and inclusion.