Book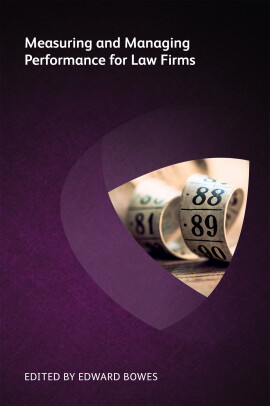 Obtaining an accurate and comprehensive overview of performance throughout the firm is no easy undertaking - there are numerous aspects of the firm to inspect and many varying streams of information to consider. From individual partner performance to firm-wide cash flow, correctly measuring and managing performance involves a keen eye on both the micro and macro aspects of the firm.

Measuring and Managing Performance for Law Firms offers an overview of the measurement and metrics that firms can employ to effectively manage their work force and firm-wide performance.

Discussing a range of topics from metrics that stimulate innovative thinking, effectively managing high-performance teams and dealing with stress in the work place, and implementing "balanced scorecards" and "opportunity scoring assessments" to track firm performance and effectively utilize internal information resources.
Table of Contents
| | | |
| --- | --- | --- |
| Cover | Cover | |
| Title page | i | |
| Copyright page | ii | |
| Contents | iii | |
| Executive Summary | vii | |
| About the authors | xi | |
| Chapter 1: Made to measure – Collecting and providing meaningful management information | 1 | |
| Real-time information | 1 | |
| Single view | 2 | |
| Lending agreed | 3 | |
| Chapter 2: Applying the balanced scorecard in a law firm environment – opportunities and challenges | 7 | |
| Nature of the opportunity | 8 | |
| Challenges to adopting balanced scorecards in law firms | 13 | |
| Chapter 3: Utilizing multiple intelligence sources to create an opportunity scoring assessment | 21 | |
| Setting the foundations – Metrics and scope | 21 | |
| Legal intelligence platforms | 22 | |
| Relationships and connections | 24 | |
| Experience | 25 | |
| Finance, pricing, and profitability | 26 | |
| Chapter 4: Practical strategies for improving cash flow | 29 | |
| Information and performance management | 29 | |
| Key performance indicators | 31 | |
| Project management of larger files | 35 | |
| An information calendar | 36 | |
| Chapter 5: Measuring the unmeasurable – KPIs for your people strategy | 39 | |
| Profitable resourcing | 39 | |
| Quality of new recruits | 40 | |
| Investment in knowledge and learning | 40 | |
| Diversity and inclusion | 41 | |
| Motivation and engagement | 41 | |
| International reach | 42 | |
| Managing KPIs | 43 | |
| Chapter 6: Unusual metrics to stimulate innovative action | 45 | |
| Metric 1: Management time spent exploring new opportunities | 45 | |
| Metric 2: Number of new revenue ideas, practice areas, and/or client services launched in the past year | 46 | |
| Metric 3: Number of distinctive attributes that clients actually value | 47 | |
| Metric 4: Time invested growing our individual and collective know-how | 49 | |
| Metric 5: Effectiveness of meetings | 49 | |
| Chapter 7: Four ways to channel creative tension in firms and teams | 51 | |
| One – Harnessing the power of multiple perspectives | 51 | |
| Two – Commitment to a shared vision | 52 | |
| Three – Engender mutual respect | 53 | |
| Four – Effective ways of resolving disagreements | 54 | |
| Arriving at a Result | 55 | |
| Chapter 8: Lived values – How to create an ethical high-performance culture | 57 | |
| Good citizenship | 58 | |
| Leadership priorities | 59 | |
| Citizen leaders | 63 | |
| Chapter 9: Avoiding burnout – Stress management in high-pressure law firms | 65 | |
| Physiology of stress | 66 | |
| Impact on firms | 67 | |
| Stress management program | 67 | |
| Coping strategies | 68 | |
| Peak performance | 69 | |
| Chapter 10: Breaking point – Creating a resilient mindset leads to a high performance culture | 71 | |
| Impact of stress on lawyers and legal teams | 71 | |
| Pressure points for lawyers | 72 | |
| Pressure testing | 73 | |
| Help individuals first | 73 | |
| Build team culture | 75 | |
Tony Brown

Owner of AGB Legal John Sterling Co-founder and Partner, Smock Sterling Strategic Management Consultants.

Patrick Fuller

Patrick Fuller is the vice president of business development for Neota Logic, Inc., based in New York City. With nearly 20 years of experience in the legal profession, Patrick is often referred to as one of the leading experts and pioneers in legal competitive intelligence (CI), particularly in the art of translating big data into intelligence for business development (BD) and organizational strategy purposes. Previously, Patrick served as the director of legal analytics for TyMetrix and ELM Solutions, helping legal departments to design and implement analytics and metrics management strategies. Prior to joining TyMetrix, he served as the vice president of product & market strategy for legal technology company Content Pilot. Additionally, Patrick was a senior consultant in the Client Growth Strategy practice with LawVision Group as well as an adjunct consultant with Hildebrandt Consulting, after serving as the global managing director of the Monitor Suite competitive intelligence platform he helped launch for Thomson Reuters Hubbard One. Patrick began his career in the legal industry with Martindale-Hubbell.

Barry Wilkinson

Barry Wilkinson specialises in helping medium-sized law firms to improve their business performance - producing better results for partners, staff, and clients. In a varied career he has been a cost accountant, business lecturer, finance director, professional speaker, author and, for the last 20 years, a management consultant and business coach. Barry is best known as `one of the few non-lawyers who can make lawyers sit up and listen', and for his ability to help law firms improve their cash flow, profits, and client satisfaction. His clients say that his key ability is to give them the confidence to tackle the real challenges which face firms today, and to get partners to move forward together. He has written many articles on legal business topics, and he was also the author of the first edition of Cash Management for Law Firms in 2009. Barry is the founder of Wilkinson Read and Partners, an executive committee member of the Law Society's Law Management Section, and a former branch president of the Chartered Institute of Management Accountants (CIMA). For more information on Wilkinson Read, see the website or contact Barry via email.

Jill King

Business writer and commentator. Jill can be reached via email or at her website.

Patrick J McKenna

Patrick J. McKenna is an internationally recognized author, lecturer, strategist, and seasoned advisor to the leaders of premier professional service firms, and he has also had the honour of working with at least one of the largest firms in over a dozen different countries. Patrick is the author of numerous books, most notably his international business bestseller, First Among Equals (currently in its sixth printing and translated into nine languages). His consulting expertise was acknowledged in 2008, when he was identified through independent research compiled and published by Lawdragon as "one of the most trusted names in legal consulting", and his three decades of experience led to his being the subject of a Harvard Law School Case Study entitled `Innovations In Legal Consulting' (2011). One example of that innovation was his launching the first instructional program designed to specifically address the issues that new firm leaders of larger firms face in their first 100 days - which has thus far graduated over 70 new leaders many from AmLaw 100 and 200-sized law firms, as well as from notable accounting and consulting firms. He is the only expert in professional service firms admitted to the Association of Corporate Executive Coaches, the #1 US group for senior level CEO coaches; and was acknowledged in 2014 by The American Lawyer magazine as `a long time succession consultant and coach to new firm leaders'.

Jeremy Snape

Founder and director of Sporting Edge

Nick Jarrett-Kerr

Nick Jarrett-Kerr is a specialist advisor to law firms and professional services firms worldwide on issues of strategy, governance and leadership development. Nick is a member of Edge International, a leading global consultancy to law firms, and in the last twelve years has established himself as one of the leading UK and international advisors. Prior to becoming a consultant, Nick was the Chief Executive Partner of Bevan Ashford, a leading regional firm in Great Britain, for eight years. Nick is the author of two published books on partner underperformance and law firm strategy, and is currently Visiting Professor at Nottingham Trent University where he leads the strategy modules for the Nottingham Law School MBA.

Christopher Smith

Managing director of Bath Consultancy Group, a division of GP Strategies