Book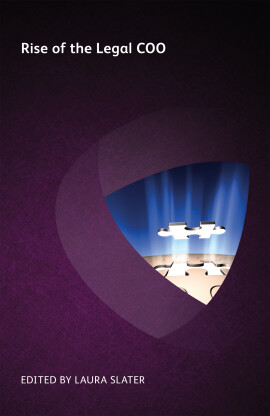 For law firms considering restructuring their business to meet the demands of a highly competitive market, hiring an experienced chief operations officer (COO) is sure to be a consideration. However, the reassignment of duties and shift in perspective this appointment will require may prove challenging for some firms. Finding the perfect match for a firm's unique culture and requirements is a difficult yet essential task. With input from a number of current law firm COOs and executive directors, alongside some of the most respected and sought-after consultants working in the legal space, Rise of the Legal COO examines the scope and variety of the legal COO role and how the challenges and demands of the position have altered as law firms have evolved over the last two decades. Heavily backed up by the first-hand experience of the contributors, the book also covers key topics such as how the COO fits into and supports the firm's leadership and what happens when leaders transition, factors that influence success (or not) as a legal COO, and key considerations for law firms thinking about introducing or developing the role. This book features: *A number of current COOs at large and midsize law firms share first-hand experience of the role at one or more firms. *In exclusive interviews, current COOs talk about how they relate to and support other leadership positions, get buy-in for change, and how they add value in the role. *Insight is provided from sought-after consultants who regularly advise the leaders of big name law firms. *Key topics covered include the most popular COO models used in the legal sector and reasons for the adoption of each model, what makes a COO-MP relationship successful, and how to deal with leadership transitions.
Table of Contents
| | | |
| --- | --- | --- |
| Cover | Cover | |
| Title page | i | |
| Copyright page | ii | |
| Contents | iii | |
| About the contributors | vii | |
| Executive summary | xiii | |
| Part 1: Role of the Legal COO | 1 | |
| Chapter 1: Horses for courses – The spectrum of chief operating officer roles in law firms | 3 | |
| Before you begin | 5 | |
| Model 1 – "Riding shotgun" | 7 | |
| Model 2A and 2B – The chief finance and operating officer | 9 | |
| Model 3 – The internal service and procurement head | 10 | |
| Model 4 – The infrastructure head | 12 | |
| Model 5 – The shared service head | 13 | |
| Model 6 – The practice COO | 14 | |
| Model 7 – The operational transformation leader | 15 | |
| The corporate legal operations head | 16 | |
| Chapter 2: Evolution of the legal COO role – Influencing and influenced by the changing law firm model | 19 | |
| The legacy model | 19 | |
| "Outsiders" in the legal profession | 21 | |
| The COO role in a changing industry | 23 | |
| The COO's role in implementing change | 24 | |
| The future | 30 | |
| Chapter 3: When a new firm leader takes the reins | 31 | |
| 1. Be clear on the new leader's specific goals | 33 | |
| 2. Be honest and candid in identifying those areas that the managing partner may regard as a weakness | 33 | |
| 3. Sort out the reporting relationships | 34 | |
| 4. Determine boundaries and division of responsibility | 34 | |
| 5. Identify expectations and the specific behaviors you want to see | 35 | |
| 6. Determine your preferred communications protocols | 36 | |
| 7. The COO needs to know how to best read and interact with the managing partner | 36 | |
| 8. Determine how you need to operate in order not to undermine each other | 37 | |
| The bottom line | 38 | |
| Chapter 4: Six factors that impede effective firm leader-COO relationships | 39 | |
| 1. You need to have respect for one another | 39 | |
| 2. There should be role clarity | 41 | |
| 3. Have the ability to compromise | 42 | |
| 4. Provide candid feedback | 42 | |
| 5. Beware of the divide-and-conquer ploy | 43 | |
| 6. Poor performance can overwhelm any relationship | 43 | |
| Chapter 5: The role of the chief operating officer in a law firm – A personal case study | 45 | |
| Background | 45 | |
| The basic role of a COO | 46 | |
| The underpinnings of success | 49 | |
| What does a COO bring to the table? | 51 | |
| The future | 53 | |
| Part 2: Interviews with Law Firm COOs | 57 | |
| Interview 1: Alastair Mitchell, Chief Operating Officer of Pinsent Masons | 59 | |
| Interview 2: Blane R. Prescott, Chief Operating Officer of Foley & Lardner LLP | 69 | |
| Interview 3: Sherry L. Gini, Chief Operating Officer of Goldberg Kohn | 81 | |
| Interview 4: Michael L. Delargy, Executive Director of Barnes & Thornburg | 91 | |
CHRIS BULL

Chris Bull is the founding director of legal and professional services retained advisors and thought leaders Kingsmead Square, advising on strategy, operations, transformation, and delivering business plans. He has a number of retained and NED roles in the sector and is KPMG's ambassador for the professional practices market. He has been a leading pioneer in professional firm business management for over 20 years and has experience in legal, accounting, consulting, financial services, and outsourced services organizations.
He has served as Chief Operating Officer of a law firm and professional service outsourcing organization. His appointment as Chief Executive of UK lawyers Osborne Clarke in 2000 was in the first wave of business professionals in law firm leadership roles.
One of the busiest speakers and writers on law firm management, Chris is a keynote presenter, conference chair, guest tutor, and panelist at conferences in Europe as well as the USA. He has authored Law Firms in the Digital Age (2013) and The Legal Process Improvement Toolkit (2012), published by ARK Group, as well as a series of best practice guides for the largest international law firm network, Lex Mundi.

MICHAEL L. DELARGY

Michael L. DeLargy is Executive Director of Barnes & Thornburg and is responsible for the day-to-day operations of the firm, including finance, information technology, human resources, marketing, and facilities. Mike has served as Chief Operating Officer and Chief Growth Officer at a large regional law firm in Chicago. Prior to entering the legal administration field, he was an accountant, controller, and director of operations for regional and national accounting firms.
He is a graduate of Point Park College and he earned an MBA from Robert Morris College. He joined Barnes & Thornburg in 2014.
Mike is a member of the Association of Legal Administrators' national, Chicago, and New York City chapters, and is a past treasurer and current advisor to the board of directors of the Chicago ALA chapter. He is also a member of the Legal Marketing Association; International Facilities Management Association; International Legal Technology Association; and American Management Association.

SHERRY L. GINI

Sherry L. Gini is the Chief Operating Officer at Goldberg Kohn, a commercial midsize law firm in Chicago, where she oversees the management of the day-to-day operations of the firm, including human resources, recruiting, technology, security, marketing, operations, and space planning. Sherry is a member of the management committee, which is responsible for the long-term strategic planning of the firm. She is also an active member of the firm's diversity committee and women's task force.
Sherry has 24 years of human resources and management experience in the legal and corporate communities. She earned her Bachelor of Science in Business from Indiana University, a Master of Science in Human Resources from Loyola University Chicago, and a Certificate in Financial Management from the University of Chicago. She is an active member in the ALA, SALA, SHRM, and several other roundtable associations.

ROD HARRINGTON

Rod Harrington joined Norton Rose Fulbright LLP as Chief Operating Officer in May 2016 to lead their EMEA operations and help develop and deliver on the firm's strategic objectives in the region. Prior to that he spent five years at Latham & Watkins as CAO Europe. He previously spent 18 years in the management consultancy sector, latterly as European COO for Booz & Company (formerly Booz Allen Hamilton). An accountant by background, Rod has held many senior commercial finance positions to global CFO level. He holds a degree in Chemical Engineering from Exeter and is a fellow of the Association of Chartered Certified Accountants.

PATRICK J. MCKENNA

Patrick J. McKenna is an internationally recognized author, lecturer, strategist, and seasoned advisor to the leaders of premier law firms. One of the profession's foremost authorities on law firm leadership, Patrick has authored more than a few pioneering texts, including his book (co-authored with David Maister) First Among Equals: How to Manage a Group of Professionals (The Free Press), which topped business bestseller lists in the United States, Canada, and Australia, has been translated into nine languages, and has been widely described as the essential guide to practice group leadership.
McKenna's published articles have appeared in over 50 leading professional journals, newsletters, and online sources; and his work has been featured in Fast Company, Business Week, The Globe and Mail, The Economist, Investor's Business Daily, and The Financial Times. His consulting expertise was acknowledged in 2008 when he was identified through independent research compiled and published by Lawdragon as "one of the most trusted names in legal consulting" and his three decades of experience led to his being the subject of a Harvard Law School Case Study entitled "Innovations in Legal Consulting" (2011). An example of that innovation was launching the first instructional program designed to specifically address the issues that new firm leaders face in their First 100 Days, which has thus far graduated over 70 new leaders, many from AmLaw 100 and 200 sized firms. His latest work is entitled The Changing of The Guard: Selecting Your Next Firm Leader and was released by ARK Group in April 2015. Patrick has consulted with at least one of the largest law firms in over a dozen different countries.

ALASTAIR MITCHELL

Alastair Mitchell has over 30 years' experience of working in professional service firms. He is currently Chief Operating Officer at Pinsent Masons where he is responsible for the firm's operational infrastructure across the global network.
Alastair plays a lead role in ensuring that business operations departments work together to support the firm through provision of services that are fit for purpose and support the firm's strategy, whilst being high quality and cost effective. Alastair has extensive international experience having worked in Asia and Central and Eastern Europe. He has previously held roles as COO at both Linklaters, where he worked for 13 years, and Holman Fenwick Willan.
Alastair is a fellow of the Institute of Chartered Accountants and is also a graduate of the Meyler Campbell Executive Coaching Programme, with a keen interest in developing young talent.

JAMES G. PERKINS

James G. Perkins is Chief Operating Officer and Chief Compliance Officer of Procopio, Cory, Hargreaves & Savitch LLP. For the last 20 years, he has led the firm's non-legal operations, including finance, human resources, marketing and business development, information services, and knowledge management.
Jim is a member of the firm's management committee and, in 2012, also became the firm's Chief Compliance Officer (CCO), responsible for developing a firm Enterprise Risk Management Program. In his CCO capacity, he also serves as co-chair, together with the firm's General Counsel, of Procopio's Office of Risk Management and Compliance.
Jim speaks regularly on law firm management issues and business strategy at conferences and international law firm network meetings. He also consults occasionally as part of the Procopio Business Advisors Group.
Jim served as Head Coach of the US National Rugby Team from 1987 to 1991 and is a director of the US Rugby Football Foundation. He is also a board member of the San Diego National Regional Economic Council. Jim has an MBA from the University of Chicago and PhD from the University of Surrey.

BLANE R. PRESCOTT

Blane R. Prescott is Chief Operating Officer of Foley & Lardner LLP. He is responsible for global leadership and oversight of all business affairs and operations, as well as strategy development and implementation, and is a member of the firm's partner compensation committee.
Blane's responsibilities include annual and long-range planning, mergers, acquisitions, growth and development, partner compensation and coaching, and the oversight of the firm's professional managers. Prior to joining Foley, Blane was the CEO at Brownstein Hyatt Farber Schreck LLP. He previously served as a partner with Hildebrandt International and has consulted with law firms and other professional service firms throughout North America, Asia, and Europe.
In his career, Blane has worked on more than 200 law firm mergers, assessing, structuring, and implementing combinations. He has conducted more than 1,000 client service interviews on behalf of law firms, and also regularly served as an active member of partner compensation committees for his clients.
Blane has extensive speaking experience with groups both in and outside of the legal profession, including as a guest lecturer for the MBA program at the University of San Francisco and the University of California, Berkley Law School. He is the author of more than 75 articles on law firm issues. His articles have appeared in The American Lawyer, The National Law Journal, The ABA Journal, The New York Law Journal, and numerous other publications.