Book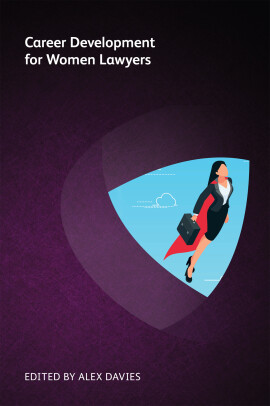 Career Development for Women Lawyers
Bailey Bosch, Rachel Brushfield, Yolanda Cartusciello, Susan Saltonstall Duncan, Rosalie Chamberlain, Debbie Epstein Henry, Joanne Frears, Patricia K Gillette, Christie Guimond, Clare Harman Clark, Karen Johnson-McKewan, Nika Kabiri, Rachel Khiara, Belinda Lester, Pam Loch, Katherine Thomas, Susan Eandi, Monica Kurnatowska
Published: 2021
Pages: 174

eBook: 9781787425507
For women, by women - to help female lawyers progress their careers in an industry still struggling with gender equality.
Although women comprise nearly half of all law students and incoming associates at law firms, and have done so for many years, they remain greatly outnumbered by men at senior levels. If nothing is done to change this trend, the percentage of women equity partners will remain under 20 percent for decades to come.

Slow progress in gender equality at senior roles raises awkward questions for the industry - and highlights the challenges that women lawyers face when developing their careers. Indeed, at mid-career, when earnings peak, the top 10 percent of female lawyers earn more than $300,000 a year, while the top 10 percent of male lawyers earn more than $500,000. Coupled with this, the number of female equity partners at top US law firms has risen by only five percent in the last 12 years. Although women comprise 47 percent of associate ranks at law firms, female lawyers make up only 31 percent of those entering the equity partnership class.

This book is for women, by women - to help female lawyers progress their careers in an industry still struggling with gender equality. Written by outstanding women lawyers in their respective fields, each contribution takes a personal and professional view of the legal sector, providing insight and analysis of issues as diverse as flexible working, portfolio careers, unconscious bias and the modern career trajectory.

The book is split into four sections, and begins with the results of original research undertaken by ARK Group in early 2019. Surveying 100 women lawyers from across the globe, we asked women at all stages in their careers to open up about their experiences, from recruitment to retirement, and the challenges - and opportunities - that being female has brought. The results make for interesting, and perhaps surprising, reading.
Table of Contents
| | | |
| --- | --- | --- |
| Cover | Cover | |
| Title page | i | |
| Copyright page | ii | |
| Contents | iii | |
| Executive summary | ix | |
| About the authors | xv | |
| Part 1: A woman's world | 1 | |
| Chapter 1: Introduction | 3 | |
| Have you experienced any discrepancy in your career regarding salary differences between male and female partners? | 4 | |
| Do you think women have to approach their career differently to men? | 4 | |
| Do you think that too much is made of gender differences? | 7 | |
| Which law firms do you perceive promote equality and diversity the best? | 8 | |
| Do you agree that modern career trajectories have changed, and partnership is no longer the end goal? | 9 | |
| Do you believe you have ever experienced unconscious bias? Do you consider this is still a hindrance to women's career development? | 10 | |
| Has flexible working helped you in your career? | 11 | |
| Are female-friendly practices, or women-only member organizations a good idea? What about female-only prizes? | 12 | |
| Would you agree that certain types of law are more suited to women? If so, which? | 13 | |
| Why do women leave the legal profession? | 14 | |
| Chapter 2: The gender pay gap | 15 | |
| Why does it matter? | 15 | |
| What is being done about it? | 15 | |
| The situation in the US | 16 | |
| The situation in the UK | 18 | |
| Future of gender pay gap reporting | 21 | |
| Chapter 3: Being a woman in a woman's world | 23 | |
| The authors' backgrounds | 23 | |
| Don't be them, be you | 24 | |
| How do you achieve this? | 25 | |
| "Becoming" is a thing now | 27 | |
| Reappraise, don't reinvent | 28 | |
| Advocating for work that works for you and how you can achieve this | 29 | |
| New ways of working | 31 | |
| What's next and do you want it? | 32 | |
| Part 2: Making your mark | 35 | |
| Chapter 4: Framing your career and designing an effective job search | 37 | |
| The exterior frame – parameters of your job search | 37 | |
| The interior frame – constraints of your job search | 40 | |
| The painting inside – designing an effective job search | 42 | |
| Know what your prospective employer wants and needs | 44 | |
| Overcome your prospective employer's fear of placement failure | 44 | |
| Identify the right culture for you | 44 | |
| Conclusion | 45 | |
| Chapter 5: The branded lawyer – professional development through confident brand-building | 47 | |
| What is brand? | 48 | |
| Why should lawyers brand? | 49 | |
| How to build your brand | 51 | |
| Conclusion | 53 | |
| Chapter 6: Blurring the professional and the personal to build successful business relationships | 55 | |
| The question | 55 | |
| Why we ask the question | 55 | |
| What the world has to say about the issue | 56 | |
| What strategies have worked? | 58 | |
| Principle no. 1: Good friends help one another | 58 | |
| Principle no. 2: Remember your other friends and colleagues | 59 | |
| Principle no. 3: Offer to help | 60 | |
| Conclusion | 60 | |
| Chapter 7: The power of maximizing your strategic network | 63 | |
| Introduction | 63 | |
| What is leadership, and why do leaders need strategic networks? | 64 | |
| What can a leader do to maximize the value of her strategic network? | 66 | |
| Conclusion | 70 | |
| Chapter 8: Executive presence to advance career success | 71 | |
| Build a strong executive presence | 71 | |
| Non-verbal communication – your appearance and the impression you make | 73 | |
| Additional communication strategies | 74 | |
| Network strategically and effectively | 75 | |
| Use meetings to be heard and impactful | 76 | |
| Client relationships, pitch teams and comp credit | 76 | |
| Find a mentor and a sponsor | 77 | |
| Be selective, stay focused and learn to say "no" | 78 | |
| Conclusion | 79 | |
| Part 3: Making your career work for you | 81 | |
| Chapter 9: Flexible working arrangements – the next stage from the "office nine-to-five" | 83 | |
| What is flexible work? | 84 | |
| Work hasn't always been this way | 85 | |
| Why is flexible working seen as primarily a woman's issue? | 86 | |
| The organizational benefits of flexible work | 86 | |
| Forming flexible working arrangements | 90 | |
| Summary | 91 | |
| Chapter 10: Going it alone – setting up your own practice | 93 | |
| Regulation | 94 | |
| The vehicle | 95 | |
| Pre-launch financials | 96 | |
| Infrastructure | 96 | |
| Marketing | 97 | |
| Going it alone | 97 | |
| Chapter 11: Work's not working – portfolio careers | 99 | |
| Introduction | 99 | |
| What is a portfolio career? | 100 | |
| What trends are driving the growth in portfolio careers? | 100 | |
| What are the factors particular to women driving portfolio careers? | 103 | |
| Who is attracted to a portfolio career? | 103 | |
| Examples of women lawyers and portfolio careers | 104 | |
| What are the barriers to women lawyers having a successful portfolio career? | 104 | |
| What are the pros and cons of a portfolio career for women lawyers? | 106 | |
| Data about women lawyers and portfolio careers | 106 | |
| Benefits of portfolio careers – to the firm | 106 | |
| CPD benefits to firms | 107 | |
| Summary and conclusions | 107 | |
| Chapter 12: Law as a second career | 109 | |
| Choosing a career path | 109 | |
| Graduating into a recession | 110 | |
| Making a change | 110 | |
| Facing my new reality | 111 | |
| Planning the next step | 112 | |
| The advantages of becoming a lawyer as a second career | 113 | |
| Standing out from the crowd | 114 | |
| Part 4: The future | 117 | |
| Chapter 13: Uncovering bias that sabotages career development and success | 119 | |
| Organizational culture | 119 | |
| Leaders | 122 | |
| Individuals | 125 | |
| Chapter 14: Modern career trajectories – is partnership still the end goal? | 129 | |
| The path to partner | 129 | |
| The lay of the land | 130 | |
| A bridge to brave new worlds | 133 | |
| Conclusion | 134 | |
| Chapter 15: Women are leaving – what might make them stay? | 137 | |
| Partner, large New York law firm | 138 | |
| Practice manager, medium-sized Midwest firm | 139 | |
| Partner, boutique Chicago firm | 140 | |
| Professor, law school in the southeast | 141 | |
| Sixth year associate, California – national firm | 142 | |
| General counsel – midwestern manufacturing firm | 142 | |
| Chapter 16: Women are ready – is the legal industry? | 145 | |
| The leadership vacuum for women | 146 | |
| Power means control | 146 | |
| The economic power fix | 147 | |
| The opportunity fix | 148 | |
| The self-fix | 150 | |
BAILEY BOSCH

Bailey Bosch is director of people and culture at Free Range Lawyers. Bailey has extensive experience in the use of psychological assessment in both organizational and clinical settings. In addition to her client work, Bailey has developed a parallel career in academia, working in university teaching and research positions for the last 15 years. A firm believer in an evidence-based approach, she is an avid consumer of psychological research and has contributed to several research groups during her career. Bailey holds a PhD in psychology and a Master of Counselling. She is currently completing her Master of Psychology in Organizational Psychology. She has membership with the Australian Psychological Society (APS) and the Society of Industrial and Organisational Psychology Australia (SIOPA) (Student) and her work is anchored in evidenced-based theories and techniques. Bailey runs her own consultancy for those organizations and individuals who wish to achieve work/ life/family integration and is a regular media contributor.

RACHEL BRUSHFIELD

Rachel Brushfield is The Talent Liberator at Energise, a career strategist, coach, marketing mentor and published author with over 30 years' experience. Helping women lawyers to "blow their own trumpet" is a specialism. Rachel's career heritage is in marketing and brand strategy and communications for communication agencies including J Walter Thompson, expertise she now uses to help women lawyers to liberate their talent and market themselves confidently and competently. Services include individual career coaching, executive coaching, events, workshops, and content creation for The Law Society, AWS, LexisNexis and AWLL. Rachel is a published author in talent management, professional development, work-life balance, and gender balance. She is co-founder of PWHub - Inspiring Professional Women, a network exclusively for senior women employed in Oxfordshire companies, and was shortlisted in the entrepreneur category of the We are the city 2017 "Rising star" awards, one of only 200 women in the UK.

YOLANDA CARTUSCIELLO

Yolanda Cartusciello has served in senior administrative leadership roles in major law firms for more than 20 years, including Debevoise & Plimpton and Cleary Gottlieb. She has led marketing teams, designed business development and media strategies, and implemented client development programs. She has been the chief architect of profile enhancement strategies, perception studies, branding exercises, comprehensive client interview programs, and practice and lateral partner rollouts. She has adapted the customer journey mapping technique for use by law firms, and has trained and advised firms on its use. She is a frequent lecturer and author on client journey mapping and the customer experience. Yolanda has also created business development and communications training and coaching programs for lawyers at all levels.

SUSAN SALTONSTALL DUNCAN

Susan Saltonstall Duncan is the president of RainMaking Oasis LLC, a consulting firm that provides management, strategic planning, succession planning, client feedback, and development and business development consulting, training and coaching to firms, practice and industry groups, women's groups, and individual lawyers. She has long been an innovator in the profession having served as one of the first in-house law firm marketers in 1984 and one of the first chief strategy officers of a global law firm in 2011-12. Susan served as a regular columnist for Law Practice magazine, authoring the Rainmaking and Fresh Out columns for five years. She is author of the blog InFocus, which provides insights on law firm trends and strategies. Susan has presented programs for ALA, ABA, LMA, COLPM, LSSO, PLI, Ark Group, the Managing Partner Forum and local and state bar associations. She is a fellow of the College for Law Practice Management and an LMA Hall of Fame member.

ROSALIE CHAMBERLAIN

Rosalie Chamberlain is the director of Rosalie Chamberlain Consulting and Coaching. She is a skilled leadership and executive coach and consultant, having worked extensively with clients in the legal industry, as well as a broad range of corporate, government, and private industries. She served as the diversity and inclusion manager for a national AmLaw 100 firm prior to starting her own consulting and coaching business. Rosalie has more than 18 years of experience working with individuals and groups on leadership development and talent management. She is a member of the Committee for Diversity and Inclusion of the National Association of Legal Administrators (ALA), and is featured as one of several selected Top Lawyer Coaches, powered by Diversity Lab. She is also the author of Conscious Leadership in the Workplace: A Guidebook to Making a Difference One Person at a Time, which addresses authentic leadership, with a strong focus on the impact of biases.

DEBBIE EPSTEIN HENRY

Debbie Epstein Henry is an expert, consultant, best-selling author, and public speaker on careers, workplaces, women and law. She is the Founder of DEH Consulting, Speaking Writing that consults to companies, firms, non-profits and individuals. She wrote two ABA best-selling books, Law & Reorder (author, 2010) and Finding Bliss (co-author, 2015) and her work has been featured by hundreds of news outlets including The New York Times, NBC Nightly News and The Wall Street Journal. Debbie built a network of over 10,000 US lawyers and co-founded Bliss Lawyers, a majority women-owned company that employs lawyers to work in-house and at law firms. She is the recipient of numerous awards including the Anne X. Alpern Award and being named among the Philadelphia Business Journal "Women of Distinction."

JOANNE FREARS

One of the first women solicitors in the City to specialize in advising technology businesses on IT law, Joanne Frears, solicitor and leader in IP and technology law, Lionshead Law, has been advising on technology law and commercialization of IP for over 20 years. Providing advice and strategy on IP, exploitation, commercialization and defense, she has particular expertise in law for AI, AR and VR, Blockchain, cybersecurity and defense of patents against trolls. She also has an academic interest in emerging technology and how the law deals with everything innovative. Joanne is a member of the Accord Project (participating in the IP and Technology Working Groups) and is legal counsel to the British Blockchain Association and the IBA and holds a Masters in comparative EU, UK, and US IP law.

PATRICIA K. GILLETTE

Patricia K. Gillette is one of the country's leading experts and most sought-after speakers on gender diversity and equality. She was a top-rated employment lawyer and litigator for 40 years as well as a major rainmaker in her firms. In 2015 she resigned as a law firm partner to pursue her passion for changing the legal profession as an author and keynote speaker. Patricia was also invited to join JAMS and now spends some of her time mediating employment-related cases.

CHRISTIE GUIMOND

Christie Guimond is an experienced strategy and innovation manager at Bird & Bird LLP, who has worked at the forefront of disruption in the legal industry for over a decade. Her experience includes developing a legal project management capability, introducing widespread legal and operational process improvements, including the implementation of initiatives such as smarter working and the adoption of emerging technology solutions. She also monitors the changing legal landscape and advises senior executives and in-house teams on how to respond to these changes.

CLARE HARMAN CLARK

Clare Harman Clark is a senior professional support lawyer at Taylor Wessing LLP, building on a legal career that began with nearly a decade at Clifford Chance and a stint at Russell Cooke. Before retaining as a lawyer, Clare worked as a journalist and within a government press office, and still regularly publishes articles in national and trade press.

KAREN JOHNSON-MCKEWAN

Karen Johnson-McKewan, a partner at Orrick, Herrington & Sutcliffe in San Francisco, specializes in litigation that crosses the boundaries between traditional legal practices. For more than 30 years, she has first-chaired state and federal trials, and arbitrated more than a dozen disputes. She manages intellectual property and commercial matters for companies such as Oracle, NVIDIA, Netflix, VMWare, and Levi Strauss & Co. She has been named one of the 100 "Most Influential Women in Bay Area Business" by the SF Business Times, one of the "Top Women Litigators" by the Daily Journal, and won the National Association of Women Judges' Florence K. Murray Award for leadership. Most recently, Karen has been named to The Hollywood Reporter's 2018 Power Lawyers list for her work on behalf of Netflix.

NIKA KABIRI

Nika Kabiri is an expert on consumer research and insights, especially in the legal space. For more than three years, Nika has led a wide range of strategic studies to better understand legal consumers - who they are, what they need, and how lawyers might be helping or failing them. Nika is currently VP at Lux Insights, a market and consumer insights firm specializing in social and consumer behavior.

RACHEL KHIARA

Rachel Khiara Rachel Khiara, Principal at Khiara Law LLP, is a pre-eminent advisor in the professional practices sector, working with leading and niche firms, and new entrants into the legal services sector on a wide range of constitutional, financial and structuring issues.

BELINDA LESTER

Since qualifying as a solicitor in 1999, Belinda Lester has worked exclusively in the area of employment law and is a member of the Employment Lawyers' Association. Belinda is frequently commended by her clients for being clear, concise, practical and solution-focused whilst at the same time being empathetic and supportive. Although Belinda has expertise in all areas of employment law, whether that be in relation to contentious matters or simply advising or drafting, her real passion lies in dispute resolution and her background in psychology, which she studied at university before converting to law, assists in this area.

PAM LOCH

Pam Loch, managing director, Loch Associates - When Pam Loch first founded Loch Associates Group in 2007, she saw it as an opportunity to support businesses with quality employment law advice and HR support running alongside each other. Leaving behind a successful career, Pam knew that SMEs often struggled to get access to the level of support they needed to effectively manage their staff. Pam wanted to provide this support for them. As the business developed she realized that there were wider opportunities to provide organizations with solutions to help them manage and look after their people.

KATHERINE THOMAS

Katherine Thomas helps legal service providers across the world grow, adapt and increase profitability with her company Katherine Thomas Consulting. With a reputation for strategic thinking combined with a large dose of pragmatism, she advises on strategy, sales, client development and the launch of new products and services. Now a consultant, speaker and coach, she previously established and led the well-known UK newlaw business Vario, a legal services provider with an emphasis on flexibility, for commercial law firm Pinsent Masons. As a result, she has a deep understanding of how alternative approaches to legal services delivery can increase competitiveness.

SUSAN EANDI

Susan Eandi image Susan Eandi is the head of Baker McKenzie's Global Employment and Labor Law practice group for North America, and chair of the California Labor and Employment practice group. She speaks regularly for organizations including ACC, Bloomberg, and M&A Counsel. Susan has been published extensively in various external legal publications in addition to handbooks/magazines published by the firm.

MONICA KURNATOWSKA

Monica Kurnatowska image Monica Kurnatowska is a partner in Baker McKenzie's London office and a member of the Global Employment and Compensation Steering Committee. She is a thought leader in the area of gender pay gap reporting and has spearheaded Baker McKenzie's gender pay gap initiative. Monica is also a coach and sponsor to a number of lawyers in the team and across the firm, and has particularly supported advancement of women in the team and on their path to partnership.