Book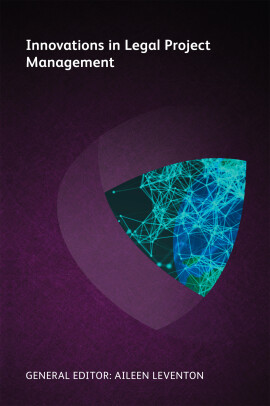 Innovations in Legal Project Management
Meredith Wise Mendes, Randall Brater, Katie Heilman, Byron S Kalogerou, Dennis J White, Todd Hutchison, Thomas Agostinelli, Kathleen Thompson, Kevin Bielawski, Lann Wasson, Sam Davenport, Brian Fanning
Published: 2021
Pages: 102

eBook: 9781787425712
Harnessing legal project management as a strategy that is explicitly aligned to a law firm's or legal department's business objectives and culture.
The organizational competence of project management provides a solid foundation for every activity conducted by a business and the practice of law. Legal project management (LPM) provides the discipline that enables lawyers and those who manage legal work - in law firms, law departments and alternate legal services providers - to define, demonstrate and deliver greater value by balancing the scope of work, time, and resources as they strive for optimal efficiency, outcomes and client satisfaction.

Although many distinguish the business of law from the practice of law, innovators in legal project management take an integrated approach. In commercial and governmental settings, practicing law is not an academic exercise, nor an end in itself. Effective legal services address a client's business needs, opportunities and risk profile, and may also implicate public policy and legal precedent. The client experience is personal as well as professional. LPM provides a framework for meeting all these challenges.

Innovations in Legal Project Management profiles those who have done the difficult work of harnessing the relevant aspects of legal project management as a strategy that is explicitly aligned to a law firm's or legal department's business objectives and culture. The authors describe communication strategies and techniques to train, coach and mentor those acquiring the skills to implement legal project management practices as a core aspect of the firm's business strategy, operations, quality legal services, and focus on the client experience. All the contributors to this book are professionals who continuously see around corners in improving the legal profession. They have created value for their firms, clients, and organizations; others have advanced the legal profession. They have systematically:

Used deep insights about particular clients to create new services and ways of doing things that impact the client's business goals;

Incrementally improved the speed, value (cost/margin), and quality/ benefits of the product or service they deliver; and/or

Relied on technology that is homegrown or highly customized to meet users' needs.
Table of Contents
| | | |
| --- | --- | --- |
| Cover | Cover | |
| Title page | i | |
| Copyright page | ii | |
| Contents | iii | |
| Executive summary | vii | |
| About the authors | xiii | |
| Chapter 1: Making legal project management work – a custom approach inspired by Einstein | 1 | |
| Recognizing the real needs | 1 | |
| there were no takers and the database went unused by our lawyers.Developing the right tools by changing the facts | 3 | |
| Adding the talent | 5 | |
| Adding the value | 6 | |
| Chapter 2: Innovations in legal project management – a law firm case study focusing on client needs | 9 | |
| Introduction | 9 | |
| Pilot program one: client interface project | 10 | |
| Pilot program two: staffing/workflow project | 12 | |
| Pilot program three: internal budget and timekeeper tracking | 13 | |
| Conclusion | 15 | |
| Chapter 3: Putting legal project management principles into practice for M&As | 17 | |
| Introduction | 17 | |
| Pre-deal | 19 | |
| Deal phase | 21 | |
| Post-closing phase | 22 | |
| Billing/budgeting tools | 22 | |
| Conclusion | 23 | |
| Chapter 4: Innovations in professional development for legal project development skills | 25 | |
| Legal project management skill areas | 25 | |
| Law schools shift to technology-enabled education | 26 | |
| Recognizing legal project management competency | 27 | |
| Globalization and a transition to online learning | 27 | |
| Expanding from law to business knowledge | 28 | |
| Artificial intelligence and technology-driven legal practice | 28 | |
| Influx of non-attorney project managers into legal practice | 29 | |
| Alternate fee arrangements impacting the ways of working | 30 | |
| Lifelong adult learning | 31 | |
| Innovation and interactive education delivery | 32 | |
| The attorney of the future | 32 | |
| Chapter 5: Daily management – meetings that matter | 35 | |
| Not all meetings are a waste of time | 35 | |
| When to implement daily management | 37 | |
| Benefits which reach beyond the meeting | 39 | |
| Conducting efficient daily meetings | 41 | |
| Conclusion | 45 | |
| Chapter 6: Increasing profits and client value with legal project management practices | 47 | |
| Leverage a different background | 49 | |
| Know the culture and key information | 50 | |
| Listen, learn, apply and adjust | 51 | |
| Reflect and revise | 53 | |
| Chapter 7: Close collaboration drives successful outcomes | 55 | |
| Team meetings | 56 | |
| Project alignment | 56 | |
| Financial reporting | 57 | |
| Measurements of success | 58 | |
| Success stories | 58 | |
| Chapter 8: Legal service delivery innovation – a case study in mitigating six law firm biases | 61 | |
| Service delivery is critical to delighting today's clients | 61 | |
| Six biases make law firms especially hard soil in which to grow innovation | 63 | |
| Case study: legal services delivery innovation at Davis Wright Tremaine (DWT De Novo) | 65 | |
| Chapter 9: How law departments use LPM to improve the corporate bottom line | 75 | |
| The threshold: defining the role of the legal department | 75 | |
| Five questions to maintain focus | 77 | |
| Four stages of a matter | 78 | |
| Metrics | 83 | |
| Conclusion | 84 | |
AILEEN LEVENTON

Aileen Leventon is a business counselor to the legal industry and a practicing lawyer with over 30 years of experience. She consults with law departments, law firms and individual lawyers on strategies to manage and sustain sound financial performance and continuously improve the efficiency of legal work. In addition to advising, coaching, and training, Aileen has facilitated numerous after-action reviews of closed matters to promote buy-in of legal project management techniques. She has also been embedded in ongoing matters to provide analysis and coaching to bring distressed matters back on course.

MEREDITH WISE MENDES

Meredith Wise Mendes is Jenner & Block's executive director and chief operating officer. Meredith provides strategic direction, financial analysis and operations management for all Jenner & Block offices. She has a long track record of creating top-line growth and increasing net income by driving innovation and efficiencies, metrics and process improvements, and implementing management tools that further the firm lawyers' ability to provide excellence in client service. Before joining Jenner & Block, Meredith was worldwide chief financial officer of Edelman, a global public relations firm, and chief financial officer of Medline Industries. She began her career practicing law in corporate and municipal finance, and is a sought-after speaker on topics including legal project management, technology and the law, and real estate management in professional services firms.

RANDALL BRATER

Randy Brater is a partner and commercial litigator at Arent Fox, who represents companies in the health care, life sciences, construction, food, fashion, and media and entertainment industries. He routinely litigates high-stakes matters in state and federal courts in cases involving the False Claims Act, trademark infringement, unfair competition, and other Lanham Act claims, and data compensation arbitrations arising under the Federal Insecticide, Fungicide and Rodenticide Act (FIFRA). For the past several years, he has served as the project management task force leader at Arent Fox, overseeing projects in various practice areas designed to create efficiencies with clients and foster accountability, communication, predictability, and transparency.

KATIE HEILMAN

Katie Heilman is an associate in Arent Fox's complex litigation group. Her practice focuses on ERISA and managed care litigation, environmental litigation and regulatory counseling, and fashion/retail law. She has been involved in litigation matters in state and federal court, as well as arbitrations, and is experienced in all phases of litigation, including discovery, depositions, motion practice, trial preparation, and appeals. Katie has counseled clients on regulatory compliance and litigation strategy in a wide range of industries, including fashion and luxury goods, real estate, health care, agriculture and biotechnology, media and entertainment, and hospitality.

BYRON S KALOGEROU

Byron S Kalogerou is a partner at McDermott Will & Emery LLP. He focuses his practice on domestic and cross-border mergers and acquisitions, joint ventures and alliances. Byron spent 17 years in-house before returning to law firm life 14 years ago with a desire to bring his keen sense of the "voice of the customer" to drive predictability and efficiency into the M&A deal process. He is a pioneer in using legal project management and co-founded and co-heads the Task Force on Legal Project Management in M&A of the Business Law Section of the American Bar Association, and served as co-editor of the ABA guidebook entitled Using Legal Project Management in Merger and Acquisition Transactions, now in its second edition. Byron also created the first-of-its-kind web-based collaborative deal management portal, which McDermott has adopted and embraced as the M&A Gateway. He regularly speaks on the topic of how using legal project management in M&A results in greater client satisfaction and retention.

DENNIS J WHITE

Dennis J White is senior counsel in the Boston office of Verrill Dana LLP, where his practice focuses on transactional matters, particularly mergers and acquisitions and on advising companies and directors regarding governance issues. Den co-founded and co-heads the Task Force on Legal Project Management in M&A of the Business Law Section of the American Bar Association, and served as co-editor of the ABA guidebook entitled Using Legal Project Management in Merger and Acquisition Transactions. He is also a past chairman of the Global Board of Directors of the Association for Corporate Growth (ACG), an M&A trade association with more than 14,000 deal community members in over 50 chapters around the world.

TODD HUTCHISON

Todd Hutchison is an international bestselling author, global consultant and educator, and an adjunct associate professor in project management. He was formally a global board director of the Project Management Institute, and the inaugural Fellow of PMI in Australia, with over 30 years' experience in leading projects. Todd leads the global management consultancy and training group called Peopleistic, including the Peopleistic Legal PM division, and also holds adjunct positions with CQUniversity, Edith Cowan University and Curtin University. He has worked in over 150 organizations across 13 countries and is the chairman of the International Institute of Legal Project Management.

THOMAS AGOSTINELLI

Thomas Agostinelli serves as director of practice management at Butler Snow LLP, where he collaborates with practice group leaders to develop strategies to best serve the client and streamline business operations. His role also includes oversight of paraprofessionals, litigation support and project and process management within Butler Snow, where he drives legal project management (LPM) and process improvement initiatives to enhance delivery of legal services and client satisfaction. Prior to joining Butler Snow in 2013, Thomas worked at Horne LLP where he supported government disaster recovery programs with the Government Services Practice Group. Thomas is a certified project management professional (PMP) and an accredited legal project management professional (ALPMP).

KATHLEEN THOMPSON

Kathleen Thompson has served as the senior manager of client value and matter management at BakerHostetler. She has 20 years of experience leveraging her finance and project management real-life experiences to ensure a methodical and organized approach is applied to programs and projects. Her training approach provides relatable finance and operation perspectives. Kathleen consistently acts a resource to provide specific guidance on managing clients, internal resources, defining and utilizing work plans and other opportunities to add value. Her ability to tailor a solution for a specific situation is how she has been able to increase profitability and client satisfaction. Recently, she was responsible for developing, implementing and coordinating legal project management (LPM) at Baker Hostetler and wrote a manual on LPM, outlining specific methodology and tools.

KEVIN BIELAWSKI

Kevin T Bielawski is the director of legal project management and strategic pricing at Husch Blackwell, and has 21 years of experience in the legal industry in various financial roles. In his current role, he consults directly with the firm's partners and its clients to identify business objectives, value perspective, process inefficiencies, and assist with solution development and implementation. He regularly leads the development, proposal and execution of appropriate fee arrangements that meet clients' budget demands. He is an accredited legal pricing professional and a certified project management professional.

LANN WASSON

Lann Wasson is the associate director of legal project management at Husch Blackwell LLP and is both a certified project management professional and Lean Six Sigma Green Belt. For the past 18 years he has worked closely with client teams and practice groups in their use of technology, legal project management and approaches to business model and product design. Over the years, Lann has also worked with in-house counsel to discuss how to adapt the firm's technology platforms to their needs, as well as suggest how legal project management could augment law department programs and strategies. In 2017 and 2018 the ACC recognized two of these client projects as Value Champions.

SAM DAVENPORT

Sam Davenport is the director of legal business solutions at Davis Wright Tremaine, where he manages the DWT De Novo's Legal Solution Architects. He holds a JD from Rutgers School of Law, a PMP from the Project Management Institute, a CSM and CSPO from the Scrum Alliance, and an LPM certification from the LPM Institute. He is a recognized expert in project management and business operations, routinely presenting and speaking on those topics at legal industry conferences.

BRIAN FANNING

Brian Fanning is the director of practice economics at Davis Wright Tremaine. He holds an MBA from the Foster School of Business at the University of Washington and is an accredited legal pricing professional through the True Value Partnering Institute. Brian leads a team charged with leveraging the firm's economic and operational data to drive more effective, profitable decision making. Brian's team is also responsible for developing and articulating the firm's data strategy and developing reporting capabilities that deliver data, analysis, and insights to end users at every level within the firm.