Book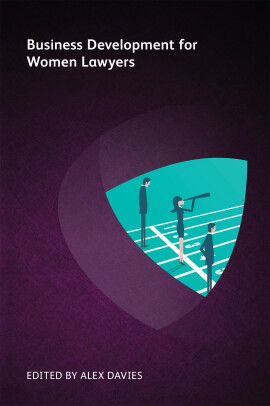 Business Development for Women Lawyers
Patricia K Gillette, Audra A Dial, Nika Kabiri, Natasha Innocenti, Belinda Lester, Debbie Epstein Henry, Rachel Brushfield, Susan Saltonstall Duncan, Pam Loch, Joanne Frears
Published: 2021
Pages: 100

eBook: 9781787425620
Developing successful, authentic, out-of-the-box business development strategies in a largely male-dominated profession.
Research suggests that there are gender differences in business development. Regardless of industry, women tend to develop relationships for the intrinsic value of those relationships, while men do so for the potential yield those relationships may bring. Men approach prospects with the goal of obtaining business, whilst women's goal is to build ties.

A gross generalization?

Maybe. But the fact is, there are still far more men in partnership and leadership roles than women, and business development - the people you know, your order book, and your ranking within an organization - is key to that. The book features multiple contributions from women across the globe, looking at the skills and techniques, experiences and talents that female lawyers use to develop their practices and grow their order books, acting as both inspiration and motivation to its readers.

Developing successful, authentic, out-of-the-box business development strategies in a largely male-dominated profession is a challenge for many women lawyers. Where many senior partners have developed business by playing golf or taking their clients for cigars and steaks, women need to find a different way to develop business based upon their own personal interests and strengths.
Table of Contents
| | | |
| --- | --- | --- |
| Cover | Cover | |
| Title page | i | |
| Copyright page | ii | |
| Contents | iii | |
| Executive summary | vii | |
| About the authors | xi | |
| Chapter 1: Steps to build your practice and be a successful rainmaker | 1 | |
| Build a business development routine | 1 | |
| Define your niche – stand out as a "go to" lawyer | 2 | |
| Refine and promote your brand | 3 | |
| Effective communication is essential for business development | 5 | |
| Build new business with authentic relationships with clients, prospects, and referral sources | 6 | |
| Address the challenges | 7 | |
| Play to your strengths – use your gender to your advantage | 7 | |
| Chapter 2: Feeling lawyers – how to harness the power of empathy in your legal practice | 9 | |
| The client journey as a framework for empathy | 10 | |
| Empathy can help you be known | 11 | |
| Empathy can help you be considered | 13 | |
| Empathy can help you get hired | 14 | |
| Empathy can help you serve clients well | 15 | |
| When in doubt, ask | 16 | |
| Chapter 3: Advancement and empowerment of women lawyers – taking the credit | 19 | |
| Making rain | 19 | |
| Now it's raining | 20 | |
| Credit check | 21 | |
| Myths | 21 | |
| Where credit is due | 23 | |
| Chapter 4: Female-friendly networking – the power of social media | 25 | |
| Facebook groups | 27 | |
| LinkedIn | 29 | |
| Twitter | 29 | |
| Instagram | 30 | |
| Chapter 5: Building reputation and relationships | 31 | |
| Building a reputation in your first few years | 31 | |
| Building your reputation as you advance in your career | 35 | |
| Building your brand | 37 | |
| Chapter 6: Strategic networking – learning to identify, connect, and benefi t your network | 41 | |
| Identifying your network | 41 | |
| Connecting with your network | 42 | |
| Benefiting your network | 43 | |
| Chapter 7: Helping women lawyers overcome their blocks about marketing | 47 | |
| Why is self-promotion important? | 47 | |
| Beliefs about self-promotion | 48 | |
| The impact of under-promotion | 50 | |
| Overcoming the blocks | 51 | |
| Conclusion | 55 | |
| Chapter 8: Case study – building a boutique law firm | 57 | |
| The big decision | 57 | |
| The early days | 58 | |
| Moving onwards and upwards | 59 | |
| Growing the business | 61 | |
| Building a team | 62 | |
| The business world today | 64 | |
| Time is money | 67 | |
| People are your business | 67 | |
| Chapter 9: Women in technology – an alternative reality? | 69 | |
| Introduction | 69 | |
| How to choose a subject and how to get on board with it | 70 | |
| Staying on board and riding the technology wave | 71 | |
| Keeping up with the "what next"? | 72 | |
| Women are creative thinkers and great communicators | 72 | |
| It's not just what you know – how to do law better using technology | 73 | |
| Chapter 10: Developing successful, authentic, out-of-the-box business development strategies | 77 | |
| Social outings | 77 | |
| Vision boarding – helping women envision their goals | 78 | |
| Book club | 79 | |
| Gift giving | 79 | |
| Distinct gift packaging | 80 | |
| Celebrating anniversaries of success | 80 | |
| Branching out beyond women-centered events | 81 | |
| Holiday lights family event | 81 | |
| Final thoughts | 82 | |
PATRICIA K. GILLETTE

Patricia K. Gillette is one of the country's leading experts and most sought-after speakers on gender diversity and equality. She was a top-rated employment lawyer and litigator for 40 years as well as a major rainmaker in her firms. In 2015 she resigned as a law firm partner to pursue her passion for changing the legal profession as an author and keynote speaker. Patricia was also invited to join JAMS and now spends some of her time mediating employment-related cases.

AUDRA A. DIAL

Audra Dial is the managing partner for Kilpatrick Townsend & Stockton LLP's Atlanta office. Audra is an experienced litigator practicing in the firm's nationally recognized Patent Litigation Team, in addition to handling complex commercial litigation involving technology. She focuses her practice on complex federal court litigation involving trade secrets, patent disputes, restrictive employment covenants, and complex business disputes involving intellectual property. Audra has obtained favorable verdicts in many high-profile intellectual property disputes, including on behalf of several Fortune 500 companies. She has represented companies whose intellectual property was misused both domestically and abroad.

NIKA KABIRI

Nika Kabiri is an expert on consumer research and insights, especially in the legal space. For more than three years, Nika has led a wide range of strategic studies to better understand legal consumers - who they are, what they need, and how lawyers might be helping or failing them. Nika is currently VP at Lux Insights, a market and consumer insights firm specializing in social and consumer behavior.

NATASHA INNOCENTI

Natasha Innocenti is a partner of Mlegal Group, Inc. Natasha has over 20 years of experience in placing successful law firm partners across most practice areas and has helped open California offices for nine AmLaw 100 and 200 law firms. While her practice is not restricted to the Bay Area, her extensive experience in the region has enabled her to gain expertise in technology and life sciences related practices. She also regularly represents groups and understands how to advocate for groups practicing together.

BELINDA LESTER

Since qualifying as a solicitor in 1999, Belinda Lester has worked exclusively in the area of employment law and is a member of the Employment Lawyers' Association. Belinda is frequently commended by her clients for being clear, concise, practical and solution-focused whilst at the same time being empathetic and supportive. Although Belinda has expertise in all areas of employment law, whether that be in relation to contentious matters or simply advising or drafting, her real passion lies in dispute resolution and her background in psychology, which she studied at university before converting to law, assists in this area.

DEBBIE EPSTEIN HENRY

Debbie Epstein Henry is an expert, consultant, best-selling author, and public speaker on careers, workplaces, women and law. She is the Founder of DEH Consulting, Speaking Writing that consults to companies, firms, non-profits and individuals. She wrote two ABA best-selling books, Law & Reorder (author, 2010) and Finding Bliss (co-author, 2015) and her work has been featured by hundreds of news outlets including The New York Times, NBC Nightly News and The Wall Street Journal. Debbie built a network of over 10,000 US lawyers and co-founded Bliss Lawyers, a majority women-owned company that employs lawyers to work in-house and at law firms. She is the recipient of numerous awards including the Anne X. Alpern Award and being named among the Philadelphia Business Journal "Women of Distinction."

RACHEL BRUSHFIELD

Rachel Brushfield is The Talent Liberator at Energise, a career strategist, coach, marketing mentor and published author with over 30 years' experience. Helping women lawyers to "blow their own trumpet" is a specialism. Rachel's career heritage is in marketing and brand strategy and communications for communication agencies including J Walter Thompson, expertise she now uses to help women lawyers to liberate their talent and market themselves confidently and competently. Services include individual career coaching, executive coaching, events, workshops, and content creation for The Law Society, AWS, LexisNexis and AWLL. Rachel is a published author in talent management, professional development, work-life balance, and gender balance. She is co-founder of PWHub - Inspiring Professional Women, a network exclusively for senior women employed in Oxfordshire companies, and was shortlisted in the entrepreneur category of the We are the city 2018 "Rising star" awards, one of only 200 women in the UK.

SUSAN SALTONSTALL DUNCAN

Susan Saltonstall Duncan is the president of RainMaking Oasis LLC, a consulting firm that provides management, strategic planning, succession planning, client feedback, and development and business development consulting, training and coaching to firms, practice and industry groups, women's groups, and individual lawyers. She has long been an innovator in the profession having served as one of the first in-house law firm marketers in 1984 and one of the first chief strategy officers of a global law firm in 2011-12. Susan served as a regular columnist for Law Practice magazine, authoring the Rainmaking and Fresh Out columns for five years. She is author of the blog InFocus which provides insights on law firm trends and strategies. Susan has presented programs for ALA, ABA, LMA, COLPM, LSSO, PLI, Ark Group, the Managing Partner Forum and local and state bar associations. She is a fellow of the College for Law Practice Management and an LMA Hall of Fame member.

PAM LOCH

Pam Loch, managing director, Loch Associates - When Pam Loch first founded Loch Associates Group in 2007, she saw it as an opportunity to support businesses with quality employment law advice and HR support running alongside each other. Leaving behind a successful career, Pam knew that SMEs often struggled to get access to the level of support they needed to effectively manage their staff. Pam wanted to provide this support for them. As the business developed she realized that there were wider opportunities to provide organizations with solutions to help them manage and look after their people.

JOANNE FREARS

One of the first women solicitors in the City to specialize in advising technology businesses on IT law, Joanne Frears, solicitor and leader in IP and technology law, Lionshead Law, has been advising on technology law and commercialization of IP for over 20 years. Providing advice and strategy on IP, exploitation, commercialization and defense, she has particular expertise in law for AI, AR and VR, Blockchain, cybersecurity and defense of patents against trolls. She also has an academic interest in emerging technology and how the law deals with everything innovative. Joanne is a member of the Accord Project (participating in the IP and Technology Working Groups) and is legal counsel to the British Blockchain Association and the IBA and holds a Masters in comparative EU, UK, and US IP law.