Book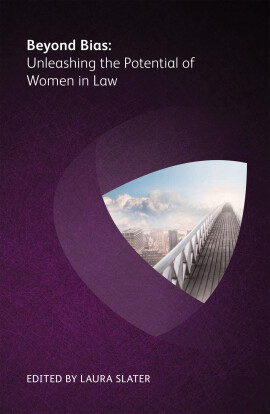 Beyond Bias
Unleashing the Potential of Women in Law
Patricia K Gillette, Paola Cecchi-Dimeglio, Audra A Dial, Cathy Fleming, Carol Frohlinger, Debbie Epstein Henry, Katherine Larkin-Wong, Ellen Ostrow, Ph.D, Janice P Brown
Published: 2021
Pages: 110

eBook: 9781787426528
Beyond Bias: Unleashing the Potential of Women in Law highlights the practical steps firms should be taking to address training, leadership, and retention, issues of female lawyers and how to start moving the needle.
The lack of women in power positions represents a poor return on investment for law firms, and could be costing them far more than they think in both economic and cultural terms. Quite aside from the widely accepted understanding that more diverse teams perform better, research shows that it actually costs more and takes longer to replace female partners than their male colleagues. Moreover, the scarcity of women mentors could be having a long-lasting effect on up-and-coming female associates. The problem is far from new but law firms' usual answers - business development training, diversity programs, investment in "women's initiatives" - doesn't seem to be having much of an effect, despite the collective millions firms are spending on these. The numbers of women attaining power positions in law firms have remained static for decades. By contrast, the percentage of women holding GC positions in Fortune 500 companies is growing, and women are increasingly likely to be found in in-house roles. Packed with fascinating insight, experience, and research from a broad range of lawyers, coaches, academics, thought leaders, and consultants, Beyond Bias: Unleashing the Potential of Women in Law considers just how much firms are costing themselves by failing to promote and retain talented women, the reasons their efforts have so far seen so little return, and the practical steps they can take to start to move the needle. We'll also consider what women can do more of to create and seize opportunities, claim credit where it's due, and get the most out of their business development efforts, wherever they practice. "Beyond Bias redresses some ancient wrongs with practical observations although who can say where we are going and where we will end up: the book is a major start on this new road so do read it soon." review by Elizabeth Taylor of Richmond Green Chambers and Phillip Taylor MBE, Head of Chambers and Reviews Editor, "The Barrister". See the full review here.
Table of Contents
| | | |
| --- | --- | --- |
| Cover | Cover | |
| Title page | i | |
| Copyright page | ii | |
| Contents | iii | |
| Executive summary | vii | |
| About the authors | xi | |
| Chapter 1: Cheaper to keep'er – The economic impact of losing female talent at law firms | 1 | |
| The power of big data to quantify the loss | 2 | |
| What's included in the cost of turnover? | 3 | |
| Women leaders: Expensive to replace | 4 | |
| The implications | 7 | |
| Conclusion | 7 | |
| Chapter 2: Fix it, not them – How to increase the number of women in positions of power | 9 | |
| 1. The Mansfield Rule | 10 | |
| 2. Enhancing opportunities for building client relationships | 11 | |
| 3. Scanning performance reviews and feedback for gender inequities | 13 | |
| 4. Implicit bias training | 13 | |
| Chapter 3: Getting rid of mindless barriers to advancement | 17 | |
| Psychological inflexibility | 20 | |
| Psychological flexibility | 22 | |
| Acceptance and commitment training (ACT) to reduce biased responding | 23 | |
| Research evidence | 25 | |
| ACT for women lawyers | 27 | |
| Chapter 4: Balance – A radical new "B word" for the powerful woman | 33 | |
| What is power? | 33 | |
| What does a powerful woman look like? | 34 | |
| What is true power? | 39 | |
| When do you become "powerful beyond measure?" | 41 | |
| Chapter 5: Reclaiming the next generation – Understanding and leveraging millennials in your workplace | 43 | |
| What defines "millennial"? | 44 | |
| Are millennial lawyers the same and what can law firms do to keep them? | 46 | |
| Millennials are here to stay – How will you engage them? | 53 | |
| Chapter 6: Getting down to business development – What works for women? | 57 | |
| What should women keep doing? | 58 | |
| What should women do more of? | 60 | |
| What should women do less of? | 62 | |
| Appendix A: Summary of "Business Development in the 'New Normal'" | 64 | |
| Chapter 7: Striking the self-promotion balance – Demonstrating your value without being the obnoxious one in the room | 69 | |
| 1. Be great | 70 | |
| 2. Be prepared | 70 | |
| 3. Observe others | 71 | |
| 4. Credit others | 71 | |
| 5. Benefit others | 71 | |
| 6. Get help | 72 | |
| 7. Own it | 72 | |
| 8. Take risks | 72 | |
| 9. Make the ask | 73 | |
| 10. Show initiative | 73 | |
| 11. Pay attention to the details | 73 | |
| 12. Understand you will mess up | 74 | |
| 13. Develop a signature | 74 | |
| Chapter 8: Does size really matter? | 77 | |
| Mistake 1: Always believing what Big Law managers tell you | 80 | |
| Mistake 2: Not marketing on a daily basis | 80 | |
| Mistake 3: Targeting the wrong clients | 81 | |
| Mistake 4: Not making sure you are happy | 81 | |
| Mistake 5: Thinking Big Law is the only source of excellent lawyers | 81 | |
| Mistake 6: Believing that clients will come to you just because you are a good lawyer | 82 | |
| Mistake 7: Not respecting adequately the referring source of business | 82 | |
| Conclusion | 83 | |
| Chapter 9: Using personal interests to help make it rain | 85 | |
| Social outings | 85 | |
| Vision boarding | 86 | |
| Book club | 87 | |
| Gift giving | 88 | |
| Celebrating anniversaries of success | 88 | |
| Monster jam | 89 | |
| Holiday lights at the Botanical Garden | 89 | |
| Final thoughts | 90 | |
Patricia K. Gillette

Patricia K. Gillette is one of the country's leading experts and most sought-after speakers on gender diversity and equality. She was a top-rated employment lawyer and litigator for 40 years as well as a major rainmaker in her firms. In 2015 she resigned as a law firm partner to pursue her passion for changing the legal profession as an author and keynote speaker. Patricia was also invited to join JAMS and now spends some of her time mediating employment-related cases. In her writings and presentations, Patricia focuses on how to succeed in the high-powered, fast-paced business environment of today.

Relying on research studies she commissioned, as well as her own experiences and charismatic style, Patricia is able to inspire audiences to think positively and practically about how they can realize their personal and business goals. She also brings thought-provoking ideas on how to bring meaningful change to law firm and corporate structures to increase diversity and inclusion. In recognition of her work to advance women in the profession, she has received several awards, including the ABA Golden Hammer Award, the California Women Lawyers Association's Fay Stender Award, the Transformational Leadership Award as one of the Top Women Rainmakers, and the Barristers Association of San Francisco Award of Merit.

Patricia is the co-founder of the 2006 Opt-In Project, the first nationwide initiative to refocus the discussion from work-life balance to the structural issues that impact the retention and advancement of women in the workplace. She has been a commissioner on the ABA Commission on Women in the Profession, the ABA's Gender Equity Task Force, co-chair of the BASF No Glass Ceiling Initiative, and she serves on non-profit boards, including Direct Women, which is dedicated to placing women attorneys on boards of public companies.

Patricia is the proud mother of two successful and enlightened sons and lives in Kensington, California with her husband of 42 years. She is an elected official of her town and active in community organizations and activities. For more information visit Patricia's website at www.patriciagillette.com.

Paola Cecchi-Dimeglio

Paola Cecchi-Dimeglio, J.D., LL.M., Ph.D., is a behavioral economist and chair of the Executive Leadership Research Initiative for Women and Minority Attorneys at the Center for the Legal Profession at Harvard Law School and a Senior Research Fellow, jointly appointed at HLS and Harvard Kennedy (WAPPP). She can be reached at pcecchidimeglio@law.harvard.edu.

Audra A. Dial

Audra Dial is the managing partner for Kilpatrick Townsend & Stockton LLP's Atlanta office. Audra is an experienced litigator practicing in the firm's nationally recognized Patent Litigation Team, in addition to handling complex commercial litigation involving technology. She focuses her practice on complex federal court litigation involving trade secrets, patent disputes, restrictive employment covenants, and complex business disputes involving intellectual property. Audra has obtained favorable verdicts in many high-profile intellectual property disputes, including on behalf of several Fortune 500 companies. She has represented companies whose intellectual property was misused both domestically and abroad.

Audra was recognized by Children's Healthcare of Atlanta as one of 2016's Women of Substance and Style and by the Atlanta Business Chronicle as a Woman Who Means Business in 2015. She received the Tapestri 2015 Legal Team of the Year award for her pro bono efforts on behalf of a victim of human trafficking. In 2014, Audra was recognized by Pathbuilders with the Inspiria Award and by the Daily Report in its 2014 Verdicts Hall of Fame for intellectual property litigation.

Audra was honored by the State Bar of Georgia and the Georgia Supreme Court Chief Justice's Commission on Professionalism in 2013 with a Justice Robert Benham Community Service Award for her significant contributions to her community beyond her legal work. She is a member of the Leadership Atlanta class of 2016 and the Leadership Georgia class of 2014.

Audra has also been recognized as a 2011 POW! Award winner by Womenetics, a 2011 IMPACT Leader by Business to Business magazine, 2010 "Up and Comer" by the Atlanta Business Chronicle, Junior League Woman to Watch, a Georgia "Super Lawyer" from 2013-2015, and was recognized as one of the top 50 women attorneys in Georgia in 2016. Audra has been profiled by Chambers and Partners in its Women in Law section.

Audra earned her J.D. from William and Mary School of Law. She is involved with the Trade Secrets Committee of the Intellectual Property Owners Association, Women in Electronic Discovery, and the National Association of Women Lawyers. Audra received her Bachelor of Arts from American University, where she graduated cum laude in Interdisciplinary Studies.

Cathy Fleming

Cathy Fleming is a refugee from Big Law and a name partner in a nine-lawyer firm with offices in New York City and the Meadowlands, New Jersey. Previously she served as chair of a White Collar Group, Chair of Tax Investigations Group, and as managing partner of a New York City Office of several AmLaw 200 firms.

Cathy is a former federal prosecutor, including serving as chief of special prosecutions as an assistant united states attorney in the District of New Jersey. Cathy focuses her practice on complex civil litigation and white-collar criminal cases. She has extensive experience in commercial, securities, employment, tax, antitrust, health care law, and international extraditions.

Cathy has tried more than 60 cases to verdict, most of which have been in federal courts, including in New York, New Jersey, Florida, Texas, Massachusetts, Pennsylvania, Illinois, and California. She conducts internal integrity audits and investigations for corporations and public bodies. She also provides counsel to corporate management and committees and has represented members of special committees in defense against shareholder complaints in federal and state tender offer litigation.

Cathy represents companies and its executives and employees in criminal, tax, SEC, and other federal and state investigations. A significant portion of Cathy's work cannot be disclosed, since the matters were never made public.

Cathy is a past president of the National Association of Women Lawyers. She has been named a Super Lawyer in New York each year since its inception in 2006.

Cathy has been married to Steven John Abrams since 1980. They have two grown children and a very spoiled cavalier king charles spaniel.

Carol Frohlinger

Carol Frohlinger is the president of Negotiating Women Inc., an advisory firm committed to helping organizations to advance talented women into leadership positions. Coauthor of Her Place at the Table: A Woman's Guide to Negotiating Five Key Challenges to Leadership Success, Carol has over 15 years' experience in designing, developing, and delivering highly customized programs for executive women. Using social science research about the systemic factors that impact female leaders as the context, Carol's approach emphasizes practical skills that equip women to position themselves to best advantage. Among the topics she focuses on are leadership, communication, personal branding, strategic networking, and of course negotiation. Her current research is focused on the systemic issues that women in professional services firms must negotiate to succeed, particularly those related to business development. Her recent white paper, "Business Development in the `New Normal'" was published by Thomson Reuters Legal Executive Institute and included recommendations for actions professional services firms can take to improve results for both men and women. On the organizational change side of the gender parity challenge, Carol consults with senior leaders, designs diagnostic surveys, conducts focus groups with women at all levels, and advises firms about how to launch and support women's initiatives that deliver a solid return on investment.

Carol recently served as an advisor to a team comprising six law firm partners that won third place in the Women in Law Hackathon (a "shark tank" style competition) intended to create innovative solutions to the gender equity problem in the legal profession. She is also the "practitioner in residence" at the Women, Leadership and Equality Program at the University of Maryland Francis King Carey School of Law. Carol is an affiliated faculty member of the Simmons School of Management and teaches at the Kenan-Flagler Business School at the University of North Carolina at Chapel Hill. Formerly, Carol served on the faculty of the University of California, Hastings College of the Law Leadership Academy for Women. Her advice has been featured by The Today Show, CBS MoneyWatch, NPR, and the New York Times, among other mainstream media. Frequently called upon to provide expert input by publications serving professional services firms, Carol also contributes articles to specialty journals such as Managing Partner and the ALM Law Journal's Marketing the Law Firm.

Carol serves on the Women in the Legal Profession Committee of the New York City Bar Association and formerly co-chaired its Business and Leadership sub-committee. She co-authored "What You Need to Know About Negotiating Compensation", a publication of the American Bar Association's Presidential Task Force on Gender Equity and also served on the New York State Bar Association's Task Force on the Future of the Legal Profession.

Carol volunteers with The Thirty Percent Coalition, an organization with a mission to increase the number of women on the boards of America's publicly held companies. She has been honored by The International Alliance for Women with its "World of Difference Award" and was named to the Top 50 Most Influential Women List by the Irish Voice. Carol holds a J.D. from Fordham University School of Law.

Debbie Epstein Henry

Debbie Epstein Henry is an internationally recognized expert, consultant, and public speaker on women, careers, workplaces, and the legal profession. For nearly 20 years, hundreds of news outlets have featured Debbie's work including The New York Times, NBC Nightly News, and The Wall Street Journal. She is the author of two American Bar Association best-selling books, LAW & REORDER (author, 2010) and FINDING BLISS (co-author, 2015).

Debbie is a serial innovator. After practicing as a litigator, in 1999, Debbie founded Flex-Time Lawyers LLC (www.flextimelawyers.com) to provide consulting, training, and speaking services. In 2006, she conceived of the Best Law Firms for Women initiative, a survey she subsequently ran for a decade with Working Mother to annually select the top 50 US law firms for women and report on industry trends. By 2008, Debbie's public speaking, press exposure, and advocacy enabled her to build a network of over 10,000 US lawyers. From there, she co-founded, with two colleagues, a second company, Bliss Lawyers (www.blisslawyers.com), that employs high caliber lawyers to work on "secondments" where the lawyers work on temporary engagements for in-house and law firm clients. Bliss has expanded to also handle temp-to-perm and direct hire placements and the company has lawyers employed for clients from New York to California.

Debbie has received numerous awards including, in 2017, she will receive the Anne X. Alpern Award, presented annually to a female lawyer who demonstrates excellence in the legal profession and who makes a significant professional impact on women in the law.

Katherine Larkin-Wong

Katherine Larkin-Wong is a Litigation and Trial Associate in the San Francisco office of Latham & Watkins LLP and a member of the firm's Antitrust and White Collar practice groups. Katie is a former president and now board emeritus of Ms. JD, chair of the Social Impact Incubator, and a Board Member and of the Associates Committee. She is a frequent writer and speaker on millennial lawyers and diversity in the law, and is herself a proud millennial. You can connect with her via Twitter @kmlarkinwong.

Ellen Ostrow, Ph.D

Ellen Ostrow, Ph.D., PCC, CMC is a strategic talent advisor, psychologist, certified coach, and founding principal of Lawyers Life Coach LLC. Since starting her firm in 1998 she has provided executive, leadership, and career coaching to many hundreds of attorneys at all levels of seniority in private practice, corporate legal departments, government, the judiciary and non-profits. She also consults with practice groups, law firms, and corporate legal departments on strategic talent management and diversity and inclusion. Ellen is particularly known for her expertise on addressing barriers to the advancement of women in the profession and has spoken and written widely on these issues. She is the exclusive WILEF (Women in Law Empowerment Forum) endorsed leadership coach and serves as co-vice-chair of WILEF DC as well as on WILEF's global board. She is the co-chair of the board of the ThirdPath Institute and serves on the District of Columbia Bar's Board of Governors.

Ellen is an advisor and coach for the DiversityLab's OnRamp Fellowship and a consultant for its Women-in-Law Hackathon. Ellen's deep understanding of the complexities of human behavior, motivation, emotion, and learning, derived from both her training in psychology and 30-plus years of experience working with individuals and organizations to facilitate change, combined with almost 20 years of working exclusively with attorneys and their employers, provides Ellen with a unique skill set among lawyer coaches and consultants.

Ellen received her Ph.D. in Psychology from the University of Rochester and her coach training from MentorCoach (c). She has served on the psychology faculties of three universities as well as teaching several master classes for MentorCoach

Janice P. Brown

Attorney Janice P. Brown is the founding partner of Brown Law Group. Growing up in Montana, Janice Brown went to work for the U.S. Justice Department as a trial attorney in the tax division in 1984. Recruited right out of law school into Justices' Honor Program in Tax, Ms. Brown tried lawsuits on behalf of the United States in venues throughout the western United States, including Iowa, Colorado, Nebraska, California and Texas. In 1987, Janice Brown was chosen Trial Lawyer of the Year at the US Department of Justice. This early recognition would prove to be one of many honors and awards to follow. She went on to be a partner in the firm Seltzer, Caplan, Wilkins and McMahon. She also began to visualize the client-focused philosophy that would be the basis for her own firm.