Book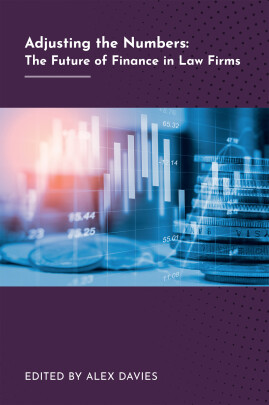 Adjusting the Numbers
The Future of Finance in Law Firms
James D Cotterman, Stuart Dodds, Timothy B Corcoran, Mary Juetten, Richard Brzakala, Louis Young, Andrew O'Connor, Andy Poole
Published: 2021
Pages: 79

eBook: 9781787426344
Adjusting the Numbers: The Future of Finance in Law Firms looks back at a year like no other in our lifetimes, highlighting pricing, budgeting, strategic planning and people management principles, and identifying good compensation practices that can be applied during the pandemic, its gradual cessation, and beyond.
Why this report, why now?

We began 2020 in bright spirits and bountiful economic conditions; by early March all that had changed. Economic adjustments were made and, overall, firms ended the year in much better shape than their spring worst-case projections anticipated. Some firms were even close to their original 2020 profit expectations to date – largely due to quick actions to curtail expenditures as COVID-19 got underway in the US. Adjusting the Numbers: The Future of Finance in Law Firms looks back at a year like no other in our lifetimes, highlighting pricing, budgeting, strategic planning and people management principles, and identifying good compensation practices that can be applied during the pandemic, its gradual cessation, and beyond.

Unique selling points:

First title to look at financial performance post-COVID, focusing on pricing, compensation, financing, KPIs and partner management.
Table of Contents
| | | |
| --- | --- | --- |
| Cover | Cover | |
| Title page\r | i | |
| Copyright page\r | ii | |
| Contents | iii | |
| Executive summary | vii | |
| About the authors | xi | |
| Chapter 1: Good compensation practices during COVID-19 | 1 | |
| Chapter 2: Retaining your pricing confidence in challenging times | 7 | |
| Step 1: View pricing as a process | 9 | |
| Step 2: The power of small changes | 9 | |
| Step 3: Segmenting your clients | 10 | |
| Step 4: Helping your clients | 10 | |
| Step 5: Managing your discounts | 11 | |
| Step 6: Reviewing and refining your practice group pricing approaches | 12 | |
| Step 7: Reviewing and selectively increasing your rates | 13 | |
| Step 8: Keeping a clear focus on your cashflow and Accounts Receivable | 13 | |
| Chapter 3: Partner performance – becoming and remaining a partner | 15 | |
| To have under-performance, you must first have performance | 16 | |
| The Full Monty | 17 | |
| Planning for success | 18 | |
| Evaluating performance (AKA where managers earn their pay) | 19 | |
| Carrots and sticks | 20 | |
| Chapter 4: Pricing, budgeting, and KPIs – all change after 2020? | 23 | |
| Law is a business | 23 | |
| Data before decision | 24 | |
| Cash is king | 24 | |
| KPI basics | 25 | |
| Five common KPIs | 26 | |
| The "I" in KPI | 30 | |
| Budgeting is an art, not science | 31 | |
| Pricing requires old math | 31 | |
| Chapter 5: The impact of COVID-19 on legal service delivery and client expectations | 35 | |
| The new legal marketplace | 35 | |
| Buying legal services | 36 | |
| The COVID-19 transformation | 37 | |
| Pricing approaches | 39 | |
| Client expectations | 40 | |
| Strategic change | 41 | |
| Transforming legal service delivery | 43 | |
| Chapter 6: Options for law firm financing in difficult times | 45 | |
| The five typical financing options available to law firms | 45 | |
| Litigation finance | 46 | |
| mechanics of litigation finance Litigation funding solution | 49 | |
| Commercial models for utilizing litigation financing | 51 | |
| Model two – portfolio funding | 51 | |
| Model three – law firm funding | 52 | |
| Conclusion | 52 | |
| Chapter 7: A flexible financial future | 55 | |
| How law firms have historically managed their practices and finances | 55 | |
| The impact of COVID-19 on the performance and finances of law firms | 57 | |
| Anticipated impacts on law firms as we emerge from COVID-19 | 58 | |
| Lessons learned from the COVID-19 experience | 60 | |
| Law firms of the future | 62 | |
RICHARD BRZAKALA
https://www.linkedin.com/in/richard-brzakala-9a249524/

Richard Brzakala is a recognized legal marketplace thought leader and expert in legal operations, sourcing, and cost efficiency strategies. He has been a trusted advisor to many senior executives and general counsels, having worked and consulted for numerous FIs, law firms, and government agencies. Richard is a frequent speaker, panelist, and writer, having published numerous articles on a variety of legal ops topics such as legal sourcing, winning RFPs, convergence practices, and creating corporate cost-saving strategies. Richard is the author of Show Me The Math: The Importance of Cost Estimates When Engaging A Law Firm,a contributing author for Thomson Reuters Legal Executive Institute, and also participates in an executive advisory capacity for a number of global IT legal service providers. In 2017, a leading US publication recognized and awarded Richard with its annual Trailblazers award for his work in developing a comprehensive global methodology for evaluating law firm compliance with cyber security standards. Richard is currently working as the global director of external legal services at a large FI in Canada where his mandate includes the oversite of legal ops, compliance, finance, and risk management practices as they relate to the management of external counsel globally.

TIMOTHY B. CORCORAN
https://www.linkedin.com/in/tcorcoran/

Timothy B. Corcoran is principal of Corcoran Consulting Group, a trustee and fellow of the College of Law Practice Management, past president and Hall of Fame member of the Legal Marketing Association, an American Lawyer Fellow, and a teaching fellow in the Master of Legal Business program at the Australian College of Law. A former CEO, Tim advises law firm and law department leaders through the profitable disruption of outdated business models.

JAMES D. COTTERMAN
https://altmanweil.com/people/james-cotterman/

James D. Cotterman is a principal with Altman Weil, Inc. He advises law firms on compensation, capital structure, and other economic issues, governance, management, and law firm merger assessments. Before joining Altman Weil in 1988, James was manager of acquisitions for a public company in the health care industry, where he developed, evaluated, negotiated, and integrated merger opportunities. James is the author of Cotterman on Compensation, a blog on lawyer compensation and law firm finance. He is the lead author of the ABA's Compensation Plans for Law Firms and is a member of the Board of Editors of Accounting and Financial Planning for Law Firms. His writings have appeared in The American Lawyer, The National Law Journal, ABA's Law Practice, International Law Firm Management and many other publications. James is a frequent speaker and lecturer including presentations for annual and regional conferences of the American Bar Association and the Association of Legal Administrators, as well as numerous state and local Bar and ALA meetings. He is a Fellow of the College of Law Practice Management. Academic credentials include an undergraduate degree in Operations Management and an MBA in Accounting, both from Syracuse University. James is a licensed certified public accountant in the Commonwealth of Pennsylvania and is a member of the American and Pennsylvania Institutes of Certified Public Accountants. Stuart Dodds is co-founder and principal of Positive Pricing, a professional services-focused pricing consulting firm, and board member of the Legal Value Network. With nearly 30 years' professional service and law firm experience he was one of the first and longest serving legal pricing and legal project management directors in the industry and is the author of Smarter Pricing, Smarter Profit, one of the first books covering law firm pricing, negotiation, and LPM, published by the American Bar Association.

MARY JUETTEN
https://www.linkedin.com/in/maryjuetten/

Mary Juetten, the author of Small Law Firm KPIs: How to Measure your Way to Greater Profits and The Business of Legal: The Data-Driven Law Practice, plus founder and CEO of Traklight, has dedicated her morethan- 35-year career to helping businesses achieve and protect their success. Mary is a professional accountant, attorney, and mediator and recently trained in collaborative law. Specializing in leading companies in transition or start-up phases and helping them create sustainable, operational, and financial growth, Mary wants entrepreneurs and businesses to have Fortune 500 style software solutions. Using her extensive education, including a Bachelor of Commerce degree from McGill and a Juris Doctorate and Master of Law from Arizona State, as well as her US and Canadian accounting and public accountant certifications, Mary created the only self-guided software platform that creates a custom intellectual property (IP) strategy plus assesses business risk. Traklight Pro acts as lead generation or triage for companies, business, start-up and venture, and IP attorneys, CPAs, and other professionals. Mary is an international author, blogger, speaker, and mentor. She previously represented entrepreneurs on the Board of the Crowdfunding Investment Regulatory Advocates and the Emerging Enterprise Committee of the Licensing Executives Society. In 2015 Mary co-founded Evolve Law, a sales and marketing channel for Traklight, and spoke internationally on change and technology adoption in the legal industry before selling the company to Above the Law. Mary was named to the American Bar Association's Legal Resource Technology Center 2016 Women in Legal Tech list and the FastCase Class of 2016. She also served on the Group Legal Services Association (GLSA) Board and taught both Technology Law and Access to Justice through Technology at Arizona State. Mary is currently on the Executive Committee of the Alternative Dispute Resolution Section of the Washington State Bar Association.

ANDREW O'CONNOR
https://www.linkedin.com/in/andy-o-connor-978a16136/

Andrew O'Connor is an investment manager at Augusta Ventures, specialising in developing portfolio funding solutions with a focus on clients in the infrastructure and construction sectors. Prior to joining Augusta, Andrew worked in private practice at Ashurst and at leading Australian domestic firm, Henry Davis York. Andrew holds a Bachelor of Law (Hons) and Bachelor of Economics from the University of New South Wales.

ANDY POOLE
https://www.linkedin.com/in/aapoole/

Andy Poole is the legal sector partner at Armstrong Watson, a top 30 UK firm of chartered accountants and financial advisers. Andy heads the firm's nationwide services to the legal sector, covering all of the firm's 17 offices. He has specialised exclusively in the legal sector since 2004 and provides compliance accounting, tax, and SAR services to law firms as well as helping firms to improve by providing benchmarking, strategic consultancy, merger assistance, structural reviews, and training courses. He understands and proactively informs law firms on issues that may impact on them. Andy speaks at national solicitors' conferences and is a regular contributor to the legal press. Andy is co-author of the Law Society's toolkit on financial stability.

LOUIS YOUNG
https://www.linkedin.com/in/louisyoung-augusta/

Louis Young is co-founder and CEO of Augusta Ventures, the largest litigation funder by case volume. He has broad experience in investment banking, fund management, company start-up, business leadership, and restructuring. Augusta was established in 2013 with offices in the UK, Canada, and Australia with a business model that includes origination, diligence, and monitoring functions to invest in high volumes of cases of any size. Prior to founding Augusta, Louis has held the role of CEO and COO for several investment businesses, among them Normandy Capital Management, Australian Gold Holdings, Colonial Building Company, and Steelview. In addition, he spent 11 years working in Asia and Africa, where he established and successfully sold two drilling businesses. Louis holds an MBA and an LLB from Bond University.