Book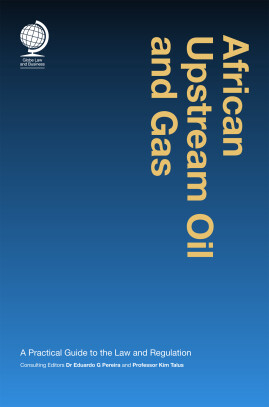 African Upstream Oil and Gas
A Practical Guide to the Law and Regulation
Published: 2015
Pages: 608

eBook: 9781787428355
This is a major work providing a country by country analysis of African oil and gas. The book details the oil and gas frameworks and the key concerns in the most significant jurisdictions, including traditional producing countries such as Libya, Algeria, Angola and Egypt, and more recent areas with significant potential such as Sudan.
This is a major work providing a country-by-country analysis of African oil and gas.

The book details the oil and gas frameworks and the key concerns in the most significant jurisdictions including traditional producing countries such as Libya, Algeria, Angola and Egypt, and more recent areas with significant potential such as Sudan. Topics addressed include the key terms of the petroleum laws, the types of legal arrangement in place (eg, concession agreement, production sharing contract or service agreement), the fiscal terms, the acquisition of acreage, governing law, dispute resolution mechanisms and governmental control.

Covering 26 countries in total, this book features contributions from a variety of leading experts in the industry, including from ministries of petroleum, national oil companies, international oil companies, law firms and consultancies.

This unique new work provides a wider understanding of oil and gas law, contracts and regulations within the African continent.

Table of Contents
| | | |
| --- | --- | --- |
| Cover | Cover | |
| Title | 1 | |
| Copyright | 2 | |
| Contents | 3 | |
| Foreword | 5 | |
| Introduction | 9 | |
| Algeria | 17 | |
| Angola | 49 | |
| Chad | 79 | |
| Egypt | 97 | |
| Equatorial Guinea | 113 | |
| Ethiopia | 129 | |
| Gabon | 149 | |
| Ghana | 181 | |
| Kenya | 207 | |
| Libya | 225 | |
| Malawi | 255 | |
| Mauritania | 265 | |
| Morocco | 289 | |
| Mozambique | 305 | |
| Namibia | 351 | |
| Niger | 375 | |
| Nigeria | 391 | |
| Rwanda | 417 | |
| Senegal | 427 | |
| South Africa | 439 | |
| South Sudan | 463 | |
| Sudan | 485 | |
| Tanzania | 507 | |
| Tunisia | 527 | |
| Uganda | 555 | |
| Zambia | 575 | |
| About the authors | 599 | |
Andargie Bekele Aregahegn
Senior legal adviser and legal consultant
andargiebekele@yahoo.com

Andargie Bekele Aregahegn is a senior legal adviser to the Ethiopian Petroleum and Natural Gas Development Enterprise. He also advises private companies and teaches part time at Unity University, Ethiopia. He holds an LLB from Addis Ababa University and a master's in mineral and petroleum laws and policy from the University of Dundee, UK. He specialises in the drafting of laws and policy, concessions agreement and negotiations. He has served at various levels, including department head at the Ministry of Mines and Energy of Ethiopia for more than 10 years.
He has participated in the drafting of Ethiopia's Mining Code, Mineral Trade Law and electricity laws, as well as the negotiation and drafting of many concession agreements, including the power purchase agreement between Ethiopia and Sudan.

Berryl Claire Asiago
Doctoral researcher, University of Eastern Finland
berryc@student.uef.fi

Berryl Claire Asiago is a PhD candidate and doctoral researcher at the University of Eastern Finland (UEF), Centre for Climate Change, Environment and Energy. Ms Asiago is an energy lawyer who specialises in the emerging oil and gas upstream sectors, with an emphasis on the East and South African frontier.
In particular, Ms Asiago is involved in relevant project research surrounding foreign investment treaties and local content policies within the energy sector among oil and gas companies. She is also involved in research into shale gas in the European Union and the regulatory and institutional framework at the UEF Law School.
Before joining the UEF, Ms Asiago worked for several years in South Sudan, Kenya and the United Kingdom. She holds an LLM (dip) in international and European energy law (Finland), an LLM in international banking and insurance law (UK) and an LLB (India).

Christophe Asselineau
Partner, Shearman & Sterling LLP
christophe.asselineau@shearman.com

Christophe Asselineau heads Shearman & Sterling's Africa practice and its Paris projects group. Qualified in France, England and Australia, he has more than 25 years' experience advising on projects worldwide, with a particular focus on Africa.
He is recognised as one of the most experienced lawyers for African M&A and infrastructure projects, particularly in the natural resources, energy and water industries. He has advised investors, governments and financial institutions on transactions in nearly 30 North African and sub-Saharan countries, including in relation to many of the largest and most complex or politically sensitive investments made on the African continent.
In addition to his busy practice, Mr Asselineau teaches law at Paris I La Sorbonne.

Mohamed Atabani
President, Al-Sudan Energia
mta@alsudanenergia.com

Mohamed Atabani is the president of Al-Sudan Energia, a subsdiary of STR Holding, an oil and gas operator in Sudan. He has 14 years of oil and gas experience in business development, corporate planning, strategy development, technology management and academia. He holds a degree in chemical engineering and a master's in technology applications to oil and gas, and has led several projects in the oil and gas sector in Sudan.
Mr Atabani worked for both operators in Sudan and for Sudapet, the national oil company of Sudan, where he developed several strategic and technical alliances with reputable international companies aimed at providing Sudapet with an international presence. While in Sudapet he supervised the development of several petroleum economic models and several research studies to advance the thinking in making the structure of Sudan's exploration and production sharing agreements more attractive while maintaining a balance of adequate pay for both investors and the nation.

NJ Ayuk
Managing partner, Centurion Law Firm
nj.ayuk@centurionlawfirm.com

NJ Ayuk is the managing partner of Centurion Law Firm. He also frequently advises oil companies, governments, service companies and financial institutions in sub-Saharan Africa in the structuring, negotiation and implementation of petroleum, mining, liquefied and natural gas, and other natural resources.
Mr Ayuk is an active member of the Association of International Petroleum Negotiators. He is recognised as a leading oil and gas lawyer by International Who's Who of Oil & Gas Lawyers, and Chambers and Partners has recognised him as an "important player" and a "tremendous resource".
He regularly participates in industry-specific conferences and seminars as a speaker and moderator. He graduated from University of Maryland College Park and earned a JD from William Mitchell College of Law. He also holds an MBA from the New York Institute of Technology.

Loïc Conan
Legal counsel, PICO International Petroleum
lconan@pico.com.eg

Paris and New-York qualified lawyer Loïc Conan has been based in Cairo, Egypt, since 2010 and is legal counsel at Egyptian energy group PICO International Petroleum. He has also advised BG Egypt. His experience includes drafting and negotiating industry-specific contracts, as well as commercial transactions related to assets/ corporate acquisitions and divestments. He has also been involved in settling and cooperating with the Egyptian national petroleum company in connection with the legal and financial issues that arose in the aftermath of the Arab Spring.
Among the articles he has published, one covered the recent situation in Egypt: "Material Risk in the Oil and Gas Industry, the Case of Egypt in the Turmoil of the Arab Spring". Mr Conan is a member of the Association of International Petroleum Negotiators and a contributing author to the Oil, Gas, and Energy Law Journal.

José de Barros
Senior legal adviser, SIGMA Consultores
consultores.sigma@gmail.com

José de Barros has more than 12 years' experience in the petroleum sector in Mozambique as a senior legal adviser. His areas of expertise include oil and gas, energy, mining, international negotiations and administrative law. Mr de Barros's portfolio includes commercial agreements, regulations in the petroleum industry (upstream and downstream), natural gas sales, transportation, supply and pipelines, as well as energy regulations, joint venture agreements and concessions in the mining sector.
At present, Mr de Barros works as an independent lawyer at SIGMA Consultores Lda, a Mozambique-based firm, advising primarily on energy, petroleum, investment and administrative law matters.

Alix Deffrennes
Senior associate, Gide Loyrette Nouel
deffrennes@gide.com

Alix Deffrennes is a senior associate within Gide Loyrette Nouel's projects (finance and infrastructures) practice. She is a qualified lawyer at the Paris bar and holds degrees in international commercial and finance law from King's College, London.
She is active in international business law with a particular focus on energy, mining and petroleum projects, mainly in Africa. She has a wide knowledge of the petroleum sector and is currently advising petroleum companies in the context of petroleum activities in Morocco.
Ms Deffrennes was recently involved in the review and comparative study of the legal and contractual framework applicable to hydrocarbon activities in the member states of the African Petroleum Producers Association (APPA) and assisted the Republic of the Congo (Congo Brazzaville) in the drafting of its new Hydrocarbons Code.

Paolo Esposito
Director, Rosario Consulting Group
pe@rosarioconsulting.com

Paolo Esposito holds a master's degree in law (Naples) and an LLM (London) He is an avvocato (Italy), a solicitor of the Supreme Court of England and Wales and a fellow of the Chartered Institute of Arbitrators (London). Mr Esposito has wide experience in both domestic and international disputes, and specialises in the resolution of a wide range of commercial and investment disputes through complex and multi-party arbitrations, including matters under bilateral investment treaties and the Energy Charter Treaty.
He has also experience as a mediator and a member of arbitration panels.
Mr Esposito focuses on offshore oil and gas and mining issues, and is special counsel and business consultant for several mining companies and contractors operating in the sub-Saharan region. In addition, he teaches international arbitration at the Chartered Institute of Arbitrators in London and has published articles on arbitration topics. He is co-founder of the Arbitration Africa Project (www.arbitrationafrica.com).

Aboubacar Fall
Partner, Geni & Kebe Law Firm
a.fall@gsklaw.sn

Aboubacar Fall is a partner of Geni & Kebe Law Firm in Dakar, Senegal. The firm practises natural resources law (including oil and gas), maritime law, project finance and international commercial arbitration, among other areas. Dr Fall holds an LLM from the University of Washington (Seattle), a doctorate in international business law from University of Haute-Normandie (Rouen) and a master's in international transportation from the University of Paris-Sorbonne. He graduated from PETRAD Academy in Stavanger, Norway, where he specialised in petroleum policy and resource management (2010). He is also a member of the Association of International Petroleum Negotiators. Dr Fall has served for 10 years as principal legal counsel at the Legal Department of the African Development Bank Group, where he has worked on several natural resources development projects including oil and gas. He has also served as chairman of the managing board of the African Legal Support Facility. He is a member of several professional organisations, including the Pan- African Lawyers Union and African Business Law & Expertise.

Emmanuel Gaillard
Managing partner, Shearman & Sterling LLP
egaillard@Shearman.com

Emmanuel Gaillard founded and heads Shearman & Sterling LLP's 100-lawyer international arbitration practice. He has advised and represented companies, states and state-owned entities in hundreds of international arbitrations, including in the oil and gas sector, for more than 25 years. In addition to the $50 billion award secured for the majority shareholders of the former Yukos Oil Company, he acted on the International Chamber of Commerce arbitration brought by The Dow Chemical Company against Petrochemical Industries Company of Kuwait, which led to a $2.47 billion award in favour of Dow, previously distinguished as the largest arbitral award rendered in the history of international arbitration.

Mahaman Laouan Gaya
International energy expert, UNDP, Burundi
mlgaya23@gmail.com

Mahaman Laouan Gaya is currently an international energy expert for the Burundi office of the UNDP (United Nations Development Programme). By profession he is a petrochemical engineer and holds an MBA in management with an option on finance and accounting. He has worked in the public sector as secretary general of the Niger Ministry of Energy and Petroleum and as Niger's minister of urban development, housing and real estate. His other roles have included senior management positions at the African Development Bank in Tunisia and in the private banking sector.
Mr Gaya has experience in energy economics and politics, petroleum management and governance, finance and banking. He is member of the Scientific Committee of the Centre of Excellence for Extractive Industries Governance in Africa, and a member of the Association for the Development of Energy in Africa, the International Association of Energy Economists, the Association of International Petroleum Negotiators, and Niger's national committee for the World Energy Council.

Marie Guis
Associate, Shearman & Sterling LLP
marie.guis@shearman.com

Marie Guis is an associate in Shearman & Sterling's project development and finance group in Paris. She has particular experience in natural resources and infrastructure projects, with a particular focus on oil and mining projects, representing both sponsors and financial institutions. She is also familiar with and regularly advises investors on transactions governed by law originating from the Organisation for the Harmonisation of Business Law in Africa, the common body of commercial and company laws applicable in 17 African countries. She also has experience in anticorruption laws and regulations.

Tupomukumo Iyambo
Chief inspector of petroleum affairs, Ministry of
Mines and Energy, Namibia
tiyambo@mme.gov.na

Tupomukumo Iyambo has been chief inspector of petroleum affairs in the Ministry of Mines and Energy in Namibia for more than seven years. He worked as an inspector of mines responsible for mines safety, as a senior inspector responsible for health and safety of industries in the Namibian government for more than five years, and as a process controller for a diamond processing plant for more than five years.
Mr Iyambo holds a master's in international business with a specialism in international trade and finance, as well as a degree in safety management and a diploma in mechanical engineering. He has completed coursework for a master's degree in industrial engineering and expected to complete his thesis in 2015.

Cheikhany Jules
Senior lawyer, Cheikhany Jules Law Office
lawoffice@cheikhany.com

Cheikhany Jules is professor of law at Nouakchott University. He is in charge of the maritime, commercial and mining law courses. As a specialist in maritime law, air and aero-orbital law, for more than 20 years Mr Jules has developed extensive experience in both the practice (consultancy and litigation) and teaching of petroleum and mining law.
Mr Jules has worked with several leading companies in the petroleum and mining industry, regarding both the framework of their relations in Mauritania and their restructuring at institutional level (mergers and acquisitions). For 10 years he has been involved in the energy field and acts as a legal adviser in that sector.

Casandra Kabagyema
Associate, Equity Juris Chambers
casandra.kabagyema@equityjurischambers.com

Casandra Kabagyema is an associate at Equity Juris Chambers. She holds a degree in law from Keele University, United Kingdom.
Her areas of practice include corporate and commercial law, IP law, contract law, property law, immigration law and energy law.
She has worked with clients in the structuring of business projects, company formation, the negotiation and drafting of contracts and conducting due diligence, as well as assisting nonprofit organisations.

Elison Karuhanga
Partner, Karuhanga, Kasajja & Co
elison@karuhangakasajja.com

Elison Karuhanga is an advocate in the High Court of Uganda. He is a graduate from the University of Kent, holds an LLM from the University of Aberdeen and a Diploma in Legal Practice from the Law Development Centre. Mr Karuhanga is a partner in Karuhanga, Kasajja & Co and has previously worked as a legal officer at DFCU Bank Limited and a state attorney in the Attorney General's Chambers.
Mr Karuhanga has an understanding of commercial and corporate law and a proper understanding of the Ugandan judicial system. He has been involved with regulatory reform, having represented the banking industry in land law reforms in Uganda. He has also worked for international law firm Ashurst LLP, and has a deep understanding of international trade.

François Krotoff
Partner, Gide Loyrette Nouel
krotoff@gide.com

François Krotoff is a member of Gide Loyrette Nouel's projects (finance and infrastructure) practice and head of the firm's energy and natural resources team. He has extensive international experience, especially in North Africa and sub- Saharan Africa. He has been heavily involved in a number of deals in Morocco, including oil and gas deals. Recent assignments in the oil and gas sector include advising the African Petroleum Producers Association (APPA) on the review of oil and gas legislation and regulations in force in APPA member countries (2012), assisting the Ministry of Hydrocarbons of the Republic of the Congo (Congo Brazzaville) for the drafting of its new Hydrocarbons Code (2013-present) and numerous deals in the gas sector (gas to energy).

Maude Lebois
Counsel, Shearman & Sterling LLP
Maude.Lebois@Shearman.com

Maude Lebois is a counsel in Shearman & Sterling's international arbitration group. She has represented states, state-owned entities and companies in international commercial and investment treaty arbitrations over the past 10 years. Her focus has been on energy arbitrations and projects, particularly those involving African parties.

Mehdi Megzari
Associate, Gide Loyrette Nouel
mehdi.megzari@gide.com

Mehdi Megzari is an associate specialising in mergers and acquisitions, corporate law and competition law. He has developed specialised skills relating to upstream oil and gas and mining activity in Morocco. He holds degrees in law and political science.

Eustace Ng'oma
Senior associate, Chibesakunda & Co
eustace.ngoma@cco.co.zm

Eustace Ng'oma is a senior associate in the corporate advisory department of Chibesakunda & Co in Lusaka, Zambia, where he heads the energy and taxation practice. He holds an LLB from the University of Zambia and an LLM from Harvard University. He is an advocate of the High Court and the Supreme Court of Zambia.
Mr Ng'oma has extensive legal advisory and transactional work experience in areas including power projects, capital markets, taxation, project financing and business acquisitions. He has worked as a legal adviser on major energy projects involving the development of hydro, heavy fuel oil and fossil fuel oil power plants in Zambia. In addition, he has played a key advisory role in some of the major corporate bond transactions undertaken in Zambia, the most recent being two multi-million kwacha medium-term note programmes.

Anselme Patipewé Njiakin
Chad tax leader, Ernst & Young
anselme.patipewe.njiakin@td.ey.com

Anselme Patipewé Njiakin joined Ernst & Young's Cameroon office in 2012. In late 2012 he was appointed head of the tax and legal department in the new Chad office. He is a former manager at Fidafrica Cameroon, a member of PricewaterhouseCoopers, and has delivered tax and legal services regarding African operations.
Mr Njiakin has a strong, close and challenging relationship with the revenue authorities and the central banks in Central Africa. He has assisted foreign investors and purchasers in a number of countries regarding various investments. His main areas of expertise lie in tax advisory services for the oil and gas, utilities, mining and telecoms industries. Mr Njiakin has 14 years' experience of providing tax and legal services.

Mwendia Nyaga
Chief executive officer, Oil & Energy Services Ltd
mnyaga@oilandenergy.co.ke

Mwendia Nyaga is a seasoned professional with more than 10 years' experience in the oil and gas industry in Kenya. His expertise has been gained in his previous positions as chief executive officer (CEO) of the National Oil Corporation of Kenya and consultant to the Ministry of Energy. In these roles he served as adviser on fiscal terms for exploration and production, exploration and production policy and legal frameworks, upstream licensing, contract negotiation, work programme and expenditure monitoring, stakeholder engagement, and downstream logistics and marketing.
Mr Nyaga is currently CEO of Oil & Energy Services, a boutique oil and gas consulting firm providing advisory, research and training services in East Africa. He is a certified public accountant and a member of the Institute of Certified Public Accountants of Kenya, as well as the Society of Petroleum Engineers.

Lizel Oberholzer
Oil and gas lawyer
Oberhol123@gmail.com

Lizel Oberholzer is an oil and gas lawyer with more than 12 years' experience, and a partner at a leading law firm in South Africa. She holds a BProc, an LLB and an LLM. She has studied in the United States and the United Kingdom in order to gain further knowledge on oil and gas contracts.
Ms Oberholzer focuses on the upstream, midstream and downstream regulatory field of oil and gas and the negotiating and drafting of various oil and gas contracts in a number of jurisdictions in Africa. She advised on the first exploration and production rights granted offshore South Africa and the first shale gas applications in South Africa. Industry associations rely on her to represent them at workshops with the Department of Minerals Resources and to comment on proposed legislative changes.
Her experience in the energy sector, together with the good relationships she has established with key regulatory figures in Africa, is invaluable when advising and representing clients.

Waniss A Otman
Petroleum economist
o_waniss@hotmail.com

Waniss A Otman is a petroleum economist who specialises in the area of risk and uncertainty analysis. He holds a PhD, an MSc, an LLM, an MSc, a mini MBA and a BSc. He has written many peer-reviewed articles and authored several books: The Libyan Petroleum Industry in the Twenty- First Century; The Libyan Economy: Economic Diversification and International Repositioning; Libya Oil and Gas Resources; Oil and Gas Fiscal Review; Understanding Modern Libya; Africa's Energy and Natural Resources in the Global Economy; and Natural Gas Markets in the Middle East and North Africa (contributor).
Dr Otman was employed by the Libyan Ministry of Energy as an analyst in the Investment and Economics Affairs Department. In 2004 he was appointed head of the Libyan Permanent Gas Committee and a member of the Libyan Petroleum Agreements Evaluation and Studies Committee. He currently manages joint venture companies actively involved in the upstream oil and gas sector.

Eduardo G Pereira
Managing director, STR Holding
egp@strholding.com

Eduardo G Pereira has been active in the oil and gas industry for several years and is an international expert on joint operating agreements. His experience in this area - both academic and practical - is extensive. Dr Pereira is a managing director of STR Holding. He played a key role in assisting Petra Energia in becoming Brazil's leading onshore oil and gas company and he is now assisting the STR group to become a leading onshore player in Africa and Asia. He has practical experience in more than 40 jurisdictions covering America, Europe, Africa and Asia.
Dr Pereira concluded his doctoral thesis on oil and gas joint ventures at the University of Aberdeen. He is the author and editor of several leading oil and gas textbooks: Brazilian Upstream Oil and Gas: A Practical Guide to the Law and Regulation (Globe Law & Business (GLB), 2012), Joint Operating Agreements: Controlling risks to the Non-operator (GLB, 2013), Upstream Law and Regulation: A Global Guide (GLB, 2013), Joint Operating Agreements: Mitigating Operational and Contractual Risks in Exclusive Operation (GLB, 2013), Encyclopaedia of Oil and Gas Law: Volume 1 (GLB, 2014), Brazilian Midstream and Downstream Oil and Gas: A Practical Guide to the Law and Regulation (GLB, 2014), Encyclopaedia of Oil and Gas Law: Volume 2 (GLB, 2015), African Oil and Gas Law and Regulation: A Practical Guide (GLB, due April 2015), Joint Operating Agreements: Challenges and Dynamics between NOC and IOC (GLB, due August 2015). He is also an adjunct professor of energy law at the University of Eastern Finland Law School and an associate editor of OGEL.

Patrícia Rosario
Managing director, Rosario Consulting Group
pr@rosarioconsulting.com

Patrícia Rosario holds a master's degree in law (Lisbon) and an LLM (London) and is an advogada (Portugal). She focuses on foreign investment, public international law, natural resources and international arbitration. Ms Rosario has extensive experience in complex cross-border commercial transactions across a variety of sectors in Lusophone jurisdictions.
In addition to working on corporate transactions, Ms Rosario regularly advises clients on investment structuring for treaty protection, treaty and contract interpretation, and state sovereignty over natural resources, drafting contractual dispute resolution clauses. She serves as lead counsel in litigation and arbitration matters and is a special counsel of a sub-Saharan law firm. She regularly publishes in English and Portuguese on arbitration and natural resources matters and collaborates notably with the Oxford Institute for Energy Studies at the University of Oxford. She is co-founder of the Arbitration Africa Project (www.arbitrationafrica.com).

Krishna Savjani
Sole partner, Savjani & Co
savjani@globemw.net

Krishna Savjani is a barrister at law (England), senior counsel (Malawi), honorary British consul and honorary legal adviser to the British High Commissioner in Malawi, and is Savjani & Co's sole equity partner. Mr Savjani was awarded the Order of the British Empire by Queen Elizabeth II.
Mr Savjani has extensive experience in litigation and advocacy, in commercial transactions ranging from mergers and acquisitions to banking, finance and securitisation, project finance and structuring, capital markets and listings on the Malawi Stock Exchange, mining and taxation. He assisted in the establishment of the Malawi Stock Exchange and was its chairman for 10 years.
According to Chambers Global, Mr Savjani has been described as "equally at home in the boardroom and the courtroom". He is widely considered as Malawi's leading commercial and banking lawyer and is praised for the speed and depth of his advice.

Barke MA Sehel
Judge of the High Court of Tanzania
bsehel@yahoo.com

Barke MA Sehel has been a judge of the High Court of Tanzania since August 2014. Before her appointment, she worked at the Attorney General's Chambers as director of contracts and treaties. She was dealing with negotiating, drafting, vetting and providing legal advice in all contracts involving the Tanzanian government. In particular, she dealt with production sharing contracts, bilateral investment contracts, bilateral air services agreements and mining development agreements.
Judge Sehel holds an LLM with a concentration in mining law from the University of Dar es Salaam and an LLB from the University of Kent at Canterbury. She served as a member of the Mining Advisory Board to the minister for energy and minerals. She is a member of Tanzania Women Judges Association.

Duncan Singano
Senior associate, Savjani & Co
dsingano@savjaniandco.mw
singanod@globemax4g.com

Duncan Singano is a senior associate at Savjani & Co, the leading legal firm in Malawi. He holds an LLB (honours) degree and has specialised in commercial and corporate matters for more than 14 years. He has handled various mining and construction financing projects and has advised a number of clients intending to enter the energy sector in Malawi, including international oil exploration companies. In addition, he has been heavily involved in advising clients on employment, pensions, listing of companies and other stock-related issues, investment in Malawi and many other financing issues involving both local and international clients including multinational projects. Mr Singano also conducted a comprehensive due diligence exercise for financiers of the first large-scale mining project in Malawi.
Clients interviewed by Chambers Global have described him as "tenacious and accommodating, and definitely knows his turf very well".

Woldemichael Shimeles Fisseha
Senior exploration geophysicist and assistant
professor in geophysics, Addis Ababa University
wmikel99@gmail.com

Woldemichael Shimeles Fisseha is a consultant to Al-Sudan Energia on the magnetotellurics method of exploration in the company's current multidisciplinary petroleum prospecting programmes in the sedimentary basins of Sudan.
Dr Shimeles is a faculty member at the Institute of Geophysics, Space Science and Astronomy at Addis Ababa University (AAU), Ethiopia, and was director of that institute from May 2011 to September 2013. Following his BSc in physics from AAU and an Msc in exploration geophysics from the Indian Institute of Technology, Kharagpur, India, he pursued his doctoral studies at the University of São Paulo, Brazil.
He has acquired more than 25 years' experience in exploration geophysics and imparted practical knowledge on the resource potential of Ethiopia. As a researcher, he studied the role of the great African rift on the region's current geography.

Thomas Kojo Stephens
Lawyer, Akufo-Addo, Prempeh & Co
thomaskstephens@hotmail.com

Thomas Kojo Stephens is a lawyer and consultant on petroleum law and policy, and a member of the Ghana Bar Association and of leading law firm Akufo-Addo, Prempeh & Co. He graduated from Emory University, United States (2003) with a BA in political science and philosophy (highest honours, phi beta kappa). He obtained his LLB from the University of Ghana, Legon (2006), his BL from the Ghana School of Law (2008), LLM from Cornell University, United States (2011) and his PhD on petroleum law and policy from the University of Aberdeen, Scotland.

Kim Talus
Professor of European law, University of Eastern Finland
kim.talus@uef.fi

Kim Talus is a professor of European law and director of the LLM diploma programme on international and European energy law and policy at the University of Eastern Finland. His research and other activities cover international, comparative and European energy law. More specifically, he focuses on oil and gas, international investment protection, and EU energy law and policy. He has published widely on natural gas contracts and is a frequent speaker on this topic at international conferences.
He has held teaching positions at University College London, the University of Houston and Bonn University. He is the editor in chief of Oil, Gas and Energy Law (www.ogel.org) and a member of the editorial board for the Journal of World Energy Law and Business.

Latifat Folashade Yusuff
Lawyer
shadeyusuff@yahoo.com

Latifat Folashade Yusuff holds degrees in law and has been involved in general legal practice, corporate legal secretariat and advisory services for more than 10 years. In the past seven years she has specialised in oil and gas legal advisory services, based in Lagos, Nigeria. She has been actively involved in the negotiation of contracts devolving from production sharing contracts, joint venture contracts and other petroleum arrangements in Nigeria's oil and gas industry. She has also been active in the management of these contracts.
Ms Yusuff owns the twitter handle @NigerianLawNews, which provides regular legal updates from Nigeria.