Book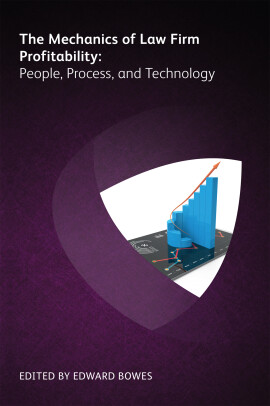 The Mechanics of Law Firm Profitability
People, Process, and Technology
Toby Brown, Michael Roster, Jack Bostelman, Chris Boyd, Jim Hassett, Wendy Chang, Timothy B Corcoran, Anthony Davis, Keith Maziarek, David J Parnell, James G Perkins, Steven Petrie, Mark Voigtmann, Tom Snavely, Vanessa Savoie
Published: 2021
Pages: 136

eBook: 9781787426160
The Mechanics of Law Firm Profitability: People, Process, and Technology examines why a focus on profitability and metrics is reshaping law firm operations and matter management.
Many law firms today are far too focused on increasing market share; they should be paying attention to what makes them a more profitable business. Market share doesn't matter much if you?re not profitable, and firms cannot simply grow their way to prosperity by undercutting the competition. Instead, firms must focus on value creation and increasing clients' willingness to pay for their services. The question should be: "What can your firm do better, or more efficiently, and more profitably than anyone else?"

The Mechanics of Law Firm Profitability: People, Process, and Technology examines why a focus on profitability and metrics is reshaping law firm operations and matter management; how to define the bottom line and to distinguish between "good" revenue and "bad"; and how to change the dialogue from "hours and revenue" to "revenue and profit", while changing the mindset from increasing market share to simply running a profitable business.

The Mechanics of Law Firm Profitability: People, Process, and Technology provides practical and proven tips for all law firm leader on adjusting current processes and identifying opportunities for future profitability within their firms.
Table of Contents
| | | |
| --- | --- | --- |
| Cover | Cover | |
| Title page\r | i | |
| Copyright page\r | ii | |
| Contents | iii | |
| Executive summary | vii | |
| About the authors | xi | |
| Chapter 1: Using knowledge management to increase firm profitability and pricing predictability | 1 | |
| Introduction | 1 | |
| First financial case study – Practice efficiency improvements | 1 | |
| How KM can increase fee predictability | 7 | |
| Examples of KM resources | 8 | |
| Second financial case study – shift work from partners to associates | 9 | |
| Third financial case study – more efficient partner pitchpre paration | 11 | |
| Conclusion | 12 | |
| Appendix A – The three financial models | 13 | |
| Appendix B – How to start/restart a KM practice efficiency program | 17 | |
| Conclusion | 20 | |
| Chapter 2: The "every dollar is a good dollar" fallacy – The difference between good and bad revenue | 23 | |
| Not all revenue is created equal | 25 | |
| Incentivizing the wrong behaviors | 27 | |
| The cost formula | 28 | |
| Revenue and PPP | 29 | |
| A word in support of realization | 30 | |
| Parting thoughts | 31 | |
| Chapter 3: Pricing, profitability, and compensation | 33 | |
| The legal twist | 34 | |
| Caution | 34 | |
| A modest (and high-level) compensation proposal | 35 | |
| Baseline worker reward | 35 | |
| Above the base | 36 | |
| Combinations | 37 | |
| A leap of faith? | 38 | |
| Chapter 4: Incentivizing the new normal | 39 | |
| Profit is important | 39 | |
| Align compensation with strategy | 40 | |
| One size doesn't fit all | 41 | |
| The formula for success | 43 | |
| What matters more than matters | 43 | |
| Opaque is not the new black | 45 | |
| Succeeding at succession | 45 | |
| The new normal | 47 | |
| Chapter 5: Managing client intake to increase profitability | 49 | |
| Client Selection | 49 | |
| Engagement Letters/Fee Agreements | 54 | |
| Conclusion | 55 | |
| Chapter 6: Profitable lateral hiring – Numbers and nuances | 57 | |
| Assumptions | 57 | |
| The process of financially modeling lateral acquisitions | 59 | |
| Information you should gather ahead of time | 62 | |
| Performing the analysis | 65 | |
| Modifying the transaction | 72 | |
| Is this a good hire? | 75 | |
| Summary | 79 | |
| Chapter 7: Measuring different practice groups, differently | 81 | |
| Client purchasing decisions | 81 | |
| The firm as a provider of space and services | 82 | |
| Markets and perceptions | 83 | |
| Other ways practice groups differ | 84 | |
| How to set price | 85 | |
| What this means for profitability and compensation | 86 | |
| Conclusion | 87 | |
| Chapter 8: Four challenges in managing law firm profitability | 89 | |
| | 89 | |
| | 91 | |
| | 93 | |
| | 97 | |
| Chapter 9: Profitability, the concept of Managing on the Edge™, and their importance to a regional law firm | 103 | |
| Introduction | 103 | |
| Managing on the Edge™ | 104 | |
| The macro-approach to profitability | 105 | |
| The micro approach to profitability | 106 | |
| Establishing a basic profi tability model | 109 | |
| Using the profitability model | 112 | |
| Conclusion | 114 | |
| Chapter 10: Case study – Strategy and culture driving effective use of people, process, and technology at Faerge Baker Daniels | 117 | |
| Background | 117 | |
| In practice | 117 | |
| Future | 119 | |
TOBY BROWN
https://www.linkedin.com/in/tobinbrown/

Toby is the director of strategic pricing & analytics for Akin Gump. In this role Toby works with firm partners and clients in developing pricing arrangements and service delivery models that drive successful relationships. Prior to this, Toby served in similar roles for both Vinson & Elkins and Fulbright & Jaworski, where he also drove knowledge management (KM) initiatives and various marketing efforts. Before joining Fulbright, Toby served as the communications director for the Utah State Bar. In his tenure with the Bar, he also served as the CLE, access to justice and programs director.

Toby presents nationally on legal pricing, marketing, technology, and law firm management for associations, law firms, legal departments, law schools, and paralegal programs. He has also published numerous articles on these topics. Toby has served on a number of legal services boards, bar association task forces, and legal market organizations. He received the Peer Excellence Award, the President's Award, and the Anne Charles Award from the National Association of Bar Executives. Toby maintains the ABA award-winning 3 Geeks and a Law Blog along with two colleagues, and can be found on LinkedIn.

MICHAEL ROSTER

Steering committee co-chair, Association of Corporate Counsel's Value Challenge

JACK BOSTELMAN
https://www.linkedin.com/in/jackbostelman/

Jack Bostelman is president of KM/JD Consulting LLC in San Francisco, California, which advises law firm leaders on practice management, including knowledge management and other productivity improvements. Before founding KM/JD Consulting, Jack was a partner for over 20 years at pre-eminent AmLaw 20 firm Sullivan & Cromwell in New York City, where he had a nationally recognized transactional securities law practice and exercised management responsibilities.

CHRIS BOYD
https://www.linkedin.com/in/chrisboyd/

Chris Boyd is senior director of professional services at Wilson Sonsini Goodrich & Rosati LLP in Palo Alto, California. Chris runs the firm's recruiting, training, and knowledge management programs, all of which are designed to help the firm deliver superlative value to its clients. Chris was previously an attorney at the firm and also led KM programs at several internet start-ups.

JIM HASSETT
https://www.linkedin.com/in/jimhassett/

Author and Founder, LegalBizDev.

WENDY CHANG

A partner at Hinshaw & Culbertson, represents lawyers in all types of complex matters that involve the practice of the law, including risk management counseling, ethics, crises management, fee related issues, discipline defense, hotline counseling, professional liability, and litigation defense. Ms. Chang is a certified specialist in Legal Malpractice Law by the State Bar of California's Board of Legal Specialization. Ms. Chang is a member of the American Bar Association's Standing Committee on Ethics and Professional Responsibility, and is an advisor to the State Bar of California's Commission for the Revision of the Rules of Professional Conduct. She is a past chair of the State Bar of California's Standing Committee on Professional Responsibility and Conduct.

TIMOTHY B. CORCORAN
https://www.linkedin.com/in/tcorcoran/

Timothy B. Corcoran has led very profitable companies as a senior executive of several prominent businesses serving the legal profession, as well as leading the business development function of one of the world's largest law firms. He now advises law firm leaders on how to profit in a time of great change, with particular emphasis on strategy, business process improvement, legal project management, and business development. He also advises legal vendors on market strategy and sales force readiness. He is a noted speaker and columnist and the author of Corcoran's Business of Law blog.

ANTHONY DAVIS

Best described as a lawyer's lawyer. Mr. Davis is a member of the Lawyers for the Profession (R) practice group and his practice focuses on the laws that govern lawyers. He advises attorneys and law firms on legal professional and ethics issues, law firm creation, merger and dissolution, risk management, and loss control. Mr. Davis is a lecturer-in-law at the Columbia University School of Law, teaching "Professional Responsibility Issues in Business Practice." As an adjunct professor of law, Mr. Davis taught "Legal Profession" at Brooklyn Law School for many years. Mr. Davis has served as a member of the New York City Bar Professional Ethics Committee and is a former chair of the Professional Development Committee.

KEITH MAZIAREK
https://www.linkedin.com/in/keithmaziarek/

Keith Maziarek recently joined Perkins Coie as the senior director of client value. In this newly-created role, Keith works closely with the legal operations executives at the firm's top clients to establish strategic pricing arrangements, implement customized communication/collaboration tools and efficiency solutions, improve performance monitoring and reporting, optimize service delivery models, and establish metrics that will enable client legal departments to qualify and quantify the value they are capturing through their work with the firm. Prior to joining Perkins Coie, Keith served as Head of Strategic Pricing for DLA Piper LLP. There he developed, implemented, and managed the firm's strategic pricing, profitability, and legal project management functions, with a focus on the practice in the Americas.

DAVID J. PARNELL
https://www.linkedin.com/in/davidjparnell/

David J. Parnell is an author, speaker, Forbes and American Lawyer Media columnist, and the founder and principal of True North Partner Management, a partner-level legal search and placement firm. Along with his experience in private placement, he has previously worked in-house with the likes of Intel, Xircom, and DreamWorks SKG. Complementing his Forbes and ALM columns, his work can also be found in publications such as The American Lawyer, Huffington Post, Venture Capital Post, Fox News Magazine, Lawyerist, Law360, Bloomberg, Australasian Lawyer, NBC News

JAMES G. PERKINS

James G. Perkins, chief operating officer and chief compliance officer at Procopio, leads the firm's non-legal operations including finance, human resources, administration, marketing, and information services. With 20 years of experience at the firm, he has more than 35 years total leading as a chief operating and chief financial officer in the professional services, management consulting and manufacturing industries.

STEVEN PETRIE
https://www.linkedin.com/in/steven-petrie-546841a8/

Steven Petrie manages the strategy and operations department at Faegre Baker Daniels. In this capacity, he oversees the collection, extraction, and application of financial data and performance metrics for purposes of business analysis, practice development, creative pricing, and strategic planning. Steve holds a Yellow Belt certification in Legal Lean Sigma and provides guidance for the firm's institutional efforts in the areas of legal process improvement and project management. Steve's department is also home to the firm's administrative operation functions. Prior to his career in law firm management, Steve worked for the strategy and operations practice of a large consulting firm. He is a frequent industry contributor on topics of law firm economics, profitability analysis, alternative pricing, and process efficiency.

MARK VOIGTMANN
https://www.linkedin.com/in/markvoigtmann/

Mark Voigtmann is a partner at Faegre Baker Daniels and leader of the firm's construction law and real estate litigation practices. He is the author of The Automation Legal Reference: A Guide to Legal Risk in the Automation, Robotics and Process Industries, published by the North Carolina-based International Society of Automation. He also co-authored a set of contract documents created for an incremental, education-based lean project delivery model used in two $200 million hospital projects, among others. Both within the firm and in the construction industry, Mark implements sophisticated project management and process improvement strategies to deliver optimal efficiency across the board.

TOM SNAVELY
https://www.linkedin.com/in/tom-snavely-a8311a2/

Tom Snavely has almost two decades of process improvement, operations management, and project management experience. He earned an M.S. in Technology Management from the University of St. Thomas, a Certified Black Belt in Lean Six Sigma, and a Mini Master of the Lean Enterprise. Tom has developed Lean Six Sigma programs and training for several organizations that were new to these concepts. He has created and developed project management offices for several organizations to align project opportunities to strategic goals and the ultimate success of these projects. As a consultant and an operations manager, Tom has aided several organizations, and a private equity firm, to achieve strategic operational goals through process improvement and organizational change management. As a project manager, Tom has led operational and information technology projects for new innovative applications and complex business systems such as PeopleSoft and SAP.

VANESSA SAVOIE
https://www.linkedin.com/in/vanessa-savoie-a9252891/

Vanessa Savoie is a senior strategy and pricing analyst at Faegre Baker Daniels law firm in Minneapolis. She is part of a team that works with firm leadership to provide data driven solutions so that attorneys may best serve their clients, and effectively manage their practices. In support of firm management, she applies analytical rigor with creative problem solving to the business review process, complex financial modeling, pricing, and strategic planning. She truly enjoys partnering with and supporting the firm's professionals across the country and internationally. Vanessa studied Psychology and graduated with honors from the University of Wisconsin-Stout in 1996. After graduation she transitioned her interest in research design, methodology, and statistics into a career in Finance and Technology. She has been fortunate to have worked at some of the Twin Cities' largest companies, including; U.S. Bank, Carlson Companies, FICO, and Ameriprise Financial.