Book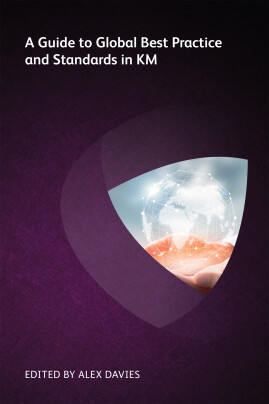 A Guide to Global Best Practice and Standards in KM
Nick Milton, Karen Battersby, Liz Hobbs, Peter Brown, Dominique Poole Avery, Karen Elson, Darryl Wing, Patrick DiDomenico, Dave Snowden
Published: 2019
Pages: 138

eBook: 9781787425446
This is the first standard on knowledge management (KM) ever to be introduced and is global and industry agnostic. The standard came about due to an increasing recognition of the need for, and importance of, Knowledge Management, as well as a certain amount of ambiguity in the understanding of what KM is.
A useful toolkit in the implementation of the ISO's new standard in Knowledge Management. The International Standards Organization (ISO) recently published it's first standard on knowledge management. This book looks at global examples of best practice in KM, and discusses how the Standard is helping embed these principles into successful organizations.
Table of Contents
| | | |
| --- | --- | --- |
| Cover | Cover | |
| Title page | i | |
| Copyright page | ii | |
| Contents | iii | |
| Executive summary | vii | |
| About the authors | xiii | |
| Foreword | xxi | |
| Chapter 1: The evolution of the KM standard | 1 | |
| By Nick Milton, director and co-founder of Knoco Ltd | 1 | |
| Background to the standard | 1 | |
| Drafting standards | 2 | |
| The process | 3 | |
| The Committee Draft | 6 | |
| The final standard | 7 | |
| Chapter 2: Guiding principles of the standard | 9 | |
| By Karen Battersby, director of knowledge management, Freeths | 9 | |
| The nature of knowledge | 9 | |
| The value proposition | 10 | |
| Focus | 11 | |
| Adaptation | 12 | |
| Shared understanding | 12 | |
| Environment | 13 | |
| Culture | 14 | |
| Iterative KM | 16 | |
| Specification of the standard | 16 | |
| Chapter 3: Context and culture – Transport for London (TfL) | 19 | |
| By Liz Hobbs, project manager, Transport for London | 19 | |
| Introduction | 19 | |
| The early days | 19 | |
| Initial high level strategy | 21 | |
| Delivering the strategy | 23 | |
| Success and reflections | 27 | |
| Chapter 4: Knowledge development and the knowledge lifecycle | 29 | |
| By Libbie Evans, senior manager, knowledge management, TD Bank | 29 | |
| Introduction | 29 | |
| Overview of matter management system | 30 | |
| Matter management enablers as a foundational tool for the knowledge management system | 33 | |
| Chapter 5: KM enablers from Olympic and Paralympic Sport | 39 | |
| By Dr Peter Brown, head of performance knowledge, English Institute of Sport | 39 | |
| Introduction | 39 | |
| GB Olympic and Paralympic high performance sport system– context | 39 | |
| English Institute of Sport – overview | 40 | |
| Knowledge management within the EIS | 41 | |
| Nature of knowledge in the EIS | 41 | |
| Role of complex adaptive systems in EIS knowledge management | 42 | |
| Cynefin model and EIS practitioner knowledge | 43 | |
| Using the cynefin framework in practice for knowledge management | 45 | |
| Knowledge management governance framework | 45 | |
| Application of the knowledge management governance mental model | 47 | |
| How to create a bespoke mental model in your context | 49 | |
| Conclusion | 50 | |
| Chapter 6: Knowledge management culture– enabling a composite mind | 51 | |
| By Dr Dominique Poole-Avery and Elena Costello, Arup | 51 | |
| Perpetual ethos embraced by new generations | 52 | |
| Commitment to excellence | 53 | |
| Shaping expectations and behavior | 54 | |
| Developing a culture of enquiry | 54 | |
| Sharing knowledge through networks | 55 | |
| Operations enhanced by Skills Networks | 57 | |
| Leading by example | 57 | |
| Investing time in reflecting and learning | 58 | |
| Pinnacle of skill and knowledge excellence | 59 | |
| To conclude | 60 | |
| Chapter 7: Leadership in KM – London 2012,Crossrail, and Learning Legacies | 61 | |
| By Karen Elson, major projects consultant, Co.Cre8 Ltd | 61 | |
| Introduction | 61 | |
| Leadership in the KM Standard | 61 | |
| Identifying the need | 62 | |
| Obtaining the mandate | 62 | |
| Alignment | 63 | |
| Policy and strategy | 63 | |
| Roles, responsibilities and authorities | 65 | |
| Driving a Learning Legacy culture | 67 | |
| Measures of success | 69 | |
| Conclusion | 69 | |
| Chapter 8: Supporting and resourcing knowledge management | 71 | |
| By Hank Malik, KM program lead, Petroleum Development Oman (PDO) and Dr Sulaiman Al Toubi, former PDO asset oil director and visiting industry-academic fellow, Muscat University, Oman | 71 | |
| Introduction | 71 | |
| The approach taken | 72 | |
| Resources | 72 | |
| Competence | 74 | |
| Awareness | 75 | |
| Communication | 76 | |
| Conclusions | 76 | |
| Chapter 9: Planning and operating KM | 79 | |
| By Rupert Ashley Lescott, specialist in knowledge management, Dubai Electricity and Water Authority (DEWA) | 79 | |
| Introduction | 79 | |
| Introduction to the ISO standard | 79 | |
| The role of DEWA and its KM journey | 79 | |
| DEWA's current priorities for planning and operating its KMS | 81 | |
| Piloting new KMS elements and approach | 81 | |
| Establishment of criteria | 83 | |
| Outsourced processes | 83 | |
| Guidance and advice for other organizations seeking to develop and operate a KMS | 84 | |
| Checklist | 87 | |
| Conclusion | 88 | |
| Chapter 10: Performance and improvement | 89 | |
| By Darryl Wing, director, knowledge management, Fluor | 89 | |
| Introduction | 89 | |
| The make it easy fallacy | 89 | |
| Analysis and investigation | 91 | |
| Protection of information | 92 | |
| Validity and trust | 93 | |
| Cast the net wider and change the name | 94 | |
| Out of documents into databases – push not pull | 94 | |
| Measurement and impact assessment | 95 | |
| Can there be too many lessons? | 96 | |
| Chapter 11: The future of KM | 97 | |
| By Patrick DiDomenico, chief knowledge officer, Ogletree, Deakins, and JamesLee, co-founder and CEO, LegalMation | 97 | |
| Introduction | 97 | |
| Current and future trends in knowledge management | 97 | |
| People, process, and technology | 97 | |
| Automation of routine tasks | 98 | |
| The importance of data analytics | 99 | |
| Growing partnerships | 99 | |
| LegalMation background | 100 | |
| Ogletree Deakins' KM background | 101 | |
| Case study: The LegalMation–Ogletree partnership | 102 | |
| Conclusion | 104 | |
| Chapter 12: Mostly harmless… | 105 | |
| By Professor Dave Snowden, director of the Cynefin Centre and chief scientific officer at Cognitive Edge | 105 | |
| Some thoughts on the field… | 106 | |
| An endnote | 113 | |
KAREN BATTERSBY
https://www.linkedin.com/in/karen-battersby-a5750515/

Karen Battersby is the director of knowledge management at national firm, Freeths, and is responsible for the firm's knowledge management, library, and legal learning and development. She has many years' experience in knowledge management, as well as a commercial lawyer, having practised both in private practice and in-house. Karen is an experienced lecturer and trainer, having taught everything from legal CPD courses to MBA qualifications to lawyers and other professionals. She has also taught KM at MBA level at Henley and she established the UK's first postgraduate qualification in knowledge management for legal practice at Nottingham Law School. Karen also developed one of the UK's first webinar and online learning businesses for the legal profession.

DR PETER BROWN
https://www.linkedin.com/in/drpeterbrown/

Dr Peter Brown is head of performance knowledge at the English Institute of Sport, the science, medicine and technology provider to GB Olympic and Paralympic athletes, and works with all departments of the UK high performance system to drive the design and delivery of the knowledge management and organizational learning strategy.
Peter is also the founder and director of knowledge management and organizational learning consultancy, the "Knowledge Podium," where, using a unique complex adaptive systems lens, he advises elite sport and high performance organizations on accelerating knowledge transfer and rapid learning to maximize their organizational capability.
Peter has worked with many of Great Britain's Olympic and Paralympic sports. He worked with Team GB and Paralympics GB in the preparation for the Rio 2016 Olympic Games and leads the Team GB approach to knowledge transfer for the Tokyo 2020 Olympic Games. He has over 15 years' consulting in high performance sport. Peter has been invited to speak at numerous KM and workplace learning conferences, has published peer-reviewed journal articles related to sport, complexity, and learning and is an authorized CYNEFIN trainer.

ELENA COSTELLO
https://www.linkedin.com/in/elena-costello-4751632/

Elena Costello is an expert in knowledge management; combining her formative career as a project engineer and qualifications as a project manager to ensure a relevant foundation of knowledge management that brings added value to projects. In addition to having delivered a wide range of multidisciplinary projects in energy, education, transport, maritime, and healthcare sectors, Elena has steered the direction of internal and external knowledge management consulting work as well as research. In taking a project benefits and result-oriented approach, she has managed the successful engagement of critical stakeholders to successfully develop various programs within Arup's knowledge management strategy, while working on external knowledge management consulting commissions.

PATRICK DIDOMENICO
https://www.linkedin.com/in/patrickdidomenico/

Patrick DiDomenico is chief knowledge officer for Ogletree, Deakins, Nash, Smoak & Stewart, PC, an international labor and employment law firm with 900 attorneys in more than 50 offices. Patrick also serves on the firm's technology strategy committee, research and development council, and innovation summit committee. Before his knowledge management career, he was a practicing litigation attorney for more than eight years. Author of the book Knowledge Management for Lawyers, published by the American Bar Association, Patrick has been in the legal knowledge management industry since 2005. He is the recipient of the 2013 ILTA Knowledge Management Professional of the Year Award.
In his spare time, Patrick publishes the LawyerKM blog (www. LawyerKM.com), tweets as @LawyerKM, manages the 10,000 member Knowledge Management for Legal Professionals LinkedIn group, the 6,700 member Legal Project Management LinkedIn group, and the 600 member Artificial Intelligence for Legal Professionals LinkedIn group, all of which he founded. He is a fellow in the College of Law Practice Management, a frequent speaker on KM, legal technology, and legal innovation topics, and an advisor to legal technology start-ups.

KAREN ELSON
https://www.linkedin.com/in/karen-elson-18988119/

Karen Elson is a major projects consultant and chartered engineer with more than 20 years' experience in public and private sector projects. She has led the implementation of innovative and award winning Learning Legacy programs across the UK's construction industry, including the Olympics, Crossrail, the Major Projects Knowledge Hub, and more recently developing the brief for continuous learning on the Palace of Westminster refurbishment and renovation program. Karen runs her own management consultancy business with two business partners and a select group of associates, delivering improvements in major projects through focus on knowledge, networks, and behaviors.

ELIZABETH (LIBBIE) EVANS
https://www.linkedin.com/in/elizabeth-evans-km/

Elizabeth (Libbie) Evans is the senior manager, knowledge management for the legal department of the Toronto-Dominion Bank (TD). She is also the product owner and business lead for the implementation of TD Legal's modernized matter management system. Prior to formally taking on the knowledge management program, Libbie practiced commercial law for a combined 20 years, first in private practice, and later at TD; negotiating and providing strategic advice on numerous outsourcing and other technology related agreements.
Always interested in knowledge management opportunities, Libbie designed and implemented a process for contributing, maintaining, and searching for team precedents on the department's SharePoint site. She also built systems and tools to simplify, standardize, and implement a risk-based approach to TD's contracting process. In her newest role, she has presented multiple times on the topic of knowledge management, why it is important, and how it can be implemented.
Libbie was called to the bar in Ontario in 1998, earned her law degree from the University of Toronto in 1996, and graduated from Queen's Economics (Honours) in 1992.

LIZ HOBBS
https://www.linkedin.com/in/liz-hobbs/

Liz Hobbs, project manager for London Overground, has more than 18 years' experience in the transport sector involved in major projects and has taken Transport for London (TfL)'s knowledge management initiative from a standing start to embedding the strategy within the first four years. She is responsible for driving the transformation of the culture, systems, and processes that underpin the successful delivery of knowledge management in the organization. She has developed the use of Lessons Learned plans and strategies and seen successful implementation show that learning has created efficiencies and savings across the organization.
Being passionate about knowledge sharing, Liz is a member of a number of external groups, including the Crossrail Learning Legacy Executive Steering Group.

JAMES M LEE
https://www.linkedin.com/in/james-lee-9468b64/

James M Lee is co-founder and CEO of LegalMation. He is a founding partner of LTL Attorneys LLP, a nationally recognized litigation boutique. As an experienced litigator, he has tried numerous cases in federal and state courts. He has been recognized as a top business litigator by various legal publications including the National Law Journal. James has served as lead counsel to a number of Fortune and multinational clients including Wal-Mart, Thomson Reuters, Symantec, and VIZIO. He was formerly associated with litigation powerhouse Quinn Emanuel before co-founding LTL Attorneys. He is a frequent and noted speaker and commentator in the field of AI and innovations in the field of law. At LegalMation, James serves as the key driver of the company's vision and strategy.

RUPERT ASHLEY

Rupert Ashley Lescott is the KM specialist at the Dubai Electricity & Water Authority (DEWA), where he is working to introduce and enhance KM capabilities. He was a British Army officer for ten years, deployed on military operations in Europe, Africa, and the Middle East. He has worked in KM consultancy for ten years, helping clients across many sectors, including defence, not-for-profit, oil/gas, transportation and utilities. Rupert has worked across the KM spectrum, conducting assessments, creating strategies, and designing and implementing KM frameworks. Additionally, organizational culture, KM piloting and lesson learning are particular areas of interest for him and he began work in these fields during three years as an analyst at the British Army's Lessons Centre.

HANK MALIK
https://www.linkedin.com/in/hank-malik-93080918/

Hank Malik is a recognized KM subject matter expert with skills in delivering KM solutions with a blend of people, process, content, learning, and technology. Hank has worked for a range of blue chip management consultancies, IT organizations and government entities specializing in knowledge management, collaboration, learning and enterprise content management.
He has experience in implementing KM internationally where he has led multiple KM teams in the Middle East, Europe, the US and Japan. He has focused recently on delivering KM engagements within energy organizations including Shell, BG Group, and most recently in PDO, Oman. Here he designed the strategy, manages the governance and operations and leads the enterprise KM program, and is the subject technical authority.
Hank has spoken at numerous international conferences, most recently on collaboration and enterprise social networks, and is a both a Certified and Master Certified Knowledge Manager (MCKM) with the Knowledge Management Institute (KMI). He was responsible recently for organizing the first certified KM training in Oman, and launching a number of growing communities and forums.

NICK MILTON
https://www.linkedin.com/in/nickmilton/

Nick Milton is director and co-founder of Knoco Ltd, with over 25 years' experience in knowledge management. Working with Knoco Ltd, Nick has helped develop and deliver KM strategies, implementation plans, and services in a wide range of different organizations around the globe. He has a particular interest in Lessons Learned programs, and has managed major lessons capture programs, particularly in the area of mergers and acquisitions, and high technology engineering. Prior to founding Knoco, Nick spent two years at the center of the team that made BP the leading KM company in the world at the time; acting as the team knowledge manager, developing and implementing BP's knowledge of "how to manage knowledge", and coordinating the BP KM Community of Practice.

JUDY PAYNE
https://www.linkedin.com/in/judypayne/

Judy Payne has been involved in knowledge management since 1991, when she joined CIRIA and led collaborative projects that produced guidance for the water and construction industries. Since setting up Hemdean Consulting Ltd in 2001 she has worked as a knowledge and learning consultant, educator and researcher – including six years as a director of the Henley KM Forum. Judy is co-chair of the Association for Project Management Knowledge SIG and a member of the ISO knowledge management working group that developed ISO 30401. In February 2019, Judy took over from Ron Young as chair of the BSI knowledge management standards committee. She has contributed to many knowledge management and organizational learning publications and has co-written a book on managing knowledge in project environments that will be published by Routledge in 2019. Judy is on a mission to spread the word about knowledge management, bust the many myths that surround the subject, and help people understand how managing knowledge creates value.

DOMINIQUE POOLE-AVERY
https://www.linkedin.com/in/dominiquepooleavery/

Dominique Poole-Avery is Arup's global knowledge manager, responsible for the knowledge strategy that defines the practices, tools and behaviors applied to achieve knowledge sharing across Arup. She has shaped technology solutions and led a range of strategic initiatives to address issues such as skills mapping, Lessons Learned, risks from future "brain drain" and has played a key role in shaping Arup's approach to skills networks as a primary means for knowledge transfer and skill development. Dominique originally trained as an architect. She has a PhD on the topic of Innovation in Construction: a client's perspective, in which she explored the issues that influence client decisions regarding innovative practices and solutions, and the implications of these for designers and all involved in the construction process. Dominique has presented at various conferences on knowledge management, given guest lectures at business schools, has published papers and contributed to books on knowledge management and organizational learning.

PROFESSOR DAVE SNOWDEN
https://www.linkedin.com/in/dave-snowden-2a93b/

Professor Dave Snowden is director of the Cynefin Centre and chief scientific officer of Cognitive Edge. Formerly a director of the IBM Institute for Knowledge Management, he pioneered an organic approach to the field and was identified by Thomas Stewart, former editor of the HBR, as one of the leading thinkers on tacit knowledge. He received a special award from the Academy of Management for his contribution to the field and his paper Complex Acts of Knowing is one of the ten most cited articles on the subject.

DR SULAIMAN AL TOUBI

Dr Sulaiman Al Toubi is the former asset oil director at PDO and industry-academic at Muscat University, Oman. Dr Sulaiman has over 40 years of working experience, mostly with the oil and gas industry. He started his oil and gas career with PDO in 1978 as an apprentice and attained his academic achievements from various UK institutes in both technical and business management. He has held several technical and managerial roles within PDO, including four years with Shell Nigeria. He has held executive leadership roles for more than 12 years in PDO, and championed and supported several strategically important programs. In the last two years Suleiman has been appointed as visiting industrial fellow at the Muscat University. He is also leading R&D project "Ejaad," mandated to establish an effective Oman R&D ecosystem, through partnership between industry, academia, and the Government.

DARRYL WING
https://www.linkedin.com/in/darryl-wing/

Darryl Wing joined Fluor's newly formed knowledge management team in 2000. For over a decade he worked on developing and enhancing Fluor's flagship knowledge-sharing platform, Knowledge OnLine. During that time he actively participated in extending the reach of Fluor's communities of practice. Today they continue to flourish and provide a vital location to access Fluor's global knowledge, from accessing best practices to getting project questions answered quickly by Fluor's network of subject matter experts. Fluor's KM program has received numerous accolades over the years, including multiple awards for the Most Admired Knowledge Enterprise (MAKE). In July 2013, Darryl assumed responsibility for the KM team at Fluor, and is working to drive an evolved vision of KM within Fluor.

RON YOUNG
https://www.linkedin.com/in/ron-young-7ab3196/

Ron Young is the founder of Knowledge Associates, based at St John's Innovation Centre, Cambridge UK. He is acknowledged as a leading international expert and thought leader in strategic knowledge asset management. He chaired the BSI knowledge management standards committee until the first international ISO 30401 KM Standard was published in November 2018, and is currently a member of several standard committees and workgroups for knowledge management, asset management, innovation management and quality. His passion is for a new knowledge economic theory and new measurements for the global knowledge-driven economy. He is concerned with effective knowledge and innovation management principles, and platforms.