Book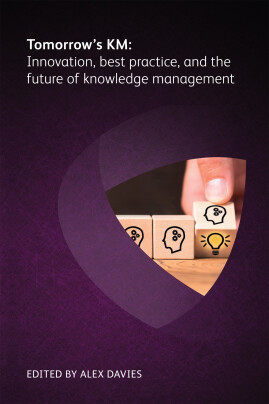 Tomorrow's KM: Innovation, best practice and the future of knowledge management
Hélène Russell, Cyndi Murphy, Mona Alhefdhi, Raymond Olayinka, Sara Traynor, Randhir Reghunath Pushpa, Clare Harman Clark, Caroline White-Robinson, Vincent Ribiere
Published: 2021
Pages: 96

eBook: 9781787425590
This book focuses on the relationship between innovation and KM, elaborating on the role of KM as the facilitator and enabler of change.
Innovation is arguably an integral part of the knowledge management function and KM practice - as a popular "buzzword" over the past few years, and in the fast changing business world of today, it has become the mainstay of professional service organizations.

The complexity of innovation increases with the growth in knowledge available to organizations, and with this comes the need to determine its place in business.

Tomorrow's KM: Innovation, best practice and the future of knowledge management focuses on the relationship between innovation and KM, elaborating on the role of KM as the facilitator and enabler of change. Consisting of in-depth case studies and insight from experts within varied fields, this book offers some contextual trendspotting and a general overview of the market.

In order to "innovate", one needs to know what it actually means. What is innovation and how does it relate to KM? Where does it start and end within the organization? How do you find out what you need to know in order to innovate?
Table of Contents
| | | |
| --- | --- | --- |
| Cover | Cover | |
| Title page | i | |
| Copyright page | ii | |
| Contents | iii | |
| Executive summary | vii | |
| About the authors | xi | |
| Chapter 1: Innovation, creativity, and knowledge | 1 | |
| What is "innovation"? | 1 | |
| Why do organizations need innovation? | 2 | |
| How do innovations come to fruition? | 3 | |
| Where does "knowledge" fit with innovation? | 4 | |
| What is knowledge? | 4 | |
| Knowledge, diversity, and creative abrasion | 5 | |
| How can businesses manage "creative abrasion" successfully? | 6 | |
| How else can strategic management of knowledge and learning help organizations innovate? | 7 | |
| Innovation barriers and overcoming common mistakes | 8 | |
| Can you measure innovation? | 9 | |
| Next steps – what can you do now? | 10 | |
| Conclusion | 12 | |
| Chapter 2: Where does innovation sit? Distributed practice innovation at Stewart McKelvey | 13 | |
| Practice re-engineering teams | 14 | |
| Practice toolbox | 15 | |
| Health law expert locator | 17 | |
| DMS implementation | 19 | |
| Conclusion | 20 | |
| Chapter 3: The changing role of the knowledge manager | 23 | |
| Before computers, there were typists… | 23 | |
| How is knowledge management evolving? | 24 | |
| No one sets out to be a knowledge manager… | 25 | |
| Good old "People, Process, Technology" | 26 | |
| What lies ahead for the knowledge manager? | 27 | |
| What new capabilities will knowledge managers need to develop? | 29 | |
| On a concluding note… | 30 | |
| Chapter 4: Facilitating collaboration | 33 | |
| Case study 1: The river project – collaborating on knowledge | 34 | |
| The river project – method | 34 | |
| Case study 2: LEGO® Serious Play® – a framework for creating psychological safety | 40 | |
| Case study 3: Random coffees – a simple human-to-human solution | 44 | |
| Recommendations for facilitating increased collaboration | 47 | |
| Chapter 5: Sustaining innovation through managing knowledge | 49 | |
| From idea/need to innovative solution | 49 | |
| Creating and sustaining an innovative culture | 52 | |
| Innovating as a task and continuously improving on it | 55 | |
| Chapter 6: How to share knowledge in the future workplace | 57 | |
| Pride and professionalization | 58 | |
| Tech and sensibility | 59 | |
| Collaboration and flexibility | 62 | |
| Conclusion | 63 | |
| Chapter 7: What should KM actually do? | 65 | |
| We're going through changes | 65 | |
| Client experience | 66 | |
| Delivering what clients want | 68 | |
| Know what your people want – to trust others and to be trusted | 68 | |
| Business improvement in a learning culture | 69 | |
| Chapter 8: Driving innovation through communities | 71 | |
| Introduction | 71 | |
| Communities | 72 | |
| Innovation | 75 | |
| Innoversity | 76 | |
| Expanding the levels of CoP/CoI Collaboration | 78 | |
| Conclusion | 80 | |
Clare Harman Clark

Clare Harman Clark is a senior professional support lawyer at Taylor Wessing LLP, building on a legal career that began with nearly a decade at Clifford Chance and a stint at Russell Cooke. Before retaining as a lawyer, Clare worked as a journalist and within a government press office, and still regularly publishes articles in national and trade press.

Cyndi Murphy

Cyndi Murphy is the knowledge manager in the Halifax, Nova Scotia office of Stewart McKelvey. Her firmwide responsibilities include liaising with various administrative departments for the successful implementation of knowledge management projects, overseeing content management of the internal Sharepoint portal and various internal research-oriented databases, and attending meetings of the Practice Innovation Advisory Committee. She was a member of the three-person team that designed and implemented a new Sharepoint portal which launched in January 2016 and she continues to be integrally involved with ongoing enhancements to the portal. Cyndi is a former president of the Canadian Association of Law Libraries and an active member of the association's Knowledge Management and Private Law Libraries Special Interest Groups.

Helene Russell

Helene Russell of TheKnowledgeBusiness is a lawyer (non-practising) and specialist in knowledge management. She has worked as a self-employed KM'er since 2008, and specialises in translating complex academic thought leadership and cross-boundary theories into practical tools to improve the efficiency and profitability of law firms. Helene is the author of Knowledge Management Handbook (2012) and Practical Projects in Legal KM (2015), as well as several chapters for ARK's multi-contributor books. She is a frequent conference speaker and runs regular open KM training events, as well as overseeing nationwide KM community groups. Helene has completed an executive MBA with distinction, with a focus on antecedents to knowledge sharing within UK law firms.

Raymond Olayinka

Raymond Olayinka is a senior advisory consultant at Arup and subject matter expert in helping client organizations to develop and deploy knowledge management strategies. He started his career in civil engineering and successfully worked as project engineer and project manager on building projects. Raymond began his work on knowledge management in 2006 and has since held specialist roles with various organizations. He offers a wealth of knowledge management expertise gained through delivering projects in energy, infrastructure, transport, education, and international development. He has led, developed, and overseen knowledge and learning initiatives at corporate level, working in partnership with various stakeholders. His current interest is in the optimization of organizational knowledge to improve business performance through the development of knowledge management systems and programs.

Sara Traynor

Sara Traynor is an executive and leadership coach specializing in coaching lawyers transitioning to board roles or heads of department. She also coaches groups and teams using the globally renowned LEGO serious play methodology and is the only certified facilitator in south west England. Sara was previously the director of knowledge and learning at Stephens Scown LLP, a Times Top 100 Best Companies to Work For. Sara pioneered the firm's KM strategy, which focused on lawyers sharing knowledge and learning from each other. Previously, Sara worked at a FTSE 250 utility for 15 years with management roles in organizational development, change management, service delivery, and project management.

Dr Randhir Reghunath Pushpa

Dr Randhir Reghunath Pushpa is a knowledge and innovation management consultant and researcher. His main focus is to evolve KM as a practice that can bring tangible benefi ts to organizations. He does work on leveraging knowledge and improving sales, automation, and cost cutting. In innovation management he has been involved in setting up innovation eco-systems, which can help in sustained innovation. At Unisys Bangalore, he set up an innovation program focusing on patent productivity, which resulted in a spurt in innovation in a sustained manner. He is the chief consultant and founder of Acies Innovations (a knowledge and innovation consulting firm). He works very closely with Knowledge Management Society Singapore and is also a member of KM Global Network. He writes regularly on next generation knowledge management. His areas of interest include knowledge management, innovation management, artificial intelligence, and human-machine collaboration.

Caroline White-Robinson

Caroline White-Robinson is head of knowledge management and learning and development at Shoosmiths. Her role aims to bring all tacit and explicit knowledge within Shoosmiths together in a consistent way, complementing the learning and development area where Caroline has headed up the team for the last ten years. Caroline's passion is leadership development, strategy development, and helping people find their way in the business world. Having studied for various qualifications for most of her adult life, Caroline uses her experience to find pragmatic solutions for the challenges in today's world. She is proud to lead a team who are passionate about what they do.

Dr Vincent Ribiere

Dr Vincent Ribiere is an enthusiastic and creative international consultant and professor with a passion for helping organizations solve their organizational knowledge and innovation management challenges. He is the founder and managing director of the Institute for Knowledge and Innovation Southeast Asia (IKI-SEA), a center of excellence at Bangkok University, as well as the program director of the Ph.D. in KM and Innovation Management. He has also co-founded various internationals events in the fields of business creativity and innovation (Creative Bangkok, ASCIM, CreativeMornings Bangkok, G-LINK) and co-founded various communities of KM and innovation academics and practitioners nationally (iKlub, Thai KM Network) and internationally (KM Global Network). Vincent has a strong entrepreneurial spirit and enjoys sharing his knowledge and experiences. He delivers keynote speeches and workshops at various international professional and academic conferences and is the author of more than 80 publications.