Book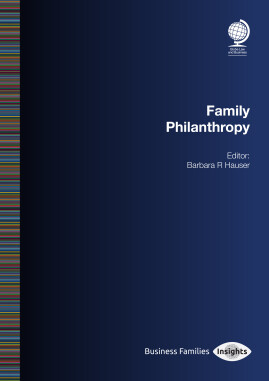 Family Philanthropy
Published: 2022
Pages: 151

eBook: 9781787425200
This title covers a variety of topics including: how families can make decisions about their philanthropy activities; donor advised funds; ways in which families can support cultural organisations, such as museums; and leaving a legacy for the next generations.
Family philanthropy around the world is a dynamic and important part of the overall social change landscape. However, with more and more individuals and families involved in this space and the ever increasing variety of approaches and choices, it is a vast and sometimes confusing subject and it can be difficult for families and their advisers who have an interest in philanthropy to know where to begin.

This Special Report aims to demystify the topic and presents in a clear and easy-to-understand format the philanthropy choices available to families. Edited by Barbara R Hauser, it brings together a variety of international experts including from Rockefeller Philanthropy Advisors, Farrer & Co and the National Philanthropic Trust, who cover, amongst other key topics:

How families can make decisions about their philanthropy activities;
Donor advised funds;
Ways in which families can support cultural organisations, such as museums; and
Leaving a legacy for the next generations.
There is also consideration of philanthropy in different jurisdictions, and the growing impact of wealthy women with inspiring examples from around the world.

Whether read in one sitting or used as a resource to dip into when specific topics are of interest, this unique collection is designed to inspire families thinking of philanthropy, and will be essential reading on this important topic.
Table of Contents
| | | |
| --- | --- | --- |
| Front cover | Front cover | |
| Title Page | 1 | |
| Copyright Page | 2 | |
| Contents | 3 | |
| I. Introduction | 5 | |
| II. Family philanthropy: an overview of global giving and trends | 13 | |
| III. Decision making in family philanthropy | 33 | |
| IV. Methods and legal structure of giving | 47 | |
| V. Location of family charities: the Netherlands and beyond | 61 | |
| VI. Caribbean choices | 71 | |
| VII. How families use donor-advised funds and other giving vehicles | 89 | |
| VIII. Women, philanthropy and the future of giving | 105 | |
| IX. Family philanthropy and cultural purposes | 117 | |
| X. A thoughtful legacy | 129 | |
| About the authors | 143 | |
| About Globe Law and Business | 151 | |
Kecia Barkawi
CEO, founding partner and president of the board, VALUEworks

In 2004, Kecia Barkawi founded VALUEworks, a multi-family office based in Zurich, Switzerland, with the goal to empower families to manage their wealth in a meaningful way, and to nurture a responsible next generation. Today she advises her clients on family governance, philanthropy, estate planning and overall wealth structuring, and coaches female and next-gen clients on how to cope with wealth-related challenges. Kecia serves on a number of boards – foundations, companies and industry bodies – and is a frequent speaker at international conferences.
Kecia worked for Baker McKenzie and GAM, before joining PwC Zurich's private client department as a vice president. She spearheaded the creation of the Swiss Association of Trust Companies, co-founded the Zurich Roundtable of Philanthropy and later initiated the Swiss Women + Philanthropy network.
In 2021 Kecia was awarded for her "Outstanding Contribution to Wealth Management Thought Leadership" and recognised as a "Leading Individual" at WealthBriefing's Swiss Awards; and was named "Top 20 Family Office Adviser" by Citywealth in London. Kecia holds a master's in law from the University of Zurich and an MBA from Heriot-Watt University in Edinburgh.

Donzelina Barroso
Director of global philanthropy, Rockefeller Philanthropy Advisors
[email protected]

Donzelina ('Donzie') Barroso serves as director of global philanthropy at Rockefeller Philanthropy Advisors (RPA), working with its major individual, family, corporate and institutional donors from across the globe to implement their philanthropic strategies. In 2017, Donzie launched RPA's first international office, in London. She has two decades of experience in international grant making and project management, including work in education, the arts, health and human services, community development and the Sustainable Development Goals and environmental issues. Donzie has also participated in RPA's thought leadership initiatives and carried out research on global philanthropy for clients. She is a frequent speaker at philanthropic conferences and events.
Donzie holds a master's in journalism from Columbia University; a master's in public administration from New York University; and a BA from Barnard College at Columbia University. A dual citizen of the United States and Portugal, Donzie is fluent in English, Portuguese, French and Spanish.

Melissa A Berman
President and CEO, Rockefeller Philanthropy Advisors
[email protected]

Melissa Berman is the founding president and CEO of RPA, an innovative non-profit philanthropy service launched by the Rockefeller family in 2002. RPA's mission is to help donors create thoughtful, effective philanthropy throughout the world. RPA develops strategic plans; conducts research; manages foundations and trusts; structures major gifts; coordinates donor collaboratives; and provides re-granting and incubation services. It also publishes, convenes and speaks about innovations in thoughtful, effective philanthropy. RPA annually manages or facilitates over $400 million in giving to more than 25 countries. It has full-time staff across the United States as well as in Europe and Africa. Melissa is also an adjunct professor at Columbia Business School, a trustee of Candid and an advisory council member for the Marshall Institute at the London School of Economics. She holds a BA from Harvard University and a PhD from Stanford University.

Peter Cafferkey
Representative, EVPA
pcaff[email protected]; [email protected]

Peter Cafferkey has been a representative of EVPA (European Venture Philanthropy Association) since 2019. EVPA has, for over 15 years, been the home for Investors for Impact in Europe. Now numbering over 300 members from 30 countries, the network continues to support knowledge sharing and collaboration to drive forward innovative social solutions.
In addition, since 2016, Peter has been the CEO and founder of Boncerto – a social good consultancy providing guidance and support to families looking to engage in the next generation of philanthropy and impact investing.
Peter has worked in the philanthropic and impact investing space for over 15 years, holding a number of philanthropic advisory roles with US, European and Asian foci. Peter is a regular contributor and speaker on impact investment and philanthropy around the world.

Diana Chambers
President, The Chambers Group Sàrl
[email protected]

Diana Chambers is a highly respected family wealth mentor and philanthropic adviser working in confidence with ultra-high-net-worth families. While living and working in the United States, she served as the fundraiser for an educational project in Bosnia during the war; directed the Servant Leadership School in Washington DC in the 1990s, preparing compassionate leadership for America's inner cities; helped to establish Friends of Health, an advocacy group for integrative medicine practices; and then supported the Chopra Foundation before founding the Chambers Group, LLC in 2002. She has lived in Switzerland since 2014.
Diana has a deep understanding of the giving space and emphasises the importance of dialogue between donors and charitable organisations, facilitating the conversations that are vital to fulfilling relationships and successful philanthropy.
Known for championing the human side of money, Diana offers the essence of her work in her book, True Wealth: Letters on Money, Life, and Love (Altitude Press, 2016).

Etienne Eichenberger
Managing partner, WISE – philanthropy advisors, Switzerland
[email protected]

Etienne Eichenberger is a partner at WISE – philanthropy advisors, one of the most recognised philanthropic advisory boutiques in Europe. Since 2004, he has provided tailored advice to donors, entrepreneurs and foundations. WISE is recognised by its peers for the quality of its work and its pioneering spirit.
Etienne previously worked for the Avina Foundation and the Swiss Development Cooperation. He is also chairman of the Swiss Philanthropy Foundation and co-founder of Sustainable Finance Geneva; and he sits on the advisory board of the Debiopharm Chair on Family Philanthropy at IMD Business School in Lausanne.
Etienne is also a co-author of The Family Philanthropy Navigator and a co-founder of the Foundation Board Academy in Switzerland. He is based in Geneva.

Barbara R Hauser
Independent family adviser
[email protected]

Barbara Hauser, a graduate of Wellesley College and the University of Pennsylvania Law School, began her career as a private client lawyer, based in Minnesota, United States. Work for her clients included a variety of trusts and charitable structures. As the clients were successful entrepreneurs, they favoured creating their own private (charitable) foundations, despite the heavy tax regulation. She also represented a major art institute and participated in an international panel on estate planning for art. She was appointed a commissioner for the National Endowment for the Humanities and served on several boards of art institutes, theatres and health organisations. She has always enjoyed helping clients with their philanthropic objectives.

Eileen R Heisman
President and CEO, National Philanthropic Trust
[email protected]

Eileen R Heisman, advanced certified fundraising executive, is president and CEO of National Philanthropic Trust (NPT), the largest national independent public charity that manages donor-advised funds. Since its founding in 1996, under Eileen's leadership, NPT has raised billions in charitable assets and expanded globally, creating two new charities: NPT UK and NPT Transatlantic.
Eileen is an internationally recognised expert on philanthropy and charitable giving, advising current and future philanthropists individually and in the media, including Bloomberg News and The Wall Street Journal. Eileen has authored the Donor-Advised Fund Report, the sector's authority on donor-advised fund philanthropy, since its inception in 2007.
Eileen teaches a graduate course in philanthropy at the University of Pennsylvania's School of Social Policy and Practice, and is both a lecturer and a member of the national advisory board at the University of Michigan School of Social Work. She also serves on Carnegie Mellon University's Dietrich College board of advisers.

Renee Karibi-Whyte
Vice president and assistant corporate secretary, Rockefeller Philanthropy Advisors
[email protected]

Renee Karibi-Whyte leads RPA's efforts to share its research and expertise on impactful philanthropic practice with individuals, families and organisations seeking to accelerate social change. As a member of the executive team and head of communications and partnerships, she is a lead contributor to RPA's Theory of the Foundation initiative, Strategic Time Horizon research, Philanthropy Roadmap guides and other knowledge-based projects that help clients and the sector to create more thoughtful, effective philanthropy. She works closely with RPA's client services teams on convenings, speaking engagements, presentations, partnerships and communications globally. Renee also leads RPA's internal and external communications strategy; manages and stewards RPA's brand; and oversees public relations. She has a law degree from Harvard Law School and a bachelor's degree from Florida A%26M University.

Ineke A Koele
Founder, Koele Tax %26M Legal Perspecta
[email protected]

Ineke Koele is an internationally renowned dual-qualified lawyer and founder of Koele Tax %26M Legal Perspecta, a tax boutique serving private clients and non-profits in the Netherlands. With three decades of experience and strong interpersonal skills, her practice has developed into long-term dynastic and sustainable planning for international families and innovative non-profits. Ineke's PhD focused on an international comparative study on tax and legal systems for philanthropy (IBFD, 2007).
Ineke specialises in estate law, foundations law and tax law. She regularly writes and lectures in both domestic and international forums and publications, and is a fellow of the American College of Trust and Estate Counsel and the International Academy of Trust and Estate Law. She has been ranked in Band 1 in the Chambers High Net Worth guide since 2019, with Chambers stating: "She is establishing a strong name, has a lot of energy and a very good reputation." In 2021 Ineke also won the Silver IGC award for the Global Advisor of the Year in the category Succession Planning/Trusts.

Małgorzata Kurak
Postdoctoral research fellow, Debiopharm Chair for Family Philanthropy, IMD Business School
[email protected]

Małgorzata Kurak conducts research on family firm governance and management practices that allow family owners and managers to translate their larger vision into workable strategies and explore their relation to philanthropy, performance and innovation.
Małgorzata has extensive research, business and teaching experience gained as a visiting fellow at leading European think-tank Bruegel; a visiting fellow at the University of Groningen; and a teaching assistant at ESADE Business School. She is an alumna of the Global Shapers Community at the World Economic Forum and of Rotaract Wroclaw; and she served as a mentor for socially driven start-ups at the 2020-21 MassChallenge Switzerland. She earned her PhD in economics, management and organisation from Universitat Autònoma de Barcelona in Spain.
Małgorzata has published in numerous practitioner-oriented outlets on topics such as family philanthropy, cohesive giving, blockchain and data management in philanthropy. More recently, she co-authored a book entitled The Family Philanthropy Navigator.

James Maloney
Partner, Farrer and Co
[email protected]

James Maloney is a partner at Farrer and Co. He qualified as a solicitor in 2005 and, following qualification, was seconded to the Science Museum in London. He advises a broad spectrum of charities and those who fund, work with and regulate them. He has particular experience of advising philanthropists on the legal aspects of structuring their giving. He advises individuals and families on the formation of charities and alternatives; donor tax reliefs; charity governance; regulatory requirements; and complex cross-border issues.
James currently serves as the deputy chair of the STEP Philanthropy Advisors Global Special Interest Group Steering Committee. He lectures on charity and law and charity tax law at Bayes Business School (formerly Cass Business School), and regularly writes and speaks on legal issues affecting the sector. He is a member of the Charity Law Association and a trustee of the Irene Taylor Trust.

Tanja Schienke-Ohletz
Partner, Flick Gocke Schaumburg Partnerschaft mbB
[email protected]

Tanja Schienke-Ohletz is a partner at Flick Gocke Schaumburg in Frankfurt, Germany, where she has worked since 2007. She specialises in assisting clients with national and international estate tax planning. Her clients are predominantly high-net-worth individuals, but also trustees and family companies or family offices. She often deals with clients who are interested in charitable activities, especially the establishment of German foundations, or individuals who need to structure their art collections for the next generation. She also advises German non-profit organisations, either on taxation issues or on national and international engagement.
Tanja is a frequent speaker at conferences on a wide variety of topics affecting the private client space, such as international estate planning and non-profit organisations. She also writes regularly for various legal publications specialising in trust and estate matters and non-profit organisations.

Vanessa L Schrum
Partner, Appleby (Bermuda) Limited
[email protected]

Vanessa Schrum is a partner and group head of the private client and trusts practice group at Appleby (Bermuda) Limited. She first qualified as a solicitor in the United Kingdom and is admitted to the bars of Bermuda and the British Virgin Islands.
Vanessa advises on a wide range of trust and estate planning matters, including Bermuda private and commercial trust structures, private trust companies, charities, wills and the administration of estates.
Vanessa serves as a director of private and licensed trust companies and as a protector. She is a member of STEP, the International Tax Planning Association and the Bermuda Trusts Law Reform Committee; and she sits on the editorial board of The International Family Offices Journal.
Vanessa is a Legal 500 Leading Individual and is also recognised in the Chambers Global 2021 High Net Worth Guide in Band 1; the Citywealth Leaders List; the Citywealth IFC Powerwomen Top 100 List 2019; the Private Client Global Elite Directory; and Expert Guide's Women in Business Law.

Peter Vogel
Professor of family business and entrepreneurship, director of the Global Family Business Center and Debiopharm Chair for Family Philanthropy, IMD Business School
[email protected]

Peter Vogel is professor of family business and entrepreneurship and holder of the Debiopharm Chair for Family Philanthropy at IMD
Business School in Lausanne. He is also the director of the IMD Global Family Business Center and the Global Family Business Award.
Peter works with families, owners, board members and executive teams of family enterprises and family offices globally. The focus of his work is on major organisational and governance transformations.
Peter has published in academic journals and has authored books, and is frequently referenced by leading newspapers and other media outlets around the world. He is a sought-after keynote speaker at global conferences.
Peter is the founder and chairman of Delta Venture Partners AG and is an associate partner of the Cambridge Family Enterprise Group. He is featured in the Top 100 Family Influencers globally by Family Capital.

Christian von Oertzen
Partner, Flick Gocke Schaumburg Partnerschaft mbB
[email protected]

Christian von Oertzen is a partner at Flick Gocke Schaumburg and head of the private client department. He is situated in the Frankfurt office. He has more than 25 years' experience of advising national and international clients on estate planning, probate, income tax and capital gains tax matters and charitable giving, as well as on immigration to or expatriation from Germany.
Christian lectures regularly on these legal and tax issues, and has published several manuals and articles on estate and capital gains tax planning, conflict of law questions, exit taxation and charitable organisations. He is a member of several prestigious professional institutions, including the International Academy of Estate and Trust Law, STEP and the American College of Estate and Trust Counsel.