Book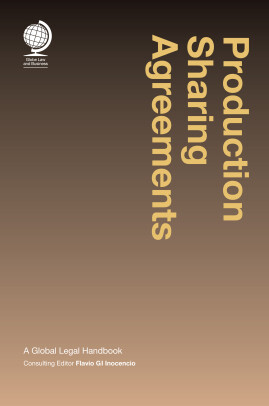 Production Sharing Agreements
A Global Legal Handbook
Published: 2021
Pages: 245

eBook: 9781787426894
This title is the first comparative treatment of Production Sharing Agreements and provides a comprehensive, in-depth overview of PSAs in key oil and gas jurisdictions around the world.
The Production Sharing Agreement (PSA) is the most widely used host government contract in the oil and gas industry, and is becoming the leading choice for most countries in their relationship with International Oil Companies (IOCs). However, there are many jurisdictional variations, and being aware of and understanding these is crucial for oil and gas practitioners working in this space.

This title is the first comparative treatment of this topic and provides a comprehensive, in-depth overview of Production Sharing Agreements in key oil and gas jurisdictions around the world. It offers a rich, critical analysis and evaluation, and features contributions from an international group of leading experts and academics who address the legal, economic and political aspects of PSAs. It also provides guidance on key recent developments by looking at jurisdictions' overall regulatory framework and their relationship with the PSA.

This edition covers jurisdictions worldwide, including:
•Brazil;
•Indonesia;
•Kazakhstan;
•Nigeria; and
•Russia

Production Sharing Agreements: A Global Legal Handbook will be of interest to practitioners, academics and anyone who is involved in these contracts. It provides readers with a clear understanding of PSAs in different jurisdictions, and a variety of practical recommendations and takeaways.

Table of Contents
| | | |
| --- | --- | --- |
| Cover | Cover | |
| Title | 1 | |
| Copyright | 2 | |
| Contents | 3 | |
| Introduction | 5 | |
| Angola | 11 | |
| Azerbaijan | 27 | |
| Brazil | 39 | |
| Colombia | 53 | |
| Ecuador | 67 | |
| Ghana | 79 | |
| Guyana | 93 | |
| Indonesia | 105 | |
| Kazakhstan | 125 | |
| Libya | 137 | |
| Malaysia | 151 | |
| Mozambique | 165 | |
| Nigeria | 187 | |
| Russia | 195 | |
| Trinidad and Tobago | 207 | |
| Vietnam | 219 | |
| About the authors | 237 | |
| About Globe Law and Business | 245 | |
Adam Abukari
Research fellow, Coventry University
adam.abukari@coventry.ac.uk

Adam Abukari is a research fellow (EU PROTAX H2020 project) at Coventry University, United Kingdom. His current work involves finding innovative solutions for tax crime, money laundering, corruption and related financial crime, primarily in the context of the European Union. Adam previously worked in project management, research and consultancy roles at a number of companies in Ghana. He has more than 12 years of experience in consultancy, advocacy, counselling, management, publishing and research. Adam's PhD concerned the rule of law and justice in petroleum law in sub-Saharan Africa.
His research interests include the codification of petroleum law; the rule of law in petroleum legal arrangements; human rights; environmental justice and sustainability; tax crime and related financial crime; and developments in EU and UN law. Generally, Adam's research is based on interdisciplinary and transdisciplinary relations between law, business and development.

Terrance Ali
Petroleum engineer, Ministry of Energy and Energy Industries
tali@energy.gov.tt
Terrance Ali is a petroleum engineer at the Ministry of Energy and Energy Industries in Trinidad and Tobago. He has more than eight years' experience regulating the energy industry in Trinidad and Tobago. His main focus is the management of the technical components of production sharing contracts (PSCs) and exploration and production licences which are executed with upstream entities.
He has also been heavily involved in the deepwater exploration campaigns conducted over the last decade in Trinidad and Tobago, and regularly liaises with the legal department to resolve contractual issues pertaining to PSCs. Terrance has also served on the CO2 Enhanced Oil Recovery Road Map Project, which aims to promote the implementation of carbon dioxide enhanced oil recovery in Trinidad and Tobago. Terrance has a BSc in chemical and process engineering (first-class honours, 2012) and an MSc in petroleum engineering (distinction, 2016), both from the University of the West Indies (UWI).

Sanzhar Amangeldy
Senior associate, Unicase Law Firm
sanzhar.a@unicaselaw.com

Sanzhar Amangeldy is a senior associate at Unicase Law Firm. Sanzhar has previously worked for oil company Agip KCO (a subsidiary of ENI SpA). He mainly concentrates his practice on commercial and business law, M&A, antitrust, construction, energy and IT law. He represents a diverse variety of clients throughout Kazakhstan. Sanzhar joined Unicase right after his graduation from law school. His clients are international corporations in the spheres of IT, construction, renewable energy, mining, oil and gas, development banks, stateowned enterprises and participants of the Global Fortune 500.
He has extensive knowledge connected to the construction of power stations and roads, and the transmission and distribution of renewable energy in Kazakhstan. His legal drafting and negotiating skills are highly appreciated by clients, who especially highlight his flexible attitude and innovative assessment of any situation. He excels at the structuring of cross-border transactions.

Julian Cardenas
Research professor, University of Houston Law Center
jcardenasgarcia@uh.edu

Julian Cardenas is a professor of transnational petroleum law (lex petrolea), investment arbitration and diplomacy of oil and gas at the Law Center of the University of Houston (UH). He is a researcher affiliated with the Environment, Energy and Natural Resources Center of UH and coordinator of the programme "Inter-American Hydrocarbon Regulators Dialogue" – an initiative that seeks to create a forum for research and knowledge between oil companies, regulatory agencies and academia. Julian works with companies and government agencies in various areas of regulation and public policy in the hydrocarbons sector in the United States, Latin America and Africa. Since June 2019, he has served as a member of the ad hoc administrative board of Petróleos de Venezuela SA. Before joining UH, he practised international arbitration in the energy and construction sector and was a career diplomat at the Ministry of Foreign Affairs of Venezuela.

Aaron M Cooper
Lecturer, Coventry University
a.cooper8640@gmail.com

Aaron M Cooper is a lecturer in law at Coventry University. His research explores the link between the development and regulation of geoengineering and the consequences for Arctic indigenous peoples. Over the years he has published on issues such as climate change; oil, gas and energy law; sustainable development; and energy transitions. Together with Dr Flavio Inocencio, he has also published a book chapter on oil and gas contracts and joint operating agreements. As well as lecturing to undergraduate and postgraduate students on public international law, human rights and international environmental law, Aaron holds a visiting lecturer post at the Siberian Federal University in Krasnoyarsk, Russia, teaching environmental law and sustainable development. He also teaches at institutions in China, Germany and Belgium. He is currently advising the Low Carbon Vehicle Partnership's legal affairs committee on how the group can increase its compliance with environmental law; and previously provided consultancy services to the International Energy Law Advisory Group in Brazil.

Alicia Elias-Roberts
Deputy dean and lecturer, University of the West Indies
alicia.elias-roberts@sta.uwi.edu

Alicia Elias-Roberts is an academic who teaches oil and gas law and international environmental law at the UWI. She is a graduate of the University of Oxford and the University of Houston. She is the deputy dean in the Faculty of Law at the UWI St Augustine Campus in Trinidad and Tobago. Alicia has over 20 years' experience as an energy and environmental law legal consultant. She has provided expert legal advice to several governments in the Caribbean region and internationally in the areas of conservation and biodiversity law, multilateral environmental agreements, maritime law, oil and gas law, treaty law and procurement law, to name a few. She is an attorney at law admitted to practise in New York, United States, Trinidad and Tobago and Guyana.

Ebtissam El Kailani
Senior legal counsel, Vestas
eieli@vestas.com

Ebtissam El Kailani is a French/Libyan lawyer with a PhD in comparative contract law from civil law, common law and Arabic jurisdictions from Université Paris 1 Panthéon-Sorbonne. Her practice over more than 18 years has encompassed interjurisdictional energy, investment and commercial arbitration, foreign direct investment (FDI), contract negotiations and public-private partnerships (PPPs). She has previously worked with the United Nations, Al Kilani Law Firm, August & Debouzy, Curtis, Mallet, Colt & Mosle LLP and Groupe Engie.
She recently joined Vestas as senior legal adviser covering the Middle East and North Africa with regard to corporate and transactional matters in the renewable energy sector.

Nuno Frota
Of counsel, Clyde & Co LLP
nuno.frota@clydeco.com

Nuno Frota is of counsel at the London office of Clyde & Co LLP, focusing on international trade and commodities. He is a member of the firm's Africa strategy team.
Seconded to a major Sino-Angolan international oil company (IOC) in 2011, Nuno assisted management with PSCs. He joined the third-largest global commodities trader in 2012. He was also senior legal counsel for Africa in Mozambique and Angola for a major commodity trader, and an adviser to Johannesburg-based metal traders active in the Democratic Republic of Congo.
Nuno holds an LLM from the University of Manchester School of Law (United Kingdom) and a PGDip in international commercial law from the University of Lisbon School of Law (Portugal). He is treble qualified as a solicitor of the senior courts of England and Wales and a member of the Angolan Bar Association and the Portuguese Bar Association (non-practising).

Banuchichak Hilalqizi
International lawyer
banuchichak.hilalqizi35@law.ac.uk

Banuchichak Hilalqizi is a qualified lawyer in Baku, Azerbaijan and an aspiring solicitor in the United Kingdom. She has an LLB (first-class honours) (Baku, Azerbaijan), an LLM in international business law (United Kingdom) and an MA in law (United Kingdom). She has also completed strategic management and consulting courses at the Chartered Management Institute (United Kingdom).
Banuchichak has worked at several different law firms and companies. Initially focused on international law, she took an internship and worked at different embassies, and participated in international law conferences at the European Court of Human Rights and the European Commission, among others. She went on to specialise in international business law and has since worked as a corporate lawyer in Baku, Azerbaijan. She is now an aspiring solicitor currently practising law at Norton Rose Fulbright LLP in London. She speaks Azerbaijani, Turkish, Russian and English.

Flavio GI Inocencio
Director, Helios Advisory
flavio@heliosadvisory.net

Flavio GI Inocencio is a director at Helios Advisory and a lecturer in law. He holds a law degree from NOVA School of Law (Portugal, 2005) and a PhD in law from Nottingham Trent University (United Kingdom, 2011). He has worked for several public and private institutions in the United Kingdom, Austria, Portugal and Angola. Flavio has also worked on several FDI projects, both as a lawyer at the Investment Promotion Agency and at various different law firms.
Flavio was director on the LLM in oil and gas law at Coventry University from 2016 to 2018. He has published several works, including three books – one on the Organization of the Petroleum Exporting Countries (OPEC). Flavio also teaches oil and gas law and mining law at Agostinho Neto University Law School and is affiliated with the Research Centre at NOVA School of Law in Lisbon.

Ngutor S Jato
Associate, Serenity Legal Union and Partners
njato@nigerianbar.ng

Ngutor S Jato is an oil, gas and energy law specialist. He has been instructed in both litigable and non-litigable cases that involve the recovery of debts and the interpretation of legal instruments including concessions, employment contracts and statutes.
Ngutor is an enthusiastic legal practitioner with a strong work ethic and career competencies which he continues to build in his practice with Serenity Legal Union and Partners. Ngutor is qualified and licensed to practise in Nigeria, with a focus on the regulation, taxation and sustainable use of the environment and natural resources. His legal expertise extends to legal risk management, contract negotiations and drafting.

Carlos Manosalvas Silva
Partner, Manosalvas & Partners Abogados
cmanosalvas@lawmpa.com

Carlos Manosalvas Silva is a partner at Manosalvas & Partners Abogados, which has offices in Spain, Ecuador, Peru and Portugal. He is a representative of the Faculty of Law to the University Council (2005) and an attorney of the Courts of Ecuador. He has a master's degree in negotiation and foreign trade and a master's degree in international environmental law, both from the School of International Sciences of the Central University of Ecuador. He is a criminal law specialist and holds a PhD in law, with a focus on criminal law, from the National University of Rosario Argentina. Carlos is a member of LES (Licensing Executives Society) Andean Community, having previously held the position of secretary (2012–2013), and is a member of the Bar Association in Quito. In addition, he is an integrated internal auditor of ISOS 9001, 14001 and OSHAS 18001 (2010); and in 2016 he coauthored a book called Judicial Rulings that Violate Human Rights in Ecuador, published by the Editorial Fund of the Interamerican Institute for Democracy.

Risa J Mark
Legal Officer I, Ministry of Energy and Energy Industries
rmark@energy.gov.tt
risajmark.law@gmail.com

Risa J Mark is an attorney at law based in Trinidad and Tobago. She was called to the bar of Trinidad and Tobago in November 2019 and has worked as a legal officer with the Ministry of Energy and Energy Industries since December 2019. She obtained a BSc in international tourism management (2013) and an LLB (2017) from the UWI, and a legal education certificate from Hugh Wooding Law School (2019)
Risa's specialisms include energy and tourism development.

Asma Muttawa
International energy lawyer
asmamuttawa@gmail.com

Asma Muttawa is an international energy lawyer and an honorary lecturer at the Centre for Energy, Petroleum and Mineral Law and Policy (CEPMLP), University of Dundee.
Recently, Asma was general legal counsel at OPEC and special adviser to the secretary general on the OPEC+ Cooperation, which began with the Declaration of Cooperation concluded during her tenure as general legal counsel in 2016 and culminated with the Alliance of Cooperation. Previously, Asma worked for Schlumberger covering Libya and Europe, Central and Eastern Europe and Africa in relation to legal operations, corporate governance and compliance. She also worked for various UN organisations leading programmes on various legal and governance issues.
Asma has an LLB (Hons) and an LLM in international and comparative business law. She is experienced in litigation in both common and civil law jurisdictions, as well in arbitration and negotiation. She is a longstanding member of the Association of International Petroleum Negotiators, the Chartered Institute of Arbitrators and was an officer and vice chair of the International Bar Association Corporate Counsel Forum for four years.

Ali Nasir
Vice president of legal, commercial and planning, Premier Oil Indonesia
anasir@premier-oil.com

Ali Nasir is a senior member of the Premier Oil Indonesia management team, responsible for managing all legal, commercial and planning aspects of the company. He is also chairman of the Regulatory Affairs Committee of the Indonesian Petroleum Association. Ali has extensive experience in the oil and gas industry and has worked for various IOCs and government institutions. He was an expert staff member for the minister of energy and mineral resources and a member of the National Exploration Committee (2015–2016). Prior to this, he worked for the OPEC Secretariat in Vienna as a legal adviser for international matters (2006–2014). Earlier in his career he worked for VICO Indonesia (2004–2006), Total E&P Indonesie (1998–2003) and Unocal Indonesia Company (1996–1997).
Ali graduated from the University of North Sumatra Law School in 1996 and obtained his LLM in petroleum law and policy from the CEPMLP, University of Dundee (United Kingdom) in 2004.

Ha T Nguyen
Legal executive, Airports Corporation of Vietnam
theha2911@gmail.com

Ha T Nguyen is interested in cross-border trade and investment, energy, infrastructure construction, competition and state-owned enterprises. He has published several articles on the Vietnam oil and gas sector, renewable energy, the privatisation of state-owned enterprises and competition. He has participated in energy megastructure projects in Vietnam and other Association of South East Asian Nation countries (eg, Nghi Son Refinery & Petrochemicals Plant; Song Hau 1 coal-fired power plant; offshore petroleum production platforms in Vietnam; and the Petronas RAPID project, Malaysia); and in airport projects in Vietnam (eg, T3 Terminal – Tan Son Nhat Airport, Long Thanh International Airport (phase 1)). He is also counsel at Huy & Partners LLC.

Paulo Henrique Reis de Oliveira
Lawyer, KINCAID | Mendes Vianna Advogados
oliveira.phro@usp.br

Paulo Henrique Reis de Oliveira is a master's student in international and comparative law at University of São Paulo (USP). He is a specialist in maritime law; editorial coordinator of the Bulletin of the Brazilian Society of International Law; a researcher at Centro de Estudos de Direito do Mar Vicente Marotta Rangel (CEDMAR) USP and the Centre for the Study of International Courts (USP); a member of the New-Gen Committee of the Centre for Arbitration and Mediation of the Chamber of Commerce Brazil-Canada; a member of the Brazilian Association of Maritime Law; and a lawyer at KINCAID | Mendes Vianna Advogados. As a professor, he has experience in international law, maritime law, insurance law and research methodology. As a lawyer, he works in the fields of maritime law, art law, insurance law, petroleum law and international cooperation.

Saniya Perzadayeva
Managing partner, Unicase Law Firm
saniya.p@unicaselaw.com

Saniya Perzadayeva is managing partner at Unicase Law Firm. She is a recognised expert in areas such as infrastructure and PPPs, project finance and construction, energy and renewables. She advises on various legal issues, in particular on corporate and commercial matters, energy, real estate, infrastructure and PPPs.
Saniya has over 18 years' experience advising clients on a broad range of legal issues, with a particular emphasis on corporate and commercial law. She is experienced in banking and finance, debt and deposit operations, cross-border finance transactions, syndicated loans and securities transactions. She is an expert in corporate law and M&A law, both in Kazakhstan and in other Commonwealth of Independent States countries. Saniya provides consulting services to investment banks on the syndication of commercial tranches for the financing of various social and commercial projects; drafts Kazakhstan security documents for project financings; and advises international companies on the investment regime and guarantees provided to investors under Kazakhstan laws.

Indira Rampaul-Cheddie
Senior state counsel, Ministry of Energy and Energy Industries
irampaul@energy.gov.tt

Indira Rampaul-Cheddie is a senior state counsel at the Ministry of Energy and Energy Industries. She has spent over 20 years in the petroleum industry in legal, commercial and leadership roles. She specialises in negotiation, the drafting of petroleum contracts, policy and regulatory issues. She has presented and/or published for the Regional Association of Oil, Gas and Biofuels Sector Companies in Latin America and the Caribbean; the Society for Petroleum Engineers; the Association of International Petroleum Negotiators; the Oil, Gas and Energy Law Intelligence Journal; the Journal of Energy and Natural Resources Law; CEPMLP; and the Centre Annual Review, UWI and University of Trinidad and Tobago.
Indira has done work for the Guyanese Bar Association; the Energy Chamber of Trinidad and Tobago; the Earth Institute of Columbia University; the Government of the Democratic Republic of Timor-Leste; the Inter-American Development Bank; the American University in Egypt; and Seton Hall Law School.

Barbara Mourão Sachett
PhD student, São Paulo University
barbara.sachett@usp.br

Barbara Mourão Sachett has a master's in international law from the University Estadual Paulista – Júlio de Mesquita Filho (UNESPFranca). She is a PhD candidate (international and comparative law) at the Faculty of Law of São Paulo University, Brazil.
In addition, she is a lecturer at the Methodist University of São Paulo and a researcher at Centro de Estudos em Direito do Mar-Vicente Marotta Rangel (CEDMAR-USP) at the Faculty of Law of São Paulo University and at the Núcleo de Estudos em Tribunais Internacionais (NETIUSP) at the Faculty of Law of São Paulo University. She is a member of the Associação Brasileira de Direito Internacional (ABDI).

Júlia Schütz Veiga
PhD student, NOVA School of Law
julia.schutz@gmail.com

Júlia Schütz Veiga is a PhD candidate at NOVA School of Law, UNL, on the law studies programme, and a postgraduate student in biotechnology at UniCesumar, Petropólis, Brazil. She holds a master's degree in law and economics of the sea from NOVA School of Law. She has spent the last four years researching on the law of the sea, and has leveraged her academic knowledge to strengthen Brazilian government policies relating to the conservation and sustainable use of marine biological biodiversity. Júlia also has a specialisation in international law at the Federal University of Rio Grande do Sul, Brazil, and is a researcher at NOVA Ocean Knowledge Centre and CEDIS, NOVA School of Law, and CEDMAR, University of São Paulo (USP), Brazil.

Marlina Tambunan
Legal manager, Premier Oil Indonesia
mtambunan@premier-oil.com

Marlina Tambunan is responsible for managing all legal and compliance aspects of the Indonesia business unit. She currently lectures at Sekolah Tinggi Hukum Indonesia and Sekolah Pascasarjana Universitas Padjajaran in Jakarta. Marlina has extensive experience in the oil and gas industry and has worked for various IOCs, national oil companies and government institutions.
Marlina graduated from the Faculty of Law of Universitas Katolik Parahyangan, Bandung (Indonesia) in 2001; and obtained her LLM in international law and the laws of international organisation from the Faculty of Law of the De Rijksuniversiteit Groningen (Netherlands) in 2002.

Philip Teoh
Partner, Azmi & Associates
philipteoh@yahoo.com

Philip Teoh is a dual-qualified Singapore and Malaysian lawyer with more than 31 years of experience. He is a partner and practice head of shipping, international trade, insurance, oil and gas and arbitration at Azmi & Associates, a fullservice Malaysian law firm.
He is an accredited arbitrator with the key maritime arbitration and international arbitration centres around the world. Philip is also an adjunct lecturer with Brickfields Asia College, Malaysia's largest law school. He has authored key practitioner texts on the sale of goods, equity, conflict of laws, bailment, lien, shipping, carriers (land, air and sea), forms and precedents on shipping, insurance claims, wills and will trusts, annotated merchant shipping laws and annotated sale of goods.
In Chambers 2021's ranking of maritime lawyers, he was described as "very knowledgeable and approachable, quickly grasping the situation and always quick to offer the correct advice. He is able to quickly resolve matters to our satisfaction without the need of progressing to court".

Umut Turksen
Professor in law, Centre for Financial and Corporate Integrity, Coventry University
umut.turksen@coventry.ac.uk

Umut Turksen leads the EU-funded TRACE Project and the Law, Risk and Compliance Cluster at the Centre for Financial and Corporate Integrity, Coventry University. He is interested in the practical application of the law in innovation, societal security and development. He has published several books and articles on energy, financial crime and international trade and economic law. He has provided consultancy and training to prestigious international businesses and government projects, including technical assistance programmes for multinational corporations (eg, France Telecom, Equas Ltd, Wilmington Plc) and international organisations (eg, Commonwealth, NATO, EUROPOL); and professional development training for practitioners and EU-funded projects (eg, CEPOL, SecuCities, MUTRAP III, COFFERS, PROTAX, VIRTEU). Umut is also a member of the Innovation Caucus and of counsel to Rajah & Tann LCT Lawyers, Vietnam.