Book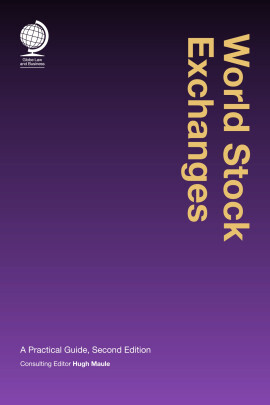 World Stock Exchanges
A Practical Guide, Second Edition
Published: 2018
Pages: 405

eBook: 9781787421462
This new edition seeks to assist those who may be interested in the equity markets in analysing the choices available to them and features fully updated contributions from leading practitioners in the field in a selection of major markets, including Australia, China, Dubai, South Africa, the United Kingdom and the United States.
Every day around the globe, businesses seek out equity capital. From young, entrepreneurial growth companies to mature global businesses, working capital is required to run, sustain and grow your business.

As the world shrinks due to enhanced communication through technology, the choices available to companies in search of equity expand. For the advisers guiding those companies, the alternative markets that can be recommended increase year on year. World Stock Exchanges: A Practical Guide, 2nd Ed seeks to assist those who may be interested in the equity markets in analysing the choices available to them.

This new edition features fully updated contributions from leading practitioners in the field in a selection of major markets, including Australia, China, Dubai, South Africa, the United Kingdom and the United States.

Whether you are comparing the relative merits of floating a company on NASDAQ or the London Stock Exchange, in China or in Singapore, on Euronext or OMX, this new edition will be an extremely helpful source of information. Intermediaries, banks and corporate finance advisers, brokers, sponsors, lawyers and accountants will find it highly relevant and informative in analysing the key criteria applying to major stock exchanges around the world. For market practitioners, it will be an essential addition to their library.

Table of Contents
| | | |
| --- | --- | --- |
| Front cover | cover | |
| Title | 1 | |
| Copyright | 2 | |
| Table of contents | 3 | |
| Introduction | 5 | |
| Australia: Australian Securities Exchange | 7 | |
| Brazil: B3 SA – Brasil, Bolsa e Balcão (Brazilian Stock Exchange) | 29 | |
| Canada: Toronto Stock Exchange | 49 | |
| People's Republic of China | 61 | |
| France: The French Stock Exchange | 85 | |
| Germany: The Frankfurt Stock Exchange | 107 | |
| Hong Kong: The Hong Kong Stock Exchange | 125 | |
| India: domestic stock exchanges | 151 | |
| Japan: The Tokyo Stock Exchange | 165 | |
| The Netherlands: Euronext Amsterdam | 181 | |
| Singapore: The Singapore Stock Exchange | 203 | |
| South Africa: The Johannesburg Stock Exchange | 227 | |
| South Korea | 251 | |
| Spain: domestic stock exchanges | 275 | |
| United Arab Emirates: Nasdaq Dubai | 295 | |
| United Kingdom: London Stock Exchange – Main Market | 303 | |
| United Kingdom: London Stock Exchange – AIM | 331 | |
| United States: The New York Stock Exchange | 347 | |
| United States: Nasdaq | 373 | |
| About the authors | 397 | |
| About Globe Law and Business | 407 | |
Now in a new second edition, it functions as an information rich, efficient and authoritative guide to the world's major stock exchanges, from Australia, to the UK and the United States. Editor Hugh Maule, who also writes the two chapters on the London Stock Exchange, has assigned a team of some twenty-three expert contributors to the task, most holding senior positions in some of the world's top law firms.

Phillip Taylor MBE
Richmond Green Chambers

Stephan Aubel
Partner, Gleiss Lutz
stephan.aubel@gleisslutz.com

Gleiss Lutz partner Stephan Aubel works at the Frankfurt office. After training as a bank clerk, he studied in Frankfurt and at the University of Pennsylvania.
Mr Aubel has a special focus on advising clients on capital market issues. He has advised numerous companies in a variety of sectors on their IPOs, capital increases and issuances of equity-linked bonds. He regularly acts for issuers, banks and investment companies. He also has indepth experience in corporate law and public M&A.

Paul Bork
Partner, Foley Hoag LLP
PBork@foleyhoag.com

Paul Bork, a partner in the Boston office of Foley Hoag LLP, has been specialising in corporate finance and securities law for over 40 years and was the co-chair of Foley Hoag's Corporate Finance and Securities Practice Group from 2013 until 2016.
Mr Bork has published regularly on securities, financing and corporate governance matters and most recently co-authored Initial Public Offerings as part of Bloomberg BNA's Corporate Practice Portfolio Series. He holds a BE from The Cooper Union (1971) and a JD from Columbia Law School (1974). He is a member of the New York and Massachusetts bars.

Thierry Brun
Partner, Jeantet
tbrun@jeantet.fr

Thierry Brun is a corporate finance partner based in the Paris office of Jeantet, one of France's leading independent law firms. He is a member of the management board and co-chair of the firm's M&A-PE practice. With over 25 years' experience, he is primarily involved in corporate transactions, with a particular focus on public and private acquisitions and joint ventures. Mr Brun has acted for various public and private companies and private equity houses and has undertaken a considerable number of crossborder transactions for French and foreign clients across a broad range of sectors including (in particular) pharmaceuticals, energy, hi-tech, retail, automotive and heavy industries.
Mr Brun holds degrees in business law, private international law and international business law. He is a member of the Paris Bar and of several international legal and business associations.

Julia Charlton
Managing partner, Charltons
juliacharlton@charltonslaw.com

Julia Charlton is the managing partner of Charltons, a focused corporate finance law firm based in Hong Kong, with representative offices in Beijing, Shanghai and Yangon.
Having practised as a solicitor in Hong Kong since 1987, Ms Charlton has seen China transformed into the world's second largest economy. She was involved in some of the first Hong Kong listings of Chinese companies and has advised many companies and listing sponsors on IPOs on both boards of the Hong Kong Stock Exchange. She supported listing rule changes implemented in 2018 which allow tech companies with weighted voting rights structures and prerevenue biotech companies to list.
Ms Charlton's practice also includes all aspects of Hong Kong corporate finance law, including debt finance, investment funds, M&A, initial coin offers, licensing financial services intermediaries and regulatory compliance.
Awarded 'Boutique Law Firm of the Year' by Asian Legal Business for the last 11 years, Charltons focuses on cutting-edge legal solutions.

Cyril Deniaud
Partner, Jeantet
cdeniaud@jeantet.fr

Cyril Deniaud is partner at Jeantet, one of France's leading independent law firms. He is co-head of the capital markets department, located in the Paris office. He has strong expertise in advising French and foreign clients (corporates, investment funds, institutional investors or banks) on equity capital market and Public M&A transactions (public takeover bids, IPOs, rights issues and issues of securities granting access to capital). He also advises on private M&A transactions involving listed companies.
Mr Deniaud holds degrees in business and tax law and graduated at Sciences Po Paris. He is a member of the Paris Bar and heads the Stock Market Law division of the French think-tank Droit & Croissance (Rules for Growth).

Alastair Dixon
Director, Norton Rose Fulbright South Africa
alastair.dixon@nortonrosefulbright.com

Alastair Dixon is a director in the Corporate, M&A team at NRFSA in Johannesburg. He holds LLB and BA Hons (English Literature) degrees. He also heads up the Equity Capital Markets (ECM) team at NRFSA in Johannesburg.
Alastair combines considerable expertise in M&A and ECM work, with particular experience in the mining, commodities and infrastructure and financial institutions headlights. He has advised and/or led on numerous public and private M&A transactions. Recently, he advised Zurich group on the scheme of arrangement in terms of which a Zurich group subsidiary acquired all of the minority interests in then JSE-listed Zurich Insurance Company South Africa and, subsequently, on the disposal of its 100% interest in Zurich Insurance Company South Africa to a Canadian financial services group. He has also advised and/or led on several JSE IPOs and rights offers. Recently, he advised Sirius Real Estate on its 'fast track' secondary listing on the JSE (the first secondary listing of its kind in South Africa) and, subsequently, on its move to the main boards of the LSE and JSE and Barclays on the circa 12.8% and 33% sell-downs of its majority interest in JSE-listed Barclays Africa Group (through the largest book build in South African history).

Robyn Ferguson
Senior partner, HopgoodGanim Lawyers
r.ferguson@hopgoodganim.com.au

Ms Ferguson leads HopgoodGanim's Perth office and is a senior partner in the Corporate Advisory and Governance team. She has significant experience advising Australian and foreign corporations and their respective boards and senior management across a variety of sectors, on capital raisings, IPOs, takeovers, mergers and acquisitions, and compliance with the Corporations Act, ASX Listing Rules and other corporate regulations. She also conducts comprehensive compliance and due diligence programmes. She was recognised by Doyle's Guide to Leading Corporate Lawyers in Western Australia in 2018 and has also been named in the area of Corporate/M&A by Asia Pacific Legal 500.

James M Fischer
Partner, Drinker Biddle & Reath LLP
james.fischer@dbr.com

Jim Fischer is chair of Drinker Biddle's Corporate and Securities Group. Jim focuses his practice on mergers and acquisitions and general corporate matters. He also advises both individual and institutional clients in a variety of matters relating to investments in, and transactions with, domestic and foreign proprietary and high frequency trading firms' incubators and related services providers. In addition to the practice of law, Jim has previously served as a member of the board of directors of Trading Cross Connects US LLC and Trading Cross Connects Holdings Limited, providers of services to high frequency trading teams. Jim served as a research assistant in the UK House of Commons and as an intern on Capitol Hill.

Gu Yichao
Associate, Jade & Fountain PRC Lawyers
lois.gu@jadefountain.com

Gu Yichao is an associate specialising in capital markets, corporate and foreign direct investment (FDI) matters. She has worked on numerous projects involving foreign interests. Yichao is fluent in Chinese and English and received her Bachelor's degree in law from Fudan University in China and her Master's degree in law from Vanderbilt University in USA.

Mauro Guizeline
Partner, TozziniFreire Advogados
mguizeline@tozzinifreire.com.br

Head of one of the firm's corporate groups, Mr Guizeline concentrates his practice on assisting publicly held companies and financial institutions, having extensive experience in corporate law and mergers and acquisitions. Advising on a number of significant businesses in the Brazilian market, he works on all stages of transactions, from their initial planning through implementation. A graduate of the Law School of FMU (Faculdades Metropolitanas Unidas), Mauro is a member of the board of directors of ABRASCA (Brazilian Association of Public Companies). He is consistently recognised as a leading lawyer by national and international legal publications such as Chambers Global, Chambers Latin America, The Legal 500, Latin Lawyer 250, Who's Who Legal, IFLR1000) and Análise Advocacia 500. He is also recommended by Latin Lawyer – Masters of M&A.

Wataru Higuchi
Partner, Anderson Mori & Tomotsune
wataru.higuchi@amt-law.com

Wataru Higuchi is a partner in the corporate and finance group of Anderson Mori & Tomotsune and his practice focuses on capital markets and fund registrations. He has handled a wide range of financing transactions, including equity and bond offerings and the listings of companies and funds (ETFs) on the Japanese exchanges as well as structured financing transactions, acting for Japanese and non-Japanese issuers as well as underwriters.
In addition to his client work, Mr Higuchi was also involved in rule-making for listings of non-Japanese companies and ETFs during his secondment with the Tokyo Stock Exchange from 2012 to 2013. He is also the author of a number of works in Japanese as well as English concerning Japanese securities regulation.

Radhika Iyer
Associate partner, Naik Naik & Company
radhika@nnico.com

Radhika Iyer is a corporate transactional lawyer, with expertise in commercial law, corporate advisory, mergers & acquisitions, capital markets, private equity and cross-border transactions for various domestic and international companies. She is actively involved in handling M&A across all key industry sectors.
With experience spanning over a decade, Ms Iyer demonstrates a deep commercial understanding of a number of industry sectors and significant transactional insights that offer immense value to the client. She has assisted clients in drafting business plans, business formation and structuring, funding-related advisory and entry to/investment strategy for foreign corporations. She has regularly represented multinational corporations, private companies, entrepreneurs (as individuals), venture capital groups, banks and insurance companies. She also advises clients on post-acquisition matters, such as regulatory approvals, compliance and secretarial matters.

Jung Soo Kim
Partner, Yulchon LLC
jskim@yulchon.com

Jung Soo Kim is a senior adviser at Yulchon LLC. He joined Yulchon LLC after having worked at the Korea Exchange for 27 years. While at the Korea Exchange, he held various senior posts, such as Executive Director of Korea Exchange Market Oversight Commission, and Head of the Market Surveillance Division, the Stock Watch Division and the General Affairs Division. He is widely recognised as one of the leading experts on the Financial Investment Services and Capital Markets Act and unfair market activities. Mr Kim has published widely on many aspects of securities law and market trading. He has also lectured extensively for trade associations and educational institutions, such as the Korea Listed Companies Association, Korea Securities & Banking Institute, the Judicial Research & Training Institute, Korea Securities Institute, Seoul National University and Yonsei University, as well as for law firms, listed companies and the media. He is currently the vice president of the Korea Securities Law Association and the president of Seoul Finance and Law Institute.
Mr Kim received his Bachelor's and Master's degrees from Yonsei University College of Law and an LLM. from the University of Pennsylvania School of Law.

Marc A Leaf
Regional partner, Drinker Biddle & Reath LLP
Marc.Leaf@dbr.com

Marc Leaf is regional partner in charge of the New York office of Drinker Biddle, and a trusted counsellor and adviser to senior government officials, corporate leaders and independent directors. An experienced and practical dealmaker with a proven record of success, Marc helps issuers and investors in technology, media, telecom and other industries achieve their goals in capital raising transactions, business combinations and joint ventures.
Prior to joining Drinker Biddle, Marc served on the executive staff of the US Securities and Exchange Commission, where he was the senior legal and policy adviser to Commissioner Luis A Aguilar for all rule-making matters under the Division of Corporation Finance, as well as related enforcement actions and settlements recommended by the Division of Enforcement. While at the SEC, Marc advised on a wide range of issues, including the Crowdfunding Rule, Regulation D, Regulation A+ and matters relating to the Public Company Accounting Oversight Board and the Financial Accounting Standards Board.

Jin Kook Lee
Partner, Yulchon LLC
jklee@yulchon.com

Jin Kook Lee is a partner at Yulchon who practises primarily in the areas of mergers and acquisitions, funds/private equity and capital markets. Mr Lee has been involved in many notable IPO and equity capital transactions and, since 2012, has been named as a Recommended Lawyer in the practice area of Capital Markets by Asia Pacific Legal 500. He has also acted for the Listing Maintenance Review Committee of the KOSDAQ Market of the Korea Exchange (KRX) since 2017. In addition to his expertise in the capital markets area, Mr Lee is one of the most recognised and experienced lawyers in South Korea for advising on M&A transactions, both inbound and outbound. He has frequently advised on many top profile M&A transactions in recent years, in which Korean companies were involved either as purchasers or as targets.

Tahir Mahmood
Head of business development, Nasdaq Dubai
tahir.mahmood@nasdaqdubai.com

Tahir Mahmood heads the Business Development department of Nasdaq Dubai, overseeing all products including equities, equity futures, Sukuk, bonds and Murabaha. He works with the team to bring new listings to the exchange, as well as offer new products to the market. He has had a key role in making Dubai the leading Sukuk listing venue globally.
Tahir joined Nasdaq Dubai in July 2013 and has spent most of his career working within the Islamic finance arena in London, Bahrain, Qatar and Dubai. He has assisted commodity brokerage houses to establish operations in both London and Bahrain, specialising in commodity based financial products.
Tahir holds a BSc in Business Computing from City University, London.

Hugh Maule
Partner, Gowling WLG (UK) LLP
Hugh.Maule@gowlingwlg.com

Hugh Maule is a corporate partner at Gowling WLG (UK) LLP, based in its London office. He took a law degree at the University of Cambridge before joining Lawrence Graham as a trainee in 1989. Shortly after qualifying, he spent 18 months at Credit Suisse in London, working as part of the bank's debt recovery team. He was made a partner in 1999. He was managing partner of Lawrence Graham between 2008 and 2014, before its merger with Wragge & Co. The merged entity Wragge Lawrence Graham changed its name to Gowling WLG in 2016 on combination with Canadian firm Gowlings.
Mr Maule's experience centres on corporate finance, where his practice covers a broad area from acting for a number of entrepreneurs on public and private company work through to buying and selling companies and flotation and secondary issue work. He has acted for a wide variety of Main Market and AIM corporate clients, although his principal focus has been in relation to the AIM market over more recent years. He has particular sectoral focus on healthcare, support services and natural resources.

Samantha Myers
Director, Gowling WLG (UK) LLP
samantha.myers@gowlingwlg.com

Samantha Myers is director in the corporate group of Gowling WLG (UK) LLP, a leading international law firm specialising in corporate finance, mergers and acquisitions and equity capital markets. Ms Myers has extensive experience of acting for companies or their advisers on IPOs and secondary transactions. She regularly advises on a range of domestic and cross-border M&A transactions, including public takeovers. Her experience includes a secondment to the Corporate Finance team of N+1 Singer, where she worked on various Main Market and AIM transactions, including IPOs, secondary fundraisings (including placings, rights issues and open offers) and acquisitions. She also provided advice and guidance on compliance rules and regulatory matters.

Francisco Eumene Machado de Oliveira Neto
Partner, TozziniFreire Advogados
fmoliveira@tozzinifreire.com.br

Francisco Oliveira is a partner in the Corporate and M&A department of Tozzini Freire Advogados, one of the largest law firms in Brazil. He is a member of the Brazilian Bar Association and holds an LLM from New York University.
Mr Oliveira has over 17 years' experience and is primarily involved in M&A of public and private companies and financial institutions. He also advises national and international clients in all areas of corporate law, including corporate governance, securities regulation and private equity transactions.

José Luis Palao
Partner, Garrigues
jose.luis.palao.iturzaeta@garrigues.com

José Luis Palao is a partner at Garrigues at its Madrid office. The main focus of his practice is equity and debt capital markets (including listing, delisting, initial public offerings and accelerated book building, bonds, high yield bonds and complex financial instruments). He also advises on corporate governance and takeover bids, among other areas.

Peng Deyang
Associate, Jade & Fountain PRC Lawyers
deyang.peng@jadefountain.com

Peng Deyang is an associate specialising in capital markets and FDI. Deyang is fluent in Chinese and English and received Bachelor's degrees in law from universities in China and the USA.

Philippe Portier
Partner, Jeantet
pportier@jeantet.fr

Philippe Portier is a corporate finance and securities regulations partner based in the Paris office of Jeantet, one of France's leading independent law firms. A member of Jeantet's Management Board, he co-heads the firm's M&APrivate Equity practice group and its capital markets department, both located in the Paris office. With over 25 years' experience, he is primarily involved in corporate transactions, with an emphasis on public and private mergers and acquisitions and capital markets transactions, with a particular focus on regulated sectors, such as finance, media, transport and healthcare. A specialist in corporate governance issues, Mr Portier actively participates in business-related missions with the leading French think-tank Institut Montaigne, as well as with Middlenext and the Institut Français des Administrateurs. Mr Portier holds degrees in business law (University of Paris) and an LLM from Miami Law School. He is a member of the Paris, New York and Luxembourg bars, as well several international legal associations.

Kathleen Ritchie
Partner, Gowling WLG (Canada) LLP
kathleen.ritchie@gowlingwlg.com

Kathleen Ritchie is a partner at Gowling WLG's Toronto office. She serves as co-head of Toronto's Business Law Department and is the past leader of the firm's Corporate Finance, M&A and Private Equity Group.
Ms Ritchie practises securities and corporate law and has 20 years' experience advising on public and private M&A and corporate finance transactions, as well as securities regulatory and corporate governance matters. Her M&A practice involves providing advice on mergers, acquisitions and divestitures, including takeover and issuer bids, plans of arrangement and asset sales, for both public and private companies. Her corporate finance practice includes acting on behalf of public companies in public offerings and private placements of both equity and debt securities. Ms Ritchie also advises public companies on securities regulatory requirements, including disclosure requirements, stock exchange and related requirements, regulatory reviews and investigations of disclosure/trading and matters relating to shareholder meetings, including proxy contests.

Jan-Rasmus Roßkamp
Associate partner, Gleiss Lutz
jan-rasmus.rosskamp@gleisslutz.com

Jan-Rasmus Roßkamp is an associate partner at Gleiss Lutz. He completed his studies at the University of Gießen, Germany.
Mr Roßkamp specialises in capital market issues, including (in particular) IPOs. Moreover, he advises issuers, banks and investment companies on capital increases and bond issuances. His practice also includes advice on corporate law and public M&A.

Kate Seabourne
Senior associate, Gowling WLG (UK) LLP
Kate.Seabourne@gowlingwlg.com

Kate Seabourne is a senior associate in the corporate group at Gowling WLG (UK) LLP specialising in equity capital markets, with a particular focus on the investment funds sector. She has worked on a wide range of transactions, including acting for companies and investment banks on IPOs and secondary issues on both the Main Market and the AIM.

Jong Nam Suh
Senior adviser, Yulchon LLC
jnsuh@yulchon.com

Jong Nam Suh is senior adviser at Yulchon, specialising in corporate law and finance. Before joining Yulchon in February 2017, he worked for the Korea Exchange for 29 years. While at the Korea Exchange, he served as executive director of the KOSDAQ Market Division after serving as head of various departments such as listing, corporate disclosure and stock market. Mr Suh graduated from Konkuk University in South Korea with a BA and PhD in Law and has demonstrated expertise in such areas as listing and disclosure systems, the review of eligibility for listing and listing maintenance, corporate governance and M&A, from both theoretical and practical perspectives.
Together with experts from the government and the Korea Exchange, Mr Suh authored Commentaries on the Securities-related Class Action Law in 2004. He has lectured as an adjunct professor at the Konkuk University Law School.

Tan Tze Gay
Partner, Allen & Gledhill LLP
tan.tzegay@allenandgledhill.com

Tan Tze Gay is head of the Equity Capital Markets team at Allen & Gledhill and has been a partner with the firm since 1992. She has been involved in a broad range of international transactions in Asia, including debt and equity issues and the establishment of investment funds. She also advises international securities and asset management firms on licensing, regulatory and compliance matters.
Ms Tan is widely recognised as a leading capital markets practitioner in Singapore by notable legal publications, including Chambers Global, Chambers Asia-Pacific, IFLR1000, The Legal 500 Asia Pacific and Who's Who Legal: Capital Markets.

Ayako Sophia Tanabe
Foreign attorney, Anderson Mori & Tomotsune
ayakosophia.tanabe@amt-law.com

Sophia Tanabe is a foreign attorney in the corporate group at Anderson Mori & Tomotsune, Tokyo, focusing on public and private mergers and acquisitions and corporate governance issues. She also assists with advising on Japanese securities offerings. Her experience prior to joining the firm includes serving in the legal department of a leading Japanese financial services firm, where her responsibilities included the firm's corporate governance matters and reporting obligations to financial regulators in the UK, the US and Japan.

Henriette van Overklift
Counsel, Rutgers & Posch
henriette.vanoverklift@rutgersposch.com

Henriette van Overklift specialises in corporate and financial services law. She focuses on equity capital markets transactions and mergers and acquisitions and has extensive experience advising in the fields of corporate governance, market abuse and transparency obligations. She has worked on a large number of initial public offerings, rights issues and private placements, in which she has acted both for issuers and banks. In her financial services work, she advises both financial institutions (such as banks and investment firms) and issuers on various topics relevant to them.

Ryan White
Partner, HopgoodGanim Lawyers
r.white@hopgoodganim.com.au

Ryan White is a partner in HopgoodGanim's Corporate Advisory and Governance team in Perth, Western Australia. He has experience across a range of corporate and commercial matters, with a focus on public and private capital raisings (including initial public offerings), mergers and acquisitions and corporate governance matters (including ASX Listing Rules and Corporations Act 2001 (Cth) compliance). He advises Australian and foreign companies, their management teams and boards across a range of sectors, including resources & energy, mining services, agribusiness, financial services, property, manufacturing and IT & digital media industries.

Yang Jun
Managing partner, Jade & Fountain PRC Lawyers
jun.yang@jadefountain.com

Yang Jun started his legal career in 1997 and has previously worked with major domestic and international law firms in China and in Europe. His practice covers mainly capital markets, insurance, corporate and M&A. He has represented the interests of a significant number of international clients in their commercial projects in China. Many of his clients are prestigious international firms, organisations and companies. Jun is fluent in English and French and studied law at universities both in China and Europe.

Javier Ybáñez
Partner, Garrigues
javier.ybanez@garrigues.com

Javier Ybáñez is a partner with Garrigues, having spent his entire professional career with the firm. He heads its activities in Latin America and specialises in corporate and commercial law, focusing on securities markets, finance and M&A. He has taken part as a legal adviser on an array of major projects for the foremost companies in the Spanish business community.
Since mid-2013, Mr Ybáñez has coordinated Garrigues' expansion into Latin America through the establishment of fully integrated offices in Bogotá (Colombia), Lima (Peru), Mexico City (Mexico), Santiago (Chile) and São Paulo (Brazil).

Hee Woong Yoon
Partner, Yulchon LLC
hwyoon@yulchon.com

Hee Woong Yoon, a partner at Yulchon, primarily practises in the areas of M&A, securities and international capital markets and serves as head of the Corporate & Finance practice group. He plays a leading role in the areas of M&A and capital markets.
Mr Yoon has been named as one of the Hot 100 Lawyers in Asia by Asian Legal Business since 2008, owing to his leading role in M&A advice. He is also actively involved in the areas of equity capital markets and is therefore regularly named as a leading capital markets lawyer by the International Financial Law Review.

Wu Zhaoqi
Partner, Allen & Gledhill LLP
wu.zhaoqi@allenandgledhill.com

Wu Zhaoqi is a partner at Allen & Gledhill. Her areas of practice encompass equity and debt capital markets and general corporate and compliance advisory work for Singapore-listed companies. She has advised issuers and underwriters in capital markets transactions, including initial public offerings of equity and business trusts, rights issues, debt issuance programmes and debt and perpetual securities offerings.
Ms Wu graduated from the University of Oxford in 2007, was called to the Singapore Bar in 2009 and joined Allen & Gledhill the same year.