Book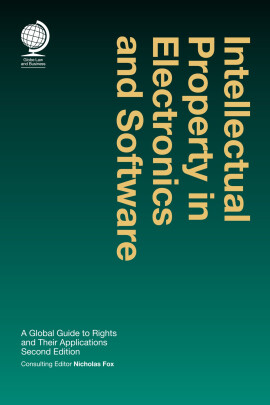 Intellectual Property in Electronics and Software
A Global Guide to Rights and Their Applications, 2nd ed
Published: 2019
Pages: 400

eBook: 9781787422063
This new edition covers the latest case law on open source software and standard essential patents and features new chapters on the possible impact of the Unified Patent Court and Unitary Patent. Geographical coverage has also been expanded to include details of the procedures and protection available in Italy.
The software, communications and electronics markets are among the world's most innovative and competitive. Robust competition means that developers and manufacturers of software, mobile phones, gaming devices, computers, digital cameras and other consumer appliances must leverage their intellectual property (IP) rights to sustain competitive advantage. However, this can be difficult, as much innovation takes place at the intersection of patent, design and copyright law. Although much law is harmonised, significant variations remain both in law and in practice.

Intellectual Property in Electronics and Software provides practical guidance and addresses key IP law issues in major jurisdictions worldwide which impact on software and electronics companies. Topics covered include: the challenges of obtaining protection; software protection and the limits of patentability; patent strategy, including approaches to patent drafting to maximise protection; standards setting and reasonable and non-discriminatory licensing; open source software; and other forms of protection such as unfair competition and design rights.

This new edition covers the latest case law on open source software and standard essential patents and features new chapters on the possible impact of the Unified Patent Court and Unitary Patent. Geographical coverage has also been expanded to include details of the procedures and protection available in Italy.

Written by a team of leading specialists in IP law, this is an invaluable guide to navigating the complex and overlapping rights which protect innovation in this field.

Table of Contents
| | | |
| --- | --- | --- |
| Cover | Cover | |
| Title Page | 1 | |
| Copyright Page | 2 | |
| Table of Contents | 3 | |
| Introduction | 5 | |
| Part I: Multi-jurisdictional issues | 15 | |
| An introduction to international IP instruments relevant to electronics and software | 15 | |
| Standard setting, competition law and FRAND licensing in Europe | 33 | |
| Licensing principles of open source software | 77 | |
| Part II: European perspectives | 95 | |
| Patents in Europe | 95 | |
| Enforcement in Europe | 127 | |
| Unified Patent Court | 153 | |
| Part III: National perspectives – European | 171 | |
| France | 171 | |
| Germany | 197 | |
| Italy | 219 | |
| United Kingdom | 239 | |
| Part IV: National perspectives – Non-European | 271 | |
| Australia | 271 | |
| Canada | 311 | |
| China | 341 | |
| Hong Kong | 357 | |
| India | 371 | |
| Japan | 393 | |
| South Korea | 419 | |
| United States | 439 | |
| About the authors | 475 | |
| About Globe Law and Business | 487 | |
An extremely handy book for IP practitioners since it discusses the most useful and the hottest IP issues relevant in the field. As a patent litigator from China, I found the chapter for China accurate and helpful and I became more familiar with IP protection and enforcement in other jurisdictions.


Simon Xu
Fangda Partners

Here then, is essential reading and an impressive fund of know-how for every IP lawyer advising on matters relating to the protection of innovation in the electronics and software industries.
Elizabeth Robson Taylor, Richmond Green Chambers, and Phillip Taylor MBE, Head of Chambers, Reviews Editor, 'The Barrister', and Mediator

Pierre-Olivier Ally
Chief IP counsel, Bitfury Group
pierre-olivier.ally@bitfury.com

Pierre-Olivier Ally serves as the Bitfury Group's chief intellectual property counsel and Bitfury Surround's legal counsel. Pierre-Olivier has handled complex national, pan-European and international patent litigation matters and also advised clients on software-related agreements as well as on the structure and negotiation of IP-related aspects of M&A and private equity transactions, joint ventures, IPOs, licensing, and public and private collaborative research transactions.
Prior to joining the Bitfury Group, Mr Ally was of counsel at Dentons and an associate at leading international law firms in Paris, Dechert LLP and Linklaters LLP. He has a Bachelor of Science (BSc) from McGill University and his Bachelor of Laws (LLB) and Juris Doctor (JD) from the University of Montreal. He is admitted as an attorney in the State of New York and the Province of Quebec in Canada.

Nick Bassil
Partner and patent attorney, Kilburn & Strode LLP
nbassil@kilburnstrode.com

Nick Bassil is a European patent attorney and a chartered patent attorney in the United Kingdom with BSc and MSc degrees in biochemistry from the University of Birmingham. Mr Bassil's practice concentrates on pharmaceutical chemistry, regenerative medicine, immunotherapy, genome mapping and synthetic genome assembly. He has been significantly involved in patent applications relating to cancer immunotherapy/CAR T cells, and human embryonic and parthenogenetic stem cells. His practice ranges from drafting patent applications and devising filing strategies, including due diligence on IP rights, and obtaining Supplementary Protection Certificates for pharmaceuticals.
Mr Bassil has received the following industry recognition for his work within the sector: IAM Patent 1000 2017 quotes that he "is sought after for his SPC knowledge and understanding of stem cells and regenerative medicine". Mr Bassil is individually ranked in band 1, patent attorneys, Chambers and Partners 2016. His profile in that ranking reads: "Nick Bassil is experienced at all stages of patent matters, from drafting through filing to oppositions."

Michael Burdon
Partner, Simmons & Simmons
michael.burdon@simmons-simmons.com

Michael Burdon has more than 30 years' experience and is a widely acknowledged expert in the field of intellectual property, especially in relation to complex, high-value, multi-country patent disputes. He has represented clients in numerous reported cases, in a diverse range of technologies from pharmaceuticals, biotechnology and medical devices through to electronics, software and communications. He has significant expertise and experience of SEPs and FRAND issues. He also has extensive experience of assisting clients with their IP strategy and structure and establishing best practice for the management of their IP portfolio and IP risk. Mr Burdon is the elected chairman of the Intellectual Property Lawyers Association which represents about 65 law firms with substantial IP practices and is secretary of the Intellectual Property Court Users' Committee.

Kenneth K Cho
Partner, Wiggin and Dana LLP
kcho@wiggin.com

Kenneth K Cho is a partner at Wiggin and Dana LLP specialising in patent licensing, litigation and counselling matters. Previously, Mr Cho was a senior US attorney with Kim & Chang before returning to the United States to join Wiggin and Dana LLP in 2019. Mr Cho was a chief patent counsel for a private equity fund dedicated to investing in intellectual property, and also the IP counselling and acquisition manager of Philips IP&S supporting the consumer electronics product division of Philips Electronics. Before joining Philips, Mr Cho worked for AT&T Corp, where he was responsible for offensive patent assertion matters.
Mr Cho is a former member of the American Intellectual Property Law Association Board of Directors, former President of the International Association of Korean Lawyers (overseas chapter), and former member of the Board of Directors for the Korean American Lawyers Association of Greater New York. He is a trained mediator and is admitted to practise in New York, New Jersey, and Washington DC, and before the US Patent and Trademark Office.

Natalie Coan
Associate, CMS Cameron McKenna Nabarro Olswang LLP
Natalie.Coan@cms-cmno.com

Natalie Coan is an associate in the IP team at CMS. Ms Coan advises on both contentious and non-contentious intellectual property matters and has experience in multi-jurisdictional patent litigation, advising on e-cigarette technology and medicines regulatory matters.

Nicholas Fox
Partner, Finnegan Europe LLP
Nicholas.Fox@finnegan.com

Nicholas Fox is a partner at Finnegan Europe LLP specialising in intellectual property law with a focus on electronics, telecoms and software patent litigation. In addition to being qualified as a solicitor, he is also qualified as a European and Chartered British patent attorney, with full rights of audience to appear in intellectual property proceedings at all levels in the English High Court. He is also qualified and admitted as an attorney in New York. With degrees in mathematics, computer science and law, Mr Fox has technical experience in the areas of electronics and software, having acted on behalf of a wide variety of multinational firms dealing with subject matter ranging from image processing and voice recognition to telecoms and ecommerce. He has experience handling multinational patent litigation. At his previous firm, he was part of the litigation team acting on behalf of Samsung in the Apple v Samsung mobile phone patent and design litigation in 2012. He also assisted AMSL in its multinational patent litigation defending against allegations of patent infringement by Nikon in the field of photo-lithography. Mr Fox also deals with non-contentious intellectual property matters, most recently assisting radiotherapy company Vision RT with its acquisition by Williams Demant.
Mr Fox is the author of the practitioners' work, A Guide to the EPC 2000, has lectured on litigation and intellectual property matters for the European Patent Academy and has been a guest lecturer at the University of London on patent matters. He has also served as a board member of IPReg, the regulatory body for patent and trademark attorneys in the UK.

Erik Gelke
Associate, Leinen & Derichs Anwaltssozietät
erik.gelke@leinen-derichs.de

Erik Gelke is a German attorney in business law and advises national and international technology companies. He pursues his focus on copyright law in practice and as a lecturer at the University of Applied Sciences Dusseldorf. Before joining Leinen & Derichs, he worked for the law firm Reimann Osterrieth Köhler Haft (now part of Hoyng Rokh Monegier) in all fields of IP law. Mr Gelke studied in Cologne and Freiburg and wrote a thesis at the Institute for Copyright and Media Law in Munich, which was taken into account by the German Federal Constitutional Court in its first decision about sampling.

Caitlin Heard
Partner, CMS Cameron McKenna Nabarro Olswang LLP
caitlin.heard@cms-cmno.com

Caitlin Heard is a partner in the patent litigation team at CMS. She is an experienced IP litigator, whose principal area of expertise is multi-jurisdictional patent litigation. Ms Heard represents clients on complex, often business-critical, litigation. Ms Heard has acted on a number of high profile pharmaceutical and technology disputes, across a range of technical areas including telecommunications, quantum computing, construction, medical devices, information security and biotech. She has particular expertise advising clients on their IP strategy in respect of Standard Essential Patents and FRAND licensing disputes, and has acted on several standard essential patent disputes across a number of jurisdictions.

Nobuhito Ishihara
Patent attorney, Kyowa Patent and Law Office
ishihara-nobuhito@kyowapatent.co.jp

Nobuhito Ishihara obtained his master's degree (2002) and a doctoral degree in engineering (2008) at Waseda University. During this time, he worked as a researcher at the Japan Patent Office and as research fellow at the Japan Society for the Promotion of Science. He then taught optics, information processing, electromagnetics, and electronics as an associate professor, while continuing his own research in optics and image processing. As a PhD, he worked for seven years at a software company developing image processing technologies (medical instruments, onboard cameras, etc) and program optimisation. After passing the bar examination in 2014, Mr Ishihara joined Kyowa Patent and Law Office where he is involved in domestic and international patent acquisition and examination for leading general electronics manufacturers, software companies, and venture businesses. His technical specialisations are image processing, optics, information processing (optimisation, AI, software, computer architecture), semiconductors, and other electric, electronic, and informational technologies.

Christopher Johns
Associate, Finnegan LLP
Christopher.johns@finnegan.com

Christopher Johns is an associate in the Washington DC office of Finnegan LLP. Mr Johns maintains a diverse patent practice, working on ITC and district court litigation, PTAB trials, patent prosecution, global portfolio development and strategy. He has more than a decade of experience in the patent field. He speaks and writes regularly on topics such as patent eligibility and prosecution practice. Before joining Finnegan, Mr Johns served as a US patent examiner for nearly five years, where he examined applications related to business methods and software. Mr Johns also had experience as a network technician at a research university.

Gregory B Kang
Partner, Nath, Goldberg & Meyer
gkang@nathlaw.com

Gregory B Kang is a partner at the firm of Nath, Goldberg & Meyer and is in charge of managing the electrical practice group. Mr Kang practised in the US for over 10 years before coming to Korea in 2007 where he served as in-house counsel for Samsung Electronics and was with Kim & Chang until rejoining Nath, Goldberg & Meyer in 2018. In more than a decade of experience as an attorney in the United States, Mr Kang worked on International Trade Commission patent infringement actions, assisted on multiple other IP-related litigations, was responsible for overseeing IP issues for mergers and acquisitions, and has written and negotiated IP issues for multiple types of contracts. In the area of patent prosecution, Mr Kang was an examiner at the US Patent and Trademark Office. In private practice, he prepared and prosecuted patent applications in the electrical and mechanical arts.

Nobuyuki Kashiwa
Attorney-at-law, Kyowa Patent and Law Office
kashiwa-nobuyuki@kyowapatent.co.jp

Nobuyuki Kashiwa graduated from the University of Tokyo (department of pharmacy) in March 2002, and from its master's course in March 2004. He was registered as an attorney-at-law in December 2008 and a patent attorney in April 2010. His areas of specialisation are litigation and contracts relating to IP rights.

Takashi Katagiri
Patent attorney, Kyowa Patent and Law Office
katagiri-takashi@kyowapatent.co.jp

Takashi Katagiri obtained his master's degree in science in global information and telecommunication studies at Waseda University. He worked at a major system integration company in Japan for eight years, engaging in projects on IT infrastructure (such as Authentication system, Groupware, and Wide Area Network) of big corporations. His main duties were suggesting solutions to customers' problems and planning and managing the projects. During this time, he got a high-level IT national qualification and vendor certifications (eg, Microsoft, cisco). Mr Katagiri joined Kyowa Patent and Law Office in 2014 and passed the bar examination the following year. He is involved in domestic and international patent acquisition for leading general electronics manufacturers and software companies.

Martin Köhler
Partner, Hoyng Rokh Monegier
Martin.Koehler@hoyngrokh.com

Martin Köhler has been an attorney since 1998. He specialises in patent infringement litigation and is regularly active in trademark and design rights enforcement as well as in unfair competition litigation. Outside court, his other work includes providing advice on licensing, research and development agreements as well as on employee invention matters. Mr Köhler regularly represents clients in the areas of electronics, telecoms, mechanical and chemical engineering, automotive technology, pharmaceuticals and medical devices. In addition to his legal studies at the Universities of Saarbrücken/Nancy and Trinity College Dublin, he has completed a foundation degree (DEUG) and postgraduate studies (DESS) in French law.
Mr Köhler publishes regularly on IP issues and is a speaker at conferences on patent law issues. He is also a visiting lecturer at the Hagen Law School.

Hyejung Lee
Patent attorney, Kim & Chang
hyejung.lee@kimchang.com

Hyejung Lee is a Korean patent attorney in the firm's integrated technology practice group. Ms Lee is also admitted to practise in New York, and has expertise in a wide range of technologies and industries including construction, architecture and automotive. Ms Lee worked at Samsung Electronics as an in-house counsel, where she focused on patent filing and patent infringement analysis. Ms Lee also worked at Hyundai Motor Company, where she focused on patent disputes and licensing.
Ms Lee received her undergraduate degree in architecture from Seoul National University (2003) and her law degree from the University of California, Davis School of Law (JD, 2011).

Yoon Sang Lee
Patent attorney, Kim & Chang
yslee@kimchang.com

Yoon-Sang Lee joined Kim & Chang in 2006 and is a patent attorney in the firm's electrical practice group. Mr Lee received his BS in electrical engineering (1996) from the University of Toronto and his LLB and LLM from Korea National Open University and Georgetown University Law Center, respectively. He was admitted to the Korean Patent Bar in 2004 and was also admitted to practise in Illinois in 2016. Before joining the firm, he worked at AIP Patent & Law Offices from 2004 to 2006 and served in the Republic of Korea Air Force from 1997 to 2000. Mr Lee's practice includes a wide range of IP matters, including patent prosecution and counselling involving patents in communications services and technology. He is a member of the Korean Patent Attorneys Association.

Peter Leonard
Principal, Data Synergies; Professor of Practice (IT Systems and Management and Business Law), UNSW Business School; and Consultant, Gilbert + Tobin
pleonard@datasynergies.com.au

Peter Leonard is a data and technology business consultant and lawyer advising data analytics and AI&ML businesses. Mr Leonard chairs the IoT Alliance Australia's Data Access, Use and Privacy work stream, the Law Society of New South Wales's Privacy and Data Committee and the Australian Computer Society's Artificial Intelligence and Ethics Technical Committee. He is a former global chair of the International Bar Association's Technology Committee.
Mr Leonard was a founding partner and is now a consultant to Gilbert + Tobin, now a large Australian law firm, and principal of Data Synergies. He holds economics and master of laws degrees from the University of Sydney.

Kendrick Lo
Founder, Law Office of Kendrick Lo
mail@k-lo.ca

Kendrick Lo specialises in advising companies on IP matters relating to software with a particular interest in artificial intelligence technologies. Previously, Mr Lo practised at a leading Canadian IP firm for nearly two decades.
Mr Lo received his undergraduate degree in engineering science, and joint law and MBA degrees from the University of Toronto. More recently, he completed a master of laws at Osgoode Hall Law School (York University) and a graduate degree in computational science and engineering at Harvard University.
Mr Lo is a Certified Specialist in Intellectual Property (Patents) with the Law Society of Ontario, Fellow of the Intellectual Property Institute of Canada, Canadian and US patent agent, and former Canadian patent agent examiner. He has taught computer science at the University of Toronto, and patent law at Osgoode Hall Law School.

Joanna Ma
Associate, Bereskin & Parr LLP
jma@bereskinparr.com

Joanna Ma advises high-tech companies on developing IP strategies that are aligned with their business goals. She is an IP adviser at several innovation centres and takes pride in applying a practical approach to intellectual property.
Ms Ma received her undergraduate degree in electrical engineering from the University of Waterloo and a law degree from the University of British Columbia. She is also a registered Canadian and US patent agent.

Elena Martini
Founding partner, Martini Manna Avvocati
elena.martini@martinimanna.com

Elena Martini is a founding partner of Martini Manna Avvocati, an Italian boutique law firm specialising in intellectual property, IT data protection and commercial law. Ms Martini specialises in contentious and non-contentious intellectual property in a wide range of industry sectors including entertainment, design furniture, pharmaceuticals, food, mechanical engineering, new media, and information technology. She acted as leading counsel in several high-profile cases, which have formed current Italian case law on issues like copyright protection of design works, the limits of the Italian Bolar clause and know-how infringement.
Ms Martini has published numerous articles in international legal journals and regularly contributes to the online legal section of the Italian financial newspaper Il Sole 24 Ore.

Timothy May
Partner, Finnegan LLP
timothy.may@finnegan.com

Timothy May is a partner in the Washington, DC office of Finnegan LLP. Mr May has more than 20 years of experience in the field of IP law, and focuses his practice on advising hightech companies on US patent matters. He devotes a significant portion of his practice to patent litigation and post-grant proceedings before the US Patent and Trademark Office (USPTO).
Mr May was a partner in the firm's European office from 2006 to 2011. He has substantial experience advising European hightech companies on US patent matters. He currently manages the US patent portfolios for a number of European clients in various electrical and mechanical technologies. He is also a frequent lecturer on US patent law, particularly software, and has spoken at numerous conferences throughout Europe. Before joining the firm, Mr May served as a patent examiner at the USPTO, where he examined patent applications relating to digital communications and image analysis, and where he regularly dealt with software patentability issues.

Heather Meeker
Partner, O'Melveny & Myers
hmeeker@omm.com

Heather Meeker advises clients on technology transactions and IP matters. Ms Meeker is an internationally-recognised specialist in open source software licensing. She received the prestigious IP Vanguard Award for private practice from the Intellectual Property Section of the California state bar for 2016. Best Lawyers named her an IT lawyer of the year for 2018.
The Daily Journal named Ms Meeker in its "Top 100 Women Lawyers in California" in 2013, and has named her twice in its "25 Top IP Portfolio Managers (Licensing) In California". Her latest book, Open Source for Business, is a definitive handbook for lawyers, engineers and businesspersons on open source licensing in business. Ms Meeker is an adviser to the American Law Institute's ongoing project on the restatement of copyright law.

Louisa Mottaz
Associate, CMS Cameron McKenna Nabarro Olswang LLP
louisa.mottaz@cms-cmno.com

Louisa Mottaz is an associate in the competition team at CMS. She advises clients on a variety of EU and UK competition matters including investigations, merger control, behavioural advice and compliance training. Ms Mottaz also has a particular interest and experience in the consumer goods sector advising on e-commerce and cross-border distribution. Her most recent experience includes obtaining phase 1 merger clearance before the CMA, assisting clients in relation to a European Commission investigation and advising clients on complex multi-jurisdictional merger control issues.

Prashant Phillips
Partner, Lakshmi Kumaran & Sridharan
prashant.phillips@lakshmisri.com

Prashant Phillips works in the design, patent prosecution, patent litigation and related practices at Lakshmi Kumaran & Sridharan. He is involved in drafting and prosecuting design and patent applications. He has expertise in inventions related to software, telecommunications, electronics and electrical engineering, and wind energy. Mr Phillips appears regularly at hearings before the Indian Patent Office in both patent and design matters. He also advises clients in relation to various IT and data privacy laws.
Mr Phillips regularly assists clients with patent-related strategies and provides advisory as to how to handle portfolios relating to different technologies. This has helped IP holders to identify valuable IP within their existing portfolio so as to minimise IP-related costs in maintaining IP that would be required for achieving the desired business objectives. His practice areas include industrial designs, patents with particular focus on telecommunication, software, electronics, non-renewable energy, electrical and mechanical engineering, and data privacy.

Handong Ran
Partner, Maucher Jenkins
Handong.ran@maucherjenkins.com

Handong Ran is a patent partner at Maucher Jenkins. He holds degrees in electronic engineering and IP law, and is specialised in patent prosecution and advisory work in Europe and China. Mr Ran has looked after UK, European and Chinese patent portfolios for both multinational corporations and startup companies in the fields of telecommunications, home appliance and computing technologies and advised clients on numerous freedom-to-operate projects. After practising in the London office for six years, Mr Ran relocated to China in 2012 to set up and manage the Beijing, Shenzhen and Nanjing offices for Maucher Jenkins. While continuing to handle European, UK and Chinese patent matters in China, he has also advised several international clients on technology transfer projects.

Marianne Schaffner
Partner, Europe Head of Patent Litigation, Reed Smith LLP
MSchaffner@ReedSmith.com

Marianne Schaffner is the European head of Patent Litigation and the national head of the Intellectual Property Group of Reed Smith. She is a recognised trial lawyer in national pan- European and international patent, trademark and trade secrets disputes in the pharmaceutical, chemistry, agri-business and electronics and telecommunications sectors. Ms Schaffner also advises clients on intellectual property agreements, mergers and acquisitions, leveraged buyouts and capital market transactions. She has handled a wide range of litigation and strategic IP matters for a diverse array of companies, in particular in the life sciences and telecoms sectors. The vast majority of the cases she has handled have been pan- European, including before the European Patent Office (EPO) and often with a US counterpart. On these occasions, she has led the litigation and patent prosecution teams in Europe and in the US to ensure a full coordination of the litigation and patent prosecution teams and a true consistency of the court and EPO papers filed. Ms Schaffner is a frequent conference speaker and is a lecturer at the University of Paris, as well as the Paris Bar School.

Chang Hwan Shin
Attorney, Kim & Chang
chshin@kimchang.com

Chang Hwan Shin is an attorney at Kim & Chang in Seoul. Mr Shin is a member of the game contents rating board, and he formerly served as a member of Korea Copyright Commission and a policy adviser to the Office of the President.

Keisuke Soeda
Patent attorney, Kyowa Patent and Law Office
soeda-keisuke@kyowapatent.co.jp

After graduating from Waseda University (faculty of letters, arts and sciences) in 2007, Keisuke Soeda started working at Kyowa Patent and Law Office. He became a registered patent attorney in 2014 specialising in design and trademark cases.

Shoji Yoshida
Patent attorney, Kyowa Patent and Law Office
yoshida-shoji@kyowapatent.co.jp

After receiving his master's degree in engineering from the University of Tokyo in 1998, Shoji Yoshida worked for almost nine years as an engineer in the research and development department and in the management department of a leading telecommunication systems company. Mr Yoshida was then engaged in the development of optical communication apparatus for a major domestic carrier, as well as that of firmware and ASIC devices. He was a member of Japan delegation at ITU-T (International Telecommunication Union Telecommunication Standardization Sector) for four years. After passing the Japan patent attorney examination in 2006, Mr Yoshida joined Kyowa. At Kyowa, his duties mainly cover acquiring and maintaining of IP rights in Japan and abroad.
He acted as a member of the patent board of the Japan Patent Attorney Association in 2016 and 2017.

Chris Watson
Partner, CMS Cameron McKenna Nabarro Olswang LLP
chris.watson@cms-cmno.com

Chris Watson is one of the world's leading communications law experts. He has been recognised in The International Who's Who of Telecoms & Media Lawyers 2018 as a 'Most Highly Regarded Individual' in which he is described as "exceptionally bright", and boasts an "amazingly international practice". He is also included as one of only 15 Global Elite Thought Leaders in the Who's Who Legal Data – Telecoms & Media 2019. Mr Watson focuses his international practice, particularly in the areas where competition law and regulation overlap, and on EU law arising in cross-border and complex electronic network industry transactions. He has particular experience in relation to the interaction of IP and competition law, having advised over a period of time in relation to technical standards on 3G, 4G, DVD manufacture, margin squeezes and mobile pricing and a number of other related sector competition issues.

Chris Williams
Partner, Gilbert + Tobin
CWilliams@gtlaw.com.au

Chris Williams is an IP litigation partner at Gilbert + Tobin with specialist expertise in patents, who has considerable experience representing clients in the electronics and software industries. Mr Williams has litigated patents across a range of industries including electronics, e-commerce and life sciences. He has an excellent track record of winning at both trial and appellate level and is able to draw upon his extensive litigation experience across IP issues, traversing copyright, trademarks, trade secrets and consumer protection matters. Mr Williams is admitted to practise in New Zealand and Australia and continues to represent clients in both jurisdictions.

Min Xu
Partner, Huahe IP Limited
min.xu9@hotmail.com

Min Xu is a partner at Huahe IP Limited, a Chinese patent attorney and a Chinese attorney-at-law.
Mr Xu obtained his European patent attorney qualification when he was working in a British patent attorney firm in London between 2006 and 2010, where he advised many multinational tech companies on patent filing strategy such as Canon and Intel etc. He moved back to China in 2010 and joined a leading Chinese law firm, where he handled a number of complex litigation cases as a Chinese attorney-at-law. Those cases include landmark patent and antitrust litigations for Apple, Sony and InterDigital etc. Mr Xu joined Huahe IP Limited in 2015 as a partner and continues working on patent prosecution and litigation matters for his clients.
Mr Xu received his master's degree in engineering from Imperial College London in the United Kingdom and his LLM degree from UC Berkeley in the United States.

Adelaide Yu
Partner, Rouse Legal Hong Kong
ayu@rouse.com

Adelaide Yu is a partner at Rouse Legal Hong Kong, part of the leading global IP consultancy, Rouse. Rouse provides the full range of IP services, from portfolio management, disputes and enforcement through to strategy, consulting and commercialisation.
Ms Yu's practice covers all areas of intellectual property, including contentious and non-contentious matters. She is particularly skilled and experienced in the enforcement and protection of intellectual property, including trademarks, copyright, patents and registered designs in Hong Kong. She has extensive experience in handling China-Hong Kong related infringement cases. For China, she advises on IP enforcement strategies and has considerable experience in handling IP litigation, administrative and criminal raids and customs seizures. Ms Yu has been recognised internationally as a leading IP lawyer and was recommended by World Trade Mark Review (2010–2018), Legal 500 (2010–2018) and Managing Intellectual Property (2014–2018).