Book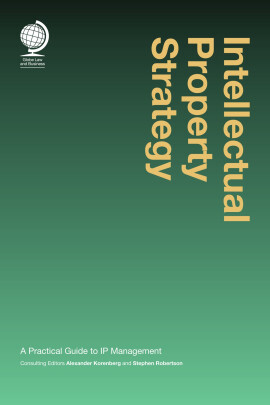 Intellectual Property Strategy
A Practical Guide to IP Management
Alexander Korenberg, Stephen Robertson
Published: 2017
Pages: 175

eBook: 9781787420755
This guide provides a solid grounding in concepts such as IP generation, IP valuation, portfolio management and the monetisation of IP assets, as well as practical guidance on setting an IP strategy and managing the risks associated with third-party intellectual property.
Over the past three decades, the make-up of the market value of Standard & Poor 500 companies has changed dramatically. While intangible assets amounted to less than one-third of company value in the mid-1980s, this has almost tripled to four-fifths on average today. A large contributor to this trend is intellectual property (IP) – a situation that is even truer for start-up companies, where IP assets may be the only significant asset a company has for quite some time. It is therefore important that company leaders understand the intricacies of IP strategy and how it is an integral part of a successful business strategy.

This guide provides a solid grounding in concepts such as IP generation, IP valuation, portfolio management and the monetisation of IP assets, as well as practical guidance on setting an IP strategy and managing the risks associated with third-party intellectual property. For a holistic understanding, less formal IP assets such as trade secrets and brand strategy are covered in addition to patents and trademarks. Topics are introduced clearly and accessibly to provide decision makers with the necessary background to make informed decisions in cooperation with specialist in-house or external advisers. Chapter features include key pointers, digestible chapter summaries, and helpful diagrams and checklists, as well as case studies to bring theory into sharp practical focus.

Whether your company is firmly established or just starting out, this accessible guide is essential reading to facilitate informed decision-making on IP issues. It will also provide those working with intellectual property with a high-level overview of current thinking on IP strategy.

Table of Contents
| | | |
| --- | --- | --- |
| Front Cover | 1 | |
| Title | 2 | |
| Copyright | 3 | |
| Table of contents | 4 | |
| Introducing IP strategy Alexander Korenberg Kilburn & Strode LLP Stephen Robertson Metis Partners Ltd | 6 | |
| Intellectual property: A primer Lorna Brazell Osborne Clarke | 10 | |
| IP value and intangibles: acritical corporate resource Stephen Robertson Metis Partners Ltd | 20 | |
| Encouraging and supporting innovation Alex TameTame IP Ltd | 32 | |
| Developing an IP strategy Gareth Jones Swift Key | 46 | |
| Portfolio management Peter Cowan Northworks IP Paul Kallmes Metis Partners Inc | 62 | |
| Protecting your brand Ryan Pixton Kilburn & Strode LLP | 78 | |
| Trade secrets Nicholas Mitchell White & Black Limited | 90 | |
| Freedom to operate Alexander Korenberg Kilburn & Strode LLP | 106 | |
| IP policing Mike McLean TechInsights | 124 | |
| IP licensing Richard Buttrick RBIP Ltd | 138 | |
| Non-practising entities Colin Hunsley Josue Ortiz ClearViewIP Limited | 154 | |
| IP and tax strategy Richard Turner FTI Consulting LLP | 172 | |
| About the authors | 186 | |
Lorna Brazell
Partner, Osborne Clarke
Lorna.Brazell@osborneclarke.com

Lorna joined the intellectual property disputes team in Osborne Clarke's London office in 2013 to head up the intellectual property litigation practice, following 12 years as a partner at Bird & Bird.
She graduated in geophysics from the University of Edinburgh summa cum laude and went on to research in geomagnetism at Cambridge. She then obtained an LLM with merit in corporate and commercial law from King's College London and qualified as a solicitoradvocate in England and Wales. She is recognised in national and international directories including Who's Who Legal: Patents, Chambers, and Legal 500.
Her work focuses on patents, designs and copyright and includes litigation in the English courts, oppositions and appeals at the European Patent Office and the management of parallel actions across Europe and beyond, as well as intellectual property diligence reviews, freedom to operate opinions, international portfolio management and patent licensing. Lorna has worked in fields from semiconductors, mobile telephony and computer architecture to DNA microarrays, multi-phase fluid dynamics, monoclonal antibodies and nanomaterials, and is engaging with the intellectual property issues of emerging technologies such as cryptocurrencies and artificial intelligence.

Richard Buttrick
Independent consultant, RBIP Ltd
rbuttrick@richardbuttrickip.com

Richard Buttrick is an independent consultant working with a diverse range of clients, including large multinational companies such as Koninklijke Philips, British Telecommunications plc, BAE Systems plc, global organisations such as the International Electrotechnical Commission (IEC), and small, growing companies like Design Blue Ltd ("D3O", UK) and Miortech (NL) to help them create and deliver value from intellectual property. He has extensive knowledge and experience of the creation and exploitation of intellectual property to maximise value, acquired through over 30 years in many different sectors, technologies and situations, including time with Philips, British Telecom and British Technology Group, an intellectual property licensing company. His expertise in Standard-Essential Patent (FRAND) licensing has lead to him being sought after as an expert witness both in dispute resolution and in litigation worldwide. He is a qualified UK and European patent attorney, and member of LES. He is a member of the IAM Strategy 300, which captures the world's leading IP strategists.

Peter Cowan
Principal consultant, Northworks IP
peter@ipstrategy.ca

Peter Cowan is the founder and principal consultant at Northworks IP, an intellectual property strategy advisory firm that was founded to help companies maximise value of their intellectual property assets through a businessfocused approach to intellectual property. He holds BEng and MBA degrees and is currently pursuing his LLM degree.
He has created and led the growth of technology innovation and intellectual property programmes in companies from new start-ups to large multinational companies. He has worked with executives, inventors and technical teams across eight countries to help identify and protect their breakthrough innovations, across both mature and emerging markets. In his previous role at Schneider Electric, a Global Fortune 400 company, he lead strategic planning of the patent portfolio at several levels in the organisation, and developed and lead innovation programmes for new businesses. Within this, he educated and engaged teams to generate business-relevant patents by shifting the organizational culture to be intellectual property-centric within their projects and processes.

Colin Hunsley
Director, ClearViewIP Limited
colin_hunsley@clearviewip.com

Colin is a founder director at ClearViewIP, a UKbased intellectual property strategy consultancy. He has a degree in mechanical engineering from Imperial College, London. He is president of the Licensing Executive Society Britain and Ireland (LES Britain & Ireland), past chairman of the Institution of Mechanical Engineers Medical Engineering division and a former IAM 300 leading IP strategists member. Clients across a wide range of technology sectors use ClearViewIP to develop their innovative edge, build business value, identify and manage risk and unlock additional income streams from IP assets. Colin's experience spans all stages of the intellectual property process from identifying and capturing intellectual property, filing patents, licensing patents and technology to initiating and settling patent litigation. Prior to forming ClearViewIP, he worked for BTG where he managed litigations relating to patent infringement against Microsoft, Apple and Zimmer with very successful outcomes.

Gareth Jones
Head of intellectual property, SwiftKey
contact@garethj.com

Gareth Jones is head of intellectual property for SwiftKey, a technology start-up at the intersection of artificial intelligence and natural language. SwiftKey was acquired by Microsoft in March 2016 and Gareth is currently responsible for managing the transfer of intellectual property operations. Following a successful technical leadership career in software, and an appointment to master inventor at IBM, Gareth transitioned into a career in intellectual property. He has since coordinated global invention capture for Vodafone, managed all strategic and operational intellectual property matters for SwiftKey and is now part of the intellectual property team at Microsoft. He has defined intellectual property strategy, developed asset portfolios, reduced risk, defended patent litigation, managed due diligence and achieved a successful exit for a high-profile start-up.

Paul Kallmes
Co-founder, Metis Partners Inc
paul@metispartners.com

Paul Kallmes has two decades of IP management experience in a wide variety of industries. He has built and managed patent portfolios, negotiated complex licenses, performed valuation and due diligence exercises on IP portfolios, provided guidance to venture capital and private equity firms, and advised numerous young and established companies on IP strategies. He has worked with universities in commercialising their IP and is presently involved in spinning out two IP-based university technologies. He has taught IP management and licensing in North America, Europe and Asia, and has presented many seminars on IP strategy. Currently he is working with a leading technology incubator in San Francisco to develop IP-centric education programs for entrepreneurs and investors.

Alexander Korenberg
Partner, Kilburn & Strode LLP
akorenberg@kilburnstrode.com

Alexander is a patent attorney and partner at leading European IP firm Kilburn & Strode. Alexander specialises in high-tech, medical technology and physics and has been described by his clients as an "exceptional attorney who we trust to handle our IP matters" (Chambers and Partners, 2014) and as "very competent and easy to deal with" (MIP Handbook, 2012). He is appreciated for his "in-depth understanding of clients' portfolios and true technical expertise" (IAM Patent 1000, 2016). Alexander read Physics at Imperial College London and was awarded a PhD from University College London for his research in computational neuroscience.

Mike McLean
Senior vice-president of intellectual property services, TechInsights
mmclean@techinsights.com

Mike McLean is a recognised leader in the intellectual property and patent strategy market. He is respected and sought after for his ability to assess complex situations and apply technical intelligence to ensure fact-based IP decisions related to patent licensing, patent portfolio management and IP monetisation. He works closely with the technology practices of major law firms, the in-house corporate counsel teams of key technology companies, and external licensing agencies where he helps develop, support and execute high-return patent strategies.

Nicholas Mitchell
Head of contentious IT, White & Black Limited
Nicholas.Mitchell@wablegal.com

Nicholas Mitchell is head of contentious IT at White & Black, based between the firm's London and Oxfordshire offices. He specialises in intellectual property and IT disputes for technology sector clients.
Nick advises on intellectual property litigation, cyber security, data protection and defamation matters for a range of international corporate clients with a particular focus on Japan and the United States. He acted for a number of years on disputes and contract management issues arising from major government IT projects. He has written practice notes on cyber security crisis management and IT contract disputes for a leading online legal research service and regularly blogs on intellectual property and technology law issues at www.wablegal.com.

Josue Ortiz
Director, ClearViewIP Limited
josue_ortiz@clearviewip.com

Josue Ortiz is a director at ClearViewIP, a UK-based intellectual property strategy firm where he advises clients primarily in the technology, media and telecommunications sector. He holds degrees in telecommunications engineering and business and has specialised in intellectual property strategy and transactions for over 15 years while based in London, Philadelphia and Mexico City. In particular, he has provided strategic advice to a number of companies dealing with nonpractising entities. In addition, he has been heavily involved in a number of patent related litigations in the United Kingdom and the United States.
Josue has also led interdisciplinary and crossborder teams on the completion of a variety of sell side and buy side intellectual property deals, including on behalf of private equity firms. He is a regular speaker at intellectual property conferences and is listed in the IAM Strategy 300 list of the world's leading intellectual property strategists.

Ryan Pixton
Partner, Kilburn & Strode LLP
rpixton@kilburnstrode.com

Ryan Pixton is a partner with Kilburn & Strode LLP. His trademark practice includes clearance searches, the filing and prosecution of applications, oppositions and cancellation actions and advising on licences and assignments. He works for clients ranging from start-ups to multinational corporations. His clients are drawn from fields including telecommunications, food and drink, gaming, fashion and music, whilst he has a growing 'greentech' practice.
Ryan also handles European Registered Design applications and advises clients on copyright issues and domain name disputes. He is listed as one of the world's leading trademark professionals by World Trade Mark Review, and is a contributor to a leading handbook for practitioners.

Stephen Robertson
Director and founder, Metis Partners Ltd
stephen@metispartners.com

Acknowledged as one of the "World's 300 Leading IP Strategists" by IAM magazine, Stephen founded Metis Partners in 2003 to assist businesses with the maximisation of value from their IP assets. He has advised a range of corporates and professional firms, including FTSE quoted companies, SMEs, global banks, insolvency practitioners, trustees and public sector organisations. Stephen's experience includes monetising IP assets, providing IP due diligence, developing IP strategies, IP asset brokerage and IP asset valuation. He also provides expertise with IP commercialisation, IP infringement and invalidity as well as using IP assets as security to restructure debt. He drove two major IP market initiatives: the IP Valuation Society, addressing issues pertinent to professional IP valuers; and IP100, the United Kingdom's first IP league table, profiling and ranking innovative companies based on their investment and track record in IP creation, management and commercialisation. Stephen graduated with a degree in law before qualifying as a chartered accountant with Deloitte & Touche, and has 20 years' experience in corporate finance.
He is currently the chair of the Licensing Executives Society (LES) Scotland and an active member of the LES Council Britain and Ireland. He has contributed to European initiatives focused on national policy change – specifically IP-related finance and IP recognition among SMEs. Stephen has written and contributed to books and articles on IP strategy and valuation and he speaks on IP monetisation and valuation at global events, including World Intellectual Property Organisation, IPBC and BIP Asia.

Alex Tame
Director, Tame IP Ltd
alex@tameIP.com

Alex Tame is director of Tame IP Ltd, a newly formed company that was established to assist small- and medium-sized companies with the management of their intellectual property portfolios through offering a virtual intellectual property management service.
Prior to forming Tame IP, Alex was global intellectual property rights manager at Vodafone with oversight of the global intellectual property portfolio and associated strategy. Alex led Vodafone's intellectual property team through several periods of business change, influencing senior management and delivering revenue to the business through patent sales and licensing whilst growing the overall size and quality of the portfolio.
During his time at Vodafone, Alex developed a global network of educated intellectual property contacts throughout the organisation and overcame challenges such as cultural differences, portfolio management, reward/recognition and budget management, to ensure the successful delivery of a sustainable programme for managing intellectual property rights.

Richard Turner
Managing Director, FTI Consulting LLP
richard.turner@fticonsulting.com

Richard Turner is a managing director at FTI Consulting based in London. Richard leads tax and innovation services encompassing intellectual property planning, research and development incentives and the UK patent box. He regularly provides input to HM Revenue and Customs and HM Treasury for research and development tax incentives and patent box. Under Richard's leadership, FTI Consulting has established itself as one of the most progressive firms in this area of taxation.
Latterly, Richard was a partner at Deloitte and part of the United Kingdom healthcare and life science leadership. Prior to that, he worked as an international tax director for PowderJect Pharmaceuticals Plc and Chiron Corporation, spending significant time in the United States, Germany and Italy.