Book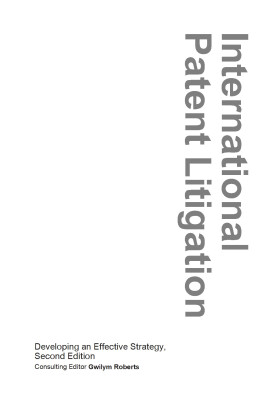 International Patent Litigation
Developing an Effective Strategy, Second Edition
Published: 2018
Pages: 449

eBook: 9781787420991
The book is a concise, practical guide for all those involved in the conduct and management of international patent litigation, from in-house professionals (patent managers, patent attorneys and general counsel) to those in private practice.
International patent litigation presents difficult challenges. Actions taken in one jurisdiction can have unforeseen consequences in another; the time taken in the various jurisdictions to reach a conclusion can vary considerably; and the measures and remedies available differ from country to country. The current lack of a harmonised dispute resolution system, moreover, has given rise to increasing uncertainty as novel procedures, and in some instances new legal systems (eg, the proposed European patent with unitary effect), are put in place.

This major title by leading practitioners is a practical guide to patent litigation (and alternatives, if available) in a selection of key jurisdictions. It covers the timescale of proceedings, the availability of interim relief, disclosure, available remedies and costs, among other crucial factors. The book provides a useful comparison of how each jurisdiction deals with the issues that arise and the practical consequences of litigating in each location. This comparison is designed to assist those involved in international patent litigation in devising an effective strategy to manage the litigation and so maximise the chances of a successful outcome, while also reducing unnecessary costs.

New to the second edition is expanded coverage of Asia, including chapters on China, Hong Kong, Korea and India, as well as topic-based chapters focused on topical developments surrounding the unitary patent and the European Patent Office.

The book is a concise, practical guide for all those involved in the conduct and management of international patent litigation, from in-house professionals (patent managers, patent attorneys and general counsel) to those in private practice.

Table of Contents
| | | |
| --- | --- | --- |
| Title Page | 1 | |
| Copyright Page | 2 | |
| Table of Contents | 3 | |
| Foreword | 5 | |
| Introduction | 7 | |
| The European Patent Office | 9 | |
| The Unified Patent Court | 17 | |
| Australia | 35 | |
| Austria | 55 | |
| China | 69 | |
| Denmark | 101 | |
| Finland | 123 | |
| France | 135 | |
| Germany | 151 | |
| Greece | 167 | |
| Hong Kong | 185 | |
| India | 201 | |
| Ireland | 227 | |
| Italy | 243 | |
| Japan | 259 | |
| The Netherlands | 287 | |
| Poland | 309 | |
| Portugal | 327 | |
| South Korea | 345 | |
| Spain | 359 | |
| United Kingdom | 387 | |
| United States | 405 | |
| About the authors | 439 | |
This late 2018 publication by Globe Law and Business Ltd provides an easily digestible commentary on patent litigation law and practice in 21 jurisdictions including the United States, Germany, Japan, Australia and the United Kingdom. International Patent Litigation is bound to become a valuable aid to private practice and in-house practitioners alike, as well as students of IP law.
Mark Paton
European IP Counsel, Canon, IPKat

To conclude, I really cannot say better than Sir Robin Jacob does in his foreword to the book, where he shrewdly draws the analogy between international IP litigation and attempting simultaneously to play chess, draughts, Go, Monopoly, and so forth. He says that a good book should give one a feel of the legal system concerned, along with the key elements of procedure and rules, such that it helps people decide where to take advice and to understand that advice. I heartily concur with Sir Robin that this book succeeds impressively, and unreservedly commend it to all patent professionals.
Jeremy Holmes (Fellow)
Imperial Innovations

Ingrid Pi Amorós
Partner, Uría Menéndez
Ingrid.pi@uria.com

Ingrid joined Uría Menéndez in 2000. Her practice includes litigious and non-litigious matters relating to intellectual property and unfair competition. She has broad patent litigation experience in the life science sector and on plant patents, as well as in litigation in other fields. Ingrid has advised on a number of patent infringement and nullity proceedings, including proceedings to obtain and preserve evidence, and interim injunctions.
Ingrid has extensive knowledge of IP regulatory matters. She has combined this knowhow with her expertise in IP to design complex client-specific strategies. Ingrid regularly advises on unfair competition and regulatory litigation against decisions of the Spanish health authorities.
She specialises in non-contentious intellectual property matters and has experience in drafting and negotiating a broad range of commercial agreements relating to intellectual property rights. She has broad experience in IP transfer agreements involving public bodies.

Pravin Anand
Managing partner, Anand and Anand
pravin@anandandanand.com

Pravin is managing partner at Anand and Anand and has practised as an advocate and a patent and trademark attorney since 1979. He has been a counsel in several landmark IP cases involving the first Anton Piller order (HMV cases); the first Mareva Injunction order (Philips case); the first Norwich Pharmacal Order (Hollywood Cigarettes case); the moral rights of artists (Jatin Das case); recognition for pro bono work for rural innovators at the grass-roots level (National Innovation Foundation Award – Government of India); India's first framing case (TATA diamonds case); the first order under the Hague Convention (Astra Zeneca case) and the most recent big ticket patent litigation cases filed against Novartis, Pfizer and Roche. Pravin is chair of the IPR promotion advisory committee (IPAC) constituted by the government of India, and the IT committee set up by FICCI. He is a past president of the Asian Patent Attorneys Association (APAA India) and was director on the board of INTA from 2006 to 2008. He is currently president of both AIPPI and FICPI (Indian group). He has appeared as an expert witness before parliamentary committees to give evidence on amendments to trademark, patent and copyright laws. He is a co-author of the two volumes of Halsbury's Laws of India on Intellectual Property and serves on the editorial board of several international IP journals. He is also author of the India chapter in Copyright Throughout the World. He has spoken extensively at various forums including WIPO, AIPPI, INTA, LES, IBA, LAW ASIA and the UN conference on LDCs in the Digital World.

George A Ballas
Managing partner, Ballas, Pelecanos & Associates LPC
george.ballas@balpel.gr

George is a senior and managing partner of Ballas, Pelecanos & Associates LPC in Athens, and also heads the firm's IP, IT and CT practice group. His practice focuses on all aspects of IP law, with particular emphasis on trademark and patent advice, prosecution and litigation, including highly specialised and complex patent disputes, such as generic versus branded pharmaceutical product disputes.
He has been practising law for more than 40 years and is a lawyer before the Greek Supreme Courts and a European patent attorney, as well as a member of the European Patent Institute and the International Trademark Association. In recognition of his professional abilities, he is consistently listed as an expert in the IP, IT and CT fields in various prestigious international legal directories.

Giovanni F Casucci
Partner, Dentons
giovanni.casucci@dentons.com

Giovanni is a partner leading the IP department of Dentons and has specialised in IP litigation for over 25 years, based in Milan. In particular, he focuses on patent litigation and technology transfer, handling significant patent cases also involving antitrust issues. He represents leading corporations before the Italian courts in complex infringement cases covering a broad range of technological matters. Moreover, he deals with negotiations of technology transfer agreements under different licensing programmes, assisting several Technology Transfer Offices of Italian universities. He also specialises on design issues.
Giovanni has successfully managed some of the leading IP cases in Italy (Occlutech/Aga (patents), Flos/Semeraro (copyright and design), Thun/Egan (copyright and design)), and in 2006 he began the practice of EU ex parte cross-border evidence collection orders for IP litigation. The officially reported main case is ECJ Tedesco/RWO, C 175/06.
In addition, Giovanni has developed a specific expertise on China IP issues, being currently among the experts of the China IPR SME Helpdesk programme. Since 2006, he has been involved, both as a lecturer and as an adviser, in a number of EU–China WTO, IPR2 and IP Key projects.

DuckSoon Chang
Attorney, Kim & Chang
ducksoon.chang@kimchang.com

DuckSoon is a partner at Kim & Chang. His principal practice areas include IP litigation, technology licensing and antitrust. DuckSoon has been the president of the Intellectual Property Training Institute of the Seoul Bar Association since 2010. He was also an adviser on IP-related policies at the Korea Fair Trade Commission from 2010 to 2013. He has served as an arbitrator for the Korea Commercial Arbitration Board since 1992 as a neutral for WIPO Arbitration and Mediation Center. He has been recommended as a Band 1 IP attorney for Korea by Chambers Asia since 2008, and selected as one of the world's pre-eminent patent lawyers by the International Who's Who Legal publication every year since 2009.
DuckSoon is admitted to the Korean Bar as well as the Bars of New York and California in the United States. He was a foreign attorney at Latham & Watkins from 1999 to 2000.

Justin Davidson
Partner, Norton Rose Fulbright
justin.davidson@nortonrosefulbright.com

Justin is an intellectual property and technology partner with Norton Rose Fulbright based in Hong Kong. He is admitted to practise in Hong Kong and in England & Wales and has worked in both London and Hong Kong.
Justin specialises in intellectual property law and has a strong record advising both multinational and Asian businesses on a wide range of contentious and non-contentious intellectual property and technology law issues across Asia. He regularly assists clients in protecting and exploiting their IP portfolios. With the growing sophistication of the PRC legal system, he has been increasingly active in China, in particular with patent litigation. His practice also includes advising on the IP aspects of acquisitions, spin-offs, joint ventures and IPOs. After nearly 15 years on Council, Justin served as president of the HK Institute of Trade Mark Practitioners from 2013 to 2015.

Johanna Flythström
Senior associate, Roschier
Johanna.Flythstrom@roschier.com

Johanna is a senior associate with Roschier's intellectual property (IP) practice maintaining a high specialisation in contentious and noncontentious IP- and technology-related work with an emphasis on IP and technology disputes and licensing in various technical fields. She regularly advises clients on all stages of the IP life cycle, including IP acquisition, commercialisation and enforcement. Johanna's experience includes advising and representing clients in multijurisdictional patent and technology litigation – in Finland, as well as coordinating multijurisdictional disputes – inter alia in the pharmaceutical, energy, telecommunications and mechanical fields, before the Helsinki District Court, Helsinki Court of Appeal, Supreme Court, in arbitrations, as well as in the newly established centralised Finnish IP court, the Market Court. Johanna is admitted to practise in Finland (Member of the Finnish Bar Association) and California (Member of the State Bar of California), and she is an authorised patent attorney in Finland. She also has extensive commercial experience in IP having worked for several years in in-house IP management positions prior to joining Roschier in 2009. She is a member of AIPPI and LES, the president of the Finnish Association for Industrial Property Rights (STY), a member of the AIPPI Standing Committee on Patents, as well as an appointed member in the Finnish Ministry of Employment and the economy's working group on industrial property rights. Johanna frequently lectures, speaks and writes articles in the field of IP.

Sue Gilchrist
Partner, Herbert Smith Freehills
Sue.Gilchrist@hsf.com

Sue is a partner at Herbert Smith Freehills and a highly renowned IP litigator, known for her substantial experience in all intellectual property areas, including patents, copyright, trademarks, designs, passing off and confidential information. She is widely recognised in Australia and abroad as one of the top patent litigators in Australia, regularly acting in multijurisdictional litigation for Australian and international clients. Sue was the lead partner acting for Apple in the highprofile Apple v Samsung patent and design litigation relating to tablets and smart phones, and 3G mobile connectivity technology. She is also a member and former chair of the intellectual property committee of the Law Council of Australia. Sue is admitted to practise in the Supreme Court of New South Wales, Federal Court of Australia and High Court of Australia.

Tobias Hahn
Partner, HOYNG ROKH MONEGIER
tobias.hahn@hoyngrokh.com

Tobias has worked as an attorney since 2004 and advises clients in all matters of intellectual property. He specialises in national and international patent litigation, with a particular focus on standard-essential patents and FRAND and also has long-standing experience in unfair competition and passing-off litigation. He also represents in arbitration proceedings. He mainly advises and litigates in the areas of telecommunications, electronics, medical devices, pharmaceuticals, automotive and mechanics and has extensive experience in coordinating parallel US and European litigation. Moreover, he advises in drafting and negotiating licence, software and know-how agreements and R&D contracts. Tobias studied law at the Universities of Heidelberg and Leeds (UK) and obtained his PhD summa cum laude' from the Free University Berlin. He is the author of various books and articles on intellectual property law and a frequent speaker at conferences as well as a visiting lecturer for patent law at Hagen Law School.

James F Haley, Jr
Partner, Haley Guiliano LLP
james.haley@hglaw.com

Jim is a founding partner of Haley Guiliano LLP, an IP boutique, with offices in New York City, San Jose and London. Prior to joining Haley Guiliano, he was a partner at Ropes & Gray and Fish & Neave. Jim's practice focuses on the filing, prosecution, defence and enforcement of patents in the pharmaceutical, biopharmaceutical, industrial chemicals and medical device industries. Jim has chaired numerous infringement litigations, contested proceedings before the Patent Trial and Appeal Board and appeals to the Federal Circuit. One of the patents (recombinant hepatitis B vaccine) that Jim filed, prosecuted and defended was listed in 2002 among the "10 Patents That Changed the World".

Rainer Hilli
Partner, Roschier
Rainer.Hilli@roschier.com

Rainer is head of Roschier's IP and technology practice and chairman of the board at Roschier. He has more than 20 years' experience in patent advisory, including civil and administrative court proceedings as well as arbitration. He represents clients in various fields of industry including pharmaceuticals, telecommunications, media, paper and pulp, engineering and brand-intensive industries. He is frequently involved in multijurisdictional patent litigation. Rainer has experience of working in cross-border litigation both as lead coordinator and as lead of the national or regional team. He has also advised on IP strategy, IP and technology-driven transactions, licensing and technology transfers. Rainer is a frequent lecturer on patents and an author of numerous articles on patent law, enforcement of patent rights and IP strategy. He is a board member of EPLAW (European Patent Lawyers Association), former president of the Finnish AIPPI group and a member of several IP organisations.

Mette Hygum Clausen
Attorney-at-law, Plesner Advokatpartnerselskab
mhc@plesner.com

Mette is an attorney-at-law at Plesner Advokatpartnerselskab, focusing on life science. Her primary practice areas are patents and general advisory services on the regulation of the life science area, negotiation and conclusion of IP and life science agreements and litigation in connection with disputes over such agreements and patent law. A considerable part of this work consists of lawsuits. She advises Danish and foreign clients in all industries, but especially in the life science and healthcare sectors. In recent years, Mette has worked on a number of key lawsuits and arbitration proceedings in life science and has advised clients on complex agreements. She also regularly advises various large clients on Danish regulation in this area.
Mette is the co-author of the chapter on Danish law in The Life Sciences Law Review.

Martin Köhler
Partner, HOYNG ROKH MONEGIER
martin.koehler@hoyngrokh.com

Martin has been an attorney since 1998. He is specialised in patent infringement litigation and is regularly active in trademark and design rights enforcement, as well as in unfair competition litigation. Outside court, his other work includes providing advice on licensing, research and development agreements as well as on employee invention matters. Martin regularly represents clients in the areas of electronics, telecoms, mechanical and chemical engineering, automotive technology, pharmaceuticals and medical devices.
In addition to his legal studies at the Universities of Saarbrücken/Nancy and Trinity College Dublin, he has completed a foundation degree (DEUG) and postgraduate studies (DESS) in French law.
Martin publishes regularly on intellectual property issues and is a speaker at conferences on patent law issues. He is also a lecturer at the Hagen Law School.

Georg Kresbach
Partner and Head of Intellectual Property & Information Technology, Wolf Theiss
georg.kresbach@wolftheiss.com

Georg is a partner at Wolf Theiss and head of the firm's intellectual property and information technology practice group. He is an established intellectual property expert who specialises in complex patent litigation on behalf of both patentees and potential infringers. He also provides advice on patent due diligence and transactions in connection with M&A, as well as strategic portfolio management. Georg has successfully represented the European Central Bank in nullity proceedings before the Austrian Patent Office involving special security technology for banknotes and he handles some of the most significant and sensitive pharmaceutical, consumer and media-related patent disputes in Austria. His extensive experience also spans patent law advice in all other fields of healthcare, as well as the retail, banking/finance, and high-tech industry sectors. He has over 20 years' experience as an intellectual property rights lawyer and – aside from patent law also advises clients on trademark, copyright and information technology law.
Georg is a member of the International Trademark Association (INTA), European Communities Trademark Association (ECTA), the Licensing Executive Society (LES), MARQUES and the International Bar Association (IBA). He has contributed to numerous national and international journals, books, newspapers and magazines.

Inchan A Kwon
Attorney, Kim & Chang
ickwon@kimchang.com

Inchan is a US-licensed attorney and patent attorney in Kim & Chang's IP group. His practice covers all areas of intellectual property, including patents, trademarks, copyrights and trade secrets, with a focus on litigation and dispute resolution. Prior to joining Kim & Chang, Inchan practised for several years at a respected Silicon Valley IP boutique firm and then at a large national US law firm, where he represented clients in all phases of litigation in numerous cases in federal and state court and at the US International Trade Commission, including as a member of several ITC patent trial teams involving various semiconductor and other technologies. He is also registered to practise before the US Patent and Trademark Office, and has prosecuted patents in areas such as LCD displays and dental device technology. Inchan is admitted to practise in California and before the US Patent and Trademark Office.

Si Yul Lee
Attorney, Kim & Chang
sylee@kimchang.com

As a member of the intellectual property group of Kim & Chang, Si Yul's work scope ranges from litigation to transactional work. In litigation matters, He advocates before courts on patent, trademark, copyright and trade secret infringement cases, representing many foreign companies. Many of his patent infringement representations have involved multiple actions in different jurisdictions worldwide, and as a result he has extensive experience in coordinating worldwide litigation and communicating with clients and attorneys from other jurisdictions. His transactional work includes drafting and negotiating licence agreements regarding technology and trademarks.
Si Yul served as a judge in the Seoul Central District Court before joining Kim & Chang.

Tusha Malhotra
Partner, Anand and Anand
tusha@anandandanand.com

Tusha is a partner at Anand and Anand and is involved in complex litigation matters.

Natalia Marczuk
Advocate, SK+ Siekierzynski Kochlewski
n.marczuk@skplus.eu

Natalia is a Polish advocate specialising in intellectual property, with over eight years' experience. Her practice focuses on IP litigation, in particular patent and trademark infringement matters.
Natalia is also involved in privacy compliance matters, particularly in matters relating to data processing agreements and use of databases within capital group.

William J McCabe
Partner, Perkins Coie LLP
WMcCabe@perkinscoie.com

Bill is a partner in the intellectual property litigation group at Perkins Coie LLP where he regularly represents companies in high-stakes patent litigation and counselling matters. Prior to joining Perkins Coie, he was a partner at Ropes & Gray and Fish & Neave (where he served as the managing partner). Bill's 30 years of practise have focused on patent and trade secret litigation involving high-tech (mobile telephones, computers, software, optics, digital photography and so on). He has also litigated multiple chemical and biological cases and has advised companies on acquisitions of IP and other assets. Bill represents US, European and Asian clients in district courts around the United States.

José Massaguer Fuentes
Partner, Uría Menéndez
jose.massaguer@uria.com

José joined Uría Menéndez in 1993 and has been a partner since 1995. His practice focuses on intellectual property, unfair competition, and litigation in relation to consumer and corporate law.
José has over 25 years' experience in advising multinational innovative pharmaceutical laboratories and other foreign and domestic innovative companies in sectors such as electronics and microelectronics, software, food, textiles, homecare, education and learning in proceedings for the protection of patents, trademarks, industrial designs, know-how and other intellectual property rights. José is a chaired professor of commercial law. He is a regular lecturer at various universities both in Spain and abroad and is a regular speaker and commentator at law seminars and conferences.

Alexandra Neri
Partner, Herbert Smith Freehills
Alexandra.Neri@hsf.com

Alexandra is avocat à la Cour, member of the Paris bar. She heads the intellectual property/TMT practice in Paris and has extensive experience in providing clients with guidance on cutting-edge IP/TMT strategy and litigation on high-profile IP/TMT cases for internet, technology and consumer-focused companies. Alexandra has heavyweight trial experience and has acted for clients in a number of IP/TMT cases before French and European courts, as well as before the French data protection regulator (CNIL). Alexandra is also the incoming chair of the IP and entertainment committee of the IBA.

Fiona O'Beirne
Partner, McCann FitzGerald
Fiona.OBeirne@mccannfitzgerald.com

Fiona is a partner in McCann FitzGerald and has 25 years' experience in commercial litigation and dispute resolution. She is head of McCann FitzGerald's contentious intellectual property team and her practice is focused on patent litigation and other intellectual property disputes. She is highly experienced in handling large-scale patent litigation in the Commercial Court, often in the context of multijurisdictional disputes. She is vice-chair of the Law Society of Ireland intellectual property and data protection law committee.

Shane O'Brien
Partner, McCann FitzGerald
Shane.OBrien@mccannfitzgerald.com

Shane is a member of McCann FitzGerald's dispute resolution and litigation department and was made a partner in November 2017. He advises on commercial litigation and, in particular, intellectual property disputes. He advises international and domestic clients on patents, trademarks, copyright, design rights and data protection disputes, with a particular focus on complex patent disputes in the life sciences and technology sectors. He also advises on pharmaceutical, biotechnology and medical device regulatory matters. Shane is also a qualified trademark agent.

Bert Oosting
Partner, Hogan Lovells
bert.oosting@hoganlovells.com

A well-known figure in the life sciences industry and a respected patent litigator, Bert is widely recognised as one of the leading practitioners for international patent and complex and technology disputes.
He has vast experience in international patent litigation and patent strategies in all relevant technical areas, with a particular emphasis in the life sciences and high-tech industries. Bert not only handles patent litigation before national courts and the EPO, but also advises on patent strategy, patent prosecution and enforcement strategies, as well as transactional matters such as technology transfers and licensing.
Aside from his patent litigation practice, Bert has substantial experience in pharmaceutical (regulatory) law and complex technology litigation before national and international courts and national and international technology arbitration.
Bert is recommended for patent litigation by Chambers Global, Chambers Europe, Legal 500, LMG, Who's Who Legal, Managing Intellectual Property and IAM Patent 1000.

Masahiro Otsuki
Partner, Abe, Ikubo & Katayama
otsuki@aiklaw.co.jp

Masahiro specialises in litigation relating to domestic and international commercial disputes, mainly in the area of intellectual property. In intellectual property litigation, he has represented various clients in many types of disputes, especially those involving patents. Masahiro has served a main role in court in numerous cases, many of which have resulted in successful enforcement of clients' patents or dismissal of competitors' patent claims. His cases have involved a vast array of technologies and products, including pharmaceuticals, chemical products, medical devices, semiconductors and electronics and computer software. Masahiro was admitted to practise law in Japan in 1999. He joined Abe Ikubo & Katayama and became a partner in 2003. Masahiro was also admitted to practise law in New York in 2007.

Loukia K Papas
Former associate, Ballas, Pelecanos & Associates LPC

Loukia, a former associate with Ballas, Pelecanos & Associates LPC in Athens, has extensive experience in litigation of industrial property rights, as well as in competition, commercial, contract and sports law issues. She has worked for the Industrial Property Organization of Greece (OBI) for many years, advised many multinational corporations on patent litigation cases and published several articles and contributions in legal books in the field of patent law enforcement.

Udita M Patro
Managing associate, Anand and Anand
udita@anandandanand.com

Udita is a managing associate in the litigation department at Anand and Anand.

Peter-Ulrik Plesner
Attorney-at-law, Partner, Plesner Advokatpartnerselskab
pup@plesner.com

Peter-Ulrik is a leader in his field and is ranked a star individual' by the recognised international rating publication, Chambers. His practice focuses on IP law, including patents, trademarks, counterfeited products, life science and litigation. In particular, he represents a large number of national and international clients in patent disputes as well as trademark and marketing cases. He has extensive litigation and arbitration experience. Peter-Ulrik has a right to appear before the Danish Supreme Court and frequently conducts cases there as well as before the Danish High Court and the Danish Maritime and Commercial High Court. He serves as an arbitrator and has completed the General Council of the Danish Bar and Law Society's training programme for arbitrators.

Wouter Pors
Partner, Bird & Bird LLP
wouter.pors@twobirds.com

Wouter is a partner and head of Bird & Bird's intellectual property practice in the Netherlands. He was admitted to the bar in 1989 and joined Bird & Bird in 2001 as one of the founding partners of the office in The Hague. Before studying law, he studied architecture and building construction for several years.
With 30 years' experience, he focuses on patent litigation, but is also involved in numerous trademark and copyright litigation matters, including cases before the European courts. In recent years, database protection and trade secrets have become a more important part of Wouter's practice and he has handled litigation on these issues and participated in various EU expert meetings on the new European trade secret regime.
He is also an expert on issues regarding the Unitary Patent and the Unified Patent Court.

Thomas W Reimann
Of counsel, HOYNG ROKH MONEGIER
thomas.reimann@hoyngrokh.com

Thomas has worked as an attorney since 1973 and can draw on over 40 years of unrivalled experience in intellectual property. He advises and acts on behalf of clients in all intellectual property matters. He is specialised in patent litigation in all technical fields, acts on behalf of his clients before the national German courts and plans and coordinates multinational litigation cases. In addition, he takes part in opposition and nullity proceedings at a national level and before the European Patent Office.
Thomas is the author of various books and articles on intellectual property law. Between 1993 and 2008 he was chairman of the Committee on Patents and Utility Models of GRUR, the German Association for Intellectual Property and Copyright Law.

Gwilym Roberts
Chairman, Kilburn & Strode LLP
groberts@kilburnstrode.com

Arguably the highest profile patent attorney in the United Kingdom, Gwilym advises clients on all aspects of the patent process including IP audit and capture, IP filing strategies and patent portfolio management techniques. He acts for a range of clients including individuals, SMEs, universities and spin-outs through to multi-nationals and handles a broad and diverse range of cases before the UK Patent Office, EPO and WIPO. Gwilym is a European Patent Attorney, a Chartered UK Patent Attorney and a UK Patent Attorney Litigator. He is a CIPA (Chartered Institute of Patent Attorneys) council member, a CIPA patents committee co-chair and closely involved in liaison with the UKIPO and EPO on behalf of CIPA. He is an Honorary Professor at Queen Mary University of London and president of the British group of the Union of European Patent Practitioners.
He has received a number of accolades from IAM Patent, Chambers, the Legal 500 and Managing IP, reflecting his depth of experience and understanding of the sector.
Gwilym is also a prolific writer on IP issues, having authored A Practical Guide to Drafting Patents, and contributed to the European Intellectual Property Review, Managing Intellectual Property, Landslide (the journal of the ABA), the CIPA Journal, IPKat blog, Patently-O blog and other publications. He is editor of the CIPA Patent Training Manual.

Antoine Robin
Trainee solicitor, Herbert Smith Freehills
Antoine.Robin@hsf.com

Antoine has been a trainee solicitor in London at Herbert Smith Freehills since 2017, where he has worked on cross-border patent litigation focusing on the pharmaceuticals sector. Before joining the London office, Antoine gained experience at Herbert Smith Freehills in Paris working closely with Alexandra Neri, and was also a stagiaire in a leading French patent litigation boutique. Antoine is a graduate from the University of Oxford, the Université Panthéon-Assas (Paris II) and the Institut d'Etudes Politiques de Paris (Sciences Po). Having grown up in Munich, Antoine speaks fluent German as well as French and English.

Sture Rygaard
Attorney-at-law, Partner, Plesner
Advokatpartnerselskab
sry@plesner.com

Sture advises clients on Danish and European IP law. His primary practice areas are patents, trademarks and counterfeited products (design/copyright/marketing law), and he is an experienced litigator in all these areas. Sture also provides advice on IP strategy and due diligence. In the field of life science, Sture advises pharmaceutical and biotech clients, and he has obtained injunctions concerning pharmaceutical products and biotech inventions. He assists clients in enforcing trademark and design rights. A considerable part of this work consists of lawsuits and preservation of evidence cases, and he also has experience in obtaining injunctions with EUwide effect based on EU trademarks.
Sture is a member of the board of EPLAW (2017–), chairman of the AIPPI Standing Committee on Trade Secrets (2017–) and vicechair of the Association for the Protection of Industrial Rights (FIR/local AIPPI Group). Sture has contributed to a wide range of IP and life science books including a comprehensive book on the rules of the UPC, and he regularly lectures at seminars and conferences.

Paweł Siekierzyński
Co-founding partner, SK+ Siekierzynski Kochlewski
p.siekierzynski@skplus.eu

Paweł is a co-founding partner of an IP-focused boutique law firm, SK+ Siekierzynski Kochlewski. Before establishing the firm, Paweł was a partner and a head of a Polish IP-team in leading international law firms and in a Polish commercial law firm with a strong focus on IP matters. He has extensive experience in litigation and licensing matters. Besides IP, he also has experience in advising on cross-border mergers and acquisitions transactions and he uses this expertise while advising on technology-driven transactions. Paweł is a co-author of international publications related to IP-law.

Maria E Spanos
Associate, Ballas, Pelecanos & Associates LPC
maria.spanos@balpel.gr

Maria is an associate with Ballas, Pelecanos & Associates LPC in Athens. She advises and litigates on all aspects of IP law with emphasis on trademark and patent litigation. She is a graduate of the Democritus University of Thrace Law School, a postgraduate of the University Paris IIPanthéon- Assas and a member of the Athens Bar Association and the Barcelona Bar Association.

Vasco Stilwell de Andrade
Senior associate, Morais Leitão, Galvão Teles, Soares da Silva & Associados (MLGTS)
vsandrade@mlgts.pt

Vasco has worked in the intellectual property field since 2000 and, in addition to being a Portuguese lawyer, is an accredited Portuguese industrial property agent and a registered representative before the EUIPO. He is frequently invited to speak on IP and data protection issues and has published works in these areas. Vasco is a graduate in law from the Universidade Lusíada de Lisboa and in international relations and modern history from the University of St Andrews, Scotland. He also completed an LLM Master's of Law at the University of Edinburgh, where he specialised in international law and intellectual property law. Vasco is also a member of the board of LES Spain-Portugal and Vice-Chair of the IP Practice of Lex Mundi.

Ruud van der Velden
Partner, Hogan Lovells
ruud.vandervelden@hoganlovells.com

Ruud has over 10 years' experience in patent litigation. He has a particular focus on the hightech and life sciences industries. He has a strong track record in complex cases. Examples include obtaining a cross-border injunction at a time when this was considered impossible, seizing evidence in the Netherlands for use in infringement proceedings abroad in the absence of a patent in the Netherlands and successfully enforcing a second medical use patent that was revoked in almost every other jurisdiction. Ruud received the Gouden Zandloper award for Best Young Lawyer in 2008, the VIE award for a publication on obtaining evidence in 2011 and the Client Choice Award for trade secrets in 2018. Chambers Global states: "Ruud van der Velden is recommended as a 'very strong patent litigator' who is building an impressive practice. Clients describe him as 'very detail-oriented and proactive' and praise his independence."

Eibhlin Vardy
Senior associate, Stephenson Harwood LLP
Eibhlin.Vardy@shlegal.com

Eibhlin's practice focuses on intellectual property disputes. She has particular expertise in hardfought patent litigation with a cross-jurisdictional element. She has extensive experience in the life sciences sector, and advised an originator pharmaceutical company in the leading second medical use patent case in the English courts on both validity and infringement aspects. In addition, Eibhlin advises on high-tech and mobile telecommunications disputes, and has experience litigating standard-essential patents. She regularly advises on breach of confidence disputes involving technical trade secrets. Eibhlin spent six months on secondment in-house at the headquarters of a leading pharmaceutical company.
Eibhlin has been a blogger with the wellknown IPKat blog since September 2016.

Zhaohui (Zoe) Wang
Partner, JunHe LLP
wangzh@junhe.com

Dr Wang is a co-head of the JunHe's patent practice group. She currently works at the firm's Shanghai office. Her practice includes patent prosecution, intellectual property-related transactional matters and patent litigation. She has represented Chinese and foreign companies in a wide variety of intellectual property rightsrelated matters such as patent procurement, designing patent filing strategy and patent portfolio management, patent infringement and validity opinions, freedom-to-operate analyses, patentability analyses, patent due diligence reviews, technology transfers, collaboration and licensing and trademark and trade secret protection strategies. She has also led various patent enforcement matters involving patent infringement actions and patent invalidation actions. Her work involves technologies in the fields of biotechnology, pharmaceuticals, chemistry, material science, software, electronics and devices.

Steve Wong
Senior associate, Herbert Smith Freehills
Steve.Wong@hsf.com

Steve is a senior associate at Herbert Smith Freehills, specialising in intellectual property litigation and dispute resolution, with particular expertise in patent disputes in the pharmaceutical, life sciences, IT and consumer electronics fields. He was a key member of the team acting for Apple in its tablet and smartphone patent and design litigation with Samsung in Australia. Steve is admitted to practise in the Supreme Court of New South Wales, Federal Court of Australia and High Court of Australia.

Xiaodu Zhang
Counsel, JunHe LLP
zhangxd@junhe.com

Dr Zhang is of counsel at JunHe's Shanghai office. Prior to joining the firm, he was a presiding judge of intellectual property rights (IPR) tribunals in the Shanghai High People's Court. He worked on IPR cases in IPR tribunals in the Shanghai High People's Court for 12 years (including one year in IPR tribunals in the Supreme People's Court in 2009). Dr Zhang has wide academic qualifications and extensive judicial practice experience in the field of IPR laws, especially in patent laws. He is the author of the Substantial Requirements for Patent (Legal Press, 2002), Determination of Patent Infringement (Legal Press, 2008), Legal Issues in Patent Litigation and Judicial Practice (Legal Press, 2014).