Book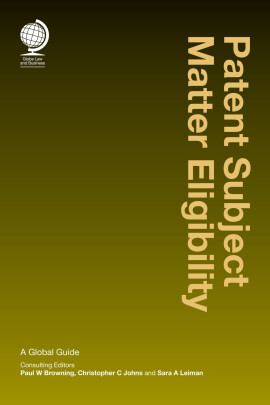 Patent Subject Matter Eligibility
A Global Guide
Paul W Browning, Christopher C Johns, Sara A Leiman
Published: 2021
Pages: 304

eBook: 9781787424487
With succinct discussions of case law, patent office practices, and practical prosecution strategies, this guide is intended to help patent practitioners determine where to consider filing applications, the risks and benefits of certain claim types and language, and how to increase the strength of their clients' global patent portfolios.
Patentees file applications in more and more countries every year, with nearly four million PCT applications filed since the Patent Cooperation Treaty came into force in 1978. Yet prosecuting patents in different countries can be challenging. Each country has its own laws for pursuing patent applications and achieving enforceable patents, and local patent law varies widely on the issue of patent eligibility.

This title explores patent-eligible subject matter across major jurisdictions and technologies. With succinct discussions of case law, patent office practices, and practical prosecution strategies, this guide is intended to help patent practitioners determine where to consider filing applications, the risks and benefits of certain claim types and language, and how to increase the strength of their clients' global patent portfolios.

The varying case law and eligibility issues relating to electrical, computer, biological, pharmaceutical and chemical arts in a variety of jurisdictions will be covered, as well as relevant statistics and key topics such as the impact of new technology in this field.

Written by experts in their respective jurisdictions, countries featured in this title include:

China;
the European Patent Office, including separate sections on France, Germany, and the United Kingdom;
India;
Japan; and
the United States.
Knowing the prior art and having definite claim language is not always enough to obtain strong patent claims. It is therefore crucial to understand the differences in patent eligibility in different countries. With the costs necessary to file and prosecute a patent in each country, practitioners and patentees alike will appreciate this book to assist in understanding which types of applications have the best chance of success.
Table of Contents
| | | |
| --- | --- | --- |
| Cover | Cover | |
| Title Page | 1 | |
| Copyright Page | 2 | |
| Table of Contents | 3 | |
| Introduction | 5 | |
| Australia | 11 | |
| Canada | 25 | |
| China | 41 | |
| European Patent Office | 69 | |
| France | 107 | |
| Germany | 129 | |
| India | 147 | |
| Israel | 175 | |
| Japan | 183 | |
| South Korea | 207 | |
| Taiwan | 221 | |
| United Kingdom | 227 | |
| United States | 251 | |
| About the authors | 293 | |
A great compendium of subject matter eligibility requirements across various jurisdictions and a handy reference for developing a prosecution strategy across jurisdictions for inventions in a given technical domain.
Nitin Sharma

A Global Guide on Patent Subject Matter Eligibility offers a consolidated, practical and instructive framework on varying patent eligibility criteria in different jurisdictions. The content is presented in very easy to grasp fashion and would act as ready reference for day to day patent drafting and prosecution matters. A must read for every IP professional.
Munish Sudan

Victoria Barker
Associate, Finnegan Europe LLP
victoria.barker@finnegan.com

Victoria Barker, PhD is a chartered UK and European patent attorney with experience in all areas of patent portfolio management from drafting and filing applications to prosecution strategy, and beyond to EPO opposition and appeal procedures. Victoria's experience spans a broad range of chemical and life sciences technologies and key jurisdictions including China, Japan and Korea.

Thomas Becher
Partner, Hoffmann Eitle Dusseldorf
TBecher@hoffmanneitle.com

Thomas Becher studied general mechanical engineering at the Technical University (RWTH) in Aachen. In 1995/96 he completed his final thesis at the Massachusetts Institute of Technology (MIT) and the Fraunhofer-Institute for Production Technology (IPT) on 3D printing. Thomas joined Hoffmann Eitle's mechanical practice group in 1996. He qualified as a German patent attorney in 2000, as a European patent attorney in 2001, and as a Higher Courts litigator for England and Wales in 2016. Thomas was the founding partner of the firm's Dusseldorf office in 2012, which he continues to manage.
Thomas specialises in inter partes cases on utility and design patents, ie, in cancellation and opposition procedures before the German office and courts, in opposition and appeal procedures before the EPO, and in German infringement and nullity actions.
Thomas handles a diverse portfolio of cases in the mechanical arts, with some overlap into optics and other physics. He puts a special emphasis on medical devices, particularly implants. His clients are predominantly headquartered in the US, which he regularly visits.

Graeme Boocock
Partner, Borden Ladner Gervais LLP
gboocock@blg.com

Graeme Boocock, PhD is a partner and patent agent with Borden Ladner Gervais LLP. Graeme takes particular interest in the unique challenges facing antibody, diagnostic and personalised medicine inventions. Graeme's doctoral research, undertaken at the Hospital for Sick Children in Toronto, culminated in discovery of the gene that is mutated in Shwachman-Diamond syndrome, a rare inherited disorder featuring bone marrow failure, leukemia risk and pancreatic exocrine insufficiency. He then worked for three years as post-doctoral researcher in the department of Protein and Nucleic Acid Chemistry (PNAC) at the Medical Research Council's Laboratory of Molecular Biology (LMB) in Cambridge (UK), where his research focused on protein engineering. Graeme counsels clients on patenting strategies and assists with managing international portfolios. Graeme also assists with Canadian Plant Breeders' Rights (PBR) applications and is keen amateur breeder of Passiflora.

Paul W Browning
Partner, Finnegan LLP
paul.browning@finnegan.com

Paul Browning, PhD is a first chair litigator focusing on patent litigation and appeals, primarily in the chemical and pharmaceutical areas, including Hatch-Waxman litigation. He has tried cases before judges in various US district courts and has handled arbitrations and mediations. In addition to his litigation practice, Paul advises clients on a variety of patent matters, including strategic development of their patent portfolios and coordination of prosecution and US and foreign litigation strategy and related proceedings before the Patent Trial and Appeal Board (PTAB).

Anne Buchet
Managing partner, Laurent & Charras
anne.buchet@laurentcharras.com

Anne Buchet is a French and European patent attorney. She has a degree in Biochemical Engineering from the National Institute of Applied Sciences (INSA) in Lyon, a PhD in Microbiology (University of Paris 7 – Institut Pasteur) and the CEIPI Intellectual Property Diploma from the University of Strasbourg. She began her career in 1998 as an Examiner at the European Patent Office in Munich, then joined Laurent & Charras in 2003 and has been a managing partner since 2013.
Anne's practice includes IP strategy and counselling, patent drafting and prosecution, post-grant procedures such as oppositions and appeals, as well as infringement and freedom to operate analysis.
Her practice mainly relates to cosmetics, pharmacy and biotechnologies.

Harrison Chang
Associate, Finnegan Europe LLP
harrison.chang@finnegan.com

Harrison (Hoon Seok) Chang, PhD is a European and UK patent attorney. Harrison assists clients based on his experience as an in-house attorney of an award-winning IP team at a multinational corporation, where he managed patent prosecution before various patent offices such as the EPO, the UKIPO, the USPTO, CNIPA, RUPTO, KIPO and others. Harrison works across a wide range of electronics- and software-related technologies including telecommunications, image processing, video compression, computer security, processors, memory devices, mobile phones, unmanned aerial systems and unmanned underwater vehicles. He has particular experience in Standard Essential Patents (SEP) and patent pools. Harrison is bilingual in Korean and English, having moved to the UK as a teenager. As well as his degrees in mathematical physics from Imperial College London and computer science from the University of Cambridge, Harrison holds a MSc in microsystems & nanotechnology and a doctorate in enhanced pyroelectric effect from Cranfield University.

Roger Chang
Partner, Lee and Li Attorneys-at-Law
rogerchang@leeandli.com

Roger Chang has extensive experience in intellectual property infringement litigation, licensing, strategy planning and antitrust and competition regulation advice.
Roger is active in trademark, copyright, and patent litigation for various industries. In 2019, represented by Roger, AVIS was awarded US$3 million by the Intellectual Property Court in a trademark infringement case. In 2019, Entegris was awarded US$32 million in a patent infringement case. In 2017, Philips was awarded US$35 million in a patent infringement suit. In 2013, Philips was awarded US$10 million in a patent case. In 2011, ESI, a NASDAQ-listed company based in Oregon, was awarded US$24 million in a patent infringement suit. In 2010, in another case represented by Roger, Philips was awarded US$68 million for patent infringement damages. In 2009, the Intellectual Property Court awarded Philips US$75 million as royalty of patent licensing. In 2007, in a landmark case that he participated in, the Taipei District Court awarded Celanese US$68 million as damages for patent infringement.
Known for his in-depth understanding of complex matters involving intellectual property and ability to provide innovative and constructive solutions, Roger is regularly invited to speak at seminars and workshops and to publish articles on intellectual property and antitrust laws. Roger has also assisted Taiwanese government agencies in amendments to intellectual property and competition-related laws and regulations.

Himanshu Chawla
Partner, K&S Partners
himanshu@knspartners.com

Himanshu Chawla is a partner in the computer and electronics department of K&S Partners. Himanshu is an engineering graduate with a degree in electronics and instrumentation. Himanshu has been associated with K&S Partners for more than 13 years and during his employment he has completed his law degree and obtained patent agent certification.
Himanshu handles patent drafting, patent prosecution and patent oppositions in the fields of electronics, electrical, instrumentation, mechanical, telecommunication, computer science, AI, robotics and blockchain. Himanshu also handles issues relating to patentability, freedom to operate, due diligence, invalidity searches and patent infringement.

Ivy Chin
Counsellor, Lee and Li Attorneys-at-Law
ivychin@leeandli.com

Ivy Chin has been involved in the patent field for more than 15 years. Her current practice consists primarily of preparing and prosecuting patent applications in a wide variety of electronic engineering, communication system, memory device, semiconductor and computer software. Ivy has extensive experience counselling clients, and helps them build valuable, highquality patent portfolios in an efficient manner. She has drafted and maintained standard essential patents for 5G New Radio standards for many years.
She has handled patent-related disputes and licensing cases, which involve memory devices, hand-held devices, semiconductor equipment or financial technology, for multinational companies.

Luigi Distefano
Associate, Finnegan Europe LLP
luigi.distefano@finnegan.com

Luigi Distefano is a chartered UK and European patent attorney whose practice focuses on patent prosecution, global portfolio development strategies, drafting, IP strategy counselling, and oppositions and appeals before the European Patent Office (EPO). Luigi predominantly handles subject matter in the fields of electronic and mechanical engineering and has extensive experience in dealing with the nuances of prosecuting computer implemented inventions in Europe, and speaks regularly on this topic.

Nicholas Fox
Partner, Finnegan Europe LLP
nicholas.fox@finnegan.com

Nicholas Fox is a partner at Finnegan Europe LLP specialising in intellectual property law with a focus on electronics, telecoms and software. In addition to being qualified as a solicitor, he is also qualified as a European and chartered British patent attorney and is qualified and admitted as an Attorney-at-Law in the State of New York.
Nicholas has degrees in mathematics, computer science and law and has technical experience in the areas of electronics and software having acted on behalf of a wide variety of multinational firms dealing with subject matter ranging from image processing and voice recognition through to telecoms and e-commerce. Nicholas is the author of the practitioner's work, A Guide to the EPC 2000 and the consulting editor and author of the UK intellectual property, European patents and European enforcement chapters of the book Intellectual Property in Electronics and Software published by Globe Law and Business.

Uri Fruchtman
Intellectual property lawyer
uri.fruchtman@icloud.com

Uri Fruchtman is a seasoned intellectual property lawyer. He has been practising IP law for over a decade and specialises in particular in drafting complex motions and briefs.
Uri has a very strong theoretical knowledge of patent laws with a unique expertise in matters relating to patent term extensions and data exclusivity. He successfully briefed and argued cases at the Patent Office, District Courts and the Supreme Court and developed winning arguments. In addition to his patent practice, Uri is also involved in numerous trademark cases involving look-alikes and protection for nontraditional trademarks.
Uri is a graduate of Tel Aviv University and was associate editor of the Tel Aviv University Law Review. He has also been a teaching assistant in Jurisprudence and Intellectual Property and Contract Law. Uri has published several chapters and articles on IP law including the Israeli chapter of Patent Transactions in the Life Sciences (Globe Law and Business, 2014).

Steve Gledhill
Partner, FB Rice
sgledhill@fbrice.com.au

Steve Gledhill leads the Sydney biotechnology practice at Australian IP boutique firm FB Rice. Steve provides an extensive range of intellectual property services for clients, ranging from contentious matters including patent oppositions and litigation support in Australia and internationally to advising on due diligence, infringement and freedom to operate matters and devising patent prosecution strategies from drafting through to global patent portfolio management. Of particular note is Steve's involvement in contentious proceedings before the Australian Patent Office, the Federal Court of Australia and the European Patent Office, in which he has achieved notable successes. Steve has also qualified as a European and UK patent attorney, which assists his practice advising on multijurisdictional disputes. Since obtaining his first-class degree in Biological Sciences at Oxford University, Steve has served clients across the life sciences sector and has particular experience in patent matters relating to vaccines, antibodies, diagnostics, gene therapy and bioinformatics.

Natasha Gulati
Associate, Borden Ladner Gervais LLP
ngulati@blg.com

Natasha Gulati is a lawyer and associate with Borden Ladner Gervais LLP practising intellectual property law. Natasha provides patent, copyright, trademark and other IP portfolio strategy advice to innovators and entrepreneurs. She also maintains a litigation practice and has successfully represented clients in patent and copyright disputes before the Federal Court. Natasha holds a BSc (Hons), JD and MBA from the University of Ottawa, a Certificate in Intellectual Property Licensing from Osgoode Hall Law School, and a Lean Six Sigma Yellow Belt for Services.

Chong He
Partner, Advance China IP Law Office
hc@aciplaw.com

Chong He joined Advance China IP Law Office (ACIP) in 2005 and has been a partner for more than 10 years, managing the international patent department. Before starting his IP career, Chong worked in a foreign high-tech company as an engineer, which gives him a good understanding of the working process of foreign companies. Chong has been recently elected as CEO to supervise overall management of the firm, while he continues to lead the international patent team at ACIP, focusing on providing high-quality and customised IP services.
With rich experience in patent prosecution and counselling to corporates in terms of international patent drafting, infringement analysis, freedom to operate investigation, invalidation and patent strategy, Chong has helped clients to successfully obtain patent rights and win patent re-examinations and invalidation, especially in the fields of engineering and electronics. Chong is also a member of the ACIP enforcement team for international clients. He has participated in many enforcement cases and successfully combats counterfeiting that involves patents and trademarks.
He was a recommended individual for patent prosecution in IAM Patent 1000 2019–2021.

Ephraim Heiliczer
Partner, Pearl Cohen
eheiliczer@pearlcohen.com

Ephraim Heiliczer is a partner in the Intellectual Property and Regulatory Compliance Group at Pearl Cohen's Tel Aviv office. Ephraim has a strong background in medical science and has been involved in numerous life science and medical device oppositions and infringement actions as well as in patent prosecution and patent term extensions.
Ephraim also utilises his scientific background in regulatory matters involving the Israeli Ministry of Health and Israeli Standards Institute. In addition to regulatory work, Ephraim has broad experience in compliance. Ephraim has authored book chapters on pharmaceutical and intellectual property compliance.
He has also been active in litigation, litigating cases involving drug release profiles and pharmacokinetics, metabolism, anti-HIV agents, CNS drugs and medical devices. In addition, he has been involved in precedent-setting PTE litigation. Ephraim is a graduate of Hebrew University (LLB, MSc) and Columbia Law School (LLM), and is presently a JSD candidate at Columbia Law School.

Christopher C Johns
Associate, Finnegan LLP
christopher.johns@finnegan.com

Christopher C Johns is an associate in the Washington DC office of Finnegan LLP. Christopher works with domestic and international clients on strategic portfolio counselling, including portfolio management, drafting strategies, and ex parte appeals. He has nearly 15 years of experience in the patent field and speaks and writes regularly on topics such as patent eligibility and prosecution practice. He has worked on appeals to the Federal Circuit, litigation at the International Trade Commission (ITC), district court litigation, and Patent Trial and Appeal Board (PTAB) trials.
Before joining Finnegan, Christopher served as a USPTO patent examiner for nearly five years, where he examined applications related to business methods and software. He also has experience as a network technician at a major research university.

Hankil D Kang
Foreign attorney, Bae, Kim & Lee LLC
hankil.kang@bkl.co.kr

Hankil D Kang is a foreign attorney (admitted in the state of New York and Washington DC) at Bae, Kim & Lee LLC. His main practice areas include IP-related international disputes and IP-related transactions. Prior to joining BKL, he handled patent suits and licensing matters at major US law firms and a global electronics company. Since joining the IP Team of BKL in 2016, he has handled various disputes involving patents, trade secrets, copyrights, trademarks and other intellectual property rights, as well as advising on licensing agreements and other contracts involving intellectual property issues.

Kijoong Kang
Partner, Bae, Kim & Lee LLC
kijoong.kang@bkl.co.kr

Kijoong Kang is a partner at Bae, Kim & Lee LLC (BKL) and current head of BKL's IP Group. Before joining BKL, Kijoong served as a judge specialising in intellectual property matters, including patents, designs, trademarks and copyrights, as well as being the managing partner of an IP law firm, an executive vice president and the head of the IP litigation team of a global electronics manufacturer.
Kijoong began his career as a judge in 1989, and he earned his LLM from New York University Law School in 1999 focusing on intellectual property laws. Upon returning to Korea, he served as a judge at the Patent Court, then as a research judge in the IP division of the Supreme Court of Korea. After retiring from the bench in 2006, Kijoong served as the managing partner of AIP Patent & Law Firm. He then joined Samsung Electronics Co Ltd (Samsung) as an executive vice president and the head of the IP litigation team at the IP Center of Samsung. As the head of the IP litigation team at Samsung, Kijoong led a team of in-house attorneys, including many US attorneys, and oversaw various global litigations involving IP matters, including the case against Apple that involved multiple countries (including the US, Germany, the UK, France, the Netherlands, Spain, Australia, Japan and Korea) and encompassed various IP issues, including the design patent case which he managed from the district court level to the Supreme Court. Kijoong has extensively managed foreign law firms with IP speciality and experienced dozens of global IP litigation cases at the forefront, building upon his Korean IP litigation experience with those at the various foreign legal venues.

Madeleine Kelly
Partner, FB Rice
mkelly@fbrice.com.au

Madeleine Kelly is a partner at FB Rice, a leading Australian IP firm. Her expertise lies in software and electronics, with a particular focus on fintech and e-health sectors. She specialises in providing strategic advice, navigating complicated patent landscapes and managing global patent portfolios to support her clients in meeting their business objectives. Prior registrations as an Irish and European patent attorney in combination with her Australian and New Zealand patent attorney qualifications equip her to take a wide and informed perspective when approaching IP strategy. Madeleine has been recognised in the IAM Global Leaders list for 2021 and the IAM Patent Prosecution Recommended list for 2020.

Gaëtan Lassere
Attorney, Laurent & Charras
gaetan.lassere@laurentcharras.com

Gaëtan Lassere graduated from ESIREM (engineer in electronics and IT), and has a PhD in electronics and signal processing, and the CEIPI intellectual property diploma from the University of Strasbourg. He is an industrial property attorney and a European patent representative. Prior to working in intellectual property, Gaëtan worked on the neural network domain and the radio frequency identification (RFID) domain.
Gaëtan's practice includes IP strategy and counselling, patent drafting and prosecution, post-grant procedures such as oppositions and appeals, as well as infringement and freedom to operate analysis.
His practice mainly relates to electronics, signal processing and informatics.
Sara A Leiman
Associate, Finnegan LLP
sara.leiman@finnegan.com

Sara Leiman, PhD is an associate in Finnegan LLP's Boston office. Sara works with domestic and international clients across the life sciences on global patent prosecution, strategic counselling, due diligence, and validity and infringement opinions. She writes and speaks regularly on topics in intellectual property, particularly patenteligibility requirements, case law, and patent office guidance in the US. Before joining Finnegan, Sara completed her graduate studies in biochemistry, with a research focus in microbiology.

Joyce Liou
Counsellor, Lee and Li Attorneys-at-Law
joyceliou@leeandli.com

Joyce Liou graduated from the National Taiwan University, and obtained double Bachelor's degrees in zoology and veterinary medicine. After two years of practice and two years of doctoral study in veterinary medicine, Joyce focused her study in data analysis and obtained her Master's degree in bioinformatics at the University of Manchester. During her career as a bioinformatics analyst in a biotech company, Joyce noticed the importance of patents, and decided to join Lee and Li as a patent engineer in the Chemical Group of the Patent and Technology Department, and passed the Taiwan patent bar exam in 2008 and the China patent bar exam in 2011. Joyce has extensive experience in patent prosecution, patent search, patent term extension, patent invalidation actions, administrates remedy procedures and patent infringement suits, especially in the pharmaceutical and biotech fields, and won the first patent linkage litigation in Taiwan in 2020.

Ping Luo
Patent attorney, Advance China IP Law Office
luoping@aciplaw.com

Ping Luo specialises in patent prosecution as well as litigation in the field of computer science, software, telecommunication, electronics etc. He has been practising in patent law since 2011. Before joining Advance China IP, he actively worked with US or EU attorneys to counsel local clients and, as a litigator, participated in several major patent matters such as Qualcomm v Meizu, Samsung v Huawei, Ericsson v Yulong, Philips v Desay and Whirlpool v Jiaxipera, etc. He also helps with patent licensing from time to time. Ping has a comprehensive understanding of patent law.

Tsuyoshi Miura
Partner, Seiwa Patent & Law
tmiura@seiwapat.co.jp

Tsuyoshi Miura is a partner in Seiwa Patent & Law. His practice focuses on patent prosecution, postgrant procedure and litigation cases in various fields including electronics, artificial intelligence, information and communication technology and mechanical engineering, both in Japan and abroad. Tsuyoshi obtained a Bachelor's degree in applied communication engineering from Osaka University in 1994. He worked for Fujitsu Limited as a software engineer developing image processing systems, image transmitting systems and security systems, etc, for 14 years. Tsuyoshi worked as a patent specialist for three years, and has been working as a Japanese patent attorney for eight years.
Tsuyoshi is a member of JPAA.

Beverley Moore
Partner, Borden Ladner Gervais LLP
bmoore@blg.com

Beverley Moore is a partner and lawyer with Borden Ladner Gervais LLP and practises in all areas of intellectual property litigation, with a focus on complex patent litigation and actions under the Patented Medicines (Notice of Compliance) Regulations. She also advises clients on patent portfolio management, including how to navigate IP regulatory issues such as listing patents on the Patent Register, and reporting patents to the Patented Medicines Prices Review Board, Certificates of Supplementary Protection, and the Register of Innovative Drugs as it relates to data protection. In addition, Beverley advises on patentability, validity and freedom-to-operate issues, and aids in the prosecution of patent applications in Canada. Beverley has advocated before the Federal Courts and Federal Court of Appeal, as well as the Patented Medicine Prices Review Board. Beverley is national leader of BLG's Intellectual Property Litigation Group and serves on the firm's thought leadership committee. She also mentors several of the firm's students and associates.

Yelena Morozova
Associate, Finnegan Europe LLP
yelena.morozova@finnegan.com

Yelena Morozova's professional career spans across three countries, with more than 15 years of legal experience across two continents. Yelena's unique background enables her to understand cultural nuances and helps her to advise a broad range of clients across the world. Qualified as a patent attorney in the US and Europe, Yelena focuses her practice on patent procurement and portfolio development in all fields of engineering on both sides of the Atlantic.

Jason Mueller-Neuhaus
Partner, Borden Ladner Gervais LLP
jmuellerneuhaus@blg.com

Jason Mueller-Neuhaus is a partner and patent agent with Borden Ladner Gervais LLP, and assists inventors and businesses in protecting and profiting from their technological innovations in all physics-related fields. This includes mechanical devices, electronics, industrial processes, communications and computing solutions. He has substantial knowledge and experience in computer information processing systems. Jason provides strategic advice to help clients navigate the intellectual property landscape, including invention patentability, patent infringement and validity, and freedom-to-operate. He drafts and prosecutes patent applications to grant, for Canada, the US and worldwide, and manages patent portfolios for innovators and enterprises. Jason has appeared before the Canadian Patent Appeal Board and the Trademarks Opposition Board and has represented clients before the Federal Court of Canada and the US Patent Trial and Appeal Board.

Durgesh Mukharya
Partner, K&S Partners
durgesh@knspartners.com

Durgesh Mukharya is a partner with the Life Science practice at K&S Partners. He has a background in biotechnology and is a qualified patent agent and attorney. His core practice is built on years of patent drafting and prosecution in different domains within the Life Sciences for domestic and international clients.
Over the last 13 years, he has developed considerable expertise in advising clients on IP strategy and worldwide portfolio management, in sync with their business models. This involves deep conversations around markets of interest, feasibility of IP generated revenue, licensing issues and advice on critical IP issues including contentious matters related to patentability, freedom to operate, due diligence and the technology landscape. Durgesh regularly appears before the Indian Patent Office, the Intellectual Property Appellate Board and various courts in connection with prosecution and litigation of patent applications and related matters. Most recently, Durgesh was recognised as an IP Star 2021 by the MIP.
On a personal front, Durgesh is a fitness enthusiast and enjoys music, sports and meditation.

Markus Georg Müller
Partner, Hoffmann Eitle Munich
MMueller@hoffmanneitle.com

Dr Markus Georg Müller studied Physics at the University of Heidelberg, University of Massachusetts and Massachusetts Institute of Technology. He obtained a Master of Science degree in 1997 with a thesis on the optical characterisation of quantum dot structures and completed his Diploma degree in 1999 and PhD thesis in 2002 in the field of biomedical optics. Before joining Hoffmann Eitle's Electrical Engineering Group in 2002, he worked for six months as a temporary analyst with Siemens Management Consulting. After training periods at the Federal Patent Court and Civil Court in Munich he qualified as a European and German patent attorney and is now a partner at Hoffmann Eitle.
Markus specialises in opposition and appeal proceedings before the EPO and German nullity and infringement proceedings. He is regularly involved in international litigation projects. Markus's practice covers technical areas including optoelectronics, photonics, medical physics and imaging, telecommunications, automotive and lighting electronics.

Masaru Nakajima
Partner, Seiwa Patent & Law
mnakajima@seiwapat.co.jp

Masaru Nakajima is a partner in Seiwa Patent & Law. His practice focuses on patent prosecution, post-grant procedure, and litigation cases in various fields including pharmaceuticals, biotechnology and organic chemistry, both in Japan and abroad. He obtained a Master's degree in applied zoology from the Graduate School of the University of Tokyo in 1995, passed the patent bar exam in Japan in 2005, and has been working as a Japanese patent attorney for 15 years. He also studied US patent law and practice as a trainee in Foley and Lardner LLP in 2014 and passed the patent bar exam for the US. He is a member of JPAA and AIPPI (senior director of the Japan group since 2018).

Maeve O'Flynn
Partner, Finnegan Europe LLP
maeve.oflynn@finnegan.com

Maeve O'Flynn is a European and chartered UK patent attorney with more than a decade of inhouse experience, having worked at some of the world's largest multinational corporations in the oil and chemical industries. She has worked for a range of clients, from startups to multinationals, covering diverse technologies such as cosmetics, sustainable chemistry and catalysis.

Kil-chae Park
Patent attorney, Bae, Kim & Lee LLC
kilchae.park@bkl.co.kr

Kil-chae Park entered the public office by public competition in 1995 at deputy-director level, and served at the Ministry of Trade and Industry, the Korean Intellectual Property Office (as an examiner of the Organic Chemistry Examination Division, Agriculture, Forestry and Fisheries Examination Division, and the Biotechnology Examination Division, and as a director of the Fine Chemistry Examination Division, Environment and Energy Examination Division and the Housing Technology Examination Division), the IP Tribunal (advisory officer, litigation representative for KIPO, re-examiner), the Supreme Court (patent adviser) and the Ministry of Foreign Affairs and Trade (diplomat), etc. Kil-chae is an expert who has handled more than 400 patent trials and litigation cases, and currently specialises in litigation in the fields of chemical engineering, chemicals, and pharmaceuticals, and conducts research, analysis and consultations regarding IP.

Vincent Pons
Partner, Laurent & Charras
vincent.pons@laurentcharras.com

Vincent Pons is a French and European patent attorney partner. He holds a PhD in chemistry from the University of Washington and the CEIPI Intellectual Property Diploma and the CEIPI Diploma in Patent Litigation in Europe from the University of Strasbourg. Prior to working in Intellectual Property, Vincent worked on chemical hydrogen storage at Los Alamos National Laboratory in close collaboration with the University of Pennsylvania.
Vincent's practice includes IP strategy and counselling, patent drafting and prosecution, post-grant procedures such as oppositions and appeals, as well as infringement and freedom-tooperate analysis. His practice mainly relates to chemistry, materials and energy matters.

Andreas Stefferl
Partner, Hoffmann Eitle Munich
AStefferl@hoffmanneitle.com

Dr Andreas Stefferl studied Biology at the University of Vienna and the University of Manchester and completed his diploma thesis in the field of neurobiology in 1995. Andreas joined Hoffmann Eitle's Biotechnology Group in 2003 and is qualified as a European and German patent attorney. He is now a senior partner at Hoffmann Eitle.
Andreas specialises in expert opinions, examination procedures, opposition procedures and appeal procedures before the EPO. Besides the EPO work, he is involved in pan-European litigation projects and handles German infringement and nullity actions before the German courts.
Andreas's cases are exclusively in the field of biotechnological inventions, with a diverse portfolio ranging, eg, from various enzyme-related cases to stem cell technology, numerous antibody cases and fermentation procedures for fine chemicals.
In addition to his case work, Andreas frequently presents at conferences, eg, the annual Comparative Patent Practice Conference (CPPC) and the Japan Intellectual Property Association (JIPA) in Tokyo. He contributes articles to various journals including Patents & Licensing and Going Public magazine. The majority of Andreas's clients are based in Japan, where he travels on a regular basis to advise his clients in face-to-face meetings.

Cheng Wang
Patent attorney, Advance China IP Law Office
wangc@aciplaw.com

Cheng Wang has practised in the field of intellectual property since 2010. She maintains an active patent prosecution practice, preparing and prosecuting Chinese and foreign patent applications on behalf of domestic and foreign clients. She has extensive experience in patent applications in China, the US, and Europe. In addition to patent prosecution, Cheng has experience in patent reexamination and patent infringement analysis in electronics, computer science, mechanical and semiconductor industries.

Wenwen Wang
Partner, Advance China IP Law Office
wangww@aciplaw.com

Wenwen Wang received her PhD in biological sciences from the University of California, Irvine, and is a registered patent attorney and attorneyat- law of China. Wenwen joined Advance China IP Law Office in 2013 and later became a partner. She has been providing IP services to various domestic and foreign companies, universities and research institutes in patent drafting, prosecution, analysis, and consulting of patentability and infringement, etc, in the fields of biotech, pharmaceuticals, chemistry, materials and medical devices. She also has IP experience in products and manufacturing processes of cosmetics, food industry, biofuel, nanofilm, etc.
Wenwen actively participates in international communications and conferences. She serves as a committee member of the IP in China Committee of AIPLA, the Asian Practice Committee of IPO and the Bio-Pharma Professional Committee of the Guangdong Division of the All-China Patent Attorney Association (ACPAA). She has also participated in a number of IP investigation and research projects funded by CNIPA and WIPO. Wenwen was recommended in the individual rankings for patent prosecution of China- Mainland in IAM Patent 1000 2020–2021.

Hui Yuan
Patent attorney, client relationship manager of Asia-Pacific Area, Advance China IP Law Office
yuanhui@aciplaw.com

Hui Yuan has been working in the IP field for 12 years and is well versed in Chinese patent law. She qualified as a Chinese patent attorney in 2015 and has handled filing and prosecuting matters for more than a hundred Chinese patent applications in the technical fields of materials, chemistry and biology. She is specialised in providing legal advice for domestic and foreign clients, and also excels at searching for, collecting and analysing data.