Book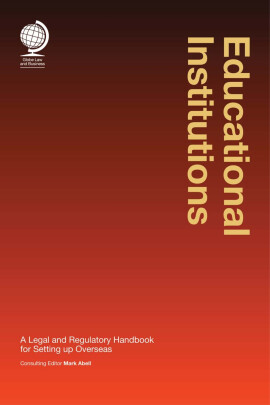 Educational Institutions
A Legal and Regulatory Handbook for Setting up Overseas
Published: 2018
Pages: 298

eBook: 9781787420892
In summary, this comprehensive handbook will provide a trusted guide for legal and business markets to the risk profiling, structural analysis and regulatory compliance issues that face all educational organisations seeking to establish themselves internationally.  
With growing numbers of independent schools (pre-school, primary and secondary), vocational colleges and universities seeking to establish themselves internationally, this new text focuses on the complex legal and regulatory requirements of setting up an educational institution overseas.

As these institutions expand into the global arena – where there is a preference for adopting the UK model, supported by government contracts and foreign investment – traditional advisers to the independent education market increasingly need to understand the multi-disciplinary aspects of setting up abroad. Therefore, this book will make essential reading for all lawyers, accountants and school governing bodies involved with international expansion. Private equity investors, who need to understand the due diligence process specific to this sector and the structuring of their partnerships with potential 'sister schools', plus commercial property and real estate consultants involved in the actual building of overseas institutions, will also find this book invaluable.

The content examines market viability, the challenges of managing an international educational business, business plans, sustaining relationships, IP issues, data protection, international employment matters, tax considerations, brand protection and corporate structure. There is also a detailed country-by-country comparative analysis which is intended to inform the decision as to where to set up an educational establishment overseas. The text is further enhanced by numerous case studies.

In summary, this comprehensive handbook will provide a trusted guide for legal and business markets to the risk profiling, structural analysis and regulatory compliance issues that face all educational organisations seeking to establish themselves internationally.

Table of Contents
| | | |
| --- | --- | --- |
| Cover | 1 | |
| Title | 2 | |
| Copyright | 3 | |
| Table of contents | 6 | |
| Preface | 8 | |
| The market viability of English-medium K-12 international schools Richard Gaskell Diane Glass ISC Research | 10 | |
| Challenges of managing an international educational business and building infrastructure Mark Abell Bird & Bird Edoardo Monopoli Baseline | 16 | |
| Launching an international growth strategy Mark Abell Bird & Bird | 22 | |
| IP issues Mark Holah Bird & Bird | 28 | |
| Data protection issues James Mullock Bird & Bird | 38 | |
| Employment issues Pattie Walsh Stephanie Wong Bird & Bird | 48 | |
| Transnational education John Shaw Cushman & Wakefield Stephanie Terreni Brown Clean Water Wave; Cushman & Wakefield | 68 | |
| Tax issues David Field Grant Thornton UK LLP | 76 | |
| Structural options – an overview of the international growth of schools and universities Mark Abell Bird & Bird | 100 | |
| Brazil Luiz Henrique O do Amaral Luciana Bassani Dannemann Siemsen Advogados | 114 | |
| China Sven-Michael Werner Bird & Bird | 126 | |
| Hong Kong Hank Leung Pattie Walsh Bird & Bird | 136 | |
| India Nipun Gupta Bird & Bird Divya Sharma DBS Law | 152 | |
| Indonesia Sherroy Ong Bhredipta C Socarana Risti Wulansari K&K Advocates | 162 | |
| Japan Mark Abell Bird & Bird Hitomi Iwase Hideki Katagiri Daisuke Morimoto Nishimura & Asahi | 180 | |
| Korea Han Ah Lee Hwang Mok Park | 188 | |
| Malaysia Mei Quin Chen Lin Li Lee May Fenn Lim Joe Yee Yap Tay & Partners | 196 | |
| Mexico Shelley Nadler Bird & Bird Silverio Sandate Von Wobeser y Sierra | 216 | |
| Nigeria Nick Green Bird & Bird Osayi Ogbeta Inam WilsonTemplars | 222 | |
| Singapore Ling Yee Neo Lorraine Tay Bird & Bird ATMD | 228 | |
| Thailand Nick Green Bird & Bird Anake Rattanajitbanjong Supasit Saypan Chinachart Vatanasuchart Tilleke & Gibbins International Ltd | 244 | |
| United Arab Emirates Melissa Murray Bird & Bird | 258 | |
| United States Madeleine G Kvalheim Patricia B McMurray Christopher G Morris John M Scannapieco Baker Donelson | 266 | |
| Vietnam Shelley Nadler Bird & Bird Waewpen Piemwichai Tilleke & Gibbins | 280 | |
| About the authors | 288 | |
This book is an invaluable tool for any educational establishment considering expanding internationally. Having gone through the experience myself I can confirm that the book covers a wide range of legal and commercial issues that need to be taken into account by any educational institution as it plans and executes its international strategy. This is a timely and sage publication from the UK's leading experts on the international expansion of schools and other educational institutions. It is an essential part of a tool kit as an institution looks to expansion overseas.
Shaun Fenton

Mark Abell
Global head of International Education, Bird & Bird
mark.abell@twobirds.com

Dr Mark Abell is the global head of International Education at the international law firm Bird & Bird. He is based in London. Having spent the last 35 years advising a wide range of household names on the development and implementation of their international expansion strategies and the corresponding re-engineering of their businesses, Mark now focuses on advising educational organisations on their international growth strategies. His clients include numerous universities and many schools such as Westminster, Wellington, Dulwich, Sherborne, Gordonstoun, Stowe, North London Collegiate, The Perse, King's Canterbury, Sedbergh, Reigate Grammar, Queen Elizabeth Barnet and many more. Having written his doctoral thesis on the international regulation of third-party relationships, Mark has acted as an expert to the United Nation's WIPO and WTO and the EU Parliament in his field of practice. Mark has published more than 1,000 articles in a wide variety of academic, legal and business publications and journals. He is also the author of eleven books on his area of expertise and is the co-author of the CBBC publication International Schools in China – A Guide.

Luiz Henrique O do Amaral
Senior partner and board coordinator, Dannemann Siemsen Advogados
amaral@dannemann.com.br

Luiz is a senior partner and board coordinator of the law firm Dannemann Siemsen Advogados and the industrial property firm Dannemann, Siemsen, Bigler & Ipanema Moreira. He specialises in IP (trademarks, patents and copyright), corporate law and franchising, licensing, unfair competition, computer law, transfer of technology, consumer protection laws and litigation in judicial and administrative matters in these areas.
Luiz received the 2017 Award of Judicial Merit by the Court of Appeals of Rio de Janeiro for contribution to the improvement of the judiciary and the legal community. His work also includes being vice president of AIPPI (Association Internationale pour la Protection de la Propriete Intellectuelle) and bureau member since 2013; member of the Membership Council of the Brazilian Franchising Association (ABF); secretary general at the World Franchising Council (WFC) from 2009–2011; president of the Brazilian Intellectual Property Association (ABPI) from 2010–2013; member and IP counsel of the Biotechnology Information Council (CIB); mentor in corporate law at the Endeavor Institute and member of the board of directors of LES Brasil (Licensing Executive Society).

Luciana Bassani
Partner, Dannemann Siemsen Advogados
lbassani@dannemann.com.br

Luciana Bassani, who has bachelor of law degree from the São Paolo State University, joined Dennemann Siemsen Advogados in July 2003. She has a postgraduate degree in contact law from the Centro de Extensão Universitária of São Poalo (1997) and in economy and corporate law from the Getulio Vargas Foundation in Rio de Janeiro (2002).
Luciana has extensive experience in corporate agreements, especially in the preparation, revision and analysis of M&A documents involving intangible assets and closely-held companies, and distribution, franchising, agency and intellectual property agreements and the incorporation of Brazilian companies, as well as the production of legal opinions in these fields of expertise that also address intellectual property, commercial and civil aspects. She is also the Franchising Country Expert for Brazil of the International Distribution Project, Torino, Italy and is currently co-vice chair of the International Franchising Committee of the International Bar Association (IBA). Luciana has published several articles on corporate and commercial issues, especially related to franchising. She has been nominated as a leading franchise lawyer for International Who's Who for several years. Luciana has been a regular speaker at the IBA's annual conferences.

Mei Quin Chen
Associate, Tay & Partners
meiquin.chen@taypartners.com.my

Mei Quin practises in the areas of general and banking litigation, employment law and industrial relations. She is involved in a broad spectrum of work such as contract and tort disputes, enforcement of debt instruments, insolvency, employment and industrial relations issues, both contentious and non-contentious. She graduated from the University of Liverpool with an LLB (Hons) degree in 2012. She then completed her Bar Professional Training Course at Cardiff University. She was admitted as a barrister-at-law to the Bar of England and Wales in July 2013 and is a member of the Honourable Society of Lincoln's Inn, London. She was admitted as an Advocate and Solicitor of the High Court of Malaya in 2014.

David Field
Senior manager, Tax and China Britain Services Group, Grant Thornton UK LLP
david.field@uk.gt.com

David is a chartered tax adviser and has worked at Grant Thornton UK LLP for 10 years. David has assisted with several higher education clients operating internationally, particularly in Southeast Asia, including recent projects in China, Singapore and Vietnam. He has particular expertise in China. Together with Grant Thornton China, he has advised several universities going into the country. He has also presented on tax and finance issues at various events on education in China, including at BUFDG, China Britain Business Council (CBBC) and HE Global. He is a regular contributor to the China Forum for Universities at CBBC. He previously lived and worked in China as a teacher at a secondary school, and at university for a year.

Richard Gaskell
Schools director, ISC Research
richard.gaskell@iscresearch.com

Richard Gaskell is the Schools Director and part of the senior management team at ISC Research. He spends much time presenting to school associations and global organisations about developments within the international schools market. He personally visits many leading international schools each year, supporting decisions for school development and expansion. He works closely with international school groups and independent school brands planning expansion and new international development, and manages many of the ISC research partnerships. He is frequently quoted in the national and international media. Richard has a large following on LinkedIn where he shares the latest news on the international schools market.

Diane Glass
Commercial director, ISC Research
diane.glass@iscresearch.com

Diane Glass is commercial director and part of the senior management team at ISC Research. She leads the development of ISC's business with higher education institutions and education specialists. Diane works directly with clients all over the world seeking to develop business with the K12 English-medium international schools market and identifying the most appropriate market intelligence services and support available from ISC Research to meet their development strategy and ongoing marketing and student recruitment requirements.
Diane works closely with such clients as the International Baccalaureate Organisation, the College Board, Cambridge International Examinations, Pearson and many universities around the world.

Nick Green
Associate, Bird & Bird
nick.green@twobirds.com

Nick is an associate in the London franchising team within Bird & Bird's commercial department. He advises on a range of commercial contracts focusing on the education, retail and consumer and technology sectors. Nick has worked with UK and international clients – including many household name brands, schools and universities – in a wide range of commercial areas, with particular focus on franchising, licensing, agency/distribution agreements and other hybrid growth strategies. He regularly works with lawyers in other jurisdictions to ensure agreements and structures comply with local regulations. Nick has published articles in the International Journal of Franchising Law, and authored chapters in the Franchise Law Review on franchising in Africa and Kazakhstan.

Nipun Gupta
Co-head, India Strategy Group, Bird & Bird
nipun.gupta@twobirds.com

As co-head of the India Strategy Group, Nipun advises the firm on its international strategy. Nipun is a regular speaker in both India and the UK on M&A matters facing companies investing in emerging markets.
She qualified as a solicitor in England and advised international clients on both inbound and outbound mergers and acquisitions and disposals, with a particular focus on emerging markets. She was previously a partner at White & Case (where she was recognised as being, "a driving force behind the India practice", Chambers Global 2005/6) and was also the global head of legal at Ispat International (now rebranded Arcelor Mittal), the world's largest steel manufacturing group.
Nipun was named in the 2001 'Hot 100' lawyers in the UK list and received the 2001 EFBWO award. Nipun was profiled in The Lawyer as general counsel of Ispat, LNM Group (November 2000) and received the prestigious Law Day award from the Indian Prime Minister, recognising outstanding contributions in the field of law and to acknowledge her as a "role model for women lawyers in India and abroad" in 2006.

Mark Holah
Partner, Bird & Bird
mark.holah@twobirds.com

Mark is a partner in the intellectual property practice at Bird & Bird, based in the London office. He is dual-qualified as a solicitor and chartered trademark attorney and has been advising clients on intellectual property matters since 1994. His practice focuses principally on brand protection issues, both contentious and non-contentious. Mark is co-author of The European Union Trade Mark: A Practical Guide, published by Globe Law and Business in 2016. The legal directories have consistently ranked Mark as an expert. In addition he has been listed as a leading individual in the Guide to the World's Leading Trade Mark Law Practitioners and the International Who's Who of Trade Mark Lawyers. Mark is a member of CITMA (the Chartered Institute of Trade Mark Attorneys) and currently sits on the INTA (International Trademark Association) Bulletins Committee.

Hitomi Iwase
Partner, Nishimura & Asahi
h_iwase@jurists.co.jp

Hitomi Iwase is a partner at Nishimura & Asahi specialising in patents, trademarks, copyright, domain names and trade secrets in multiple business sectors including information technology, life sciences and healthcare, energy, entertainment, financial services and e-commerce. Ms Iwase's practice covers all forms and all aspects of transactional work involving IP and IT, both cross-border and domestic, including licensing, strategic alliances, joint development, asset transfers and financing and system-related transactions, as well as various types of IP disputes including infringement. Ms Iwase also extensively advises on data security and privacy-related issues in various contexts including artificial intelligence, the internet of things and other cutting-edge technologies.

Hideki Katagiri
Associate, Nishimura & Asahi
h_katagiri@jurists.co.jp

Hideki Katagiri's practice areas are focused on providing advice regarding robo-advisers, crowd funding platforms, crypto currency transactions (including ICO projects), payment services and online securities transactions, as well as advising fintech startups on business cooperation with other corporations. He also has wide experience of advising venture capitalists on investment in startups, and corporations on venture fund investments, focusing on investment into fintech startups. He is passionate about creating startup ecosystems in Japan, which led to his becoming a member of the governmental fintech acceleration working group and a mentor in an incubation programme focusing on the EdTech area. He also has experience in collaborating with foreign law firms on global fintech research projects. He obtained a JD from Hitotsubashi Law School and an LLB from Osaka University. He is qualified in Japan.

Madeleine G Kvalheim
Litigation associate, Baker Donelson
mkvalheim@bakerdonelson.com

Madeleine Kvalheim is a litigation associate in Baker Donelson's Atlanta office. Madeleine has extensive experience in institutional higher education compliance under federal law, including Title IX, VAWA, FERPA, and the Clery Act. Upon graduation from law school, Madeleine clerked for the Honorable Judge Barbara Ellis- Monro with the United States Bankruptcy Court for the Northern District of Georgia, for two years. She received her JD from Georgia State University College of Law in 2012 with Pro Bono Honors.

Han Ah Lee
Associate, Hwang Mok Park
leeha@hmplaw.com

Han Ah Lee is a commercial and corporate groups associate at Hwang Mok Park. She advises clients on all questions of commercial and corporate law, with particular focus on franchise- and distributionrelated law. Her practice includes advising, drafting and negotiating agreements, as well as representing clients before the Korean courts. She frequently advises international clients on both inbound and outbound transactions and mergers and acquisitions, and regularly works with lawyers in other jurisdictions. She received a BA in political science from Duke University and a law degree from Yonsei University Law School. She was recently seconded to the Bird and Bird London Office to receive training from the UK franchise team led by Mark Abell.

Lin Li Lee
Partner, Tay & Partners
linli.lee@taypartners.com.my

Lin Li Lee is a partner in the firm and the head of the intellectual property, technology, multimedia and telecommunications and data protection practices. She handles contentious matters involving patent, trademark, copyright and industrial design infringement, and passing off, including seizure and anti-counterfeiting actions, and notably provides strategic advice on settlement negotiations. She also advises on domain name registration issues and disputes. Ms Lee is sought after by clients for crossborder work involving data protection, licensing, technology transfer, assignment and franchising as a model for business expansion, covering regulatory compliance and registration and commercialisation of their IP portfolio in various sectors. She regularly speaks at seminars and workshops on franchising and personal data protection. Ms Lee read law at the University of Leeds and was admitted as an Advocate and Solicitor of the High Court of Malaya in 2001.

Hank Leung
Counsel, Bird & Bird
hank.leung@twobirds.com

Hank is a counsel in our international education group, based in Hong Kong. He works on a variety of commercial matters, including educational regulatory matters in Hong Kong and China. He is currently advising several schools and a leading university in relation to their expansion into Hong Kong. He also advises clients on legal issues relating to the commercialisation and internationalisation of IP/IT assets including advising on licensing and franchising strategies across Asia.
Hank graduated from McGill University with a bachelor's degree in mechanical engineering (honours) and also holds a Bachelor of Laws degree from Queen's University in Canada. He is admitted as a solicitor in Hong Kong and in Ontario, Canada.

May Fenn Lim
Senior associate, Tay & Partners
mayfenn.lim@taypartners.com.my

May Fenn practises in the area of litigation and dispute resolution, specialising in employment and industrial relations. She has acted for and advised employers on a wide range of employment and industrial relations issues, both contentious and noncontentious, including reviewing and drafting of employment handbooks, employment contracts and confidentiality agreements, advising employers on aspects of cost-cutting measures involving employees and ways to improve on compliance with the Malaysian employment, labour and industrial relations laws and regulations. May Fenn has also represented employers in disputes and claims by employees in the Labour Court, the Industrial Court and the civil courts.
May Fenn graduated from the University of London with an upper second class LLB (Hons) in 2002 and obtained her Certificate of Legal Practice in 2003. She was admitted as an Advocate and Solicitor of the High Court of Malaya in 2004.

Patricia B McMurray
Shareholder, Baker Donelson
pmcmurray@bakerdonelson.com

Patricia "Patty" McMurray, shareholder in Baker Donelson's Baton Rouge office, focuses her practice on all types of commercial transactions, real estate and education law. Patty is also an experienced litigator in general commercial areas and serves as general counsel for many K-12 charter schools. Patty is listed in Best Lawyers in America and in Louisiana Super Lawyers. She received her JD from Louisiana State University Paul M. Hebert Law Center in 1986.

Edoardo Monopoli
Chief executive, Baseline
edoardo.monopoli@baselineprojects.com

Edoardo is Baseline's chief executive and has been a driving force behind its strategy development and implementation. By combining legal and management consultancy expertise, Baseline creates multidisciplinary teams able to provide clients with a broader perspective on some of the critical issues they face, including unlocking business potential and achieving business progression. Baseline has helped several UK independent schools to formulate a clear international strategy and develop appropriate infrastructure that enables them to implement it. Edoardo has successfully redesigned business models in different industries to accelerate sales and profitability growth. He has facilitated strategy planning workshops to generate innovative strategies and prepared the required business plans in several industries (education, pharma, consumer goods, retail, telecommunications). He is considered a thought leader in designing agile operating models (structure, people, processes, system, performance management) to implement company strategy. Edoardo is a certified consultant and instructor in Lean Six Sigma methodology. In 2009, he received the Consulting and Training Excellence Award from the business community in recognition of his support for clients on transformation journeys.

Daisuke Morimoto
Partner, Nishimura & Asahi
d_morimoto@jurists.co.jp

Daisuke Morimoto is a corporate and crisis management partner of the firm, specialising in complex business transactions including mergers and acquisitions, joint ventures, business alliances, corporate reorganisations, leveraged buyouts and crisis management.
Mr Morimoto has extensive experience structuring and negotiating transactions as well as drafting transaction documents (in both English and Japanese), including stock purchase, joint venture and equity investment agreements. He has advised a wide variety of foreign and domestic clients in all matters including corporate governance and crisis management, as well as providing general corporate advice.

Christopher G Morris
Of counsel, Baker Donelson
cmorris@bakerdonelson.com

Christopher Morris, of counsel in Baker Donelson's Baton Rouge office, represents local and regional employers in all aspects of employment law, ERISA and related litigation before state and federal courts, as well as any state and federal agencies charged with enforcing employment laws. Chris is listed in The Best Lawyers in America and in Louisiana Super Lawyers. He graduated magna cum laude from Tulane University School of Law in 2001.

James Mullock
Partner, Bird & Bird
james.mullock@twobirds.com

James is a partner in Bird & Bird's London office. He advises on information law, including data protection, cyber risk and freedom of information, and handles complex technology, communications and outsourcing transactions. He also heads the firm's India desk and is a regular visitor to that country.
James co-wrote The Data Protection Act Explained (published in three editions between 1998 and 2001). He is an editor of Data Protection Law & Policy magazine and a member of the panel of experts for the website DataGuidance. He regularly speaks at conferences around the world on data, cyber and technology law topics. He qualified as a lawyer in 1996.

Melissa Murray
Partner and head of commercial and IP practices, Bird & Bird
melissa.murray@twobirds.com

Melissa Murray is a partner in Bird & Bird and the head of the commercial and IP practices in the Middle East. She regularly provides advice to international educational establishments on expanding into foreign markets and their operations in the region.
Melissa has expert legal knowledge of the ethical, regional and commercial challenges within the education industry. She acts for some of the world's best-known schools, examination boards and professional training bodies, advising on their international expansion by way of franchises, licences, joint ventures, strategic alliances, cooperation agreements and management agreements.
Melissa is a regular speaker at education conferences such as the International and Private Schools Education Forum (IPSEF) Middle East conference.

Shelley Nadler
Legal director, Bird & Bird
shelley.nadler@twobirds.com

Shelley is a member of the Education team and Franchising, Licensing and Multi-Channel Strategies team based in London. Over the last 26 years she has advised a wide range of household names, particularly in the education, retail, food & beverage and health care sectors, on the development and implementation of their international expansion strategies and the corresponding re-engineering of their businesses. She has advised numerous schools and nurseries on their establishment in Asia and the Middle East. Shelley attended a DIT Trade Mission to China for schools and nurseries and addressed the delegates in Shanghai on legal issues relating to the establishment of schools in China. She is the author of many articles on franchising and licensing and has spoken at a number of national and international franchise and licensing seminars and workshops. Shelley has spoken at the British Chamber of Commerce in Hong Kong on expansion into China and Asia. Shelley is recognised as an expert in franchising in the Legal Business Guide to Legal Experts.

Ling Yee Neo
Senior associate, Bird & Bird ATMD
lingyee.neo@twobirds.com

Ling Yee Neo is a senior associate in Bird & Bird ATMD's intellectual property and technology group. Her area of practice encompasses a range of IP non-contentious matters. She assists clients in IP commercial matters, and has experience in handling franchising and IP licensing across various jurisdictions. Ling Yee handles trademark and brand management and is responsible for the day-to-day management of clients' global and regional trademark portfolios. Additionally, she is responsible for the management of clients' registered designs portfolios and handles registered designs prosecution matters. Ling Yee graduated from the National University of Singapore in 2011 with an LLB (Honours). She was admitted as an advocate and solicitor of the Supreme Court of Singapore in 2012.

Osayi Ogbeta
Associate, Templars
osayi.ogbeta@templars-law.com

Osayi is an associate in the firm's corporate and commercial practice group. She holds a Master of Laws from the University of Aberdeen. Osayi regularly advises clients on labour and industrial relations, as well as Nigerian law and policy affecting the establishment and operation of businesses (both local and foreign) and strategic corporate investments in the country. She also provides corporate governance and compliance advice to clients in connection with local and international transactions, and has a general advisory role on the firm's labour and employment and intellectual property practice groups.

Sherroy Ong
Of counsel, K&K Advocates
royong.counsel@kk-advocates.com

As an of counsel to the firm, Sherroy Ong (Roy) brings with him a wealth of experience to the bench strength of the firm. He is qualified in law in Singapore, England & Wales and Malaysia. Roy has a dual degree in law and finance. He has extensive expertise in the finance, regulatory, corporate and commercial areas of practice for both Indonesian and foreign clients. He is a lifetime member of the prestigious business & finance association Beta Gamma Sigma and a member of the Who's Who Network commissioned in the United States. Recently, before joining a Southeast Asian family office as its governance director, he was a partner in an international law firm in Singapore. Roy has worked for White & Case and Clifford Chance and was head of legal and compliance for an Asian regional financial institution.

Waewpen Piemwichai
Registered foreign attorney, Tilleke & Gibbins
waewpen.p@tilleke.com

Waewpen Piemwichai is a registered foreign attorney with Tilleke & Gibbins' corporate and commercial group. Waewpen has over 10 years of experience advising domestic and multinational clients on the business laws of Thailand and Vietnam. She practises primarily in the areas of franchising, data privacy, and other areas within TMT laws, and has expertise in foreign investment, including company incorporation, joint ventures, M&A, investment promotion, foreign business licences and business permits. Waewpen is a licensed attorney-at-law registered with the Lawyers Council of Thailand and is a member of the Thai Bar Association.

Anake Rattanajitbanjong
Tilleke & Gibbins International Ltd
anake.r@tilleke.com

Anake Rattanajitbanjong is an attorney-at-law with Tilleke & Gibbins, practising primarily in the firm's corporate services group. With special expertise in company formation, visas and work permits, Anake knows the mechanics of doing business in Thailand. For companies wishing to avoid delays, mistakes and headaches, Anake provides precise information on complying with the myriad detailed requirements of government authorities. He also negotiates and drafts contracts and handles corporate dissolution and liquidation matters.
Anake is a member of Thai Bar Association and is a registered notarial services attorney. He has also completed the barrister-at-Law requirements of the Institute of Legal Education, Thai Bar Association.

Silverio Sandate
Associate, Von Wobeser y Sierra
ssandate@vwys.com.mx

Born in Mexico City, Silverio Sandate obtained his law degree there from the prestigious Escuela Libre de Derecho. He has also completed many postgraduate courses, in Mexico and abroad, relating to intellectual property. Silverio has more than 10 years of experience advising Fortune 500 and other leading multinational companies on intellectual property matters. His main areas of focus include copyright, licensing, franchising, advertising and litigation, and he has been a key player in advising clients on the implementation of major international advertising and marketing strategies and campaigns in Mexico. These projects have included social media and online campaigns, above-the-line and below-the-line promotions, packaging, advertisements, communications materials, retail and point-of-purchase materials, and promotional competitions. Silverio has further broadened his professional expertise by working abroad and is the first lawyer to be officially recognised as a specialist in authors' rights in Mexico.

Supasit Saypan
Tilleke & Gibbins International Ltd
supasit.s@tilleke.com

Supasit Saypan is a consultant in Tilleke & Gibbins' corporate and commercial group in Bangkok. Supasit has assisted numerous domestic and international businesses to obtain foreign business licences and secure investment promotion from Thailand's Board of Investment. He regularly conducts due diligence investigations and provides legal analysis for mergers and acquisitions. Supasit advises both Thais and expatriates on Thai labour laws and employment matters including employment agreements, employee termination, work regulations and employee benefits. He also assists in a range of family-related private client work, including adoption and inheritance.
Supasit holds a law degree from the University of Exeter. He is fluent in Thai, English and Hindi.

John M Scannapieco
Shareholder and co-leader of the global business team, Baker Donelson
jscannapieco@bakerdonelson.com

John M Scannapieco is a shareholder in the Nashville office of Baker Donelson and is a coleader of the firm's global business team. Mr Scannapieco assists US and foreign clients in connection with the sale or disposition of assets, as well as the negotiation and drafting of distribution, manufacturing, employment and agency agreements around the world, including the United States, Central and South America, Europe and Asia. He serves as Honorary Consul of the United Kingdom in Tennessee. He also serves as vice chairman of the Tennessee District Export Council and is a board member of the Nashville Area Chamber of Commerce's International Business Council and a chairman of the board of the Japan-America Society of Tennessee. He also serves on the board of Tennessee–China Network, Tennessee World Affairs Council and Belmont University Center for International Business. He has been recognised by Mid-South Super Lawyers in international law. Mr Scannapieco received his JD from Southern Methodist University – Dedman School of Law in 1990.

Divya Sharma
Advocate and solicitor, DBS Law
divya.sharma@dbslaw.co.uk

Divya is an Indian- and English-qualified lawyer with over 16 years of extensive experience advising clients on corporate M&A transactions. Divya worked with leading law firms in India, Australia and the UK before starting her independent practice in Mumbai in 2015. From September 2008 to March 2015, Divya was a legal director at Bird & Bird LLP, London. In her current role, Divya works alongside clients as their trusted legal adviser on a range of legal issues including advising international companies looking to commence or expand their business in India, mergers and acquisitions, joint ventures, corporate, commercial, technology and employment law matters.
Divya sits on the board of directors of Gajam India Private Limited, a leading 'for profit' social enterprise in India and advises them on legal issues pertaining to their business.

John Shaw
Associate partner, Cushman & Wakefield
john.j.shaw@cushwake.com

John Shaw is an associate partner in the Cushman & Wakefield international education and innovation team. Highly experienced in China, the Middle East and other major markets, John was responsible for running the University of Central Lancashire's highly successful franchise programmes with Guangdong University of Foreign Studies, Shanghai University of International Business and Economics and City University Hong Kong. During his time as Pro Vice-Chancellor International at the University of East London, the university won the coveted Outstanding International Strategy award at The Times Higher Education Leadership and Management Awards in 2012.

Bhredipta C Socarana
Associate, K&K Advocates
bhredipta.socarana@kk-advocates.com

Bhredipta is an associate with K&K Advocates. He has provided extensive legal assistance for both local and foreign clients in IP enforcement and litigation and provides commercial and corporate advice in the areas of technology and media and telecommunication law, including data protection, data security, over-the-top platform, financial technology, gaming and satellite licensing issues. Bhredipta writes regularly and contributes on behalf of the firm to HukumOnline and Jakarta Post, and his work has been cited in the national newspaper Kompas.
In his spare time he is a volunteer at the UNFPA Indonesia and provides pro bono legal assistance to local SMEs. He is actively involved in the discussion of internet governance issues in Indonesia.

Lorraine Tay
Joint managing partner, Bird & Bird ATMD
lorraine.tay@twobirds.com

Lorraine Tay is joint managing partner at Bird & Bird ATMD and heads the firm's intellectual property and technology group. Lorraine has over 20 years of experience assisting companies in managing and protecting their global IP portfolios. She works with clients across a wide range of sectors, including education, assisting them to expand globally through various models including licensing and franchising networks. She ensures that these companies are well positioned to expand and commercialise their IP while managing the risks of internationalisation. Lorraine is an active member of the International Trade Marks Association and has been appointed an IP adjudicator by the Intellectual Property Office of Singapore. She is consistently recognised as a leading IP lawyer by clients and top legal directories including the Legal 500 Asia Pacific, Chambers Asia Pacific, Managing IP, World Trademark Review, Asia IP Experts and Expert Guides.

Stephanie Terreni Brown
Managing director, Clean Water Wave
Management consultant to the Education & Innovation Team, Cushman & Wakefield
stephanie@cleanwaterwave.com

Dr Stephanie Terreni Brown is a highly experienced social researcher. Currently managing director of a social enterprise, she was previously a core member of the Cushman & Wakefield education team, where her clients included leading UK and international universities. Stephanie has worked extensively in middle- and low-income countries on urban development and education projects, and has a longstanding interest in the role of education in development projects. She has substantial management consultancy and project management experience, and holds a PhD from the University of Edinburgh, an MSc from St Antony's College, Oxford and is a fellow of the RSA.

Chinachart Vatanasuchart
Tilleke & Gibbins International Ltd
chinachart.v@tilleke.com

Chinachart Vatanasuchart specialises in transportation and logistics and the related fields of customs, international trade, insurance, employment, asset financing and aircraft lease agreements. Chinachart has been listed as a leading lawyer by the Legal 500 Asia Pacific since 2005. With 25 years of experience, Chinachart has provided counsel to clients in the transportation sector and related industries on nearly every conceivable business goal and issue, during periods of economic growth and contraction. Chinachart was educated at Ramkhamhaeng University, Tulane University and the Thai Bar Institute, and also attended training at Harvard Law School. He helps his clients resolve complex cross-border disputes as well as practical issues such as language, geographic and cultural differences. As legal adviser to the Thai Freight Forwarders Association, Chinachart is a proponent of increasing Thailand's competitiveness by improving its trade logistics. He is also a frequent contributor to a number of World Bank research projects on labour and employment.

Pattie Walsh
Partner, Bird & Bird
pattie.walsh@twobirds.com

Pattie Walsh is a partner at Bird & Bird and cohead of the firm's Asia Pacific employment practice. Pattie's practice covers both contentious and non-contentious employment law issues and she handles issues across Asia-Pacific, providing a one stop shop for her international clients. Pattie advises on the full spectrum of employment issues, from the day to day through to high profile disputes and strategic advice. She contributes to numerous publications and books. She is also a regular speaker at local and international conferences and is involved in various diverse committees.
Pattie is qualified to practise in Hong Kong, England and Wales and Australia (New South Wales). In addition, she has extensive experience of the laws of the PRC, being one of only a very few non-Chinese lawyers to have a comprehensive, detailed knowledge of local PRC employment law.
"Pattie Walsh covers both contentious and non-contentious work, acting for a roster of highprofile US, European and Asian employers. Peers highlight her depth of experience, while a client enthuses that she gives 'the best service I have received, and is pretty fun to work with as well, which helps'." Chambers Asia Pacific, 2018.

Sven-Michael Werner
Partner, Bird & Bird
svenmichael.werner@twobirds.com

Sven-Michael Werner has practised law in China for more than 15 years. His extensive experience includes M&A and foreign direct investment transactions, with a strong focus on advising European clients in relation to their inbound investment into China.
Dr Werner is a partner in Bird & Bird's international corporate group based in Shanghai. He is proficient in Mandarin.
In addition to his work in M&A and foreign direct investment, Sven-Michael advises European and US clients in the technology and media, education, automotive, aviation and retail and consumer sectors in relation to regulatory compliance and anti-bribery matters. He was the winner of the ILO Client Choice Award (Corporate) for 2016 and 2017.

Inam Wilson
Partner, Templars
inam.wilson@templars-law.com

Inam Wilson is a partner in Templars and head of the labour and employment and the maritime practice groups of the firm. Inam has been in active legal practice for twenty-seven years. He holds a Master of Laws (LLM) degree in commercial and maritime law from Lagos State University, Nigeria. He is actively involved in general civil and commercial litigation in Nigeria to Supreme Court level, and regularly advises on multi-state and party transactions in the corporate commercial sphere and the oil and gas industry. He has handled very complex commercial litigation in a wide range of sectors, especially shipping and maritime, employment and labour, banking and general contractual disputes. He has written several articles and co-authored books in diverse areas of the law with emphasis on labour and employment law, shipping and maritime, oil and gas and environmental law.

Stephanie Wong
Associate, Bird & Bird
stephanie.wong@twobirds.com

Stephanie Wong is an associate in Bird & Bird's employment practice group, based in Hong Kong. She was educated in Hong Kong and graduated from the University of Hong Kong with a Bachelor of Laws degree in 2012. She qualified as a solicitor in Hong Kong in 2015.
Stephanie supports both international and domestic clients on a broad range of contentious and non-contentious employment law matters. This includes day-to-day employment advisory work on the full spectrum of the employment cycle, handling labour tribunal disputes and employee investigations, managing multijurisdictional employment law projects and reviewing and drafting employment documentation such as contracts of employment, employee handbooks and policies.

Risti Wulansari
Partner, K&K Advocates
risti.wulansari@kk-advocates.com

Prior to establishing K&K Advocates with Justi Kusumah, Risti was a senior associate with a prominent Indonesian full-service law firm, specialising in intellectual property for 12 years. Risti has built extensive expertise in IP over 18 years and has been actively involved in providing assistance for both Indonesian and foreign clients in a variety of IP projects. She leads the firm's prosecution team and also co-lead the corporate technology & commercial IP team. Her expertise includes IP prosecution and IP commercial works in such areas as franchising, licensing, distributorship, telecommunication and data protection/privacy.
Risti was mentioned as Up and Coming Lawyer in the IP area for 2015 and Leading Individual for IP practice for 2016 by Chambers and Partners. Recently, she was mentioned in Who's Who Legal (Franchise 2017) for Indonesia.

Joe Yee Yap
Associate, Tay & Partners
joeyee.yap@taypartners.com.my

Joe Yee practises in the corporate division, particularly in the area of corporate and commercial law. She is involved in a wide range of work comprising mergers & acquisitions, IPOs, real estate, banking and corporate advisory works. She graduated from the University of Malaya with an LLB (Hons) in July 2015 and was admitted as an Advocate and Solicitor of the High Court of Malaya in July 2016.